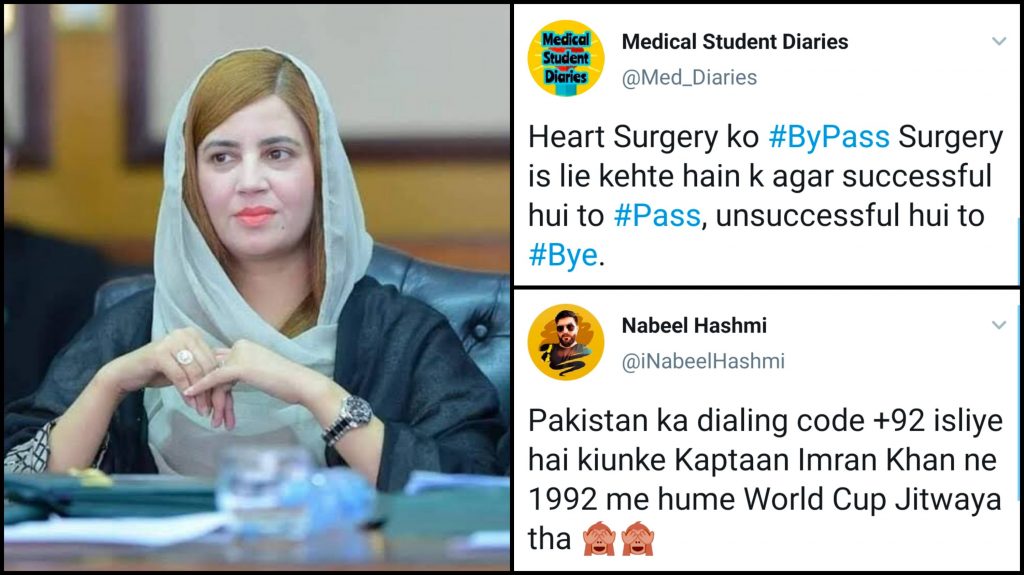 Minister of State for Climate Change, Zartaj Gul Wazir, had social media in fits after she gave a novel definition of COVID-19 on a news channel.
According to the minister, "COVID-19 means that it has 19 points that can be applied in any country in any way." 
Lay g… The One who will break the record of Sayien …Qayim Ali Shah
😄#zartajgulwazir pic.twitter.com/dwjv50ksrp

— Ahmad Ullah Meer (@AhmadUllahMeer3) June 22, 2020
And the country is having a field day churning out meme after meme!
Relatable. #zartajgulwazir #Zartajgul pic.twitter.com/YwhvKGt1XD

— Abdul Mateen Aali (@AaliMateen) June 21, 2020
Yar 😂
The real reason behind the name of F-16 is because it has 16 tyres in it.#zartajgul #zartajgulwazir #ZartajGulLogic pic.twitter.com/OWrh0NsK0l

— Sanan Mirza (@sanan_mirza) June 21, 2020
We hope not…
Pretty sure Zartaj Gul thinks that Ministry of Climate Change works to change the climate

— Qasim Zaidi (@QasimZaidi_) June 21, 2020
iPhone 11 made its way into the memes too!
There are 11 cameras in iphone 11 #zartajgulwazir#Zartajgul pic.twitter.com/SGfDSSh1p6

— Zain Ansari (@zaynanxari) June 21, 2020
Ooof, the shade!
The "21" in MiG-21 means it flies only 21 seconds across border. #zartajgulwazir #coronavirus #COVID19 pic.twitter.com/0sFNc1Kbo7

— Asif Ansari (@AsifAnsri0369) June 21, 2020
Some even shared what the virus might be feeling:
Corona virus after listening to Zartaj Gul's bongi: #zartajgulwazir pic.twitter.com/XScJ5PwTJQ

— Wasim Haider 🇵🇰 (@iwasimhaider) June 21, 2020
Oh boy 😂
The +92 dialing code is just bcz Khan sahab won the 92' World cup ..😄#zartajgulwazir pic.twitter.com/ZmmC1bs3ss

— Naila Shabbir Goraya (@NailaGoraya) June 22, 2020
The Doctors are screaming 😂
best one so far 👌😬 #zartajgulwazir pic.twitter.com/wLMQGQ9qDj

— ح ی د ر 🔥 (@IMHaiderhadi) June 22, 2020
Hilarious!
#Zartajgul : 1992 Worldcup means it had 92 Points

Imran khan: pic.twitter.com/pw2KRajShN

— Gibran Ahmed (@RanaSaaiib) June 21, 2020
Some shared her take on T20:
20 players play in #T20
That's why it is called #T20

(#Zartajgul) pic.twitter.com/sIba0xALst

— Noorima Khanam (@KhanamNoorima) June 21, 2020
I mean 😂
There are 8 jet Engines in V8 #Zartajgul pic.twitter.com/KMXFdXbQyB

— Saddam Hussain (@SaddamH91444108) June 21, 2020
You can even say the battery lasts for 3310 days without charging:
Nokia 3310 was launched in 3310 B.C.#Zartajgul#TweetLikeZartaj pic.twitter.com/mPyyLkKzHW

— A​нмad 🇵🇰 (@Shah_Ahmadd) June 21, 2020
People were unstoppable!
This is why is is called "STRAWberry"
زرتاجو#Zartajgul #zartajgulwazir #زرتاج pic.twitter.com/5oMfuPJPcM

— El Patwarino (@khush_rhooo) June 22, 2020

Some could relate to her:
When teacher suddenly calls a backbencher to explain covid 19.#Zartajgul #zartajgulwazir pic.twitter.com/X06r95tfPc

— A.Q (@qayyumchawro) June 21, 2020
Some actually took the time to have it all explained to her instead of making fun of her:
Please RT so that it reaches Zartaj Gul and she can stop embarrassing PTI voters. pic.twitter.com/iNfflIhNkv

— Faisal Ahmad Jafri (@faisalahmadj) June 20, 2020
And while it was all fun and games for some, others were genuinely concerned:
Zartaj Gul Wazir is an embarassment. Not because she does not know a single thing about the science & social impact of climate change, & COVID-19, & anything at all, but because despite being a minister for more than a year now she hasn't even tried Googling anything about them.

— Nuzhat S. Siddiqi (@guldaar) June 21, 2020
Some were outraged:
This zartaj gul shit isnt even funny anymore. Its outrageous. It makes me SO angry. This isnt a joke. We LIVE here. Shes the FEDERAL MINISTER, the PERSON IN CHARGE FOR 220 MILLION PAKISTANIS when it comes to climate change— the biggest most time sensitive disaster we're facing.

— – (@maulana_banana) June 20, 2020
Some had questions:
Genuine question @zartajgulwazir do you feel confident in your qualifications and expertise to successfully and effectively run the ministry of climate change, given it's the foremost challenge facing our world?

— dk (@daanistan) June 21, 2020
Zartaj Gul then took to Twitter to clarify how it was a mere mix up of words and how the criticism only makes her stronger, you go girl!
روزانہ ٹی وی پر گھنٹوں بات کرتی ہوں، پرچی کے بغیر۔ 😊

کہنا چاہتی تھی کہ وباء کا اثر، شدت مختلف ممالک میں مختلف ہیں۔

چند لمحوں کی خطاء پر یوں ماتم کناں ہونے کی بجائے اپنی جماعتوں کے حشر نشر پر توجہ دیں تو شائد ان کے حق میں بہتر ہو۔ تنقید سے نہیں گھبراتی، اور مظبوط ہوتی ہوں۔ 😊

— Zartaj Gul Wazir (@zartajgulwazir) June 20, 2020
What do you think about this mix up of words by Zartaj Gul and the netizens criticizing her? Let us know in the comments below!