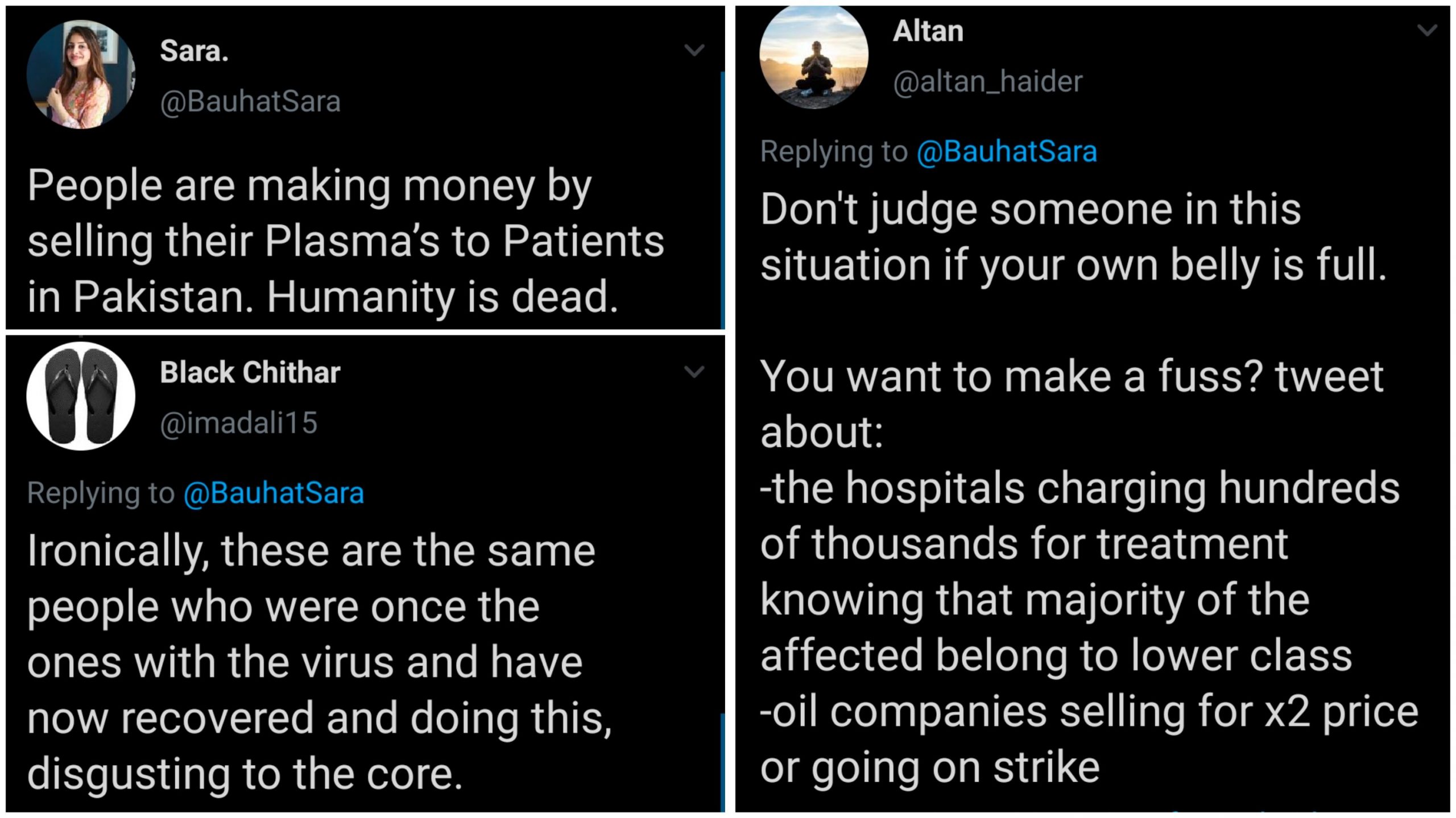 As Corona keeps spreading across the country, people have been finding themselves desperate for blood plasma of the recovered patients.
While some are donating it for free, others are asking for a hefty amount per bottle. And the internet is debating if it's justified or not:
People are making money by selling their Plasma's to Patients in Pakistan. Humanity is dead.

— Sara. (@BauhatSara) June 12, 2020
Some thought there was nothing wrong with it:
Nothing wrong with it.

— Shoaib Rathore (@ShoaibRath) June 12, 2020
Many were of the opinion that we shouldn't judge them:
Don't judge someone in this situation if your own belly is full.

You want to make a fuss? tweet about:
-the hospitals charging hundreds of thousands for treatment knowing that majority of the affected belong to lower class
-oil companies selling for x2 price or going on strike

— Altan (@altan_haider) June 13, 2020
People were comparing it to others selling kidneys and other organs:
People sell kidneys too and blood too. People give it free too. People give plasma free too.

Everyone is what they think is good. So, it's complex.

— saif (@thenameissaif) June 12, 2020
Because they have been selling their kidneys & other organs as well. Bhok dyki hay kabi?

— Sajid Mansoor (@SajidMansoor17) June 13, 2020
Some agreed that it was inhumane but not wrong:
If the receiver is well off and wants to pay the donor (who is poor) on his own accord then there should be no issue. However, demanding money for blood plasma during such a time is inhumane.

— Syed Salman Rizvi (@SalmanRizvi90) June 13, 2020
People wanted others to step into their shoes and think:
I know many people who are donating Plasma. The people who are selling plasma just imagine how poor or bad condition they might be in.

— shahnawaz adenwala (@SAdenwala) June 13, 2020
Some were of the opinion that it's justified:
All these plasma holders are Pakistani, they must have spent a lot of money on their recovery. Now recovering the costs. Some are lucky that they are making profits as well.
People sell kidneys and other organs too.
Not justifying at all.
But at this point in time its (1 of 2)

— JuGnO (@TheJuGnOofIsb) June 13, 2020
Some found it disgusting:
Ironically, these are the same people who were once the ones with the virus and have now recovered and doing this, disgusting to the core.

— Black Chithar (@imadali15) June 13, 2020
Some argued that a donation should not be seen as a source of income:
Shameful to the core. A donation is a…. donation. Should not be a source of income

— naeem rizwan (@no_more_trouble) June 13, 2020
Some figured it was the death of humanity in Pakistan:
There is a reason for the death of Humanity in Pakistan . Everyone sends curses on each other for very small reason. Pakistani constitution is full of accursed laws as well. Everything is contributing.

— Muhammad Umar Khalid (@mukhal1d6) June 13, 2020
Some thought they were adding to others' miseries:
These people are worse creatures… Imagine being through such a pain, anxiety, fear and depression after getting diagnosed and now instead of helping people, you are adding to their misery…

— Mannan Zaheer 🇵🇰 (@mannanzaheer) June 12, 2020
Some weren't surprised:
Pakistanis and humanity are like two paralell lines which never intersect not at a single point

— talha (@_talhahamid) June 12, 2020
Many found it unfair to judge them:
I think if you do it out of greed, it's wrong but we don't know how badly someone is in need of money or of plasma. If someone is willing to sell his plasma, and if there are buyers, I don't think it's fair to judge either of them. Sab majboor hain.

— Shayan (@Shayan_Osmani) June 13, 2020
Some were furious at the comparison with organ selling:
People comparing it to selling kidney are wrong in comparing an irrecoverable organ (kidney) to easily recoverable blood component (plasma). Humanity is indeed dead.

— Abdul Nafay Ali (@AbdulNafayAli1) June 13, 2020
Some said people weren't to blame:
You can't blame people for being opportunistic when they live in a capitalist framework that enables this kind of behavior in the first place.

— Zeerak (@kinkkrule) June 13, 2020
Some found it sick!
-Fake dettol and sanitizers bottles
-Fake, low quality masks (including KN95)
-Pulse oximeters that used to sell for 3k now either can't be found or are available for 10k above
-Actemra for 10 lac.

People feed off of each other's desperation. It's sick. https://t.co/QnfHRwlN0A

— Ushnaa 🐾 (@Lanaschild_) June 13, 2020
Some couldn't understand how people can be so cruel:
Jo cheezein muft ki deni chaheye because you have actually gone through the same pain and anxiety it brings. How are people so cruel? https://t.co/7iysc54Ind

— Malalai pashtana (@Stargotorr) June 13, 2020
For some it wasn't justified at all:
Can't be justified in anyway ! https://t.co/zWpPkj4VUs

— Anees Ur Rehman (@Starrey_Mashey) June 13, 2020
Some were worried:
Wouldn't be surprised if people start getting infected by covid19 on purpose just to sell their plasma if this practice isn'g controlled ASAP https://t.co/9JbToCFdKA

— Mishel (@HiTweeties) June 13, 2020
There is a high risk that poor people will intentionally try to get infected and than sell plasma on recovery. This is illegal trade and the physicians and recovered pts are making money like they used to do by selling kidneys. https://t.co/ERDwBGUVgg

— Naeem Arshad (@naeemarshadch) June 13, 2020
Insane!
That's Pakistan for you. They make money every pathetic opportunity they get.
You didn't talk about that 20k Injection being sold for 300k these days https://t.co/b229Qh8hTN

— Simpleton (@SimpletonAZ) June 13, 2020
5 lakh sy 15 lakh me Plasma deals

Acterma black me 4-5 lakh ka https://t.co/1rPLOKChqI

— Chaudhary Usman (@Ch_Usman999) June 13, 2020
What do you think about people selling their plasma? Let us know in the comments below!