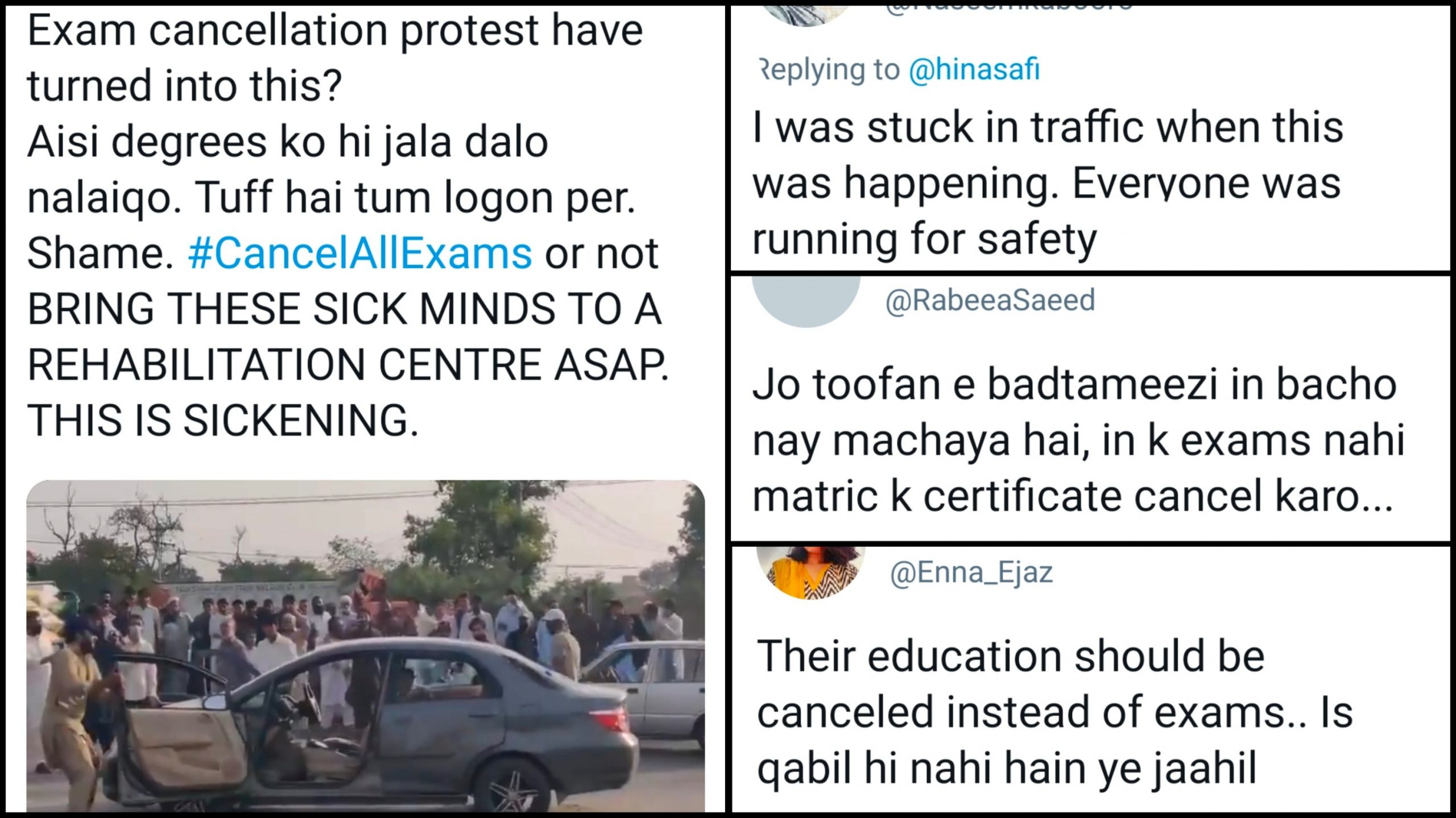 With Board exams being just around the corner, students have been trending the hashtag #CancelBoardExams and holding protests nationwide in an attempt to get their demands met.
But seeing that their protests were bearing no fruit, one of the protests turned violent as students were recorded breaking everything in sight, including a civilian's car who had nothing to do with students, exams or the protest.
Exam cancellation protest have turned into this?
Aisi degrees ko hi jala dalo nalaiqo. Tuff hai tum logon per. Shame. #CancelAllExams or not BRING THESE SICK MINDS TO A REHABILITATION CENTRE ASAP. THIS IS SICKENING. pic.twitter.com/RGNHJRD9or

— Hina Safdar 🇵🇸 (@hinasafi) May 29, 2021
And people are absolutely livid!
WOWW-mustaqbil k maymar apna aur mulk ka nam roshan karty hueye !!followed SOPs & saving themselves from getting infected while burning someone's precious property!
This is insanity and not acceptable at any cost!! Aisay hoty hen students?@Shafqat_Mahmood#cancelExamsSaveStudent https://t.co/i8LA1DtJ3S

— Nousheen Irfan Khan (@nousheen_irfan) May 29, 2021
People wanted their matric certificates to be cancelled:
Jo toofan e badtameezi in bacho nay machaya hai, in k exams nahi matric k certificate cancel karo… https://t.co/om51SAC7n6

— Rabiea Saeed (@RabeeaSaeed) May 30, 2021
People were adamant that these students be arrested:
Yahan inn nalaayako ko corona nahi ho raha. Examination hall mey ho jaye ga. Yeah nikammay frustrated naujawan aagay jaa ker bolay gay kay humey naukri nahi milti. Govt should identify these crooks and put them behind bars.

— Somi Malik (@somiyaamalik36) May 29, 2021
People were sharing first-hand experience of the protest:
I was stuck in traffic when this was happening. Everyone was running for safety and people stuck in their vehicles were hell horrified.

— Naseemkabooro (@Naseemkabooro) May 29, 2021
True!
Their education should be canceled instead of exams.. Is qabil hi nahi hain ye jaahil https://t.co/DsmDbngXoh

— Ennanana (@Enna_Ejaz) May 29, 2021
People were scared:
They are future Husbands of some daughters. Scary!
Nalayeq and violent is Deadly Combo. https://t.co/DHVCkrtQMN

— Brand Ambassador of Pasta 🤸‍♀️ (@Razavidotcom) May 29, 2021
People threw shade at them:
Mashallah young drs and young wakeels in making https://t.co/olG9wyYqlB

— Bila (@SuspendedBila) May 30, 2021
People shared how the country will never progress if it has students like them:
Ain sub kutto ko band karo. Nalaik log hai sub. Pakistan will never progress with people like these https://t.co/czmt6WXPtT

— Saba||🌘 (@ssabasays) May 29, 2021
People were absolutely livid!
We Demand to rusticate all of them from their respective institutions and bar them to get admission in any school or college and no job at any level not even a peon and cancel their Id cards if they exist!! @OfficialDGISPR @PakPMO @ShkhRasheed https://t.co/DdrxlELfIC

— O Al-Sah-Him 🇵🇸🇵🇰🏹 (@O_al_sah_him) May 29, 2021
People were sharing how this generation is so spoilful:
These sick minds need grooming first before degrees, what kind of attitude and behaviour is this, Exam or no exam its none of your business, The spoil generation is so shameful https://t.co/hMtjzrQjVR

— Asif aziz (@SoulessInsafian) May 30, 2021
Jo baat hai!
Itni taleem ka kia faida jub rehna jahil he hai. https://t.co/mN6vxPG8cP

— 🍒 (@coronabaji) May 30, 2021
People were hoping the exams take place:
Allah kare sab k sab exams hn in k aur saray k saray fail ho jayen https://t.co/Ycm5hVUIK2

— Anam. (@annuuumm) May 30, 2021
People were disappointed:
Afsos hota hy mjy inky halaat par, inky ghr walon par Aur inky future par. https://t.co/oyMcRGqNIW

— م۔ (@sochrhi_hun) May 29, 2021
People were sharing how they needed to learn humanity first:
Aj kal k dour mai asi gari lag bhag 14 15 lakh ki milti h pakistan mai.. or in jahiloo ny 2 min lgaye agly k jama poonji ko khak mai milanay mai.

Afsoos Sad afsoos.

Inko Taleem k ni insaniyat seekhanay k zayada zaroort h. https://t.co/HWWKcKwym2

— MJ (@ManiQureshi) May 29, 2021
Facts!
Exams ki teyari Ky sath thori Akhrat ki bh kr lena kyun Ky hongy to dono. https://t.co/W6CZEfnPAl

— Ashmal Farooq (@AshmalFarooq) May 30, 2021
People were calling them 'parhay likhay jaahil':
Ik Saal chutti Mili usme main bhe exams dene pe maut aarahe in begairton ko …protest k liye jama hojaingay lkn hall main nahe jama hosakte ..parhay likhi jahil ye sab!! https://t.co/n2KZLE7AA7

— JAFFA 🇵🇰 (@jafferhussain9) May 31, 2021
People were questioning their upbringing:
Inho ne parh likh kar bh aisa he rehna hai. Kyu k ghar mei kisi ne tarbiyat nahi ki in jahilon ki. https://t.co/EOtX2QjcJN

— J (@jjeemz) May 30, 2021
People were just so done with them:
agar ye future of pakistan hai tou mujhe tou mera future kisi aur hi mulk mein dikh raha hai https://t.co/q8UfcOcykx

— aadarsh 🇵🇸 (@aadarshless) May 30, 2021
What do you think about the way the students reacted at the protest? Let us know in the comments below!