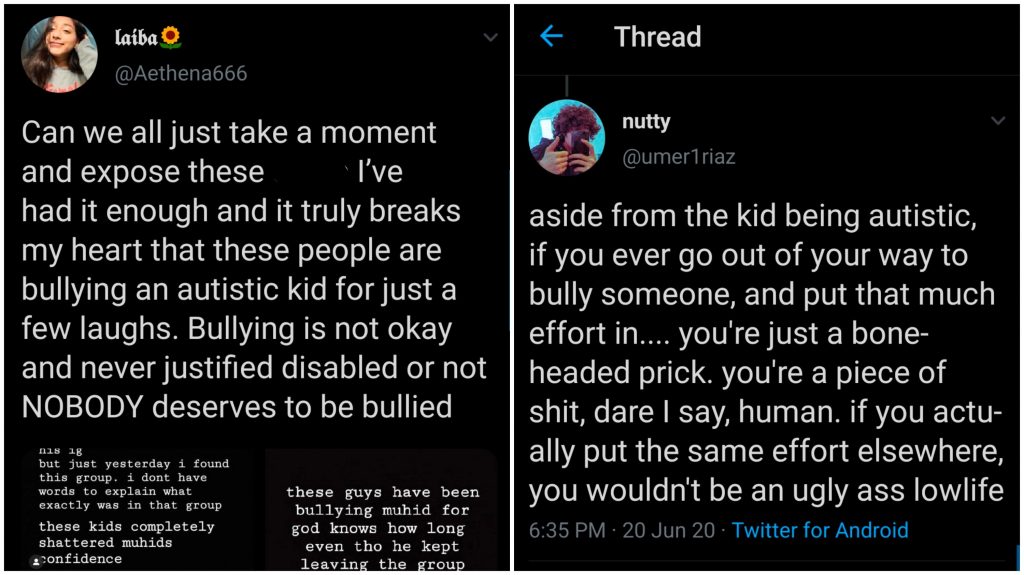 We live in a society which is barely inclusive of the specially-abled people. And what the internet has collectively witnessed today will have you shocked.
A bunch of kids literally went out of their way to bully a mildly autistic kid named Mohid by making an Instagram group chat and constantly bullying him by adding him to chat over and over again and saying the most vile and disgusting things about him.
Every time, he'd leave the group, someone would add him again and start bullying him and make fun of his disabilities:
Mohib is a 15 year old kid who lives in Islamabad, he suffers from mild autism. A couple months ago his account got hacked and some fake nudes were sent from his account, to which he publically explained the situation and apologised. Later a group of 6-7 people from KARACHI made-

— Afnan Anwer (@Afnananwer71) June 20, 2020
a group called "Lord of the dicks" and added Mohib in the group and repeated bashed him, ganged up on him and emotionally tortured this innocent kid-for atleast 4-5 months and repeated added him back each time he left, he practically begged them to leave him alone. And yesterday-

— Afnan Anwer (@Afnananwer71) June 20, 2020
this case of cyber bullying went public. This honestly breaks my heart, please take 5 mins of your time to go through these screenshots.
I'd like to give credit to @maheenelahiS for the Blog screenshots that I've attached to this post. And for ingeneral shedding some light on-

— Afnan Anwer (@Afnananwer71) June 20, 2020
People were sharing screenshots from the group chat and they're absolutely disgusting:
I'm attaching some Screenshots please spread it so these jerks can be exposed they're literally defending themselves and justifying why they "joked around"
BULLYING. IS. NOT. OKAY. NO. MATTER. WHAT.
If you're a bully you deserve worst you fucking piece of trash. pic.twitter.com/SbdNwmSlZx

— 𝖑𝖆𝖎𝖇𝖆🌻 (@Aethena666) June 20, 2020
— 𝖑𝖆𝖎𝖇𝖆🌻 (@Aethena666) June 20, 2020
And people are fuming!
aside from the kid being autistic, if you ever go out of your way to bully someone, and put that much effort in…. you're just a boneheaded prick. you're a piece of shit, dare I say, human. if you actually put the same effort elsewhere, you wouldn't be an ugly ass lowlife

— nutty (@umer1riaz) June 20, 2020
People wanted to find the trolls and hold them accountable:
someone find these disgusting ugly trolls. where's their family? where do they go to college/plan to go? where do they work? pic.twitter.com/o29ar19hRl

— daily updates on my corona (@edgygirlrants) June 20, 2020
People were worried how social media has become so toxic:
every passing day social media is just getting more toxic. i thought how this time will help us grow. bring the best in us. But all i see is some privileged people bullying an autistic kid.

— Areej iz Khan. (@EverydayAreej) June 19, 2020
Many shared how these woke kids really needed to wake up before justifying bullying:
The "cool" kids try to be all "woke" and be anti bullying and harassment, until their screenshots of doing the same thing to a autistic boy is leaked mad then those who fear accountability change their usernames, deactivate Instagram and others are denying this saying their

— Ammar Hashmi (@MUNsandMUNs) June 20, 2020
People were furious!
the world is such a sad place, adults are picking fights with a child who has autism?!? They are bullying and harassing the poor kid and making fun of him for being autistic. Insensitive brats with fragile egos.

— Anjiya M (@angawtf) June 19, 2020
Good thing people are now calling them out:
Twitter people be always complaining about Lahori Elite but rarely call out burgers of Khi Nixor/Lyceum for their bullshit. pic.twitter.com/zwtdUBsCTH

— Yasir (@haayemerijan) June 20, 2020
And while most of the bullies apologized after their screenshots leaked, people weren't buying it:
I've shared more of this in my Instagram – there were TWO people in the stand who were bystanders – the rest of them are justifying this by apologising for bullying an autistic kid, you morons, BULLYING ITSELF is the problem, regardless of the issues the victim has. https://t.co/d8nYju8O6I

— Haider Omar (@haideromarmusic) June 20, 2020
What do you think about bullying? Let us know in the comments below!