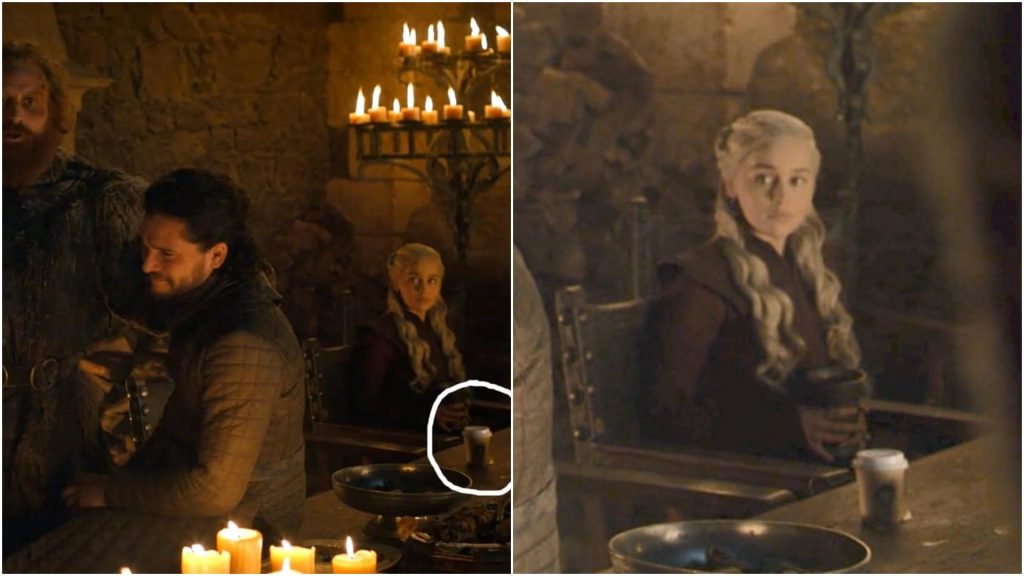 So the latest Game of Thrones episode was aired and the main highlight was a Starbucks coffee cup which was forgotten at the set! And we're sad to report that the Starbucks cup that wound up in an episode of Game of Thrones is there no longer, it has now been removed from the footage.
my favorite show in the entire world forgot a STARBUCKS COFFEE CUP ON THE TABLE WHILE FILMING pic.twitter.com/60z3pOCfg9

— zane (@zane) May 6, 2019
HBO quietly updated the most recent episode of Game of Thrones to digitally remove a coffee cup that accidentally made its way into a scene, setting the internet on fire with a seemingly endless stream of memes in the process.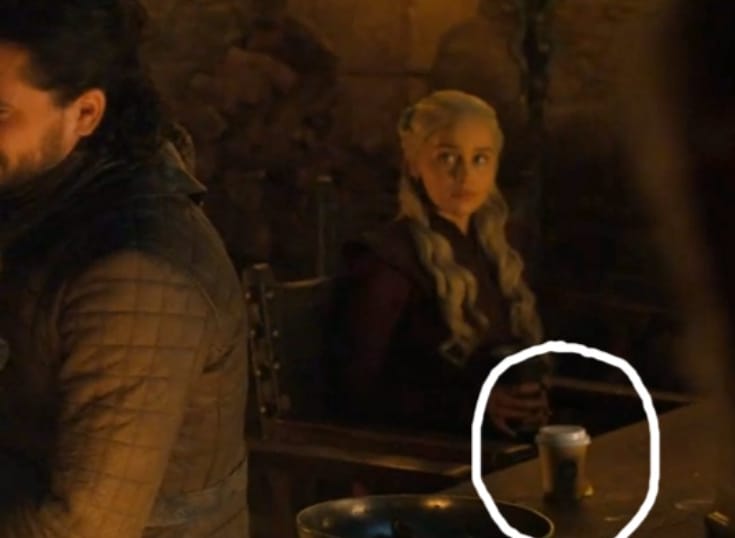 Well, it's true they've got bigger problems, like this plane…
#GoT has bigger problems than a @Starbucks cup… pic.twitter.com/K6ThPCSaeU

— Wojtek Pietrusiewicz (@morid1n) May 7, 2019
And then another time that they forgot a pickup truck in the background!
Reminds me of the time they left a pickup truck in the background last season 😂 pic.twitter.com/10HMUWqKJp

— Erin Feral (@ef_forreal) May 6, 2019
And we had people excited for the Starbucks cameo!
I've only ever watched a few episodes of #GoT but I really want to watch the most recent one… just for the #Starbucks "cameo". pic.twitter.com/i2mPOTqXwu

— Tracey Shadwell 🎙️ (@ChefWearsSkirts) May 7, 2019
Some were quick to post a little coffee fiasco from a few seasons back
Took me all day LOL!! pic.twitter.com/3OSNRfLGEy

— Mickey Stithem (@SpectralFireZ) May 7, 2019
Some actually claimed to have found the real culprit and we're laughing way too hard!
Well, I believe we've found the culprit in the Starbucks / GoT scandal pic.twitter.com/0eWxhObHxX

— Dominique Marie (@hideNgo_nique) May 6, 2019
And then all of a sudden a wild Starbucks was edited in Westroes!
A new Starbucks outlet in Westroes! 😂#GoT pic.twitter.com/blCzN7BAOI

— Srinanda | ಶ್ರೀನಂದ (@Srinanda011) May 6, 2019
Errr…
The extra who left it on the table like "they won't see it" 😂😂😂😂😂😂 pic.twitter.com/fsKYELxz8e

— King Wavy (@RuffDreamer94) May 6, 2019
And then some people went a little too far…
These Winterfell hipsters…😂#GameofThrones #GOT #GOTS8E4 #Starbucks #StarbucksCup #funny #HBO #edits #coffee #hipster #jazz #friends #winterfell pic.twitter.com/AP6pdkkUB7

— Steven Powell (@steven_powell) May 6, 2019
And then came the final word, from Starbucks themselves!
TBH we're surprised she didn't order a Dragon Drink.

— Starbucks Coffee (@Starbucks) May 6, 2019
Honestly, these people work so hard, let them enjoy a cuppa-coffee!