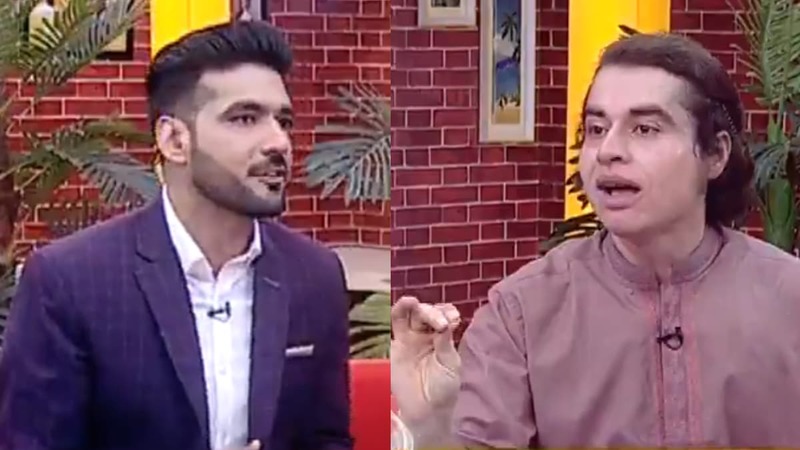 Nasir Khan Jan is not a new name when it comes to viral social media sensations. With videos that gather thousands of comments, likes and shares from people around the country, Nasir Khan Jan is living his best life. And then we have our morning show content which has been going unmonitored for years now.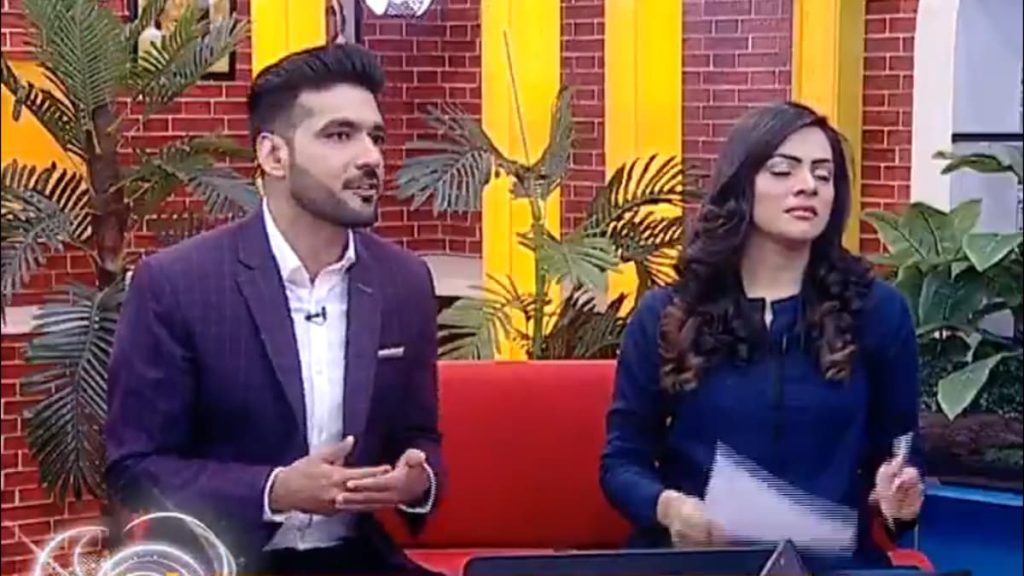 Nasir Khan Jan was invited as a guest on Samaa's morning show Naya Din hosted by Muhammad Shuaeb. The interview caught a ton of attention when a clip of the host belittling Nasir Khan Jan for his choice of content surfaced the internet. In the clip below you can see how aggressively Muhammad Shuaeb is belittling his guest, hurling insults one after another and not letting Nasir Khan Jan complete his sentences.
The real tea is that Nasir Khan Jan uploaded a video of rehearsals on his YouTube channel where the hist was seen being friendly and well-behaved towards him, but when the show was aired, the host had a completely different tone and kept on calling him vulgar and being self-righteous saying 'oh, I'd never do something this vulgar.'
People were appalled at the way this host kept on hurling insults at Nasir Khan Jan while he remained calm and composed in demeanor when compared to the under-skilled and overly aggressive host.
The internet quickly came to Nasir Khan Jan's defense and criticized the channel and the host, and honestly, we're proud of these people! The hashtag #NasirKhanJan became the top trend in no time as the video surfaced:
Can you believe this? #NasirKhanJan trending on No1

Nasir Khan Jan 🙂 pic.twitter.com/witLrv8z1R

— Hammad Khan (@hmdkhan) May 7, 2019
Exactly, why call him to the show in the first place?
This is pretty shameful – I know morning shows are not doing well on most channels, but this one on Samaa takes the cake – invites a guest only to insult him – copying this from Arnab Goswami I presume who has perfected it to an art – credit to Nasir Khan Jan who kept his cool pic.twitter.com/p90ecYwcor

— omar r quraishi (@omar_quraishi) May 7, 2019
Agreed, a 100%
What a disgusting group of individuals trying to shame #NasirKhanJan. If you don't like what he is, don't invite him to your show. Taher Shah, Qandeel Baloch & now Nasir Khan Jan – we make fun of them b/c they are easy targets. https://t.co/4cHgCXBTpP

— Mahwash Ajaz (@mahwashajaz_) May 7, 2019
Yep, ridiculous is the word
Ridiculous line of questioning. Shouting at a guest at your show to tell him he is "vulgar". Same mentality got Qandeel Baloch killed. https://t.co/oke368TwYG

— Atika Rehman (@AtikaRehman) May 7, 2019
Time for the host and channel to learn something out of this matter
I don't get it – the Samaa morning show host repeatedly tells the guest that what he does is vulgar, it's bad, it's not entertaining – ok – tau phir show pay bula kay be izzati kyun kartay ho – why give publicity to someone who you obviously disapprove of – terrible show pic.twitter.com/9JiPdUuy7g

— omar r quraishi (@omar_quraishi) May 7, 2019
Even we are proud of the way Nasir Khan Jan dealt with the host
Wow! I am really impressed by Nasir Khan Jan the way he didn't loose his temperament, and didn't bow down to the bullying host. https://t.co/eTwtqpb0VH

— Shiraz Hassan ਸ਼ੀਰਾਜ਼ ਹਸਨ (@ShirazHassan) May 7, 2019
Couldn't have said better!
Just watched Nasir Khan Jan in SAMAA's morning show, very disgusting behavior by the host, low standart and fake TRP game. Khan Jan, is a SM sensation & Star with thousands of views across globe. If you can't gave him respect, don't call him in your shows. NKJ Wins.#nasirkhanjan

— Zacaria Khan (@iamzacariakk) May 7, 2019
Aptly put.
You do NOT invite people on morning shows to impose your own opinion on them!!Just because someone belongs to a disadvantaged background doesnt give you a license to treat him the way u wish,that too on live show! Disgrace to journalism!#nasirkhanjan you are the real celebrity!

— khadija siddiqi (@khadeeeej751) May 7, 2019
People have been signing a petition to remove the anchor from the show for his distasteful behavior
Everyone following me kindly sign this . Let everyone know we stand with #NasirkhanJan

Pakistan Electronic Media Regulatory Authority: Removal of anchor Muhammad Shuaeb from Samaa for bullying Nasir Khan and on Naya Din. – Sign the Petition! https://t.co/CeNoLQaooh via @Change

— Jon Snow Ki Quetta Wali Phupo (@VoldemortBaloch) May 7, 2019
The thing is that when you're INVITING someone to a show, you HAVE to respect them no matter what. Also, it was great to see how a 'vulgar content creator' in Nasir Khan Jan kept his calm and answered maturely in front of a 'qualified journalist' who couldn't keep his cool.