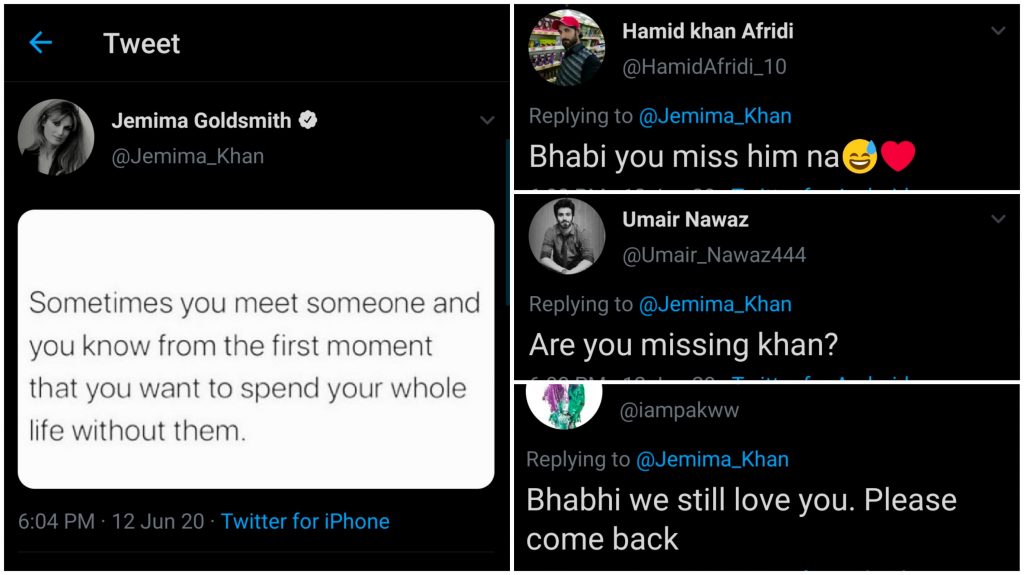 If you're from a Pakistani household and your mom isn't obsessed with Jemima and Diana, are you even real? Anytime you check replies to Jemima, there's always someone asking her if she loves Imran Khan, EVERY SINGLE TIME!
Jemima Khan shared a certain picture to Twitter today:
— Jemima Goldsmith (@Jemima_Khan) June 12, 2020
And people clearly missed the point!
Bhabi you miss him na😅❤

— Hamid khan Afridi (@HamidAfridi_10) June 12, 2020
Who said it was in the first place?
I am sure its not about our Khan!

— Nouman Khan (@Noumankkb) June 12, 2020
🙄
Do you still love IK?

— 𝘙𝘪𝘻𝘸𝘢𝘯 (@ChupShaa) June 12, 2020
People were curious!
Are u talking about PM Imran Khan

— soha (@SohaTazz) June 12, 2020
We don't even know what to say here:
then why do you have Khan in username

— Abdullah (@michaelscottfc) June 12, 2020
Some were still sad about the separation:
Imran Khan n Jemima was a really awesome couple its sad that they got separated…..

— AhmeD (@ahmed1206says) June 12, 2020
There were pictures, as always!
You are great we Pakistani Love you. May Allah bless you. pic.twitter.com/pG5OcH2xQ9

— Qaisar KS (@qaisarjaani) June 12, 2020
That's a bold assumption to make:
bhabhi you still want imran khan we can see. pls marry him bhabhi

— ASG (@ahadfoooty) June 12, 2020
We think not!
And commenters just dont get it do they

— Yasir Khan (@Yasir_Minden) June 12, 2020
Chalo bhaee!
You might be still in love with Imran Khan.

— Ershad Khan (@ershadkhandu) June 12, 2020
🤦‍♀️
Bhabhi we still love you. Please come back

— 🗨 مشٹنڈا ویلا (@iampakww) June 12, 2020
People thought she was missing IK:
Are you missing khan?

— Umair Nawaz (@Umair_Nawaz444) June 12, 2020
She still got most of them even with the whole tweet 😂
She had us thinking about Imran khan in the first half. Ngl https://t.co/yvfeLgspMV

— . (@NawalAsif1xxx) June 12, 2020
Some had no idea what the tweet meant!
What does this tweet mean in particular? 🤔

— Mehru. (@mehruuu_) June 12, 2020
Some were so done!
Please Pakistanis now stop asking do you still love ik, she has her personal life, come on, let her live 🤷🏻‍♀️🤦🏻‍♀️

— Marwah.🇵🇰 (@Marwayyy_y) June 12, 2020
Some were actually concerned about the effect the comments might have on her:
I sometimes worry for Jemima's mental health seeing the kind of replies (well meaning?) Pakistanis leave under her tweet https://t.co/npPNtbOham

— MUK (@HisExellencyMUK) June 12, 2020
What do you think about the replies? Let us know in the comments below!