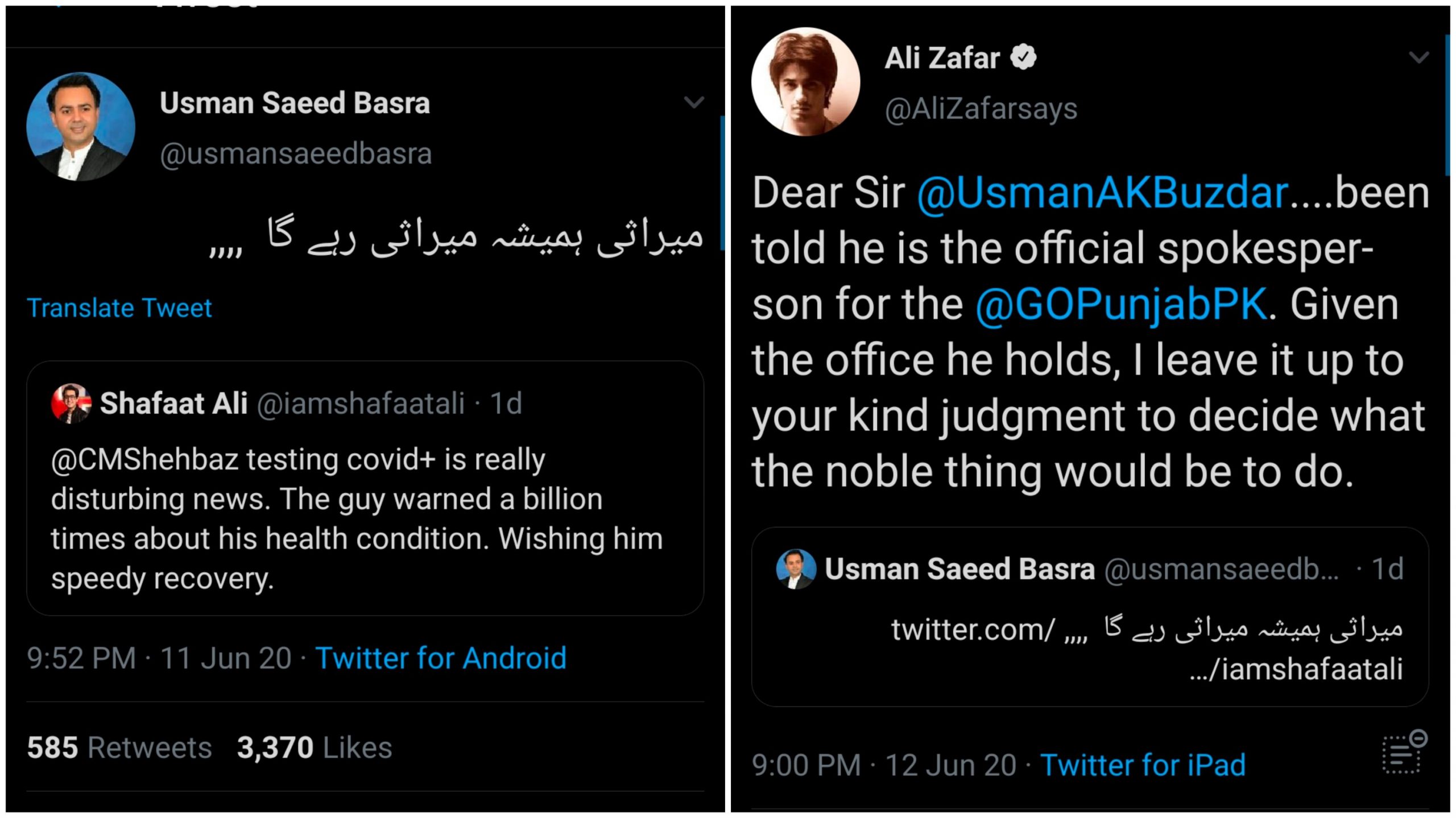 Just as Shehbaz Sharif got diagnosed with Corona, his well wishers started praying for his health, wishing him a speedy recovery, and so did comedian Shafaat Ali:
@CMShehbaz testing covid+ is really disturbing news. The guy warned a billion times about his health condition. Wishing him speedy recovery.

— Shafaat Ali (@iamshafaatali) June 11, 2020
His tweet caught the attention of Punjab government's spokesperson, Usman Saeed Basra and he tried throwing shade at Shafaat Ali by calling him a "meerasi:"
میراثی ہمیشہ میراثی رہے گا ,,,, https://t.co/VwIGXeEY5s

— Usman Saeed Basra (@usmansaeedbasra) June 11, 2020
And people were furious at his response, Ali Zafar wanted immediate action to be taken against Usman Saeed Basra:
Dear Sir @UsmanAKBuzdar….been told he is the official spokesperson for the @GOPunjabPK. Given the office he holds, I leave it up to your kind judgment to decide what the noble thing would be to do. https://t.co/bzm0ZsNwlP

— Ali Zafar (@AliZafarsays) June 12, 2020
Actor Omair Rana too felt the need for an apology:
I once corrected a lawyer/politician who came from a family of that vocation that my father is a businessman, making him the meerasi not me. For Meerasi means one who inherits something, esp line of work. I see your Mens Rea @usmansaeedbasra Pls explain your Intent or apologise. https://t.co/kBBNWzLXfA

— Omair Rana (@omairana) June 12, 2020
Vasay Chaudhry was furious!
@UsmanAKBuzdar SB. If such people are the spokesperson for your Govt then shouldnt the ministery of culture be renamed as ministry of Marasees with the appointed minister being the HEAD MARAASI ? …Shame on this Gentleman. https://t.co/hKqXnF4nq8

— vasay chaudhry (@vasaych) June 12, 2020
People were questioning if this tweet suited his stature:
Very unfortunate n feel sorry. My simple question is does this tweet suit to your stature? @usmansaeedbasra https://t.co/ARJJnsw66o

— Nadia Mirza (@nadia_a_mirza) June 11, 2020
People were not having it:
.@usmansaeedbasra we will not take it from you. @iamshafaatali is a fellow colleague and comedy/acting is a respectable profession. Your comment is showing disgrace for the entire artist community. What if this community refuses to vote PTI next time ? pic.twitter.com/nzkqBYql7h

— Madiha Abid Ali (@MadihaAbidAli) June 12, 2020
People were disappointed:
Very disappointing use of words by someone who represent the ruling party. https://t.co/lyqG8BNbDd

— Annie (@aniecheema) June 13, 2020
People wanted action to be taken against Usman:
The most shameful tweet of the day . Is there anyone sane is in the government to take some notice of this @ImranKhanPTI @UsmanAKBuzdar https://t.co/v0MhKm3hdp

— Jehanzeb Bucha (@Jehanzeb_Bucha) June 12, 2020
People were calling his statement cheap:
cheap statement given by spokesman
Tafu. https://t.co/RGUsyDY1GH

— Raza Ali jatoi (@Raza99286382) June 12, 2020
People were not expecting something this low coming from him:
Quite unfortunate, wasn't expecting this much low from someone bearing a Pol position.

— Ajmal Jami (@ajmaljami) June 12, 2020
Some were demanding for an apology asap:
Once a bloody loser always a loser is the perfect way to explain the incompetence of Punjab Government. Woh kya kehtay hain "Na kaam k na kaaj k dushman anaaj k" you really need to explain yourself or bloody well apologise. Politics aside Shahbaz Shareef is human. https://t.co/jF3BevyXtw

— Shahbaz (@shahbazzsaturn) June 12, 2020
Many thought that he could have replied without being personal:
Such a disgusting tweet. Shows the mentality and upbringing. He could have replied without getting personal. https://t.co/cqZj2YIUrn

— Ahsan Ali (@lifeofahsan) June 12, 2020
Some felt that his reply was uncalled for:
Uncalledfor 😕 https://t.co/DC6msNndj8

— میاں سعد کلیم (@mskaleem) June 12, 2020
Some came up with facts:
Degrading people on the basis of profession is the biggest challenge of 21 century. It is crime & its punishment laws must be implemented.Our mooto in this era should be"U keep to urself & I 'll keep to myself.U do ur things & let me do mine.U don't bother me & I won't bother U." https://t.co/QoH7GG7L5w

— Sami Ur Rahman (@samiurrahman754) June 12, 2020
Many found for blow to be below the belt:
Usman bhai that was below the belt! Doesn't suit you!

— Henna B (@HennaBatool) June 11, 2020
What do you think about Usman Basra's remark? Let us know in the comments below!