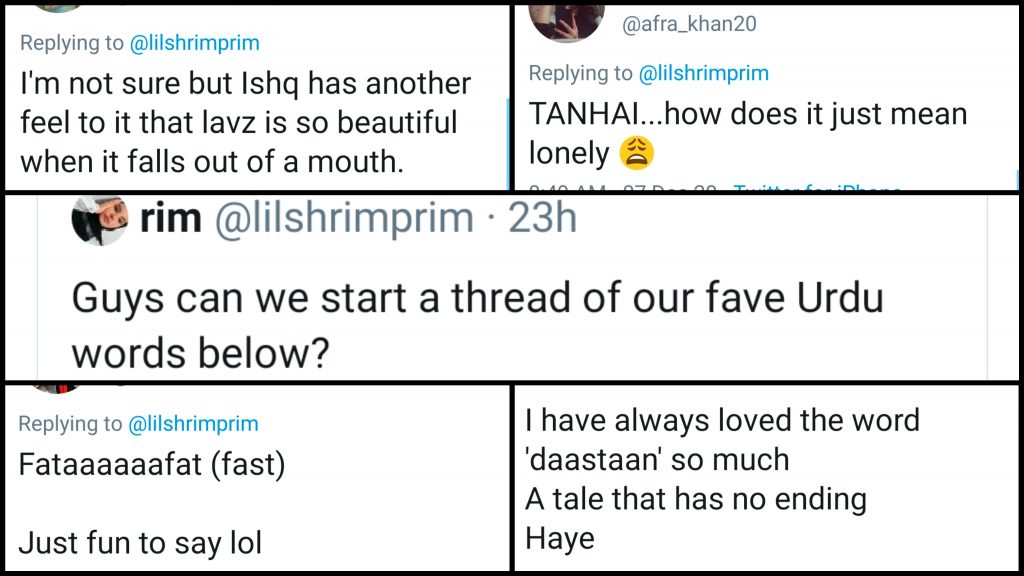 In a world where Urdu has lost its essence and importance in day to day conversations, netizens are sharing their favourite words from the beautiful language:
Guys can we start a thread of our fave Urdu words below?

— rim (@lilshrimprim) December 7, 2020
And the replies have us falling in love with the language all over again!
Mine are : kashish (an attraction) and ruhaniyat ( soulfullness)

— rim (@lilshrimprim) December 7, 2020
Oooof!
I'm not sure but Ishq has another feel to it that lavz is so beautiful when it falls out of a mouth.

— Srishtiiii (@Smolildumpling) December 7, 2020
This list is everything!
معذرت – apologies (maazrat)
پرورش – upbringing (parvarish)
شراب – wine (sharab)
سہانا – beautiful (suhana)
سریلی – melodious (sureeli)
کہکشاں – galaxy (kehkashaan)
خوامخواہ – aimlessly (khwamkhwa)
شرافت – nobility (sharafat)
چاندنی – moonlight (chandni)
کرن – sun ray (kiran)

— ur local Hyderabadi grandma (@hyderabadinani) December 7, 2020
Something about raabta is just so beautiful:
raabta- inexplainable connection w another soul
hawayein – winds
riyaaz- to practice a form of art everyday
masakali- aspiring to fly high thru peace and liberation
ruhaniyat – soulfulness

— shiza 🌻 (@shizshizzz) December 7, 2020
Junoon and junooni have to be our personal faves!
Haal e dil
Musafir
Dastaan
Aazmaish
Qaus o qaza
Kehkashan
Jamia
Ulfat
Zehniyat
Muraaqbah
Ruh
Rahat
Umeed
Taqdeer
Buland
Khuda
Imtihan
Manzil
Karvaan
Chiragh
Afsana
Noor
Junoon

— ssi (@_ninjassi) December 7, 2020
It's just beyond us!
TANHAI…how does it just mean lonely 😩

— Afra Khan (@afra_khan20) December 7, 2020
Same!
Beshak is up there for me https://t.co/04qv9XFDjQ

— jalisah (@jalisahhh) December 7, 2020
🥺
I have always loved the word 'daastaan' so much
A tale that has no ending
Haye https://t.co/xCTzMBkdT9

— Trinket (@TinyPistachiou) December 7, 2020
We love it!
Fataaaaaafat (fast)

Just fun to say lol

— Omar 🤘 (@udaaslarkaa) December 7, 2020
Meri jaan >>> all other words for bae:
my fave word is meri jaan which means 'my life' and that's what i'm gonna call u when we get married <3

— sarah (@kanyekitheaa) December 7, 2020
There's just something very special when it comes to the word inquilaab:
Favorite Urdu words are: Mustaqbil, Inquilaab, Ihtefaaq, Hartal, Doraha, Daira, and Jado Jehd. And my latest favorite word Tashweesh. I solely watched Pakistani dramas as a youth to improve my Urdu vocabulary. I can't improve the accent, as the gora accent will remain 😁 https://t.co/rqNjKwCJ3R

— Afsheen Mujahid Chak (@SheenHatun) December 7, 2020
Lehaaz ❤
lihaaz
khwaish
musalsal
qamaskam
shiddat
azmaysh
ujala
ainvi
khatra
mukhtalif
chaan
ghabraat
roshni
umeed
muskarat
araam

— numiii (@shhazaadi) December 7, 2020
We kinda agree!
paagal is the greatest word ever created

— Tarek Alkorani (@tarekalkorani) December 7, 2020
We all do!
Hmmm idc about a fav but I like pic.twitter.com/M032uy1Cd9

— 💚خوشی💚 (@y2ksherni) December 7, 2020
The word carries such a powerful aura to it:
Kainat: universe

— Aminahhh 🇮🇳 (@aminah4prez) December 7, 2020
Khwab is just so romantic!
Khwab, sukoon, rooh, kainat, duniya, mahtab/chaand and zeihaniyat

— Z ä ÿ ń (@z_sshaik) December 7, 2020
Love it!
mine is ulfat which is basically what you feel when you fall in love or the feelings of affection 🥰

— 🥭 (@aamnasalt) December 7, 2020
Ngl, feel hi alag hai is word ka:
Beghairat 😍😍😍😍

— RayFromTheBlock (@Akhtxr) December 7, 2020
Kaamil and aqeedat 😍
Kamil- complete
Guzarish- request
Aqeedat- faith
Mehroom- devoid of something
Maazrat- apology
Barsabeel-e-tazkara- in between a conversation

— Netflix and Biryani (@SalmanMGhori) December 7, 2020
What we love, and also what we need!
I don't speak it by any means loll but I love the word sukoon.

— ✨Lams ✨🌻 (@lams_t22) December 7, 2020
Oh yes!
مستقبل (Future-(Mustaqbil

— Spidey🕷 (@puran_polii) December 7, 2020
Khudi 👌
Tawakul (faith)
Sehr e subh gahi (early morning submission to Allah)
Noor e nazr (apple of one's eye/ sweetheart)
Khudi (self recognition)

— Hunaina Aman (@hunaina_here) December 7, 2020
Haha, kartoot is lit!
fitrat, mohabbat, kartoot LOL

— Eman 🇵🇰 (@emanimrann) December 7, 2020
Awara hoon? 👀
why was the first word that popped out of my brain aAwAaRa -> in that melodic sa way, idek what song this is but I hope someone gets it https://t.co/TnCAfBShec

— bloopdedoop (@stargazer0_0) December 8, 2020
Do you mean aansu, indirectly?
There's many beautiful words but only one comes to mind when u say favorite… and without a doubt it's gotta be pyaaz https://t.co/PLjTlCRO0r

— hoodie yan (@yannickrizvi) December 7, 2020
Ah, the word we've mistaken for kutta bacha in school:
کتابچہ
My most favorite yet https://t.co/6aycHOQi4F

— G A R L I C – S O S™ (@Kumailxoxo) December 7, 2020
*opens lughat*
Qustuntunia https://t.co/4FSeNevrjR

— Faraz (@FARAZSSHAIKH) December 7, 2020
Hahaha, jo baat hai!
Jungli is the funniest shit 🤣 https://t.co/0Ck2uZ9iA2

— kebab (@twabbus) December 7, 2020
Some found it hard to continue the list without food:
chai, samosa, nihari, biryani, papri chaat, paya, rasgulla, gulab jamun, mithai, lassi.
Khaana hazam, pesa vasool

(these are my favorite words and also my ideal menu)

— AR Bheri (@beardmannn21) December 7, 2020
What's your favourite Urdu word? Let us know in the comments below!