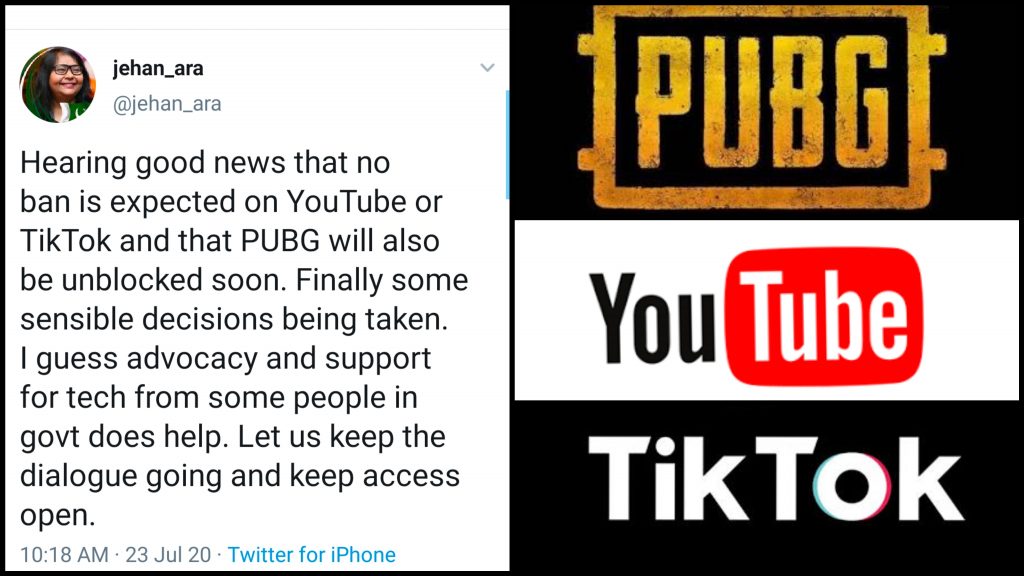 Over the last few days Pakistanis have been really upset over the ban on PUBG, and the news of expected bans on YouTube and Tiktok.
But things took a turn for good today and Pakistanis have been assured that no such ban is expected, and PUBG too will soon be back:
Hearing good news that no ban is expected on YouTube or TikTok and that PUBG will also be unblocked soon. Finally some sensible decisions being taken. I guess advocacy and support for tech from some people in govt does help. Let us keep the dialogue going and keep access open.

— jehan_ara (@jehan_ara) July 23, 2020
And people are ecstatic!
it's probably the best news I've seen on twitter this week

— سید شہباز حیدر (@PatrioticNoodle) July 23, 2020
People were happy at sanity, finally, prevailing:
That's heartening to know . Sanity prevails 👍 https://t.co/GgkS5lHK6T

— Beena Raza-🇵🇰🇨🇦 (@razabeena) July 23, 2020
We're keeping our fingers crossed:
Phew! Let's hope it's confirmed and no one has second thoughts!

— misbah (@MizNaQ) July 23, 2020
Many shared how in this day and age, a ban like this sounds absurd:
Great news! But at a time when the world has gone virtual such interventions should not be necessary. #Pakistan https://t.co/K0399KUtEv

— Yusra Askari (@YusraSAskari) July 23, 2020
Even to think of banning tech is absurd. Should be avoided at all cost. https://t.co/NyXYVxxZXc

— Peshawari Elite (@SfeakerSb) July 23, 2020
Some believed that offices should hire tech-familiar people:
There is dire need of people in government with good understanding of technology https://t.co/usXMh6w6Ty

— Nudrrat Khawaja (@NudrratKhawaja) July 23, 2020
Some shared how there shouldn't have been a ban in the first place:
I don't know how happy we should be that they didn't do the stupid thing, this shouldn't have been an issue in the first place. You're absolutely right that advocacy and education of the lawmakers thru that process is crucial so we don't have scares like this to begin with

— Fatima Khurram (@wendyat432) July 23, 2020
People were happy!
Indeed a great news, I am not a user of tiktok or pubg but Youtube is a resource which helps you in learning many things. I have prepared for many exams through watching youtube videos.

— Salman Muhammad Soomar (@SalmanMSoomar) July 23, 2020
Yes!
good to know, more power to IT industry of Pakistan 👍

— Nazia (@nazia002) July 23, 2020
Haha, a lot of dads are not going to be happy:
My dad and @MuradSabeen wont be happy about the pubg news.

— Altamash Murad (@AltamashMurad) July 23, 2020
Some still believe that Tiktok should be banned:
TicTok should be banned it's of no use whatsoever. YouTube is a good resource for learning and problem solving. PUBG is a menace and converting children in to zombies 🧟‍♂️

— Kunwar Moeez Khan (@KunwarMoeez) July 23, 2020
Some had given up altogether:
Poori dunya main zaleel karao, baisti ho tou unblock karo ya kaidi journalist ko reha kardo @ authorities run by boomers in Pakistan https://t.co/oEUSbJmwtU

— Safia (@_safiamahmood) July 23, 2020
Are you excited for the ban to be lifted? Let us know in the comments below!