NESCAFÉ Basement never fails to impress us, but the season 5 has blown us away on a whole new level. NESCAFÉ Basement is the only platform that encourages the youth to awaken their passion for music and pursue their dreams. With a team of 73 unique artists under Xulfi's maestro and Xulfi has proved himself with every song released in the season so far.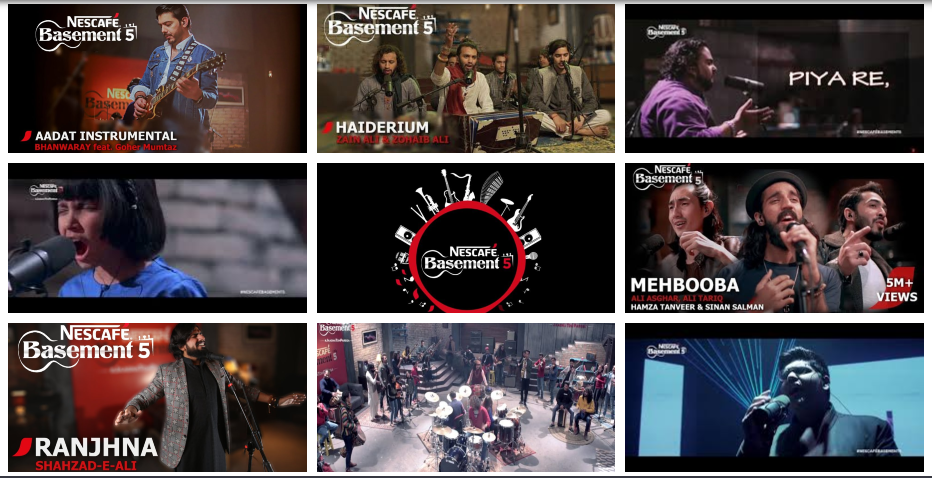 The season started with the song 'Jaagna Toh Parega.'The song reeked of talent, the arrangement was phenomenal, nothing seemed too over the top, every instrument had its shining moment in the song and the camera work was exceptional – simple, clean and natural. An experience in itself, toh jag jayein because yeh toh sirf trailer tha dost!
With that great of an opening, NESCAFÉ Basement did not come slow with Bol Hu. Originally by Soch the band, Xulfi put forward the 8 year old singing protege Hadiya Hashmi who became a favourite even across the border for her range, throw and nailing the high pitch. The comment section on all social media platforms was all praises for Hadiya, some even called her the next Abida Parveen. And while Hadiya did steal the show rightfully, we would like to compliment the entire band for putting together such a powerful composition!
The season then moved forward with a rendition of Haroon's evergreen Mehbooba, a song that took us all down the memory lane. The trance-inducing beats and riffs, violin, saxophone, rubab and percussions, such a well-balanced piece! It's new but it reeks of nostalgia at the same time, it's not the same and yet hasn't lost any essence of the original Mehbooba, exactly how covers should be done.
It even gathered praise from Haroon himself.
Check out the amazing live performance of Mehbooba here https://t.co/dkMK5mIsmC

Great job @zulfiqarjkhan and the talented young singers and musicians on Nescafe Basement. 👍🏼👍🏼👍🏼👏🏼🙌🏼🙌🏼#NescafeBasement5#JaagnaTohParega pic.twitter.com/EaZv7isXNw

— Haroon (@TheRealHaroon) February 2, 2019
And just when you thought it couldn't get any better, came Haiderium, a Qawwali that will take you on a journey. Haiderium alone is strong enough to convince the audience that some covers can be made as good as the original. Another tasteful and well-balanced blend of Sufi meeting Rock. Performing qawwali is never easy, especially with a team this young but NESCAFÉ Basement has truly outdone itself with Haiderium.
Then came Ranjhna, an original by Shahzad Ali, about a tale that'll transport you to the Heer-Ranjha times. Standing notes, jumping notes, riffs, the atmosphere! Everything about it is on a whole new level of sublime – you can feel literally everything in Shahzad's voice, from longing and love to grief to the intangible art of storytelling. Love that NESCAFÉ Basement has a number dedicated to the resurgence of Punjabi Folk.
And just when we were back to catching out breath, Ali Khan's Teri Yaad took it all away! Believe me when I say I'm happily married but this song made me think of a break-up I've never had… yeah! Ali's voice and soft persona really compliments the composition. The arrangements – absolutely melancholic, retro, soft and warm at the same time… Hits you at all the right spots.
What came next, was not an easy one. Covering Piya Re by NFAK? One wrong move and the season would come crashing down. But NESCAFE Basement didn't come here to play, they rendered it beautifully. Everything from the melodious composition to the arrangement and vocals were spot on, the introduction of Kalimba was brilliant, and I loved how the sadder arrangement and interpretation of the song worked out in their favour.
Then came Resistance, an EDM number so good that no one could believe this was made in Pakistan, I couldn't either! The lyrics, the vocals, the arrangement, the execution, everything was beyond perfect. Electronic music is still relatively new to the Pakistani music industry but this sure is a revolutionary beginning. God bless Abdullah Siddiqui and Xulfi for this masterpiece.
It even had Meesha Shafi shook!
WOW!!! Salute to everyone on board and @zulfiqarjkhan you genius! Everyone please do yourself a favor and click play! 🔥🔥🔥

— MEESHA SHAFI (@itsmeeshashafi) March 16, 2019
And then came the most beautiful instrumental rendition of Aadat, a song that changed the game, a song that's so iconic. The rendition also featured Gohar Mumtaz, it was 9 minutes 12 seconds of pure bliss – the violins, the rubab, the flute everything, it feels as if we have all grown up with this rendition. To choose a song so close to the nation's heart and to do it so beautifully, only Xulfi and team can pull this off. I think this one is a perfect example of team work, almost 20 musicians playing a different instrument, no instrument overpowering the other. Nescafe basement is literally not coming slow this year and for those who think instruments don't speak, here's your proof!
Pushing hits after hits with zero misses, NESCAFÉ Basement is at its utmost brilliance this season and we'd like to congratulate Xulfi and his team for blessing us with this season.