Pakistan may have an abundance of bridal designers to choose from, but there are only a few who deserve to truly be called couturiers par excellence. One such example is the iconic fashion maven, Shehla Chatoor, whose stature within the market hardly has anyone at the same level of ingenuity.
She's been an institution in her own regard, and in the decades that she's been active, Shehla's brides have always sworn by her and everything she does.
Now, looking at eight such real brides of the designer, Diva explores the magical work of Shehla Chatoor through the eyes of her esteemed clientele…
Nazam Mahar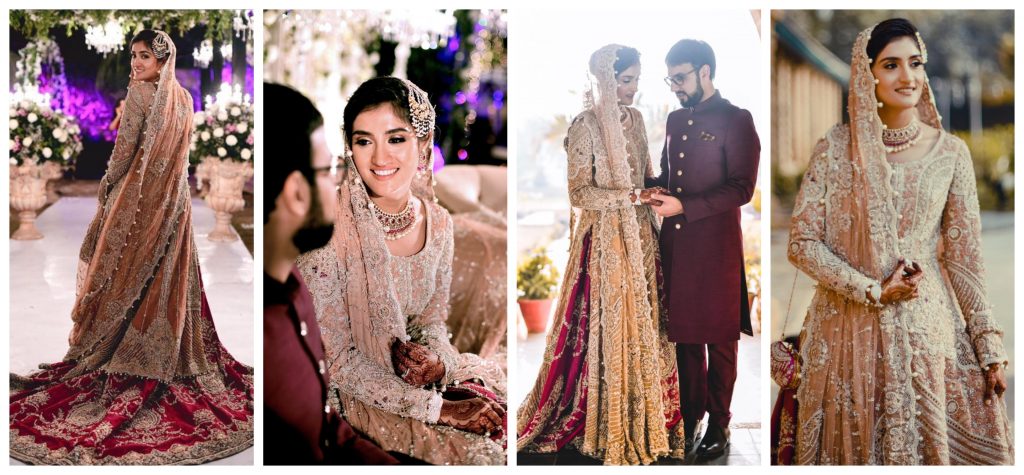 Nazam Mahar made a stunning Barat bride in Shehla Chatoor's exquisite handcrafted bridal ensemble in hues of corals and deep pinks, which were anchored with traditional regal embroideries, and for those who want to go beyond traditional, this works as the perfect example.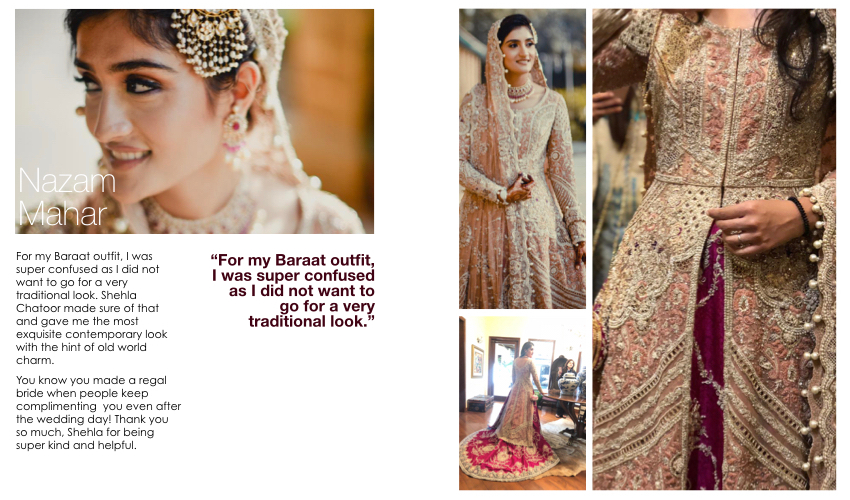 Marwa Chugtai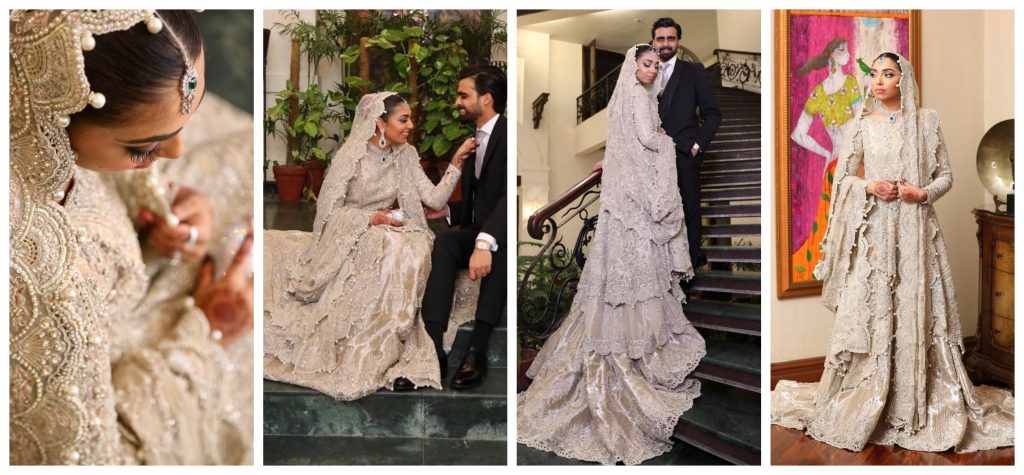 For Marwa Chugtai, subtle muted tones and elegant embroidery crafted with a combination of tulle and lamé served as the perfect ensemble on her big day. Shehla's stunning bride sashayed down the altar in her intricately crafted bridal ensemble, embellished with pearls, crystals and timeless details, and truly, it encapsulated the designer's aesthetic sense.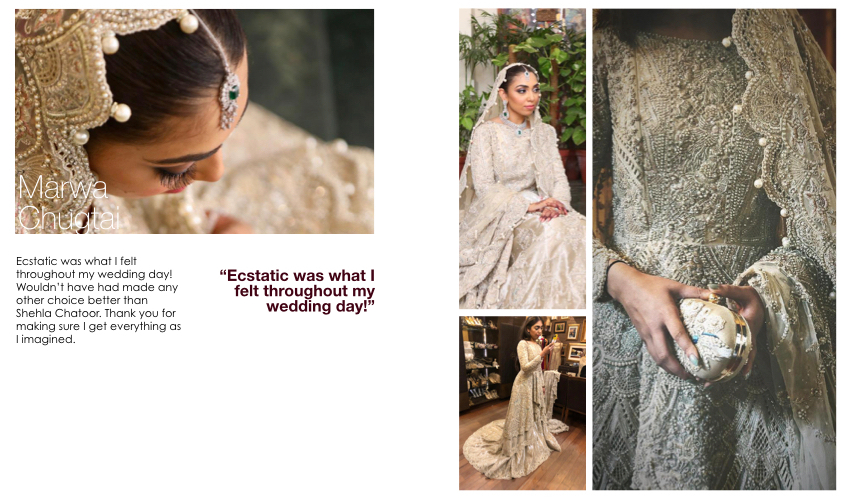 Elaf Junejo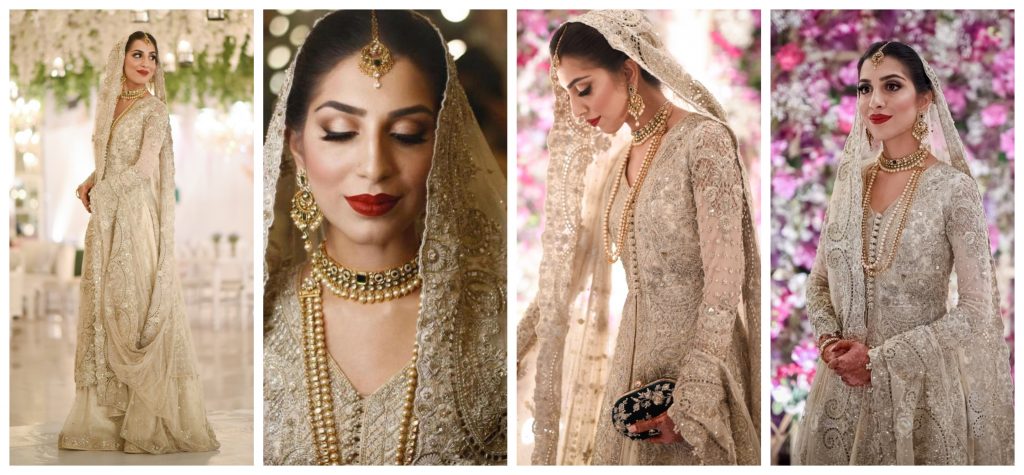 Elaf Junejo, chose to go for a stunning soft tulle ensemble, which was meticulously crafted in a creamy gold-hued tone with Shehla's signature timeless craftsmanship and decadent embroideries. The outfit can surely serve as an inspiration for those who want to choose an opulent yet graceful choice for their big day.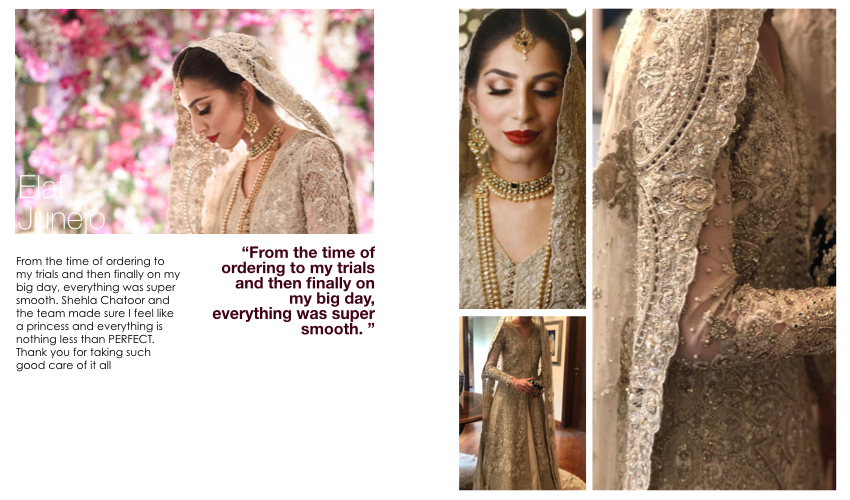 Scellina Asad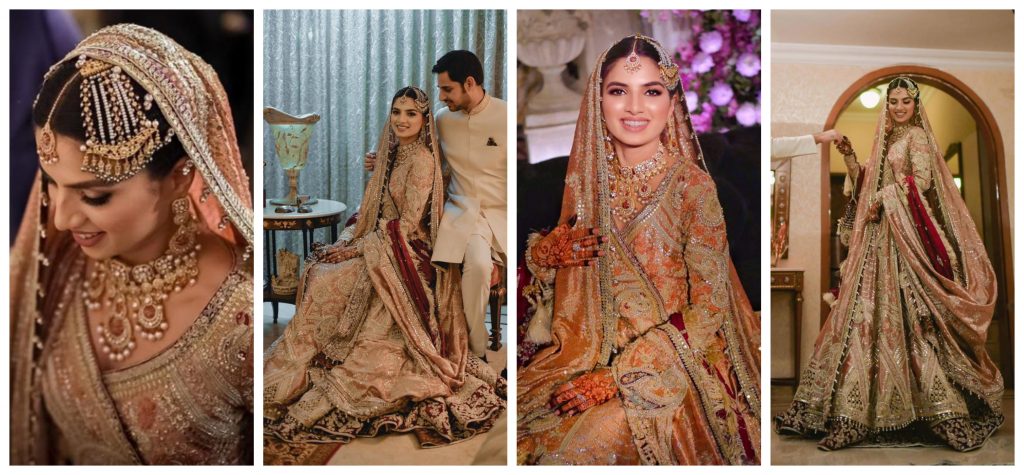 For a blushing bride like Scellina Asad – who chose Shehla Chatoor for her Baraat and Valima, the designer offered the modern bride a traditional heirloom piece meticulously crafted with traditional embroidery from the regal Marjaan collection for the Baraat.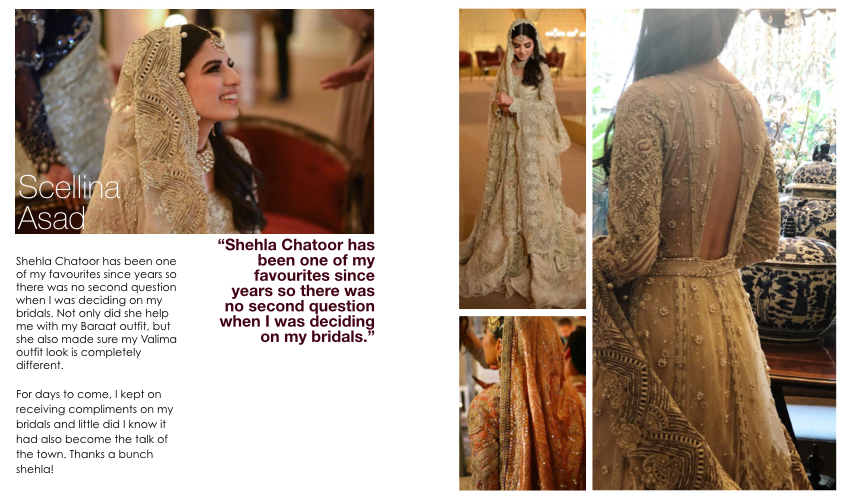 For the Valima, Scellina chose a buttery tullé sparkling crystal and pearl embedded ensemble with glorious ruffled and pleated details, which added an air of au courant contemporary whimsy to the trousseau.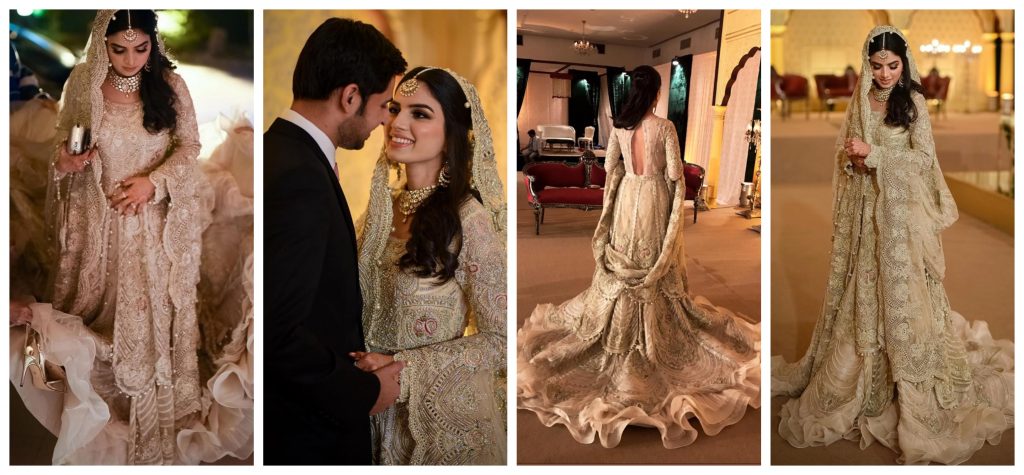 Sana Ahmed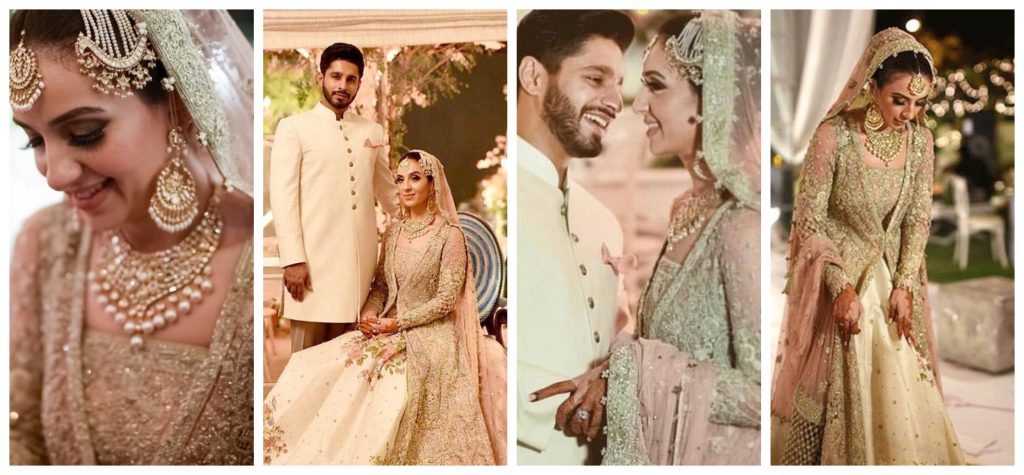 Standing the test of time, Shehla's bridals are designed with traditional mysticism that are complemented with cutting edge modern silhouettes, and that is exactly what Sana Ahmed loved in her outfit. The bride glimmered in Shehla's swoon-worthy bridal ensemble with exquisite craftsmanship and intricate old-world embroideries and impeccable attention to detail.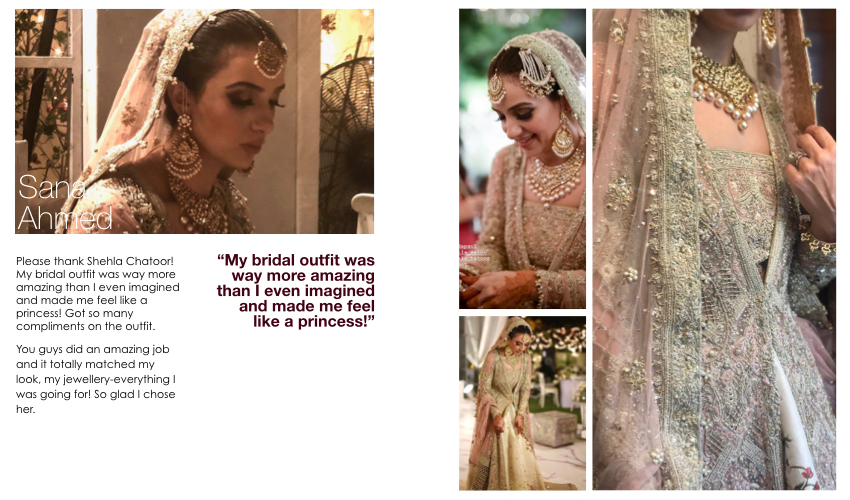 Shanal Qazi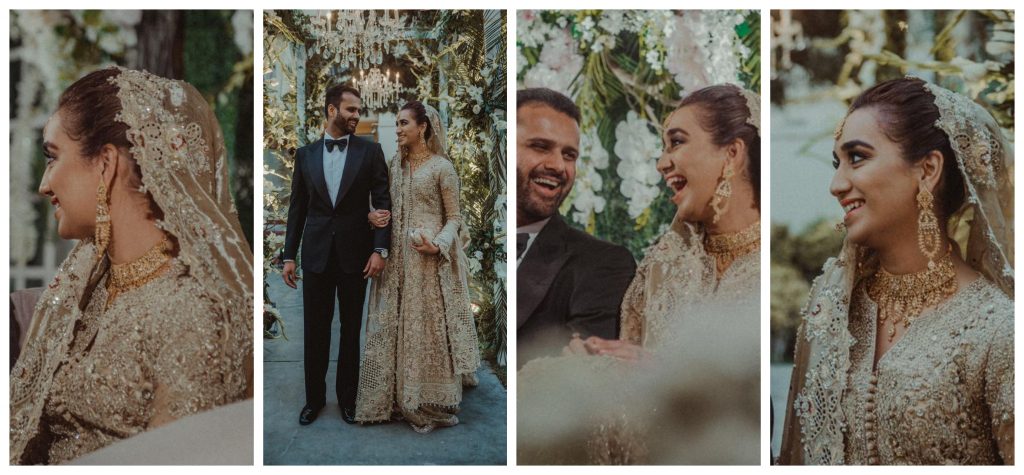 Shanal Qazi made for a beautiful bride in Shehla's timeless bridal ensemble, which was done up in romantic golds, champagne and nudes. Like a quintessential Shehla Chatoor bridal, the outfit made for the client displayed exquisite timeless embroideries and meticulous craftsmanship.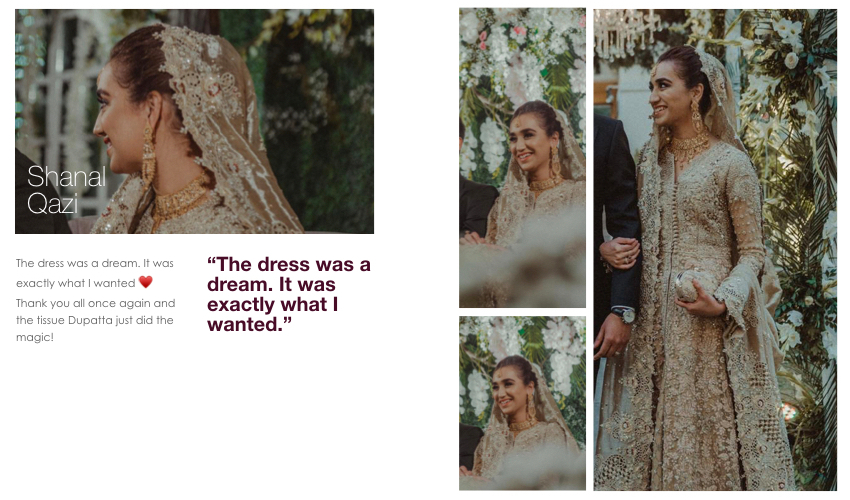 Shanzay Salman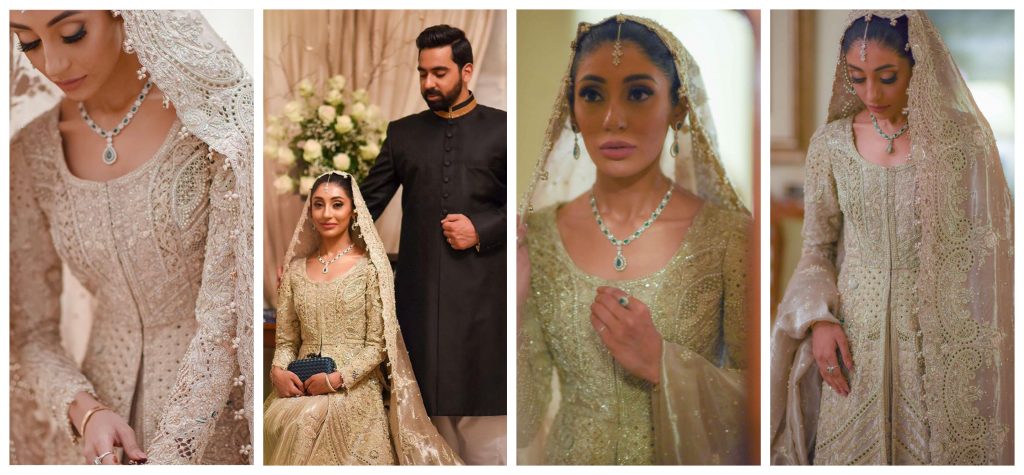 Shehla Chatoor's signature brides are a vision of elegance and timeless allure, and when Shanzay Salman chose to go for the designer for her Valima, she only added to the ethos Shehla's ensembles bring to the forefront. The bride was the perfect example of luxury in shimmers of ivory gold and hues of blue.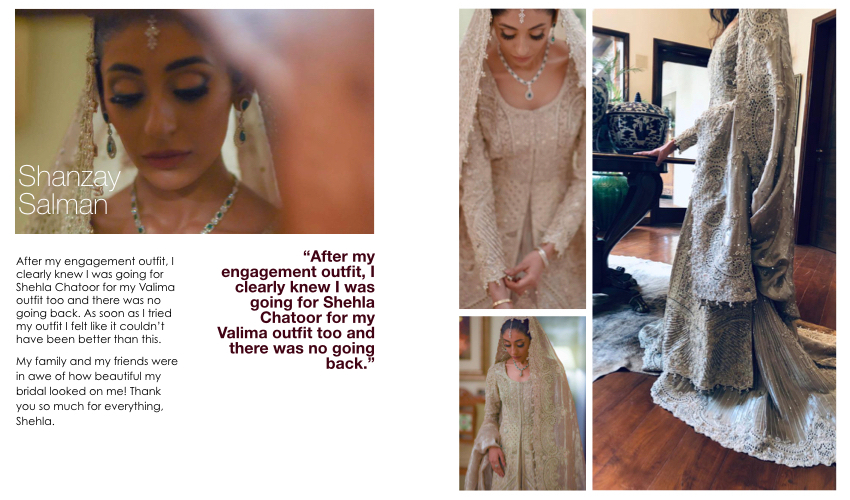 Sona Memon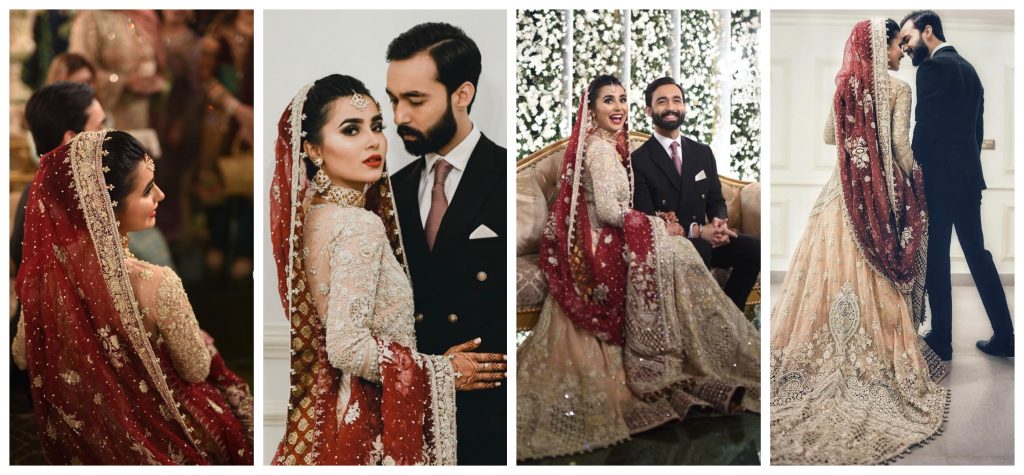 Sona Memon made for a gorgeous bride in a delicate tea pink bridal with rich magenta accents delicately handcrafted embroideries with exquisite details, from Shehla's bridal couture collection, Nurealaleh, which was complemented by a bejewelled handcrafted clutch that completed the look.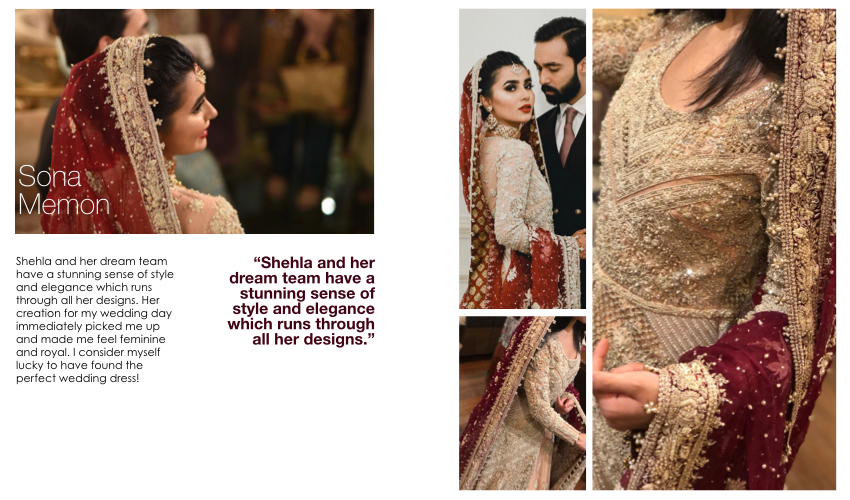 Which look is your favourite? Tell us in the comment section below!