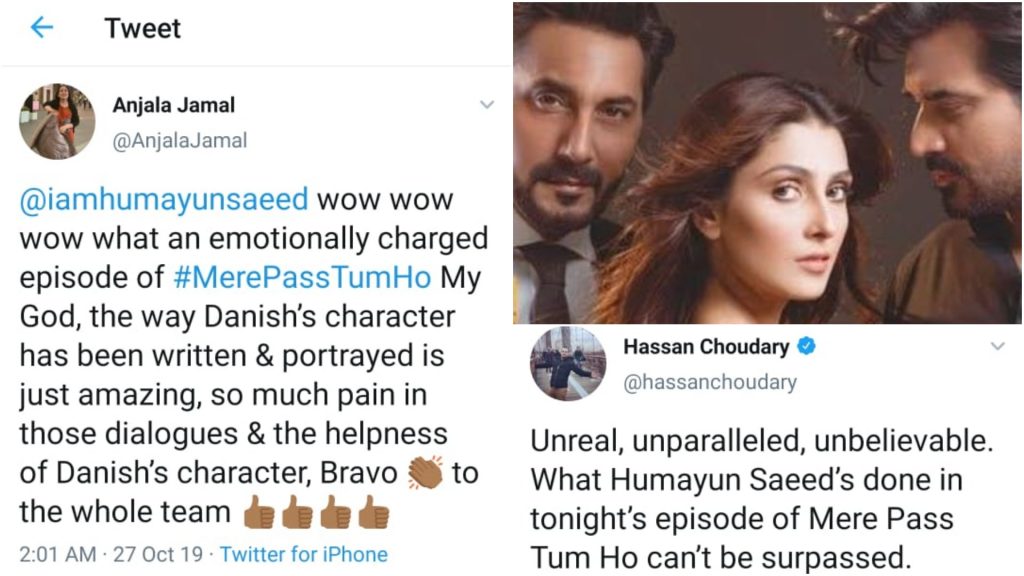 Initially when Meray Paas Tum Ho was developing, people weren't really on-board wholeheartedly, however, the tables have definitely turned after the latest episode of the drama was aired, and let us tell you, it was INTENSE! And its because of this very intensity that people have finally warmed up to the drama and its characters.
The drama instantly became the talk of the town and the actors were overwhelmed with the love and feedback they were getting, especially Danish who is played by the extraordinaire Humayun Saeed. Overwhelmed with emotion, Humayun Saeed took to his social media to thank the fans for their immense love:
Thank you all! #MerePassTumHo pic.twitter.com/DIVDYBJwdI

— Humayun Saeed (@iamhumayunsaeed) October 27, 2019
His fellow colleagues were in awe of him: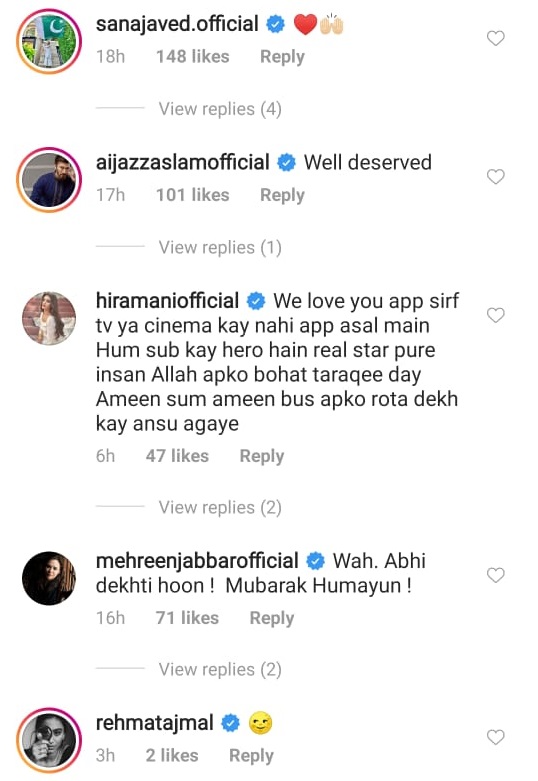 And so was the internet!
Unreal, unparalleled, unbelievable. What Humayun Saeed's done in tonight's episode of Mere Pass Tum Ho can't be surpassed.@iamhumayunsaeed I am going to find you and give you a hug and kisses on both cheeks, please be warned#MerePassTumHo pic.twitter.com/s8csWN9KIQ

— Hassan Choudary (@hassanchoudary) October 26, 2019
People were glad to see Pakistani dramas breaking stereotypes:
Glad to see that Pakistani dramas are finally breaking stereotypes and showing the other side of the story where men are innocent. Also where men are conspiring against men. #MerePassTumHo @iamhumayunsaeed

— Cookies (@purfect__) October 26, 2019
People were comparing the cast's masterful acting to that of SRK:
@iamhumayunsaeed n Adnan Siddiqi at their best in Mere pass tum ho, SRK n S Khan can't reach them in real acting many many congsss both of our hero's n we should appreciate them a lot. #MerePassTumHo pic.twitter.com/34WIkyculk

— Shahbaz Choudhary (@Shchoudhary) October 28, 2019
All praises for @iamhumayunsaeed!
SRK ko peechy chor dia Bhai ne!!!
No words for Danish! 💔💔💔
He literally stole the show tonight!#MerePaasOmeletteHai#MerePassTumHo

— Zahra Sohail (@Izahrausmani) October 26, 2019
People were also loving Ayeza Khan for taking up a role so challenging, and how successfully she has been breathing life into it:
My heart 😭
The pain of Danish 💔
The ruthless Mehwish 😶

Take a bow for @iamhumayunsaeed that our heart feel his pain ,We watched it with teary eyes 😭💔@Ayezakhan_ak That we hate mehwish alot that's ur success you played this character so perfectly 👏#merepasstumho pic.twitter.com/3UC25vxFnL

— Neha ☆ (@naina_khn) October 26, 2019
Humayun's expressions even had the professionals shook!
@iamhumayunsaeed u have outdone yourself in this particular episode. Best acting I have seen in many many years from any one. Being a psychiatrist, it was treat to watch your perfect facial expressions and intonation of speech expressing the characters emotions. Brilliant!! 👏🏼👏🏼 https://t.co/s3XIgopxkY

— شہربانو (@ZShaherbano) October 28, 2019
Many were appreciating the depths and intricacies of the characters portrayed:
#MerePassTumHo I love how the characters are written with so much depth and understanding, also, how the actors are portraying it. @iamhumayunsaeed your eyes say it all!

— Bhaannaaaaa (@Bhaanaaa) October 27, 2019
It even surpassed the movie Joker for many:
Such a master piece in history of acting. People are talking about joker movie performance according to me humayoon saeed is such an outstanding actor no one even dare to compare him .sir Love your acting skills . ..man your performance kills #MerePassTumHo

— Afshan Hameed (@Afshanhameed16) October 26, 2019
Treasure!
Dammit!! As much as I hated Danish being this weak and wanted him to Slap Mehwish once, or atleast Said Something, @iamhumayunsaeed proves why he's one of the finest and the brilliant one we have! 👏🏼#MerePassTumHo https://t.co/Rvy0sMJikc

— MFarooqi (@VeiNaz) October 27, 2019
Many dialogues struck a chord with the fans:
And the words 'Jb Aurat Bewafa Hoti Hai to Puri Tarha s Hoti hai'@iamhumayunsaeed Just nailed it at its best ! The way He Showed Compulsion in #love was like 'Chup KarJa Rulayega Kya Pagle' & @adnanactor Was truly into the character. Quite matured !#MerePassTumHo #HumayunSaeed pic.twitter.com/XdKnqj19th

— Muhammad Osman🇵🇰 (@inketweets) October 27, 2019
People were calling it the best role of Humayun's career:
This man has done the Role of his life.. @iamhumayunsaeed.. nailed it.. tears 😭in eyes .. whole episode was just .. speechless #MerePassTumHo pic.twitter.com/v0q1pLM3Fx

— tnz (@tnzjay) October 26, 2019
Executed to perfection:
@iamhumayunsaeed wow wow wow what an emotionally charged episode of #MerePassTumHo My God, the way Danish's character has been written & portrayed is just amazing, so much pain in those dialogues & the helpness of Danish's character, Bravo 👏🏾 to the whole team 👍🏾👍🏾👍🏾👍🏾

— Anjala Jamal (@AnjalaJamal) October 26, 2019
A legend indeed:
Humayun Saeed is the only modern day Pakistani actor who deserves the title of a legend. His acting as Danish is so realistic and beautiful. Give this man all the awards for this role. @iamhumayunsaeed #MerePassTumHo#GraphicWalaDesigner pic.twitter.com/DceHJ6RyGF

— Graphic Wala Designer (@MugheesMirza) October 26, 2019
Agreed!
Humayun Saeed performance in today's episode is one of the most amazing performance I have ever seen on tv. I had tears in my eyes. His acting as Danish is so realistic and beautiful. Give this man all the awards for this role. #MerePassTumHo @iamhumayunsaeed

— ~J~ (@Surbhiholic) October 26, 2019
People were moved to tears:
What a torturous episode of #MerePassTumHo 💔 No one deserves what Danish had to go through… @iamhumayunsaeed your acting made me feel so much for him I had to cry buckets to get over it. Absolute justice done to the character, hats offff! 👏

— Anza (@Anzaa__) October 27, 2019
Aurat agr bewafai krti hai to puri krti hai, wo to nazrain hi phair leti hai !
@iamhumayunsaeed you make my heart burst into tears 💔😭
Today episode just no words the pains of Danish 💔 the greed and cruelness of mehwish 😑#merepasstumho

— Neha ☆ (@naina_khn) October 26, 2019
Literally cried my heart out after watching today's episode of #MerePassTumHo

— Laiba Imran 🥀 (@laibs12) October 26, 2019
It hit right in the feels!
Heart touching dialogues and superb acting by hamayun saeed.Every bit of dialogues was so emotional and impressive. #MerePassTumHo

— Muhammad Nawaz (@Muhamma11920864) October 28, 2019
People were lauding Khalil ur Rehman Qamar for his brilliance:
I have no words to describe how beautifully @KrQamar1 written his new drama #MerePassTumHo 🙌

Next level Acting by @iamhumayunsaeed 💯❤ pic.twitter.com/Fjc64eVcMU

— Kazim Azeem (@iamkkazim) October 26, 2019
There can only be one Humayun Saeed:
All the scences especially of the latest episode of #MerePassTumHo are worthwhile but can any body noticed the way @iamhumayunsaeed act when he saw selfies of Islamabad hotel …OMG , its amazing , his expression and the way his fingers trembling ….can't have words.Yu rocked .

— Hina Salman (@HinaSal51999971) October 28, 2019
It's all in the details!
Special mention to Humayon's shivering hands when shown the proofs of cheating. Cant get over that quiet moment 🥺He aced it & stole the show. Witnessed many such cases around where wives leave husbands for a richer man. They are dealing the topic with sensitivity #MerePassTumHo

— Mic Drop 🎤 (@Fallen_Fiend) October 27, 2019
People were left speechless:
@iamhumayunsaeed Performance of the decade… Goosebumps .. I'm running out of words to describe your performance in today's episode of #MerePassTumHo …Your today's performance and the character of Danish going to stay with me and many other people for very long time.

— Farhan (@Farhan88390732) October 26, 2019
Haye, this dialogue broke so many hearts into pieces:
– Mae tw wahan Mohabbat bachanay gaya tha
Barii mushkil se izzat bacha kar aya hun

Okay never felt this sad for a character 🖤#MerePassTumHo #HumayunSaeed

— Maleeha (@DocMajboor) October 26, 2019
Many talked how it was refreshing to see a role reversal:
Men who feel Sad for Danish now will realize how it's feel when you betray ur woman &just to hide ur unfaithfulness you use religion and said 'dosri shadi ki mazhab main ijazat hai'.
Takleef ka andaza laga lo ab.

Hats off for @iamhumayunsaeed
Acting you nailed it👍#MerePassTumHo pic.twitter.com/Gtz2uL4fw0

— B. 🇵🇰 (@ibushrakk7) October 27, 2019
We're so glad that the audience has finally opened their hearts to Meray Paas Tum Ho and we can't wait to find out what next!
Are you keeping up with Meray Paas Tum Ho? Let us know in the comments below!