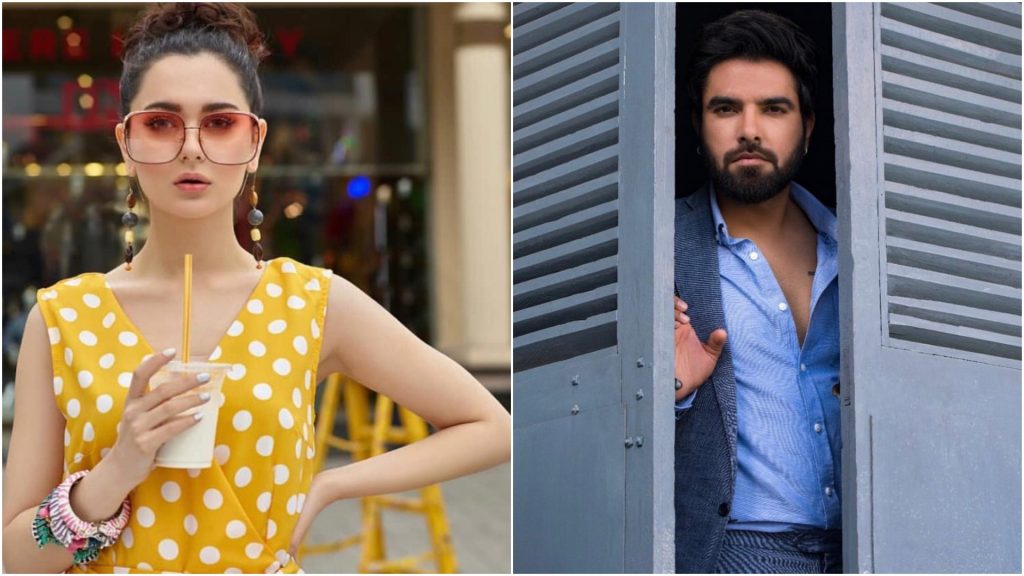 In your daily dose of celebrity screw ups, Yasir Hussain is back, mocking a woman's physical appearance after successfully making fun of transgenders and child abuse on previous occasions.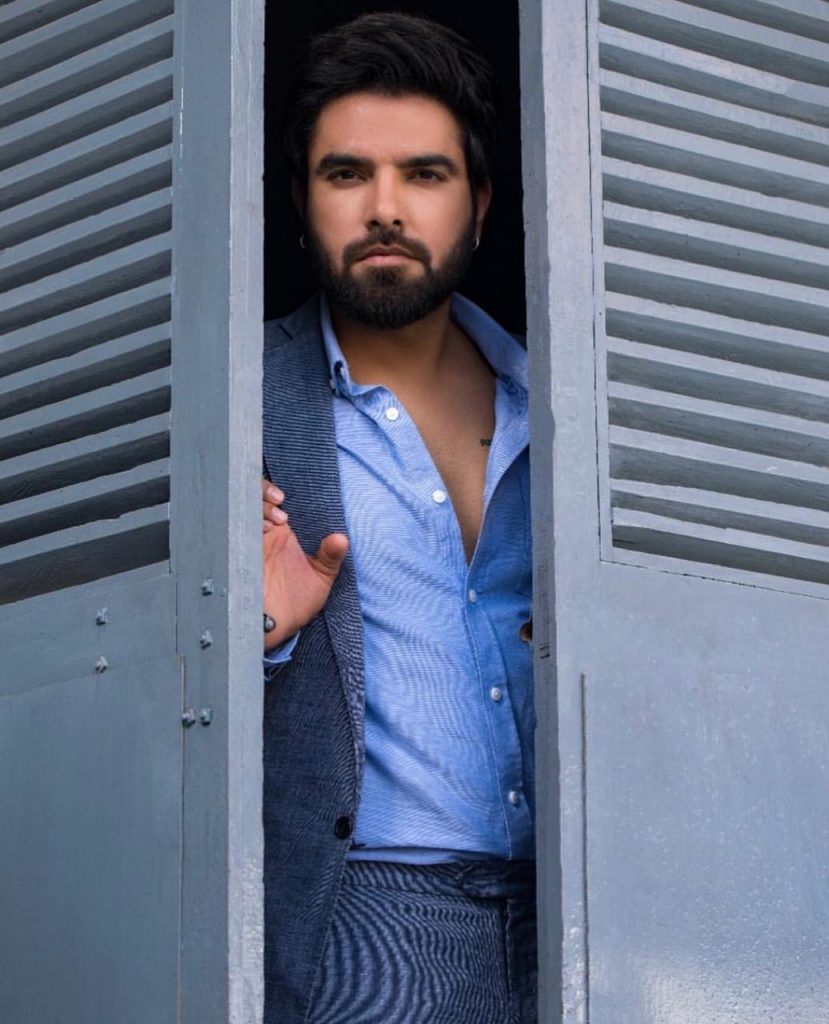 Only recently Hania Amir opened up about her insecurities and struggles with acne, giving the audience a strong message to not let something like acne define them or put them down. And while people were coming to Hania sharing their own struggles, a fan asked Yasir Hussain on Instagram about what he thinks of Hania Amir to which Yasir replied 'danedaar,' because its just that easy to mock someone on their insecurities!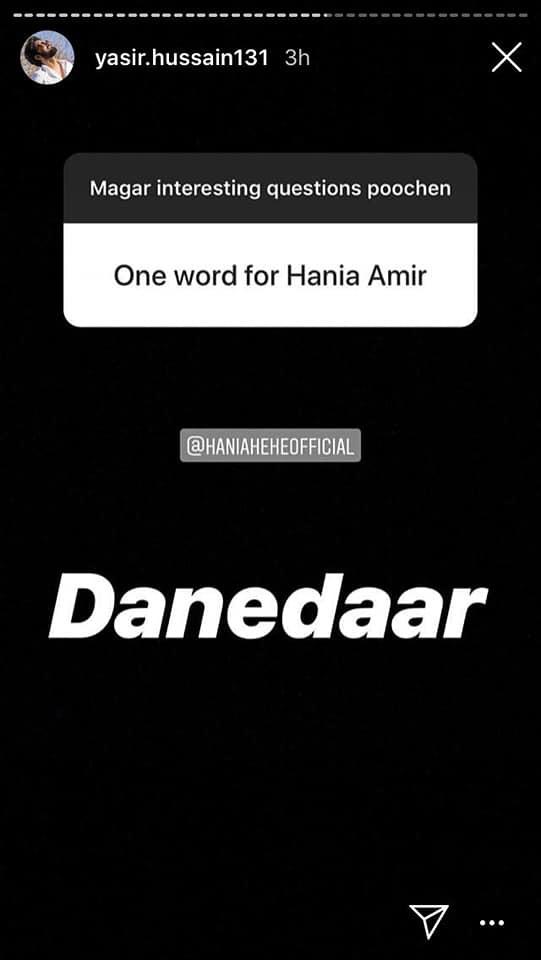 But Hania Amir did not let it go, she came back at Yasir Hussain like the witty queen she is and oooof, that burn!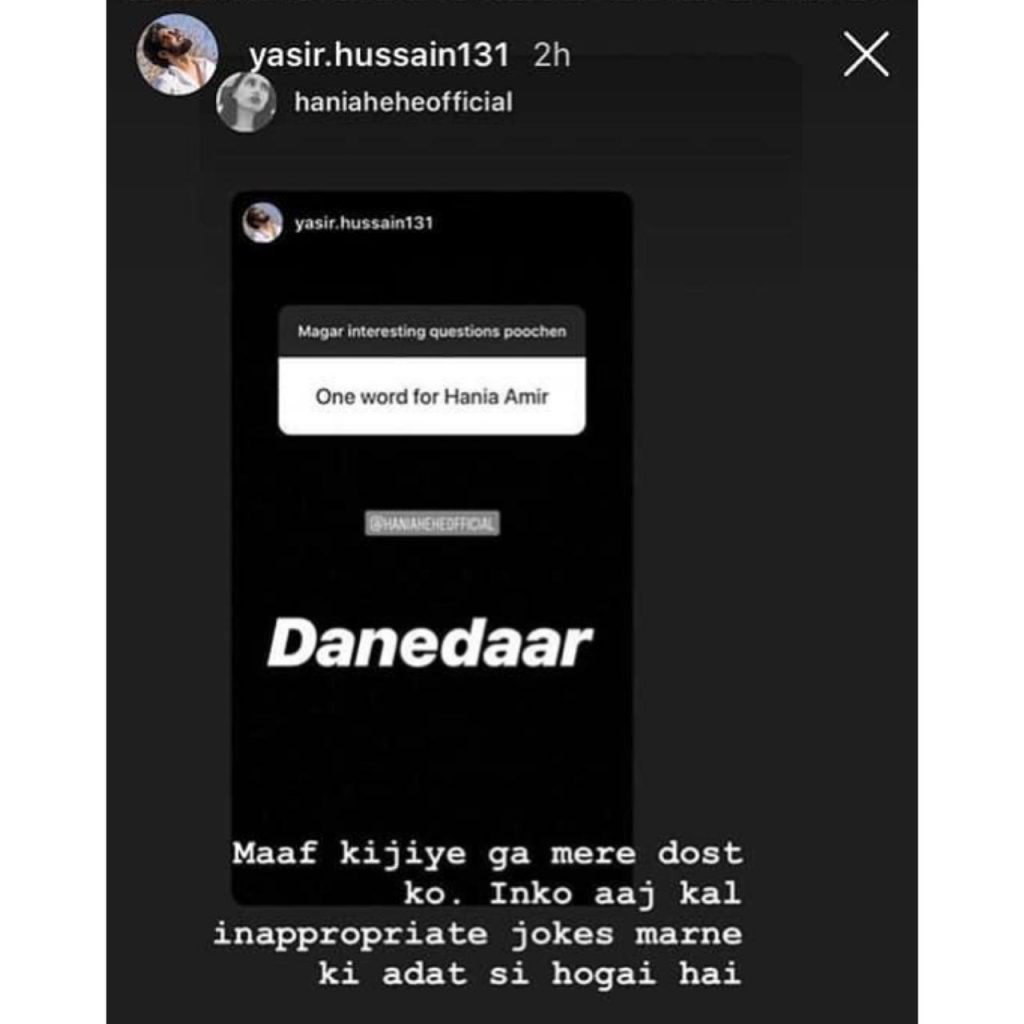 To which Yasir replied that he joked around because they were FRIENDS apparently.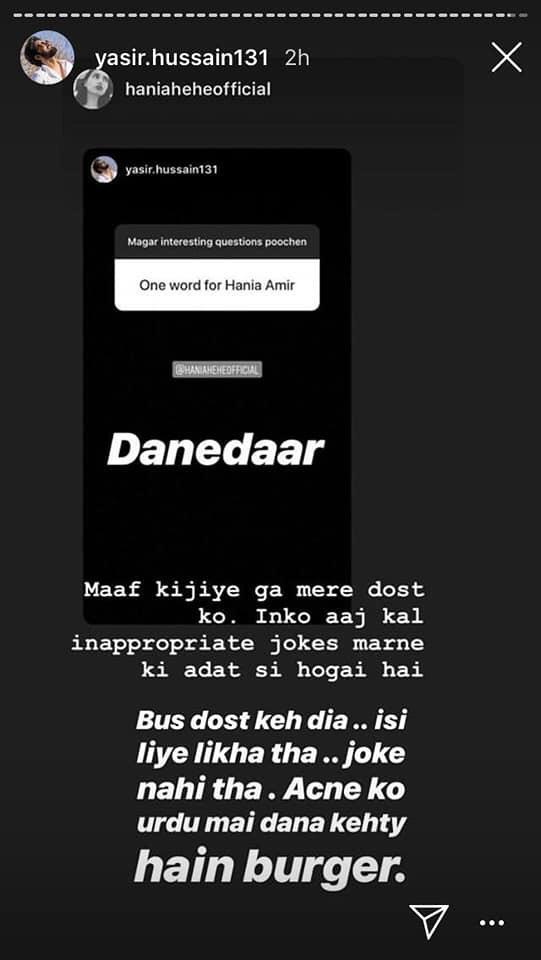 And then Hania Amir shared how insensitive Yasir's comment was, she said, 'its high time people realize it is not okay to make jokes out of other people's insecurities. It's disgusting and not funny at all.' She then concluded her story saying, 'its disrespect. Not funny. Degrading is not funny. I'm not laughing. Nobody is.'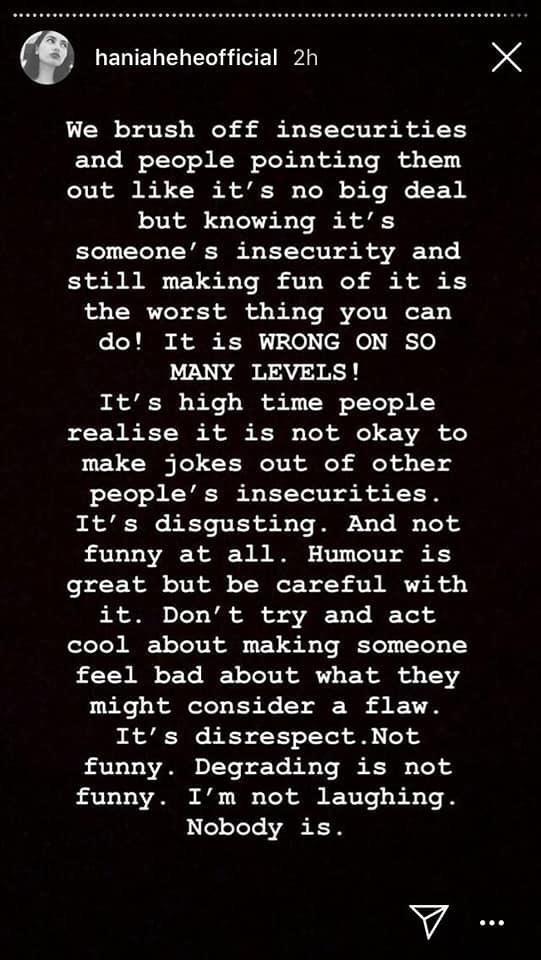 This insta tiff quickly picked up when fans started tweeting on the insensitive comment made by Yasir Hussain and then not even owning up to it. Yasir Hussain has been trending on Twitter sine then and people are really upset:
I never liked hania amir but you don't stoop low to the level of Yasir Hussain. She's mentioning 'insecurity' endlessly yet this turd made a fun out of it. What a disgrace to humanity.

— Shizaa. (@blearyeyes) May 14, 2019
People have been demanding an actual apology, like you know, owning up to his mistake rather than justifying it.
Yasir Hussain made a low comment. Not appreciated at all.

Hania Amir is a female artist. Her work revolves around her art as well as her upkeep. She shared her insecurities that's it.

Yasir should apologize honestly.

— Maverick 🇵🇰 (@Martial_Blood) May 14, 2019
Agreed, that line is really thin
Baat ye hai keh mazaak karne aur mazaak uraanay meiN bohat farq hota hai. Yasir Hussain ko is baat ka pata hona chahiye!

— Kiran (@KiranW_) May 14, 2019
Well…
Not that I care that Yasir Hussain is trending but my 2cents on this issue is: Overrated actor with the lamest sense of humour. You can get away with inappropriate jokes once/twice but after that you are just an insensitive moron

— Urooba (@PanicButton23) May 14, 2019
Basically, people were mad!
Never really liked yasir hussain. When ever he talks, he makes sure its shit.

— Bilal Abbasi (@BeingAbbasi10) May 13, 2019
Some even mentioned Ahmed Ali Butt amidst the drama
if you observe closely, ye thoray se hi log hein jo khud aisay kaam kartay hein, aur doosron ko bhi defend kartay phirtay hein – Yasir Hussain and Ahmed Ali Butt being on top of the list. Be it elections drama, saboor ali wala, or any scandal at that.

— muslim lives matter (@yaamithinks) May 14, 2019
Some even bought in James Charles (an international YouTuber) saying that Yasir Hussain should be cancelled too!
Why is yasir hussain still relevant, why hasn't he been cancelled yet? Look at how ruthlessly James Charles is being cancelled, why is this piece of shit still so blatantly being his absolute worst without any consequences??

— amna (@saansnahinarahi) May 13, 2019
Sure, acne can be a joke for Yasir Hussain but not for people who are depressed by it. Pointing someone's insecurity and then referring to it as a joke is ridiculous. The thing is if you have the audacity to call out someone on their insecurities, then be ready to face the consequences as well. He could have said a hundred other things but nah, let's point out someone on their physical appearance because I'm just so entitled!