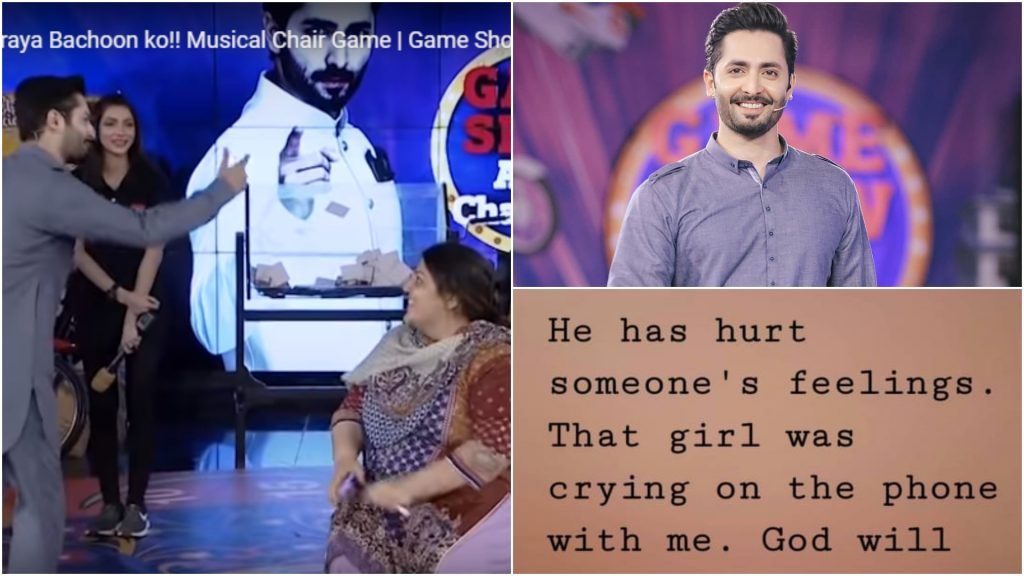 Danish Taimoor who has been hosting a game show on BOL TV called Game Show Aisay Chalay Ga has upset a lot of people after he blatantly fat-shamed one of the show attendees who was contesting in a round of musical chairs on his show as seen in the video below.
Throughout the game Danish Taimoor did not miss on a single opportunity to call her aunty, moti aunty and caution others about her weight… The channel even uploaded the video to twitter with the caption saying 'Aunty ne haraya bachon ko,' I mean its 2019 and people like Danish Taimoor still think shaming someone for their looks is funny *SMH*
Aunty nay haraya Bachoon ko!! Musical Chair Game | Game Show Aisay Chalay Ga with Danish Taimoor https://t.co/cd9svSzXjc pic.twitter.com/1zBLLYQacC

— PakistanTV.TV (@PakistanTV_TV) May 13, 2019
The girl kept on insisting that she's not an aunty and even offered to show her NIC for him to stop calling her aunty. With every passing round, his taunts only increased and she was the sole target of shaming throughout the segment.
People were furious over Danish Taimoor targeting her and expressed their disappointment via various social media platforms:
So, #danishtaimoor is pretty despicable – in a long line of Pakistani male celebrities who think they are funny. #BodyShaming isn't humorous Danish, neither is hurting someone's feelings. Cracking jokes on how someone looks just really shows what trash you are.

— Alia Chughtai (@AliaChughtai) May 17, 2019
Another user posted the whole story of what went down during the show:
Danish Taimoor fat shamed a woman on his game show.He kept calling her aunty & commenting on her by saying things "apse kon takraye ga ,abhi dhamaka hu jata, utha kar phenk dengi aunty but the women continued to play with high spirit and later she said mai apna NIC Dekha deti hon pic.twitter.com/bNEicRLKDZ

— Farwa (@farwaa_zaidi5) May 17, 2019
The woman is hurt you can check and contact @xeracurvyco on Instagram for the details. I got to know through her insta stories.Body shaming is all around us. Judging has become such an automatic response that people tend to do it without any prior thoughts. #danishtaimoor pic.twitter.com/TWaJRL6vWP

— Farwa (@farwaa_zaidi5) May 17, 2019
Some people to find humor in degrading someone else's body. U don't know what one goes through when you make jokes on their weight.Becoz u have no idea what they are struggling through. It could be genetic or due to medical conditions, which u have no idea about. #danishtaimoor

— Farwa (@farwaa_zaidi5) May 17, 2019
Danish taimoor needs to make a public apology to the woman he humiliated. It's not funny to comment on woman's body on public forum.#danishtaimoor

— Farwa (@farwaa_zaidi5) May 17, 2019
People even took to Instagram to share how disgusted they were
https://www.instagram.com/p/Bxj6qUGj_sw/
Fans bombarded him with comments under his photo, most of which have now been deleted: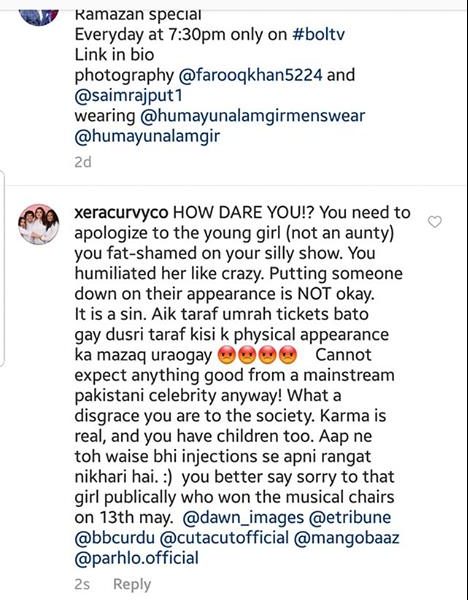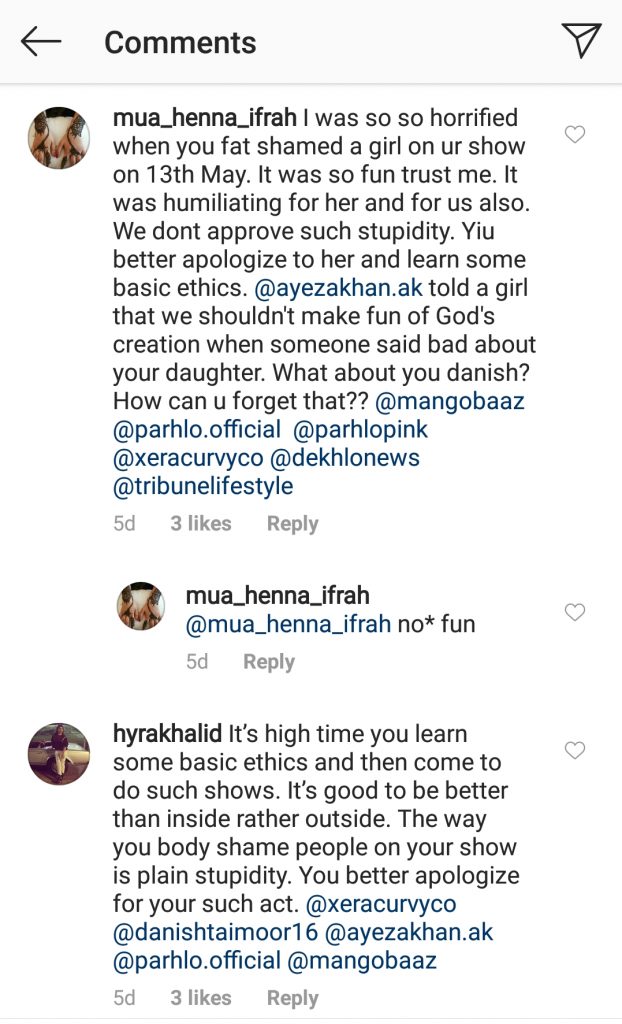 An even more stupid segment takes place in Fahad Mustafa's show where he calls women and weighs them on camera, subtly fat-shaming them too as he's at it.
The issue was first raised in a closed group called Xera Curvy and Co that promotes body positivity and is constantly trying to lift other women who face all sorts of body shaming at the hands of the society. Just because someone is on the heavier side, it does not give you the right to publically humiliate them or belittle them. BODY SHAMING IS NEVER OKAY! When will our celebrities actually learn some manners?