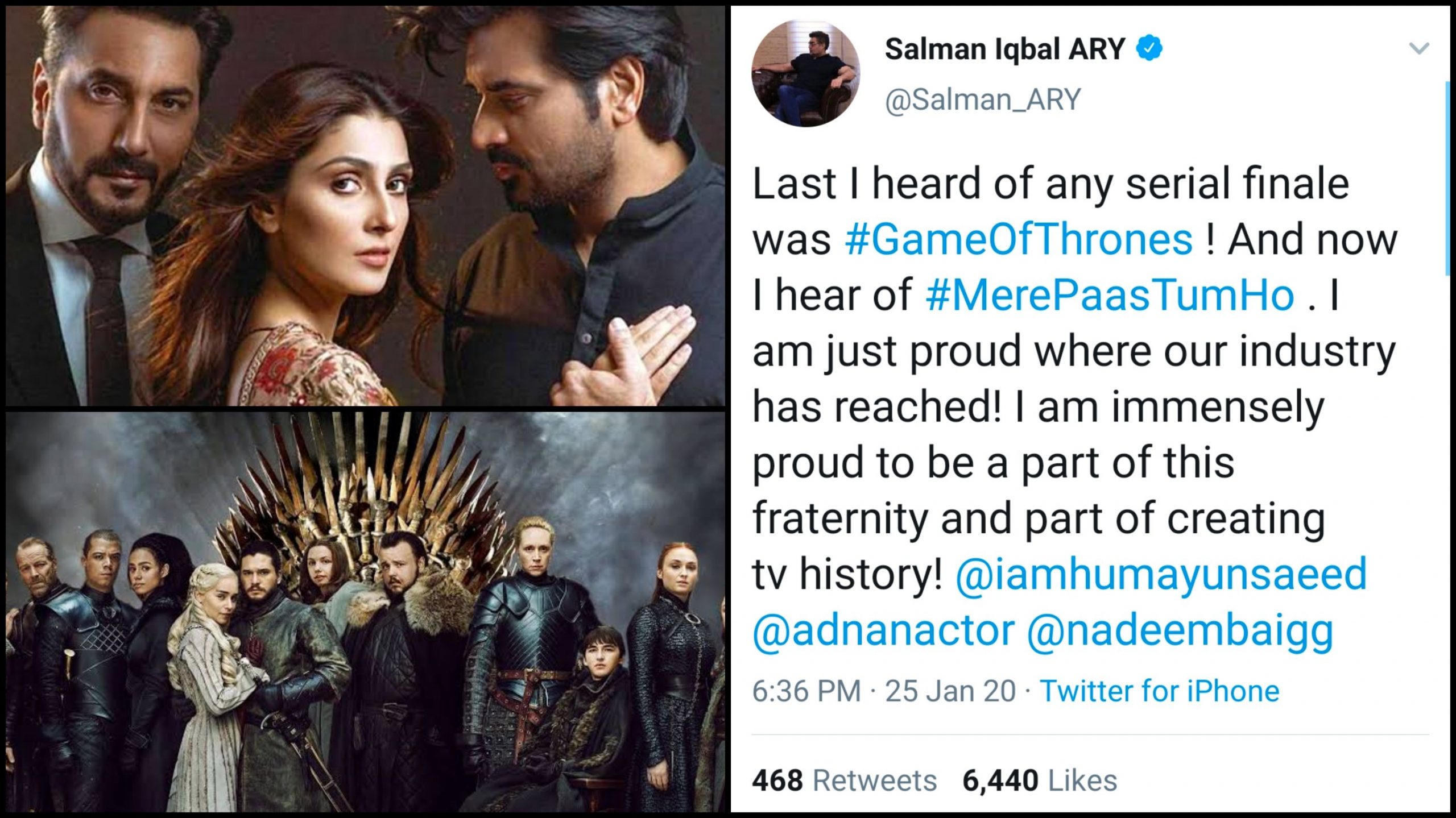 One of the most watched dramas in the history, Meray Paas Tum Ho, came to an unsettling end on Saturday.
With videos of people crying over Danish's death and news channels reporting the death, Salman Iqbal compared the hype of the drama to the the very famous show Game of Thrones congratulating how far the industry had come:
Last I heard of any serial finale was #GameOfThrones ! And now I hear of #MerePaasTumHo . I am just proud where our industry has reached! I am immensely proud to be a part of this fraternity and part of creating tv history! @iamhumayunsaeed @adnanactor @nadeembaigg

— Salman Iqbal ARY (@Salman_ARY) January 25, 2020
And the netizens were just not having it with the comparison:
Aur yeh sunte hi, Game of Thrones ki cast ne Empire State Building say kood kar jaan de di. https://t.co/eMotEQMSXz

— Bano (@BanoBee) January 26, 2020
Some thought he was being over-confident:
Yaar Allah jee please aisa over confidence de do mere ko bhe https://t.co/scBrAWLhRd

— Ayeshay (@champagne_lassi) January 25, 2020
People came at him with facts:
The HBO official viewing numbers for game of thrones series finale were 19.2 million. I'm think Mere Pass Tum ho beat those.

The full viewing for game of thrones, that included pirated downloads , exceeded 80 million people worldwide & ain't no way that many people watched this. https://t.co/wmJcV8Uc9r

— ozy (@anonentity99) January 26, 2020
And of course, there were epic memes:
Well done… nhi nhi.. u well done pic.twitter.com/Z6UKVZUKz9

— Mir.Y.U (@MYUwrites) January 26, 2020
Greatest schemers of Television history. pic.twitter.com/sSNqz45OJz

— Super Maan (@ZameerMaan) January 25, 2020
Some suggested that he starts preparing his Oscar acceptance speech:
You should probably start preparing your Oscar acceptance speech now

— Nawal Awan. (@notsoblondegirl) January 26, 2020
Some still weren't over Danish's death:
App to proud ho par danish ko mar k jo hamain rolaya hai us ka kya 🤷‍♀️why wafa b ur mot b ur mehwish mazy b paisy b ur mafi b.

— iba (@IbadattK) January 25, 2020
People were tweeting out their hilarious reactions:
https://t.co/d3pCZ4fGAl pic.twitter.com/rssoo03UwB

— Ferzeen Ahmad ⚫ (@AhmadFerzeen) January 26, 2020
https://t.co/jKJn7rohlZ pic.twitter.com/4ADRRUqXdk

— فضیل. (@PseudoMolvi) January 25, 2020
https://t.co/I6vUZimg5b pic.twitter.com/UKp5mmzEjj

— obaid 💎 (@ubaidology) January 25, 2020
https://t.co/bTTzdXcW4z pic.twitter.com/DPD8bVhNLQ

— Zainab Izhar (@znb91) January 25, 2020
https://t.co/jDJPe76cIO pic.twitter.com/r0JK24MHGP

— saqlain (@saqlain___) January 25, 2020
https://t.co/cOLOMRVW9b pic.twitter.com/qxd2X1Guk7

— Eurus (@Hexatiouz) January 25, 2020
Some are actually planning to sue him, #YouHeardItHereFirst:
It was a good effort but comparing this crap #MerePassTumHo with #GameOfThrones is an insult of Game of throne. I plan to sue you being this much dumb. https://t.co/qSfVHrg9xn

— Not that Sarfaraz (@ImSarfrazAbbasi) January 25, 2020
Oh…
You do realize #GameOfThrones ki finale was… shit? https://t.co/avfuZhrmCV

— H™ (@MahatmaaGanji) January 25, 2020
Some were disappointed how there wasn't a Humayun Snow coming back to life:
You just heard about GOT but never about Jon Snow, we were expecting Humayen Snow scene yar 🤨 https://t.co/04K7CXsUmY

— Murtaza Dar (@MurtazaDar1) January 25, 2020
It's not that simple:
killed one lead character in drama, thinks it's similar to GOT, matlb khuch bhi https://t.co/vvyYml6pwa

— Fun Aunt Rachel (@DamnEmaan) January 25, 2020
Some threw shade at him with the infamous 2 takay ki aurat dialogue:
Do takay kay dramay ko 50 million k dramay k sath milatay huay aap ka zameer zara nahi kaanpa?!

— Henfri (@UranTashtari) January 25, 2020
Many were appalled at the audacity:
He mentioned Game of Thrones and Mere Pass Tum Ho in one tweet. The audacity. Wow https://t.co/OavNw2aXly

— HASSAN (@corruptbrown) January 25, 2020
the audacity https://t.co/iAWOnkbtBD

— a. (@aaasiya14) January 25, 2020
And after all the bullshit saga of MPTH and its shitty subject, he has the audacity to come up with this comparison….. https://t.co/6weosazfcv

— Ali Arbab (@itsarbab) January 25, 2020
Thora yahan bhi yes karao, boy:
Ye wala nasha yes karao https://t.co/DmTAo89rhU

— Moochar (@AsliBinLaden) January 26, 2020
Some did however, agree, in a whole different sense though:
Brother you surpassed game of thrones in the worst series finale well done https://t.co/F9rL9S17kh

— Saad (@OverLord_Xd) January 25, 2020
Most would agree:
Khalil sab considered himself George R R Martin and didn't fail to disappoint masses in last episode.

— Super Maan (@ZameerMaan) January 25, 2020
Some still had their reservations against the content in the show:
Game of Throne was an epic series based on the struggle between dynasties to take control of the throne while #MerePassTumHo is shameful show presenting woman as a gold-digger. You should be ashamed for discracing women and comparing this disgraceful show with a great #GOT https://t.co/zfCIvqe3RO

— Sehar Shinwari (@SeharShinwari) January 25, 2020
Some whole heartedly agreed:
One may be have lil bit issues with dialogues but Yes #MPTH far better than tat shit GOT which was not even realistic based on fantasy!!!!! Well done Pakistan, Pakistan Zindabad 🇵🇰 https://t.co/c6e3v7mXr7

— Ahmad Nadeem (@Ahmadzaman56) January 26, 2020
Jo baat hai:
Those making a big deal out of #MerePassTumHo don't know how quickly we get over things. I mean we barely talk about GoT anymore; the nailbiting series that kept us on the edge of our seats for 8 years.

— Baji Please (@BajiPlease) January 25, 2020
What do you think about Salman Iqbal's tweet? Let us know in the comments below!