Pakistani award shows are the best place to see an amalgamation of local and international fashion brands coming down to one platform as celebrities sashay down the red carpet in a bid to look their best and to get the most heads turning, and Hum Style Awards 2020 was no different!
However, whether those heads were turning because the celeb had that Midas touch head to toe or because they looked like a faux pas people couldn't help but ogle at in horror, remained the question.
Well, no need to question it any more as team Diva was there to do that for you!
From the most fab of looks at the red carpet to those who were the drabbest, Diva rates the looks of the night that had us wanting for more and those who made us run away…
The Fabs
Mushk Kaleem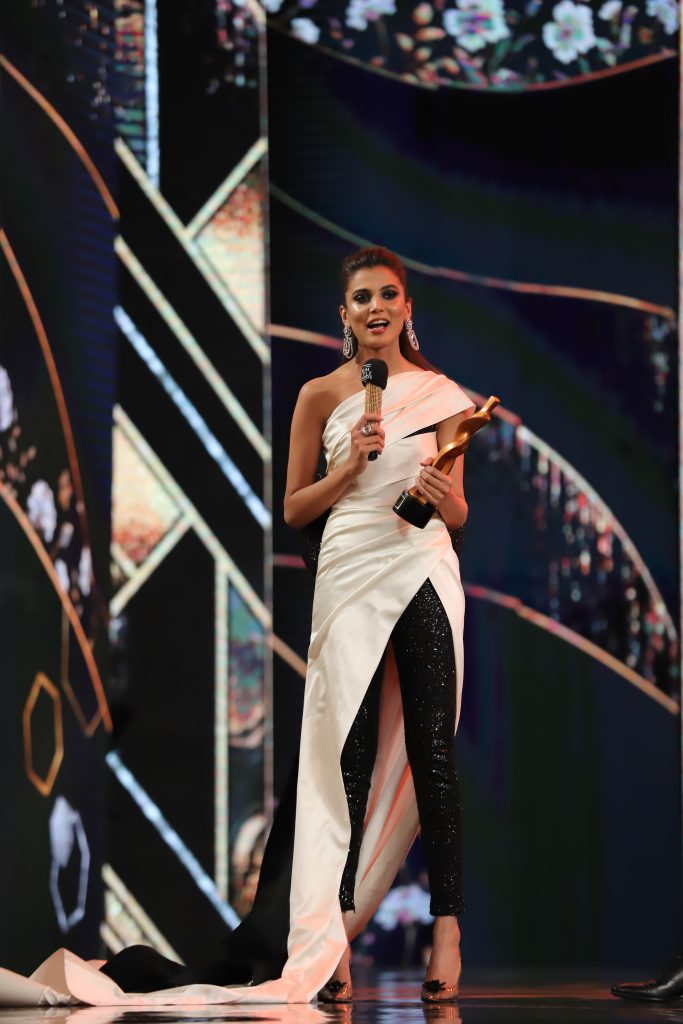 Wearing a Shehla Chatoor ensemble, Mushk Kaleem looked like a million bucks in her white and black piece with a statement bow at the back! She proved that if looks could kill, she'd be in jail – and her Rising Star Award says it all!
Zara Abid

Going with the motto of less is more, Zara Abid chose to keep it simple with a white dress by Zaheer Abbas and classy black stilettos to complement it. The model took home the Best Model (Female) Award that night and her dressing sense added to the reasons why she won it!
Fouzia Aman

A true velvet affair, Fouzia Aman added to her sultry personality with a sleek midnight blue dress by Zaheer Abbas. The dress not only accentuated her body but also made her look classy in every way.
Sara Shahid

Sara Shahid chose to keep it sunny as she wore a long one-shoulder ensemble  by her own brand at the award show. The designer kept it simple, yet the flowy outfit gave it those little dramatic nuances.
Aimal Khan

One of the few male celebs who chose to keep it simple and dapper, Aimal Khan looked like a vision in black in his double-breasted suit by Emraan Rajput. Who else would have looked this amazing going up the stage to win Best Model (Male), if not Aimal?
Nausheen Shah

Nausheen Shah knows how to keep it dramatic, and this chainlink inspired Hussain Rehar outfit proved it. From head to toe, there was an oomph factor in her ensemble and we just loved that!
Hajra Khan

A sports personality with fashion choices that had us impressed, footballer Hajra Khan looked fantastic in a white and grey outfit that gave her a contemporary vibe! We couldn't help but be in awe of her.
Kiran Malik

We can never tire of saying that Kiran Malik is the queen of style, and every award show she proves us right. Wearing a retro sari with a funky black and pink pattern that was her own creation, the actress looked perfect in every way as she grabbed the Most Stylish Actress (Film) Award!
Ayesha Omar

Ayesha Omar knows how to work that rock-chic style and she knows it well! Her dramatic suede, silk and leather ensemble by Élan had all the ingredients of an experiment done right and we couldn't help but adore it.
Mahnoor Baloch

Mahnoor Baloch is as timeless as it gets and her eyecatching sari by Menahel and Mehreen at the HSAs just had us mesmerised. The gradient colours complemented her overall look perfectly, and we just loved every bit (maybe except that handbag!)
Abeer Rizvi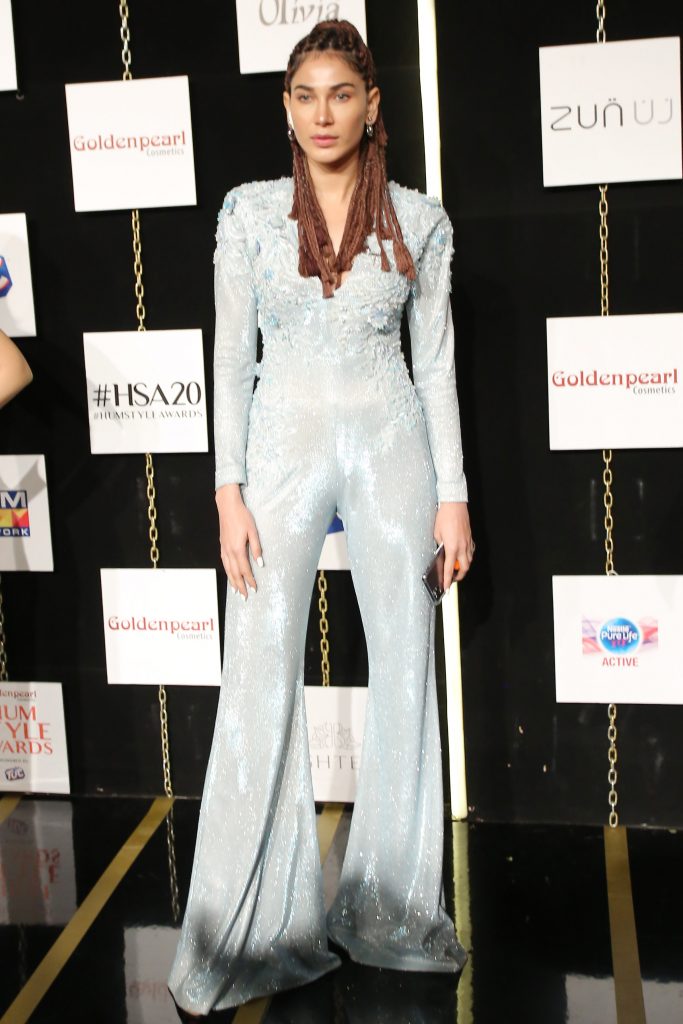 We love experimental divas, and Abeer Rizvi is always on the top of that list thanks to her fashion choices! She chose to keep it sensual and avant-garde in a Wardha Saleem ensemble and we just couldn't stop looking at this glittery girl!
The Drabs
Mansha Pasha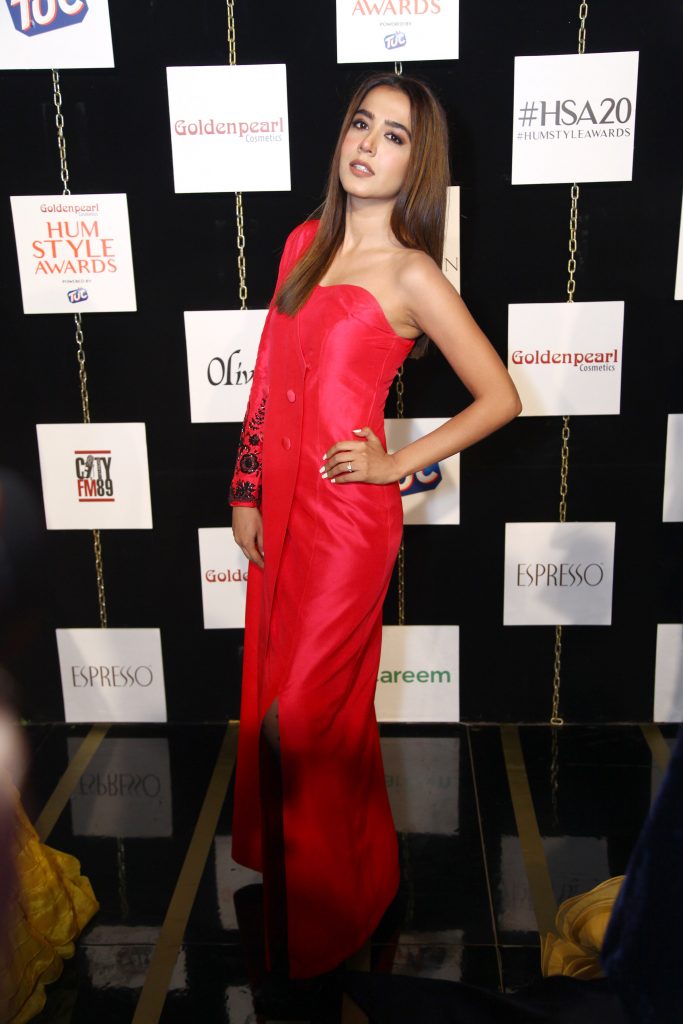 It could have gone right with the colour red, but here it all went the wrong way, and the fitting just made it worse. Mansha Pasha may be a winner when it comes to her film choices like Laal Kabootar, but this dress by Shamsha Hashwani is anything but!
Kubra Khan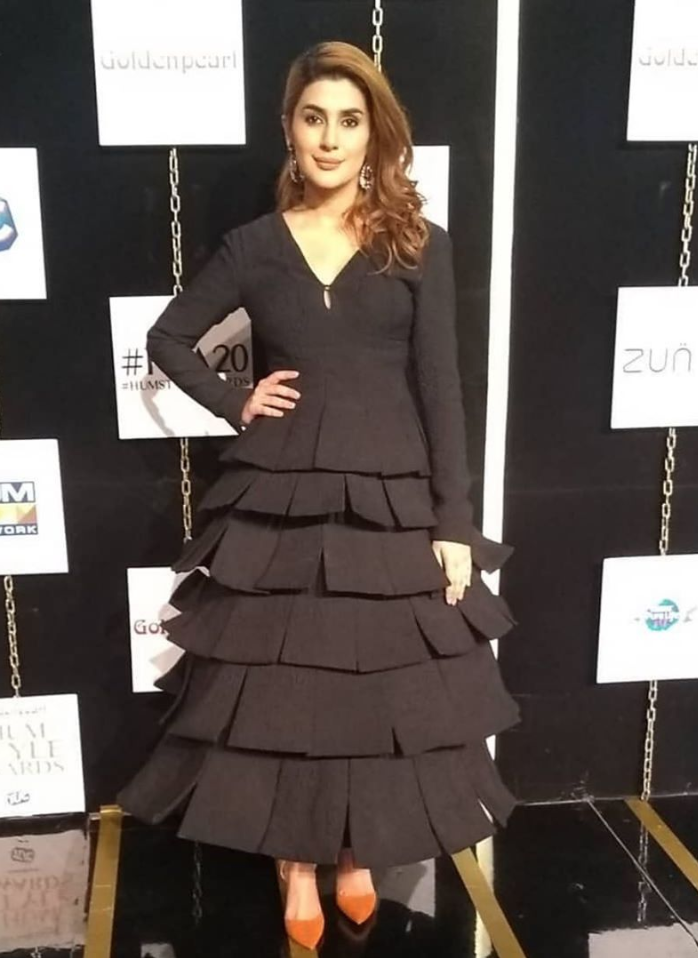 A dress that makes you look boxy and looks like it's made out of paper-mache that doesn't know how to stay down, isn't the best choice for any award show or anything altogether. Kubra Khan definitely needs to let go of this dress by Maryam Momaira one forever.
Giti Ara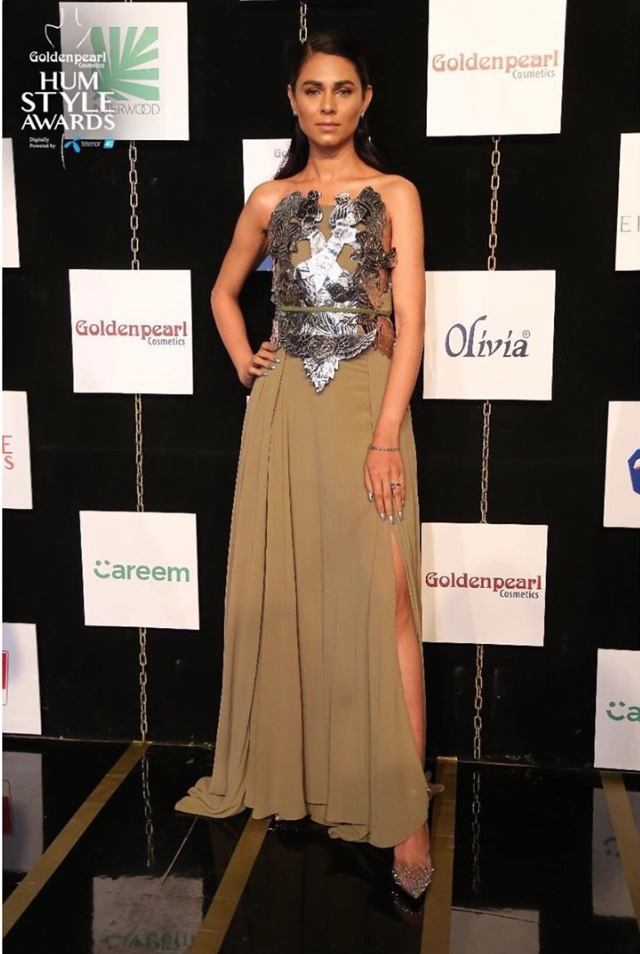 A confusing mix of colours and style make this silver-sandstone dress by Fahad Hussayn a faux pas we wouldn't expect from a model like Giti Ara. Nothing worked in that look and that slit just made it worse.
Hira Hussain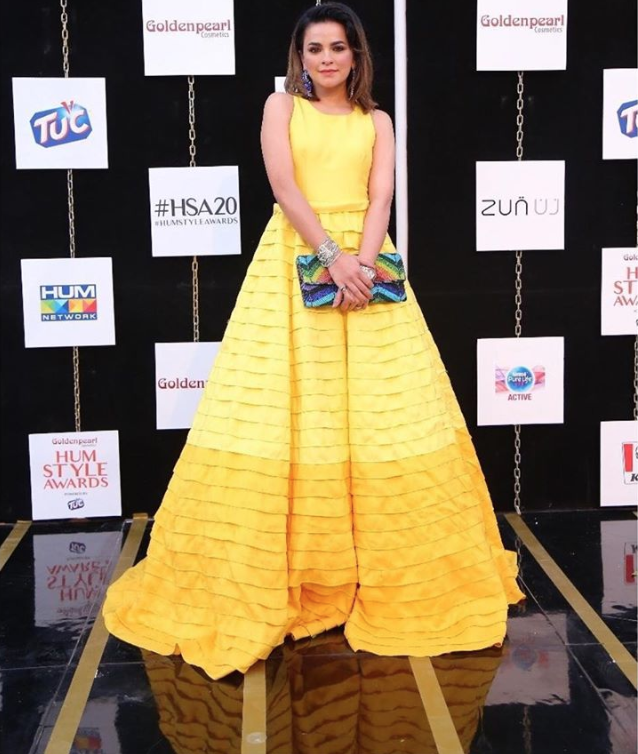 There's a good yellow, and then there's an egg yolk surprise yellow that just doesn't look good. Hira Hussain had the latter. The outfit by Aamna Aqeel just was unbearable to see and we wish she chose something better.
Naveen Waqar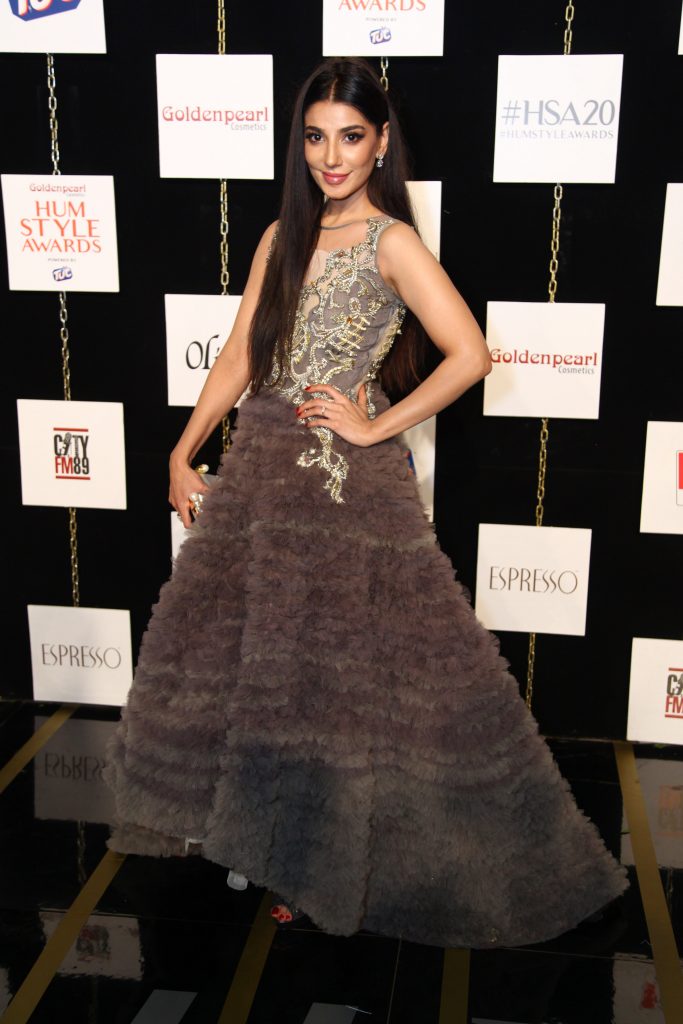 Ruffles and fur were popular maybe a season ago, but we think Naveen Waqar may not have gotten the memo. The outfit by Tabassum Mughal needed quite a bit of subtraction to it and we wish it didn't exist at the HSAs.
Hina Ashfaque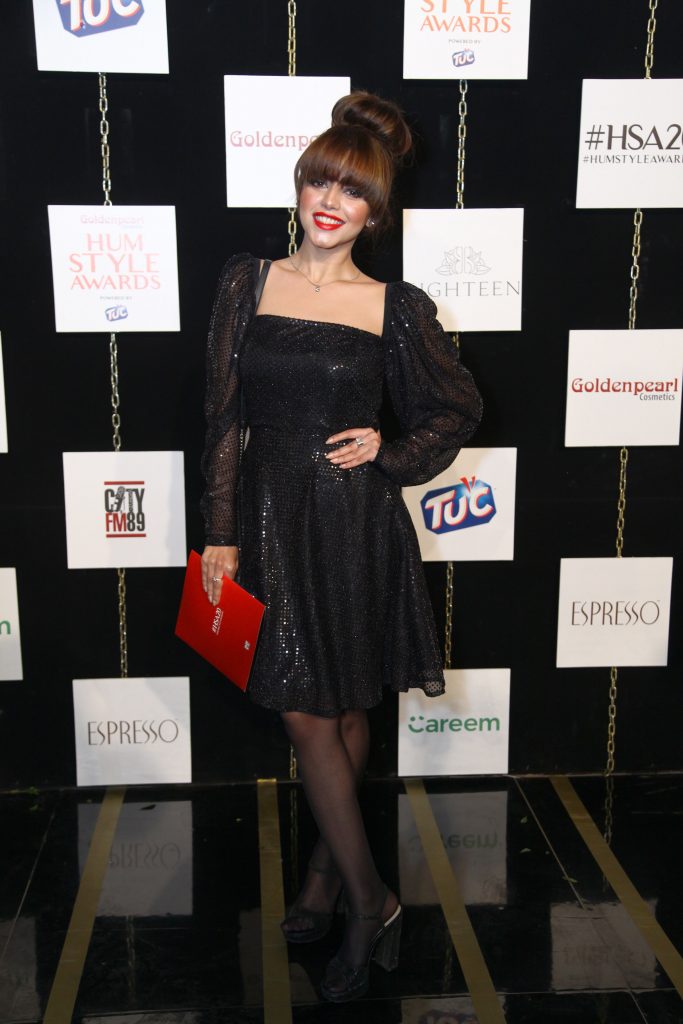 A short-length dress is rarely a choice you should have when you go to an award show, and especially if the overall look makes it even more intense, it should NEVER be a choice.
Sara Loren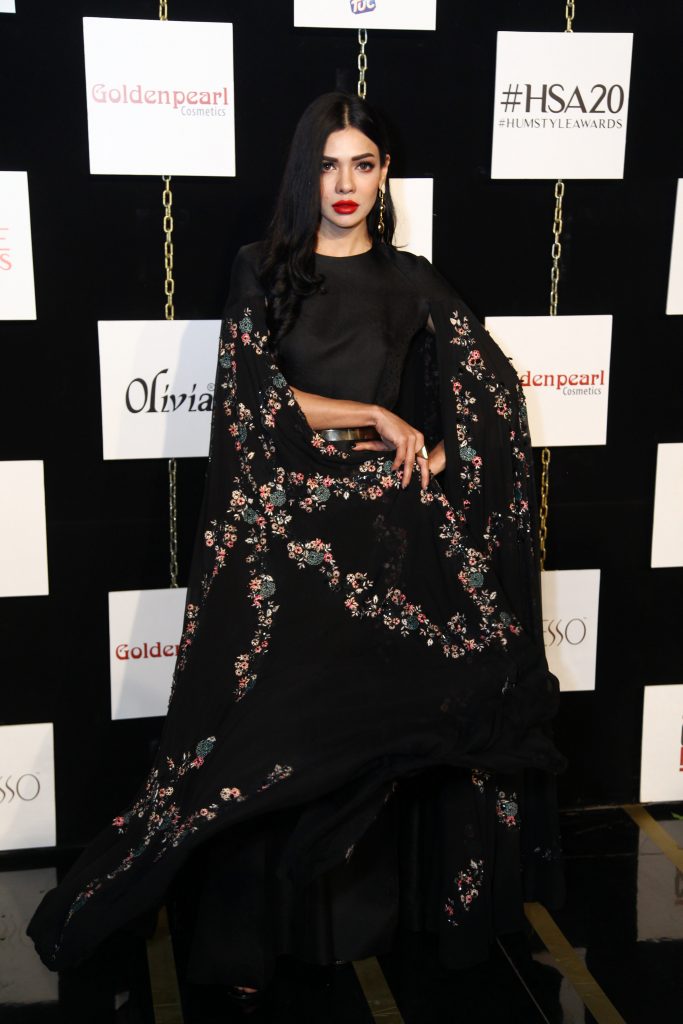 If this was 2015, the dress by Shamsha Hashwani would have made complete sense, but wearing something that looks outdated in 2020 shouldn't be what Sara Loren is doing – especially since she's been trying to reinvent herself lately.
Sana Fakhar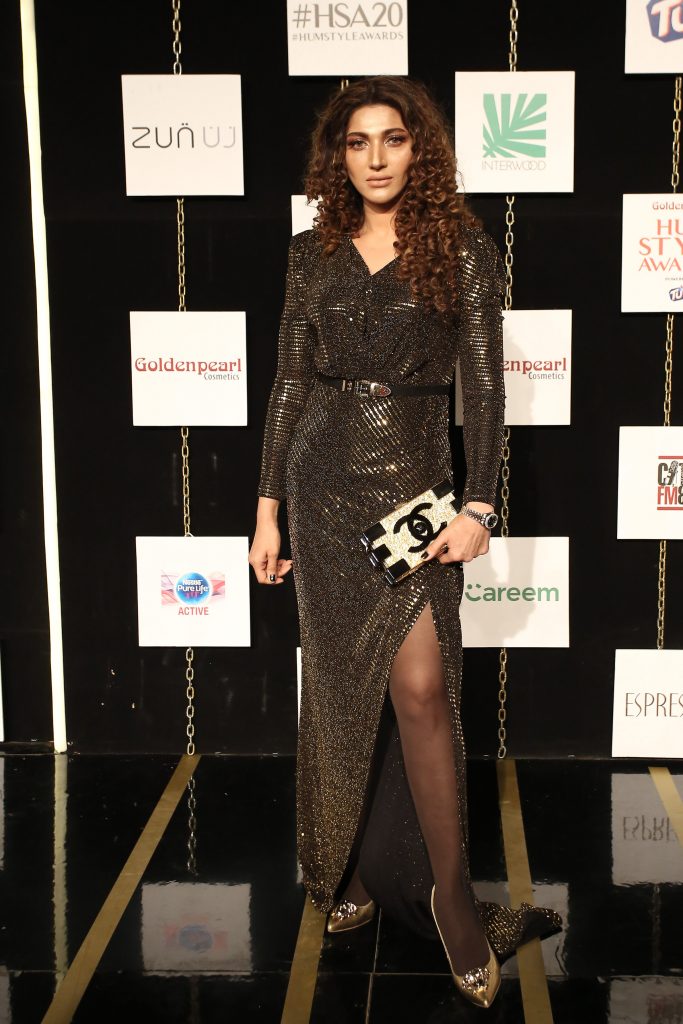 There are a few people who could make a designer outfit look drab, and Sana Fakhar's overall, rather OVER-THE-TOP look at the HSAs did that. The Versace outfit had us questioning a lot of things.
Nadia Hussain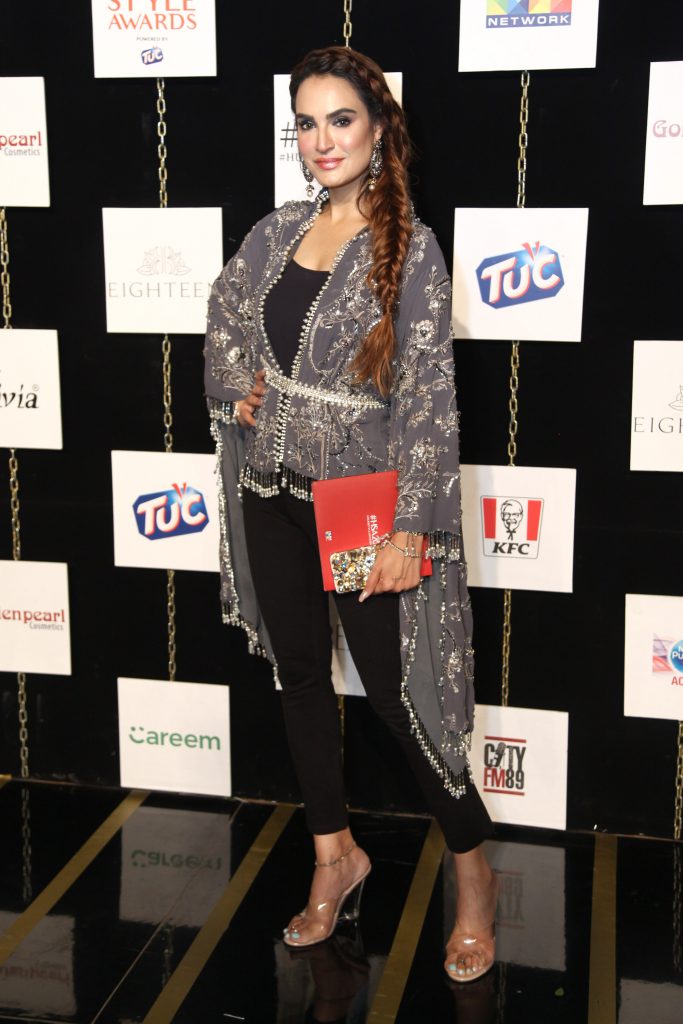 A supermodel who has exposure to a myriad of designers could definitely do better than what Nadia Hussain brought to the red carpet, and we know that for a fact! The outfit by Ayesha Farooq Hashwani just looked super outdated and not flattering on Nadia at all!
Rubya Chaudry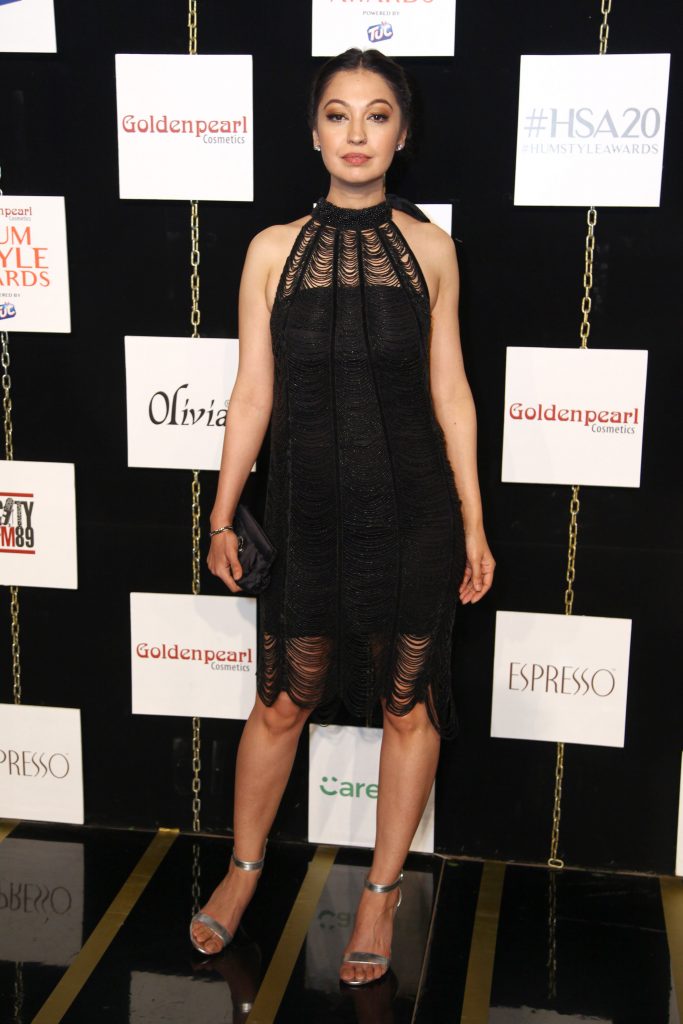 The edgy Rubya Chaudry can definitely do better and has in the past, but this black knee-length dress by Sadaf Malaterre just wasn't doing it for her at the HSAs. It's something we've seen before and haven't liked, and this just proved to us why it's a look that always fails. Goth-chic? Just, no!
Shazia Naz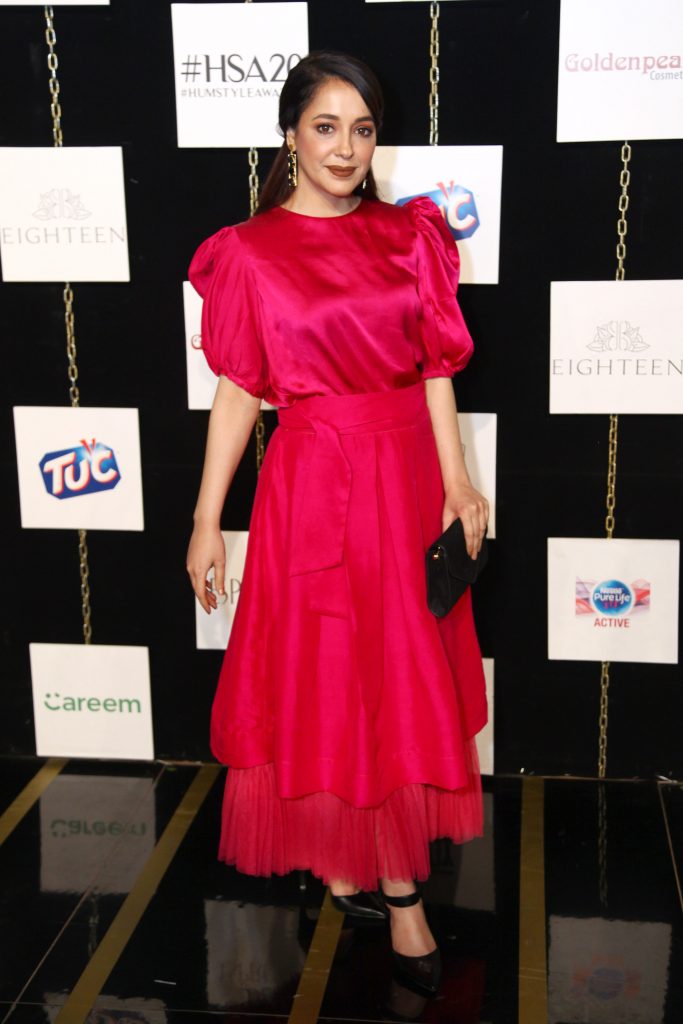 We thought Christmas was a month ago, but apparently it's still X-mas at the HSAs. All shades of the red ensemble by Ansab Jahangir that Shazia Naz chose for the show just had us questioning whoever styled her and we wish she selected anything but this.
Ayesha Toor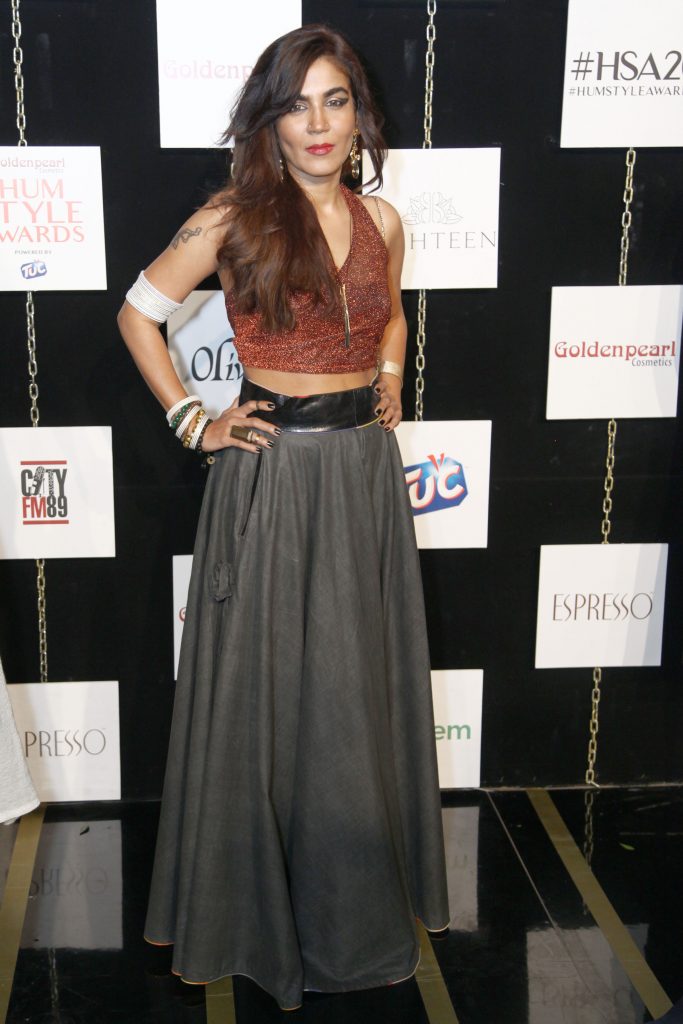 2007 called and it wants its outfit back. The long skirt with that top and the complementary bangles by YBQ just made this look like a boho-chic experiment gone horribly wrong. Ayesha Toor has done better in the past and we're sure she can do so now too!
Mira Sethi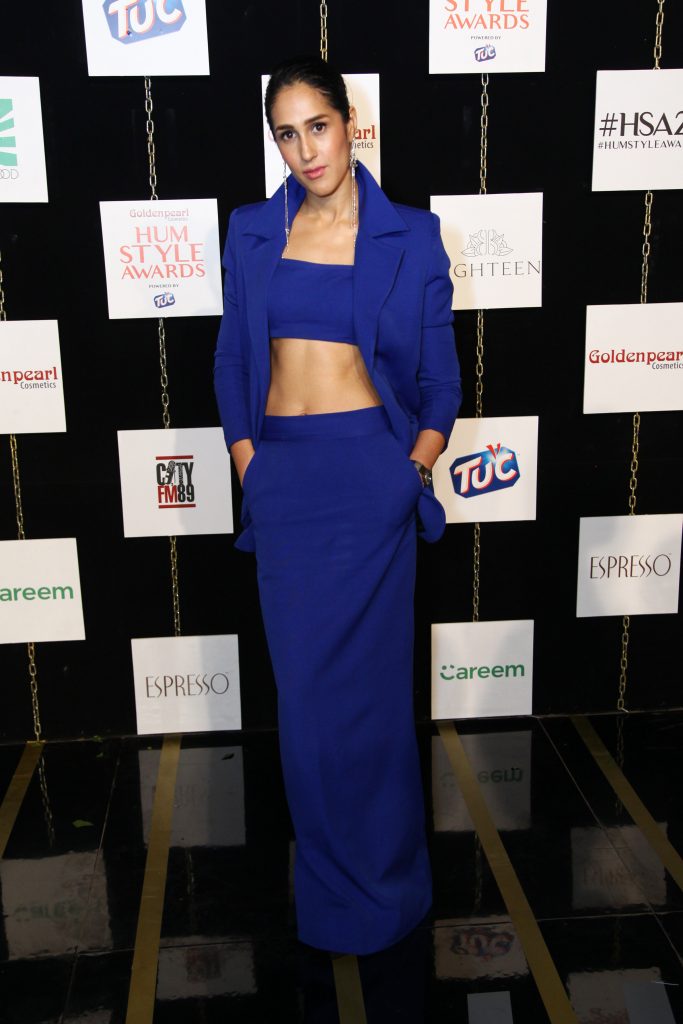 There's minimalistic and then there's extra, extra minimalistic. Mira Sethi chose to go with the latter and just looked super underwhelming at the red carpet. Possibly a bit of a different colour choice and a shorter skirt length would have made this outfit by Hussain Rehar look better.
Aamina Sheikh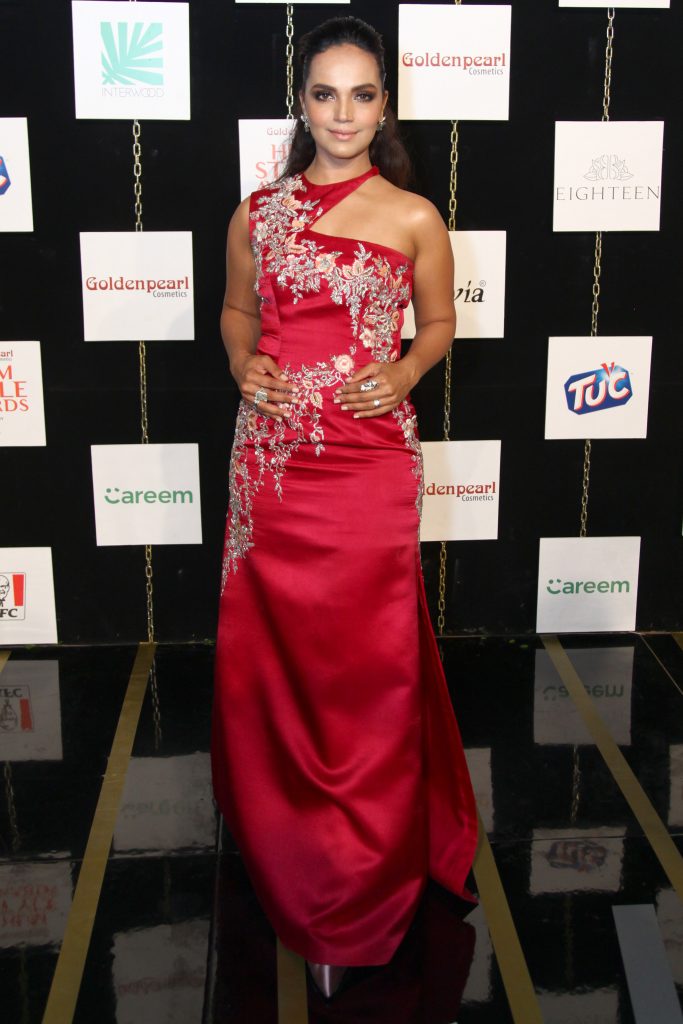 A well-fitted dress is your best friend, repeat after us. Clearly, Aamina Sheikh forgot to check if the ensemble by Shamsha Hashwani fits her well or not before walking down the red carpet, and it showed. The red dress just wasn't doing her any favours and she could probably have chosen anything else than this!