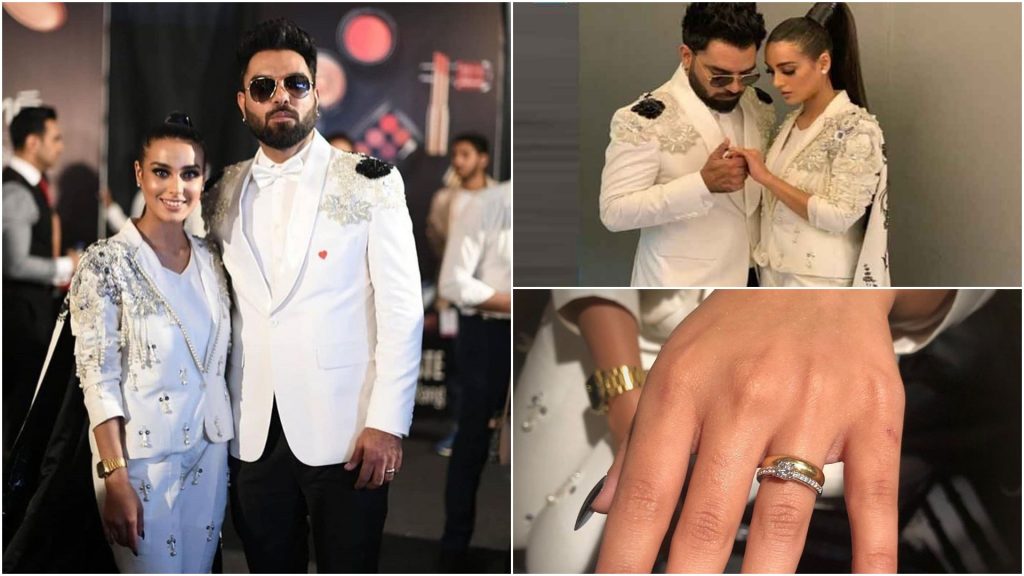 So last night at the LSAs, Yasir Hussain proposed Iqra Aziz on his knees, with a ring that we're living for! Love was literally in the air last night.
And if you've been curious, here's the ring!
Many found the proposal to be really cute, love and tons of prayers were being sent to Yasir and Iqra from their family, fans and fellow colleagues.
🥇💍👑 @IqraAzizz ❤️❤️❤️💋

— Sidra Aziz (@NamkeenJalebi) July 7, 2019
And while many were loving the gesture, a ton of people on social media were not happy:
imagine marrying a homophobic and insensitive person with 0 sense of humour… https://t.co/JkdREwnhXb

— bxreerah✨ (@bxreerah) July 7, 2019
Many thought Yasir had hijacked Iqra's night to shine:
A man hijacking her defining moment just to propose her. Sad. https://t.co/b8ut23nL4I

— Shumail (@Shumyl) July 8, 2019
I think Yasir Hussain stole Iqra Aziz's thunder by proposing her on one of the biggest nights of her career where she won best actress award.

— Elon Khusk (@therealsnorky) July 8, 2019
Their little PDA triggered a ton of people:
What is this men!!
Shame on both of you guys. #IqraAziz #YasirHussain
It's Pakistan Not a European country.
Nd you are not a married Couples.#Astagfirullah#LSA2019 pic.twitter.com/uAVG6wjxrO

— Tanveer Asghar (@Tanveer78874804) July 8, 2019
People were grossed out:
how can anyone let that ugly creep #YasirHussain kiss
like seriously #IqraAziz?
mjy tu is bandey ko dekh k be ultian aati hein pic.twitter.com/cD5YpmLSBT

— Maham Mahi (@Mahamboli) July 8, 2019
Some suggested that Iqra takes a bath asap!
And #YasirHussain proposed #Iqraaziz in #LSA2019 And his PDA started

Someone pls ask iqra to wash herself with aab.e.zamzam 😒😒😒 pic.twitter.com/IMz7c4klBL

— ​ ♓𝐞𝐞𝐧𝐚 (@IAmGrumpyArtist) July 7, 2019
Iss mei IK kahan se agaya? 😂
Welcome to the islamic republic of pakistan.
WTF is this jani @ImranKhanPTI . pic.twitter.com/rsQSOARohi

— 𝓜.🥀 (@Madhoo_o) July 8, 2019
Some thought that proposals are a very personal thing to be shared with hundreds of people:
i find public proposals to be kinda… trashy. and overdone. to each his own tho. i personally would not want to involve anyone else in such an intimate moment – especially WHILE it is happening 🤷🏽‍♀️

— i. (@s_iqr) July 8, 2019
Umm…
If this is what they are doing in front, Imagine what would they do in private?? 🤮🤮🤢🤢🤢😭 #IqraAziz #SastaComedian #YasirHussain

— Reema 🌙🌟 (@SyapaaGirl) July 7, 2019
People were embarrassed:
It was embarrassing to see #IqraAziz and #YasirHussain. It brought on anger for Yasir, and a sad feeling for Iqra. True love is smthg spiritual and shys away from the public eye.#IqraAziz pic.twitter.com/Rqk9ajsdYy

— Pakistan Zindabad (@StunningPk) July 8, 2019
Some found it really weird:
Is it only me or is it really weird that #YasirHussain kept kissing #IqraAziz like whaaaatttt!? pic.twitter.com/tZGDWfjP3b

— Fahad Khan (@MrFahadKhan) July 8, 2019
Some were pretty observant:
Everyone is busy criticizing the action of both #IqraAziz and #YasirHussain whereas no one noticed that is sab main us bichari ki mushkil se chipkai gai pony gir gai.
Feel sad for the little girl pls!? https://t.co/fPpY7C0OAC

— Sehrish 🇵🇰 (@itsmeSehrish) July 8, 2019
And there were way too many memes!
Mood after watching that shitty PDA#LSA2019 #IqraAziz #YasirHussain pic.twitter.com/Ve2oIoAbuS

— ArJiya (@NawaKatta) July 8, 2019
Reminds you of someone?
That one aunty in ur relatives that won't stop kissing u everytime she visits ur home.🤮#LSA2019 #IqraAziz #YasirHussain #Pakistani pic.twitter.com/ZE5zyA48y8

— Hamad (@Hamadtweets) July 7, 2019
Some thought he was inspired by Bhai:
Actually #YasirHussain is inspired by "BHAI"#LSA2019 pic.twitter.com/9wWeGezI0d

— ​ ♓𝐞𝐞𝐧𝐚 (@IAmGrumpyArtist) July 7, 2019
Even Imran Hashmi was compared:
#IqraAziz #YasirHussain#YasirpropsedIqra #LSA

No one:

Imran Hashmi in movies: pic.twitter.com/NaEY4ty1tg

— ف ہ ی م (@faheemalvi4515) July 7, 2019
Haha!
#yasirHussain purposed #IqraAziz in public.

PAKi awaam: pic.twitter.com/AvMsxbLK63

— Ahsan Tabassum (@ahsantabassum17) July 8, 2019
Many found the leaked footage…
sasty liberals 😘#IqraAziz pic.twitter.com/mVUETeckZJ

— A B D U L L A H 🇵🇰 (@iabdullahRao) July 8, 2019
omg so cut leaked video of #YasirHussain and #IqraAziz pic.twitter.com/gvDGe7yrlJ

— AQIB MAJEED HINGORO (@Aqiboo2) July 8, 2019
Full video of Iqra Aziz & Yasir Hussain has been leaked.#IqraAziz#YasirHussain pic.twitter.com/XFKouyHUgZ

— Red Devil (@ShahzadIkhlaq) July 8, 2019
Backstage leaked footage
#IqraAziz pic.twitter.com/5bfDkPnCFd

— Rizwan Khan (@HiddenUser0609) July 8, 2019
Some shared how they felt about the proposal step by step:
what was that proposal?! 👀
– it was bearable till that hug
– those kisses and everything like seriously when the senior actors are sitting there
– + when on air these are watched by families 🤦🏻‍♀️🤦🏻‍♀️🤦🏻‍♀️🤦🏻‍♀️🤦🏻‍♀️🤦🏻‍♀️🤦🏻‍♀️
Maintain some decency Fgs#LSA2019 #IqraAziz #YasirHussain

— Rabea 🦋 (@HeyitsRabea) July 8, 2019
Many wanted to call in PEMRA:
You guys are public figure, atleast you should think what impact this act will create on audience. You are not married and also not in Europe. @reportpemra Pemra should take notice of all this shit. They should notice about what they are trying to deliver their nation. 1/2 https://t.co/NvYBZs9p5W

— Sumayyia muqeet (@MuqeetSumayyia) July 8, 2019
And while there were tons of memes and backlash, there were people who spoke out against the trolling:
"hawwhaye apni fiance ko publicly kiss kar lia taubah taubah".
Stfu parween, just because your cousin/husband/Alhumdullilah4Everything feels ashamed to even hold your hand in a park doesn't mean others can't do it either

— Glorified Mazdoor (@EdBasheeran) July 7, 2019
Savage!
Are you guys pissed cause your partner or partner to be would never kiss your face in public? Get a fucking job and focus on that other than sticking your whole self in someone else's personal life.

— Taha A. Wyne (@tahawyne) July 8, 2019
Well, agreed!
at least they are now comitted for halal relationship not like many of us doing haram stuff ,asking nudes doing sexting all night long and than criticize others#iqraaziz#YasirHussain pic.twitter.com/Matvt0OEdM

— Senator Siibs (@siibsays) July 8, 2019
Point!
A few harmless kisses on the screen have some of you begging the gods to save your 'eeman' but you never feel the same kind of terror when reading about acid attacks, honour killings and frequent incidents of child abuse.

— Paul (@mrithejester) July 8, 2019
Yeh cheez:
Thats none of our business if someone hugs, kisses or fucks her girlfriend in Public as far as its not interfering our personal life. yes im saying this about Iqra & Yasir

Pehle zindagi me thora cancer ha jo har dusray din in celebrities ka cancer b paal letay ho apni zindagi me

— NOOR 🇵🇰 (@50shadessofNoor) July 8, 2019
Yaaas girl, preach!
I hate #YasirHussain to the core, because of his potty thinking and so called "Oscar" level jokes.
But I'll never ever in my dream say/joke anything about his personal life. #LSA2019

— Uroosa. (@TheLocalStance) July 8, 2019
We'll end the article with this tweet:
Kuch tau log kahenge, logun ka kaam hai kehna
Chorho bekaar ki baaton me, kahin beet na jaye rena 🎶

— Sidra Aziz (@NamkeenJalebi) July 8, 2019
What do you think about the proposal? Let us know in the comments below!