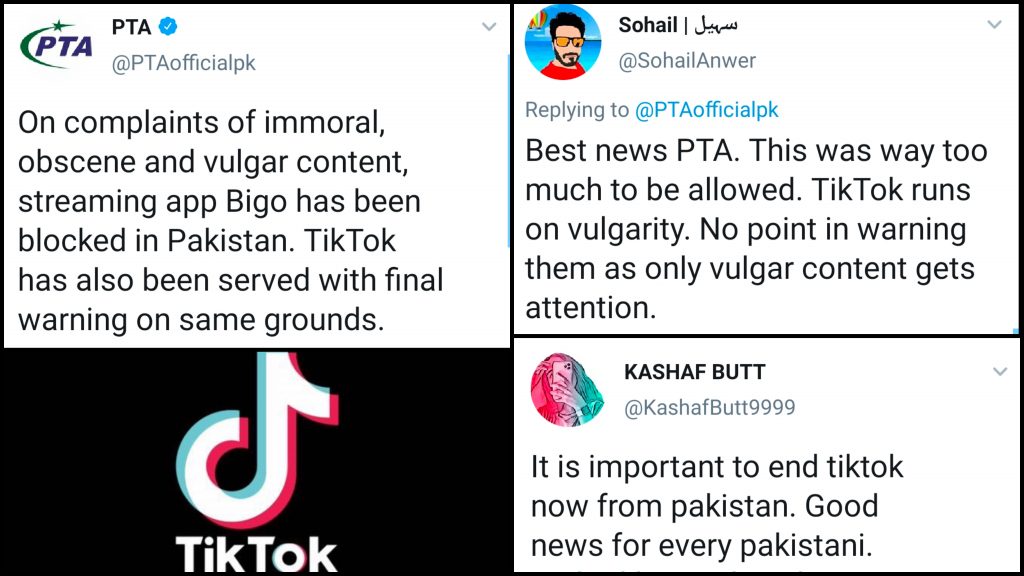 Tiktok, the most widely used app in Pakistan might be on the verge of getting banned by PTA after it banned Bigo app today.
Bigo is the second app to get banned after PUBG, a final warning has also been given to Tiktok for promoting obscene and vulgar content in Pakistan. If the warning isn't taken seriously, Tiktok might be the next app to get banned in the country:
On complaints of immoral, obscene and vulgar content, streaming app Bigo has been blocked in Pakistan. TikTok has also been served with final warning on same grounds.

— PTA (@PTAofficialpk) July 20, 2020
The notification from PTA garnered mixed reactions from the public, with majority supporting the ban:
Besides obscenities and vulgarity TikTok is a total waste of time. Instead of taking part in healthy activities our youth is dancing and acting by copying other countries' trends ridiculously, neither is that creative nor entertaining but annoying. Stop this as soon as possible.

— Ali Raza (@ar_pk2) July 21, 2020
Some felt that there was no need of a warning but rather a direct ban:
Best news PTA. This was way too much to be allowed. TikTok runs on vulgarity. No point in warning them as only vulgar content gets attention.

Ban the filth before filth destroys our society.

— سہیل | Sohail (@SohailAnwer) July 20, 2020
People were happy with the decision:
It is important to end tiktok now from pakistan. Good news for every pakistani. #Tiktokbannedinpakistan https://t.co/qJJsdHXgZN

— KASHAF BUTT (@KashafButt9999) July 21, 2020

https://twitter.com/LongAwaitedHero/status/1285462138711048192?s=19
People were praying for Tiktok to be banned soon!
Bigo is getting block while a final warning sent to Tiktok , hope so Tiktok bhi block ho jaye Ameenn..😂😂🤦‍♂️IA.#BIGOLIVE #Bigo #Bigo https://t.co/GaDDMZB0tB

— Mr GMD (@rising_gmd_2171) July 21, 2020
People were upset that PUBG was given no warning prior being banned:
Nice 😂 pubg without any court order direct ban or apna mujra dekhny waly app ko just warning! Nice act @PTAofficialpk 👏🏻👏🏻👏🏻 #UNBANPUBG

— RidAa Ch (@RidAaCh1) July 20, 2020
People were lauding PTA for the decision:
Well done @PTAofficialpk .. it's a really appreciable decision.. keep up the good work and ban tik tok also.. these apps are spoiling the mentality of our youth..

— umm e Abdulrehman. (@KiranWaseem9) July 21, 2020
People were sharing how tiktokers have zero contribution:
Good ban it…. people are getting chichora and tiktokers have zero conntribution to society… in fact people are spending heavy money on 16 second video in term of clothes, makeup, accessories, travel ….. just for like in return….. obscenity is also increasing because of it

— Dr. Taahaa (30) (@Taahaa) July 21, 2020
And while many were supporting the ban, others had their reservations:
Have you lost your minds? How do you expect us to keep up with the world if you keep shutting us down? How about letting people make their own choices instead trying to be our Aba?

— Amal F Uppal (@amaluppal) July 20, 2020
People were questioning PTA:
Doesn't ensuring reliable and affordable internet connectivity come under your responsibilities as the state-run telecom regulator?

Why don't you focus on ensuring that, especially now with online learning and businesses sharply on the rise

Yeh moral theykaydari chhor do https://t.co/Rs9dNkrgpB

— omar r quraishi (@omar_quraishi) July 21, 2020
Many stood against banning the apps as a solution:
Banning isn't a solution, not today, not ever. https://t.co/LoyktTltLR

— M Hamza Irshad. (@muhammad_hamza9) July 21, 2020
People were not happy with the constant bans:
This banning culture will only do us more harm. We're still recovering from the YouTube ban and now banning all these popular apps e.g bigo, pubg, tiktok will only add fuel to the fire. No wonder no big company invests in our country #TikTok #PUBG #pubgban https://t.co/0Zf5iL795O

— k (@obaid1308) July 20, 2020
People were calling the country 'Block-istan:'
Block-istan https://t.co/GaFNxOBaz2

— اسد علی (@AsadaliYP) July 21, 2020
People were calling for the ban of YouTube as well:
Tik tok is a medium which can be used in both good and bad ways. Banning is not solution. If this continues then Ban YouTube, ban Even internet because 1000 times more vulgarity is there.
This is very shameless decisions.
Bigo and PUBG also must be Unbanned.
Dont snatch https://t.co/WYDDcmx5k7

— Minahil Mini (@Minahilmalik72) July 21, 2020
It reminded people of the YouTube ban back in the days:
Instead of applying good rules they are just banning apps ,people are earning good through those apps
Dont repeate that" banning youtube" type mistake again https://t.co/VjFQm3JqFw

— Waqas Ahmed (@unfunnywaqas) July 21, 2020
Gamers ko apni fikar pari hui hai:
So they are finally doing it wow man and now #PTA got their Senses back SO NOW THE REAL QUESTION WHEN #PUBG WILL BE UNBAN https://t.co/p14lSz432w

— Farhan Khan #UnBanPubg (@FarhanKhanVLOGS) July 21, 2020
It sure does!
Seems like 'banning apps' is the new cool. https://t.co/15zUCuW9jQ

— ƒαяσσq qυяєѕнι (@farooq221b) July 21, 2020
Boy's got a valid point!
Instead of realizing how stupid banning PubG was, u r gearing for an app banning spree? Internet is a free medium; must remain one. Those who complain abt obscenity shld stop using such apps/services.

State can't be a granny to spoonfeed us on what to access and what not to. https://t.co/DoYJXidbZP

— Bilal A. Lashari (@belallashari) July 20, 2020
People were throwing shade:
Digital Pakistan 🤩🤩🤩🤩 https://t.co/3pXV6bU6zX

— Choolhay ka ignored burner (@mahobili) July 21, 2020
People had their reasons to speak out against the ban:
These #idiots don't understand that blocking is not the solution. Education is. The app is not evil per se, how we use it makes all the difference. Ridiculous decision https://t.co/DgPX5EKiC5

— Quratulain Babur (@AnnZOB) July 21, 2020
People were furious!
So PTA is now moral police? Immoral content? Really? Kin jahilon k haath lag Gaya hai ye mulqi Idaray!? Who is PTA to decide what is immoral and what isn't? https://t.co/ORO4p8fefx

— Watching Pakistan (@EyesOnPak) July 21, 2020
People wanted PTA to stay out of their personal lives:
Trying to control lives it's a personal choice stop putting ur big nose in personal matters. https://t.co/OfktNRjMKy

— nuttjob (@danykhan666) July 21, 2020
What do you think about PTA banning all these apps? Let us know in the comments below!