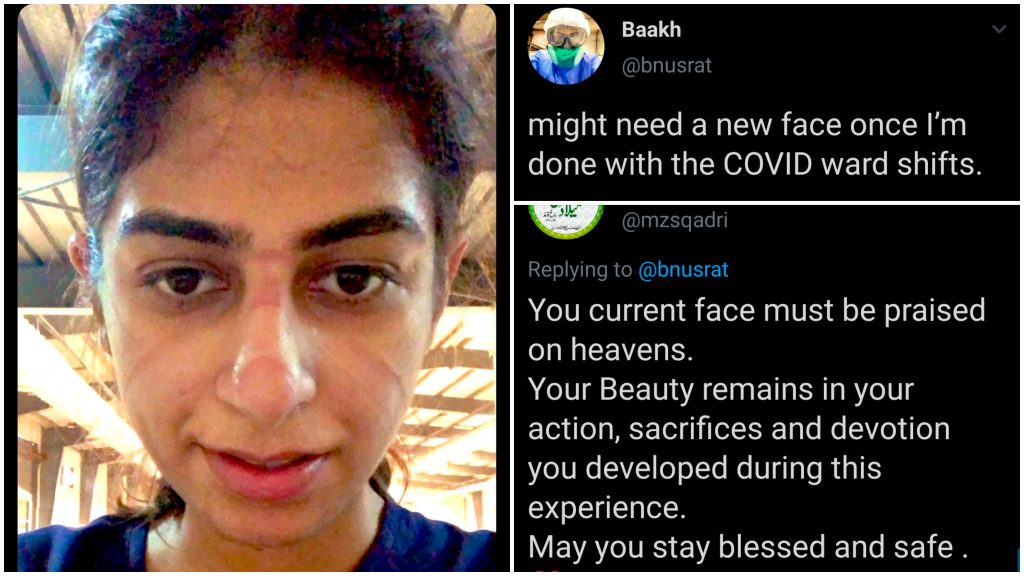 Ever since Pakistan got hit by COVID-19, doctors, nurses, technicians have been working day and night risking their lives to save ours. With layers of protective gear to keep them safe, it never gets easy.
Frontline worker, Baakh Nusrat, shares the aftermath of COVID ward shifts thinking that she might need a new face after its over:
might need a new face once I'm done with the COVID ward shifts. pic.twitter.com/mSfkqAPukP

— Baakh (@bnusrat) July 20, 2020
But the netizens see her beautiful face in a different light:
You current face must be praised on heavens.
Your Beauty remains in your action, sacrifices and devotion you developed during this experience.
May you stay blessed and safe .❤️

— Bro4ever (@mzsqadri) July 20, 2020
Even people across the border sent her love and prayers:
The way you work with dedication & saving people's life's in this pandemic situation ALLAH will definitely bless you, Your face telling the whole story of your hard work, We are very proud on you sister, lots of love & support from India @bnusrat ❤😇

— 𝓩𝓾𝓱𝓪𝓲𝓫 𝓪𝓯𝓻𝓲𝓭𝓲 زہیب آفریدی 🇮🇳 (@zuhaibafridi6) July 20, 2020
Absolutely!
that's the face of a hero, right there: https://t.co/kkXaEYS6aG

— Diaa Hadid ضياء حديد (@diaahadid) July 20, 2020
Nation's pride!
Nation's new pride , our brave doctors and nurses, paramedics , hospital & emegency staff and volunteers 🙏🙏

— Amjad Malik (@AmjadMalik786) July 20, 2020
We really do!
Bless you Beta. Wear these marks with pride. We all owe you 🙏

— Azam Jamil (@AzamJamil53) July 20, 2020
People were thanking her and her fellow frontline workers:
UNSUNG Heroes,treating people WHILE RISKING Their lives n facing hostile attendents,cant THANK https://t.co/EAJYAFexJj REGARDS.

— SYED [email protected] (@SYEDFiayazugil1) July 20, 2020
Some were lauding her dedication:
Hats off to your dedication @bnusrat , you are a spirited Front line warrior saving many precious lives ! Salute your perseverance .Do take care .We hold you and many in the highest esteem .

— Daksha2000 (@VermaDaksha2000) July 20, 2020
People were sharing how difficult it must be to wear protective gear for hours:
Was wearing n95 while traveling for an hour, the way it hurts your ears is so painful, feels like your ears are bruised and the pain keeps increasing and never stops.
lots of respect 💐💐💐

— J (@LostSquatch) July 20, 2020
Wearing a mask even for 2hrs was very difficult..its suffocating..😔hats off to those people who wear it for so many hours..for helping others..💔❤ https://t.co/d2ZL4zSdAa

— Ashtalakshmi Harish (@Ashtalakshmi111) July 20, 2020
People were praying for her health:
Wishing you good health warrior!

Thank you for your service! 🙏 https://t.co/dJ1CK4Xi7Z

— Sneha (@sneha2986) July 20, 2020
Exactly!
What our doctors go through every day. People please stay home and follow all the precautionary measures. This is the least you can do for them. #COVID__19 https://t.co/6vd1I4jaUV

— tikuli (@tikulli) July 20, 2020
She was an inspiration for many!
You are an inspiration- we are sitting in lockdown and pampering ourselves to look good wheb everything gets back to normal and still mourn 🤦‍♀️
I feel myself tiny when I see doctors and health workers.
salute to you guys
Love n love …
You have a heart of gold..keep shining 💛

— FatimaA Kazm! (@fatimaahmad1214) July 20, 2020
Aameen!
May your barakah increase. No effort goes to waste and you are literally saving lives. No one's actions are nobler today than you and your colleagues.

— Shahzad Khan, PhD (@skhanyz) July 20, 2020
People offered to help her in every way they could:
DM me a delivery address. I'll send you a few packs of korean sheet masks to help your skin recover + skin recovery serums I've made with all natural plant-based ingredients.

— Hasan (@HasanReports) July 20, 2020
What do you have to say for heroes like Baakh? Let us know in the comments below!