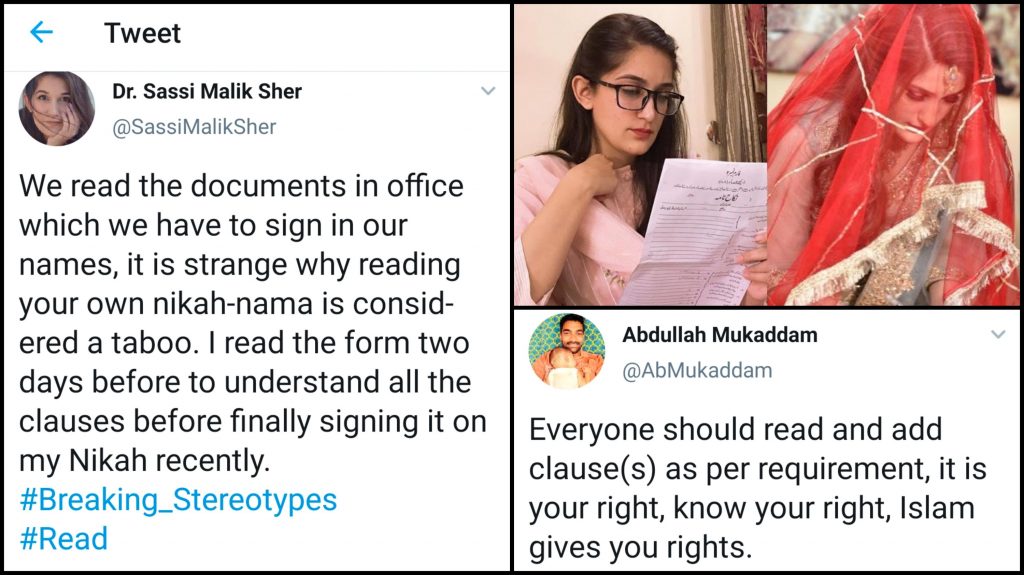 Over the course of your life, you would have signed a ton of things, checks, credit card receipts, letters, applications, documents and what not! And before signing anything you make sure to read what you're signing, then why isn't the same applied to your nikkah-nama?
Many women unthinkingly sign this piece of paper without reading it or knowing their rights. And Dr. Sassi Malik Sher is here to change it!
We read the documents in office which we have to sign in our names, it is strange why reading your own nikah-nama is considered a taboo. I read the form two days before to understand all the clauses before finally signing it on my Nikah recently.#Breaking_Stereotypes#Read pic.twitter.com/fVNhmRRFLI

— Dr. Sassi Malik Sher (@SassiMalikSher) May 26, 2020
2 days prior to her Nikkah, she made sure she went through the nikkahnama thoroughly, understanding all the clauses before signing it, urging other women to do the same and the twitterati stand proud of her!
Definitely when we read even the ingredients on a jam jar, this decision is for life https://t.co/WlHoeIZlG7

— Fariha – freedom, fun, finesse (@Farihaq1) May 27, 2020
Absolutely!
Not only should women read the nikahnama before marriage, they should fill it out themselves!

— Simi Kamal سیمیں کمال (@simisadafkamal) May 26, 2020
Such a great thing to do, here's hoping all of us do the same when the time comes:
I invited my son in law before Nikah with my daughter and explained both of them that this is the most important and precious contract of ur life and read it carefully and then sign it.Together forever till Jannah 🤲

— Dr Samia Raheel Qazi (@SamiaRQazi) May 27, 2020
Jo baat hai!
Everyone should read and add clause(s) as per requirement, it is your right, know your right, Islam gives you rights. https://t.co/JFp0WGJ3eH

— Abdullah Mukaddam (@AbMukaddam) May 27, 2020
Others were sharing their first hand experiences:
I've seen the column where a woman can write her demands almost always crossed out. https://t.co/S1Vmpa8Nn9

— Lady Crane (@Ladycrane15) May 27, 2020
It sure is:
Thats an awareness tweet. Public service message for all unmarried girls.

— Sadia A. (@DrSadiaA) May 26, 2020
While many argued how it isn't really tabboo, others shared the real picture:
When I inquired about why the divorce clause from the papers that we were filling out for my bhabhi is being crossed out, my father got so furious & I got a pretty bad scolding! Never opened my mouth after that! So yes it's a taboo that shouldn't be! https://t.co/s6cR5Al67G

— Zuha Bari (@ZuhaBari) May 27, 2020

Sad but true at the same time:
I know women who would read a long ass Facebook post about humaima shah's latest scandal, but wouldn't bother reading a 3 line document if their life depended on it because "choro kia karna hai", "kuch nai hota", "aisey nai hota"

Most of our women don't seem interested in rights https://t.co/n8JBK9BANb

— Jafri (@SmaackJaw) May 27, 2020
Men were sharing how they encouraged their wives to read the contract before hand:
i sent blank Nikah Nama form to my wife @BiyaAli9 before our Nikah, explained her about her rights and then half of forms she filled by herself. https://t.co/NHTWyVJ9vy

— Ali (@cestleonow) May 27, 2020
I encouraged my wife to read everything. I even wanted to have her rights column filled. Unfortunately the guys filling the form didnt know what to put in their. Its good to have everything in writing but one must respect the vows even when they are not in black and white.

— Nauman Ahmed Sheikh (@naumanahmed18) May 26, 2020
An example to be followed!
Good going! Every girl should do this. https://t.co/NKM3Ng82JZ

— Ramisha Ali (@ramishaali_) May 27, 2020
Girls were sharing their own experiences:
Yeah, it's all about Breaking stereotypes. Some days back before Nikah, went through all the clauses of #Nikahnama and asked for the delegated rights which are normally been cancelled out even without any consultation. https://t.co/kooA6u7XUh

— Erum, PMS (@Bint_e_Yousaf) May 26, 2020
Yaaaaas!
normalize this queen behaviour https://t.co/l27X2Un7LR

— Mehdi (@SzpilmanStinson) May 27, 2020
Please!
Desi women need to realize nikah papers aren't user agreement licence or terms and conditions for an app that you blindly agree to. Give it a read, understand and sign up. https://t.co/Iqt8zf99PV

— talhaBro (@Tallhhaa_) May 27, 2020
Facts!
Being a researcher, I've habbit of reading, understanding and doing research on everything that's new to me!! And nikkah nama that's life changing needs to be understood completely by Girl herself!! https://t.co/nTdAWGtdsG

— LAALY ❤️ (@Laa_aaly) May 26, 2020
People were agreeing on how important it is:
All would be brides must do that, I have heard that lot of mullas delete the clause where the girl has the right to divorce.

— Hassan Parvez (@hassanparvez101) May 26, 2020
Your deen has given you this power, use it:
Important as hell, although it cannot save you from misfortune, but it gives tough time to those who consider women 🍭, use & throw like garbage with sick excuses. BE VERY CARE FULL WHILE FILLING NIKKAH NAMMA, DEMAND YOUR RIGHTS, your future is dependent on it #ExperiencedIt https://t.co/7JFRpwEOnk

— ص (@Allah_ki_bandii) May 27, 2020
Exactly why it needs to change:
Read it or not it doesn't quite matter since the men in the family always manage to get it done their way at the time of signatures. https://t.co/TkkEbylYrV

— KP (@Komalay_) May 27, 2020
We cannot stress enough:
Reading the nikkah nama before signing it off is so important. The elders of the family mostly cut alot of sections off and don't give the bride a chance to review it before marriage.
It's a document , read it before you sign it. https://t.co/8cplZrX6a6

— Noorryyy_ (@Slythfeminist) May 26, 2020
Same!
I admire you and I pray that every girl dares to do so. https://t.co/pnV6OMGHnt

— Lubna Abbas (@LubnaAbbas7) May 27, 2020
She was an inspiration to many:
congratulations 💙,she is truly an inspiration for all girls,broke stereotype since had joined bureaucracy.
Thats an awareness tweet. Public service message for all unmarried girls to read nikah clauses,not only a signature just. https://t.co/MJKUC2x0Wf

— ~tehreem rana (@temi_theTaurus) May 27, 2020
Inspiration ❤️ https://t.co/QE7ftwXB2p

— My dear Peaches (@apkiammi00) May 26, 2020
People were hoping other women would follow her:
Stay strong lady, its your basic right to read every clause & sign it with your complete consent, hopes for others to follow you. 👍

— Obaid Bhatti (@Obibhatti) May 26, 2020
Go queeeeen!
Tbvh I'm gonna do the same. It's about my life. https://t.co/3O6ozVxzc1

— Rida 🇵🇰 (@__SyedaRida) May 27, 2020
What do you think about normalizing women reading and filling out their nikkah-namas themselves? Let us know in the comments below!