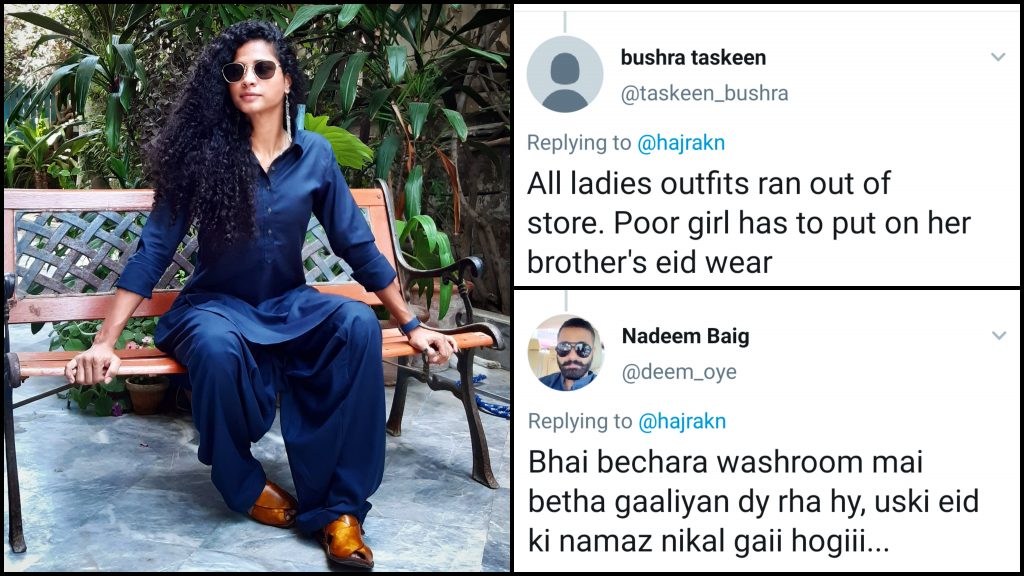 You can never be as cool as Pakistan's Football Team Captain Hajra Khan, it's a given fact! No matter what the girl decides to wear, she looks absolutely divine.
And while everyone was sharing their pictures from Eid, Hajra too took to her social media to share her Eid look rocking her aviators and khheriyan!
A blessed and peaceful Eid Mubarik to everyone! 🌙 pic.twitter.com/3dxrwqu8xu

— Hajra Khan (@hajrakn) May 25, 2020
And while many loved her sense of styling, others were triggered!
Scroll down for butt hurt men who can never pull off her swag in a million years 👇🏼

— مائرہ (@phuttakhao) May 25, 2020
Of course, some people were never taught to stay quiet if they had nothing good to say:
قصائی والی look آ رہی ہے 😅

— Hira Noor (@hiranoooor) May 25, 2020
Such comedy much wow 🙄
All ladies outfits ran out of store. Poor girl has to put on her brother's eid wear

— bushra taskeen (@taskeen_bushra) May 26, 2020
Pehle apne ghar mei toh dekhlein kon kya kar raha hai:
Bhai bechara washroom mai betha gaaliyan dy rha hy, uski eid ki namaz nikal gaii hogiii…

— Nadeem Baig (@deem_oye) May 25, 2020
CoMeDy Is My PaSsIoN:
when dad used to call their baby girl.. o mera putar aya

— Goolrys khan (@Goolraiz) May 26, 2020
Subko kerni chahiye:
Toba

— Atif (@Atif90563744) May 25, 2020
Okay:
You are so man in that outfit.

— awais (@awaisali_21) May 25, 2020
Jisko jo pasand woh uss libaas mei:
لڑکیاں لڑکوں کے لباس میں اور لڑکے لڑکیوں کے لباس میں

— Waheed (@W_H_eD) May 25, 2020
Some thought she was having an identity crisis:
Identity crisis.

— Zubair Ashraf (@xubair13) May 25, 2020
Mughees disappoint hua:
dressing to koii achi krnii thi

— mughees akram (@ranaali23874884) May 25, 2020
Lmao, the biwi he'll never get:
Aisi biwi chahye, aik he shop se dono ki shopping ho jaye 😂 https://t.co/WcD8KK7z1e

— 𝐒 𝐀 𝐊 𝐈 (@WordsBySaki) May 26, 2020
Kya joke mara hai…
light to nae chali gae thi tayyar hotay way https://t.co/wWC55wLNxW

— Nauman (@blessyounom) May 26, 2020
Some thought her darzi played with her:
جب درزی عید پر آپ کو دھوکہ دے جائے. https://t.co/NcerlEIlgk

— بنجارہ (@DabeerHijazi) May 26, 2020
Some had unsolicited advice:
Amma ke pehen leti aise bhi kiya emergency thi https://t.co/t2dag6z3kO

— Zoya (@za1b4u) May 26, 2020
Some were worried about 'aj ki generation:'
کیا ہوگیا ہے آج کل کی جنریشن کو
لڑکیاں مرد اور مرد زنانیاں بن رہی۔ https://t.co/ef4SxIjUlA

— الف م الف ن (@amankhaan77) May 26, 2020
Some thought using transgenders as an insult is peak comedy:
Hijra Khan https://t.co/ICs575evV5

— HassaN (@ThisIsHSN) May 26, 2020
And while a lot of people we're butthurt, way more were in love!
This is honestly so beautiful and badass. I wish I could pull this off https://t.co/HOyJHIuCft

— Z (@browndaal) May 27, 2020
Hehe, facts!
y'all just mad she looks like a goddess https://t.co/mkOI8BWUVE

— ash 🍃 (@chutiyuhh) May 26, 2020
Sadly true:
The derogatory comments under this Eid selfie by @hajrakn tell quite a lot about the character of our misogynistic society. If you're triggered by a photo, you've got a problem at hand. https://t.co/BslZXjF7yO

— Soheil Khanzada (@SoheilKhanzada) May 25, 2020
Qoumi mashghalla:
another random day and we see paki men being themselves as ever in the replies https://t.co/EAXktzdHEo

— Ather sama (@Levistanacc) May 26, 2020
Same!
Love the look boss lady! ❤️

— zainab abbas (@ZAbbasOfficial) May 25, 2020
Agreed!
Such a powerful picture Hajra 👏🏻

— Noorena Shams (@noorenashams) May 26, 2020
And Hajra is proof of that:
That is one fierce look. Peshawari chappals paired with plain shalwar kameez is a look that can never go wrong. https://t.co/EX1v2JSYg8

— Maria Sartaj (@MariaSartaj) May 26, 2020
What do you think about people being triggered by a harmless picture? Let us know in the comments below!