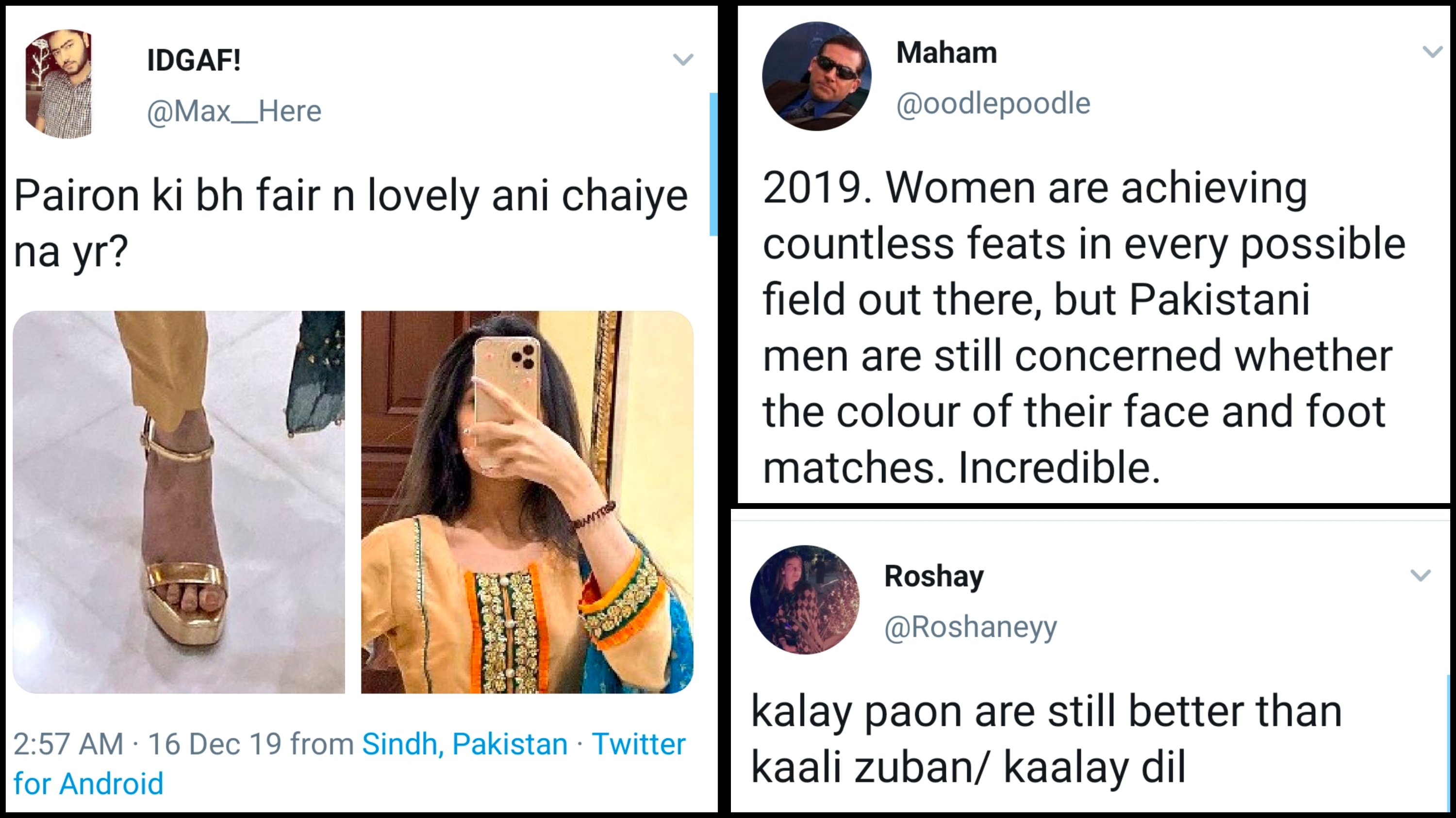 Body shaming is not a new phenomenon for desis, because yeh toh humari national hobby hai. A guy on Twitter with a little too much time on his hands posted a picture of a girl shaming her about her complexion:
Pairon ki bh fair n lovely ani chaiye na yr? pic.twitter.com/K76rRoDnb1

— IDGAF! (@Max__Here) December 15, 2019
Oblivious to the fact how shadows and lights work, the guy had a strong opinion on how there should be Fair & Lovely specifically designed for feet, and the internet was just not okay with it:
Shame on you people who have no idea how lights and shadows work. Shame on you for putting so much pressure on girls like this. Shame on you for thinking we all should look like a fairy tale princess fair from head to toe. Feet always appear dark when you're standing in light.

— Komal Shahid (@ArmedWithWords) December 16, 2019
SAVAGE!
If you don't don't know how lights and shadows work educate yourself rather than putting BULLSHIT over here, and no matter how her feet look it's non of your fucking concern. Unless apko Chaatne hain.
Tum haseen farishtay Ho ya Humse Pari hona expect krte ho jahilon https://t.co/lG6qyPS085

— Atlas Abeer (@KabootarHunMain) December 16, 2019
They say men will be men:
2019. Women are achieving countless feats in every possible field out there, but Pakistani men are still concerned whether the colour of their face and foot matches. Incredible. https://t.co/YceakZeu2t

— Maham (@oodlepoodle) December 16, 2019
People were calling him out on his racist tweet:
Racist comment!
Every human is beautiful be their skin fair, brown, black or whatever color. https://t.co/cIQnXrycy9

— Yaara (@Tweet_holic__) December 16, 2019
Jo baat hai:
Laykin tung nazar ka koi ilaaj nahi.

— K-Hanif (@KJHanif) December 16, 2019
People were sharing their struggles:
I have acanthosis nigrans. I have really dark finger knuckles despite of 100's solutions I tried. Sometimes its not about maintaining hygiene or skin care. It is what it is. Paon hath munh ka rang milany say bhtar hai match your words with your actions.Ajeeb jaahil! https://t.co/mkxcp1fZ7F

— ĸ. (@sabmayahaii) December 16, 2019
Shots were fired:
This guy literally SAVED her picture
Opened edit option CROPPED that picture into two parts SAVED both of them. Opened Twitter and tweeted them k isky paoun ko fair & lovely ki zarurat hai.
BHAI TMHY LIFE KI ZARURAT HAI
get a life https://t.co/kmiY4TdcaA

— ° (@yass_kween) December 16, 2019
TAKE OUR MONEY:
What about a fair n lovely for a dirty soul ? https://t.co/xWBFERHkXb

— Sabu (@ajeeblarki) December 16, 2019
Some people are still stuck in the 18th century:
Light nii parh rhii bro it's just fine💙 it's almost 2020 and we are still stuck in "pair kalay h" oh bhae grow up. https://t.co/vNLLjm58cy

— isra. (@hawyysachiiii) December 16, 2019
2020 is here and people still finding fair skin tone https://t.co/doNyTZzza6

— Alishba (@alishbahaha) December 16, 2019
DEAD!
Dude has 3 filters applied on his display (still ugly tho) yet has the audacity to comment on someone elses complexion.
U look like a roach, crawl back to your sewer hole https://t.co/dK63vBuO8O

— the misandrist next door (@amnaaww) December 16, 2019
People were suggesting he uses Harpic:
Or apky dimagh k liye Harpic ki

— SHEIKHNI💚🇵🇰 (@oyesheikhni) December 16, 2019
Oof, khoobsurat baat!
kalay paon are still better than kaali zuban/ kaalay dil

— Roshay (@Roshaneyy) December 16, 2019
Well…
We need something to clean that filthy mentality of yours too https://t.co/gqo9xAWixQ

— Arham (@ThisIsArham) December 16, 2019
People were hoping he'd grow up:
idk who is she but posting a picture of someone without them knowing because you think they look funny is not okay. it makes you an asshole and you should think about how your actions impact others and grow up a little. https://t.co/UAl89EZegt

— Asad (@gostudyasad2) December 16, 2019
A public service message from the netizens:
That was a low blow tbh. And wasn't funny one bit. Apne humour level ko upgrade karin. Aur mentality ko bhi. Shukriya👎 https://t.co/9ih0AvEJnr

— a sad french fry (@MahnoorNaeem15) December 16, 2019
It's an achievement if you ask him:
The saddest part about it is this fucktard failed to notice the lighting difference and the concept of "shade" flew right over his empty head yet he decided to make a complete nonce of himself thinking he actually did something. https://t.co/Q1DhDljyNR

— Moonface (@smolbaun) December 16, 2019
People were asking him to stop trolling people based off of their skin colour:
please don't do this. stop trolling someone atleast on the basis of their skin color. tks

— 💥 (@sayedagurl) December 16, 2019
Okay there…
Only trash men can do insensitive tweets like this and give attention to similar tweets by others without thinking for a second how that girl will feel..
Go suck some white feet and choke on them you scumbag https://t.co/IjkxVlNGUW

— randi rona (@imbitchex) December 16, 2019
And while majority of the people were calling him out for body shaming, there were certain people who found the tweet funny:
😂😂😂😂

— Batool fatima🥀(Samoo||Asad||Ahsan ka 🎂🎂) (@fatima_butt514) December 15, 2019
Yeah😂

— Ifrah (@sunoo_chanda) December 16, 2019
Turns out he wasn't the only one who needed to attend physics classes again:
Seriously meri nazar bhi seedha paon pr gi thi🤦‍♀️🤣

— mahiiiツ (samoo ka HBD🎂🎊) (@abay_tu_nikal) December 15, 2019
I also noticed this 😂

— Sweety 😍❤️ (@Sweety_sayss) December 16, 2019
Women bringing other women down:
Filter ki phnch se dur hain paoo😂😂

— ᴍʏʀᴀ ᴀʙʙᴀsɪ🖤💫(Arooj | Max | Umar ka b.day🎂🎊🎉) (@Bitch_in_blaYr) December 16, 2019
What do you think about the tweet? Let us know in the comments below!