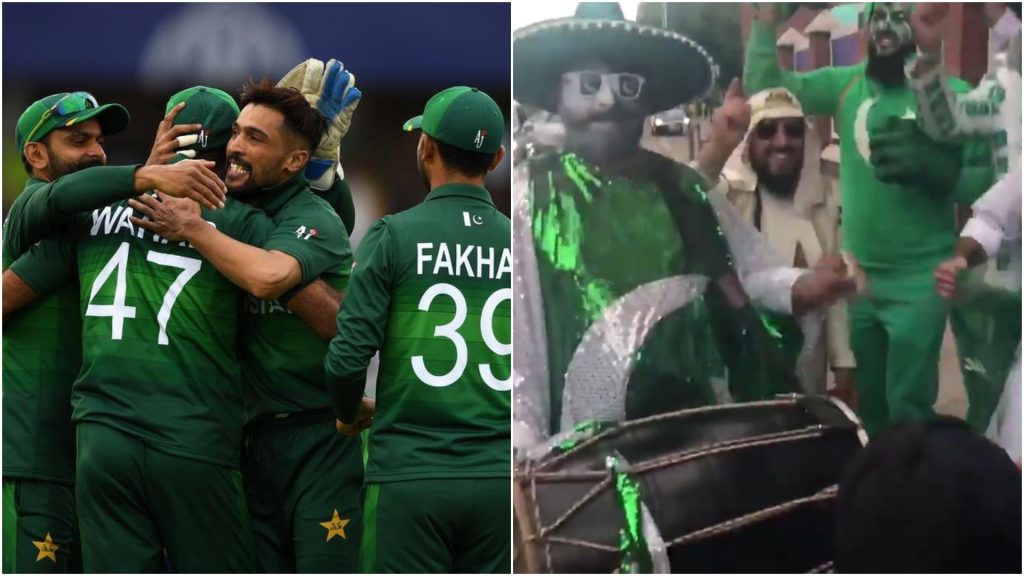 For us, cricket is not just a game, it's a whole mood! After the first few matches, the cricket team had upset a lot of fans with constant losses. But the tables turned yesterday when Pakistan won against England, now that is an Eid gift we did not see coming.
Pakistan have broken their losing streak in ODI cricket and defeated England in the manner only they could 👏🇵🇰#ENGvPAK #CWC19 pic.twitter.com/VVuQyuMJ84

— Cricingif (@_cricingif) June 3, 2019
Needless to say, the spirit of the nation has been revived and if you ask us, the air seems to be different ever since we won the match!
After the great win, PM Imran Khan congratulated the team:
Congratulations to the Pakistan cricket team for a great win and for coming back into form after a poor start in the warm up matches and the first WC match. You have the talent, all you need is the self belief that you can go all the way.

— Imran Khan (@ImranKhanPTI) June 3, 2019
And Wasim Akram got the best birthday present!
Now THATS what you call a Birthday present. What a win!!! Well done Pakistan, that just made my day! 🇵🇰💪🏼🥳 #BestBirthdayEver #ENGvPak #PakistanWin #CWC19Nottingham

— Wasim Akram (@wasimakramlive) June 3, 2019
Sania Mirza too, lauded the team for their epic comeback!
Congratulations to Team Pakistan on bouncing back the way they did and being as unpredictable like it always is !!! @cricketworldcup got more interesting than it already was 😏😀

— Sania Mirza (@MirzaSania) June 3, 2019
Do not underestimate us!
Just want to let you know that Pak beat the team who're Number 1 in ranking and beat them in their home conditions.
Don't underestimate our Shaheens.
I repeat never ✅
#ENGvPAK#TeamSareAamRwpSouth pic.twitter.com/KT5Ys8acXp

— Team SareAam Rawalpindi (South) (@sareaam_rwp) June 3, 2019
That's Pakistan for you!
MERCURIAL PAKISTAN AT ITS BEST. 💚 One minute down, next minute up. Sensational stuff. 🇵🇰

CONGRATULATIONS SHAHEENS ⭐#WeHaveWeWill #ENGvPAK #CWC19 pic.twitter.com/IgtDaB3hHa

— PeshawarZalmi (@PeshawarZalmi) June 3, 2019
Saeed Ajmal too, praised the team!
Big win today 🏆!!! Congralutions @TheRealPCB. Positive energy shown in the batting by Hafeez, Babar & Sarfraz set the tone of the game for us. We need same energy and attitude in bowling and fielding in the next games. #CWC19 #EngvPak

— Saeed Ajmal (@REALsaeedajmal) June 3, 2019
In all honesty, we've never seen a comeback so strong!
Winning Moment 😍🔥

"Pakistan cricket at its best; one minute down, next minute up". 💚🇵🇰

WHAT. A. MATCH.
WHAT. A. COMEBACK.
Well done boys, you really deserve this victory.
😍#PakistanZindabad 🇵🇰🔥

Jeet Mubarak #ImadWasim #ENGvPAK #WeHaveWeWill #CWC19 pic.twitter.com/1jZvpoAEgH

— Rabia: Imad_Universe ❤ (@RabiaNoorKhan2) June 3, 2019
From the lowest score to the highest score!
Lowest total Of The tournament so Far " 105 By Pakistan ❤😂
Highest total of the Tournament so far : 348 by Pakistan ❤
This is Paksitan cricket for you 👊❤
One minute down one minute Up ❤😭
Congratulations To all❤#WeHaveWeWill #ENGVPAK pic.twitter.com/juUYfVFR5w

— i๓คคຖ🇵🇰🥰 (@imaanAli_10) June 3, 2019
Haha!
England Invented Cricket & created Pakistan.

They lost the cricket match to Pakistan.

Only L K Advani understands England's pain today. #ENGvPAK

— Shridhar V (@iimcomic) June 3, 2019
And of course, there had to be an Akshay Kumar meme:
To England Cricket team! #ENGvPAK pic.twitter.com/cvcsWWa772

— Ak47♛ (@HolaItsAk47) June 3, 2019
Ooof, the khushi!
Dholwalas outside! 😂#ENGvPak pic.twitter.com/GuR3990zfS

— zainab abbas (@ZAbbasOfficial) June 3, 2019
Go team green!
Loss streak broken, and with it the idea that Pakistan's not a threat. These boys are very much a threat. Never rule them out. What a game! #EngvPak

— Roha Nadeem (@RohaNadym) June 3, 2019
A win like this, calls for a celebration this grand!
Never underestimate the celebrations of Pak fans,roads are jammed outside the ground! 🤣 #EngvPak pic.twitter.com/pIEuL5TJ5s

— zainab abbas (@ZAbbasOfficial) June 3, 2019
Amidst the crowd was this man promoting peace, its little things like these that melt our heart!
Great scenes at the #ENGvPAK match

Love and Peace wins💚#CWC19 pic.twitter.com/1ILc8gfNaF

— INnOXeNt❤️ (@YasirLucky25) June 4, 2019
And we will always cheer for our team
Nasser Hussain "What a turnaround it has been for Pakistan. Their supporters haven't lost faith, through thick and thin – 12 games including the warm-up they havent won, but their fans have stuck with their team and cheered them on and wished them well" #ENGvPAK #CWC19

— Saj Sadiq (@Saj_PakPassion) June 3, 2019
WE STAN THIS!
Has anybody tried to do a PhD explaining Pakistan's fortunes in World Tournaments?

This is the kind of tragic descent into madness that would make an amazing Netflix show imo.#CWC19 #ENGvPAK

— Andrew Fidel Fernando (@afidelf) June 3, 2019
A hundred percent right!
Someone has rightly said:
"Form is temporary but class is permanent."
You just can't underestimate them.
They won our hearts today.❤❤#ENGvPAK pic.twitter.com/ljWJCEWDCC

— Haleem Qazi (@HaleemQazi) June 3, 2019
Sarfaraz dhoka nahi deta!
Sarfaraz Ahmed has become the 4th Pakistani wicket-keeper to reach the milestone of 100 catches in ODIs. The other 3 are Moin Khan (214), Rashid Latif (182), Kamran Akmal (156)#CWC19  #ENGvPAK

— Muhammad Noman (@Nomancricket29) June 4, 2019
Asim Azhar tried taking a dig at seasonal cricket fans and boy were they offended!
Dear,
Seasonal cricket fans,

Never ever write off the Pakistan cricket team. They will always surprise you at their lowest. Best when their wounded. #corneredtigers 🇵🇰 #ENGvPAK #CWC19

— Asim Azhar (@AsimAzharr) June 3, 2019
Kamaal indeed!
What a comeback! #pakistan @WahabViki @iamamirofficial @MHafeez22 Kamaal ! #PakvsEng

— Ali Zafar (@AliZafarsays) June 3, 2019
The absolute-freakin-best!
Sarfaraz's Aggresson
Hafeez's Experience
Babar's Talent
Wahab's Death bowling
Amir's crucial wickets
Shadab's Magic#PakistanCricket at its best now in #WC2019 #ENGvPAK #pakistanwin

— م ن ص و ر (@mansoormannan) June 3, 2019
Haha, lag gaya phhaintaa!
Prediction level @shoaib100mph 🙏🏾🙏🏾🙏🏾 amazing #ENGvPAK #CWC19 pic.twitter.com/ayyo4pPITa

— Ali Asim (@Ali_Asim86) June 3, 2019
#Phainta completed.
What a performance. Few weaknesses to be addressed and we are on track. Very well done boys.#ENGvPAK #CWC19

— Shoaib Akhtar (@shoaib100mph) June 3, 2019
What a comeback!
Fantastic win for Pakistan, England losing in a run chase at home after nearly 4 years. Pakistan have showed a lot of character after the humiliating loss against West Indies. Wahab and Amir were really good in the end . #ENGvPAK

— Mohammad Kaif (@MohammadKaif) June 3, 2019
Hoping this win doesn't distract them from the game plan!
Huge win. Pakistan are back in this World Cup. Beating the favourites should give them a big confidence boost and make other teams take notice of this result #ENGvPAK #CWC19

— Saj Sadiq (@Saj_PakPassion) June 3, 2019
Yaaaas!
What a great performance #pakistan! It wasnt easy, what bowling performance, brilliant batting , everything was just up to the mark! Play like this and we dont care about the results . Made the entire Pakistan proud today, best eidi ✌#ICCWorldCup2019

— Farhan Saeed (@farhan_saeed) June 3, 2019
Literally.
Nothing better than to see Pakistan perform well as a team as opposed to winning on the back of a couple of mercurial performances. Heart warming stuff. #PAKvsENG 🇵🇰

— adnanmalik (@adnanmalik) June 3, 2019
Because that's just how we roll!
Yes, it took very long break the losing streak. When we broke it, we made sure we did it against the WORLD NO.1 team England at their home in World Cup.

Unpredictable for a reason! PAKISTAN ZINDABAD 🇵🇰 ❤️ #ENGvPAK pic.twitter.com/rBOW1FXzZy

— ZEE. 🇵🇰 (@iBleedGreenZEE) June 3, 2019
Hell yes!
Eid card for this eid yeah?#ENGvPAK #Pakistanwin pic.twitter.com/hnpPkR97Nw

— Fazeela Arshad. (@Fazeela_Arshad) June 3, 2019
Constructive criticism is always welcomed!
Take a bow @TheRealPCB resilience … Thats the key !!! Wonderful comback to turn the fortunes #EngVPAK #CWC2019 Well done… But imagine what you can do if you field well too !!!

— Russel Arnold (@RusselArnold69) June 3, 2019
Have you seen a more epic duo than Amir and Wahab? Because we haven't
Amir and Wahab 🔥

Remember these two senior bowlers were not in the initial WC squad and they have came back with a bang and helped in defeating the No. 1 ODI team ♥️

Pakistan Zindabad 💚#PAKvENG #ENGvPAK pic.twitter.com/I0H0aupTYX

— Saad 🇵🇰 (@iSaadAwais22) June 3, 2019
That's what makes the win even better!
England is the first team to lose a World Cup match despite two centuries. #EngvPak

— Mazher Arshad (@MazherArshad) June 3, 2019
ON REPEAT!
Me watching the highlights after I've just finished watching the 7 hour match #ENGvPAK pic.twitter.com/AO1TevWbOU

— ~~ (@_adldnn) June 3, 2019
We like calling ourselves the unpredictables!
The Pakistan cricket team – 66 years of winning matches when you don't expect them to and losing matches when you expect them to win #CWC19 #ENGvPAK

— Saj Sadiq (@Saj_PakPassion) June 3, 2019
There were congratulations pouring in from all directions:
Volatility at it's best. Pakistan cricket 's unpredictability at it's best. Completely down one match, and on top the next. Great win today for Pakistan, and an exciting match in this World cup finally. Well done #ENGvPAK

— Virender Sehwag (@virendersehwag) June 3, 2019
Nothing cuter than a happy Hamza Ali Abbasi
#ENGvPAK Lowest total of the tournament so far: Pakistan 105 against WI…. Highest total of the tournament so far: Pakistan 349 against England…..and Pakistan has only played 2 games so far…. LOVE MY BI POLAR CRICKET TEAM…😂 JEET Mubarik Pakistaniyo! ALLAH ka shukkr❤️🇵🇰

— Hamza Ali Abbasi (@iamhamzaabbasi) June 3, 2019
Comedian Jeremy McLellan, our very own Pindi boy joined in the celebration too!
Congrats to team Pakistan for beating England! 🇵🇰 #ENGvPAK pic.twitter.com/Q4oJ5aOGO3

— Jeremy McLellan (@JeremyMcLellan) June 3, 2019
Pakistan's win against England has to be the best thing to happen this year, we wish the team best of luck and pray that it continues to perform as brilliantly as this match. Pakistan Zindabad!