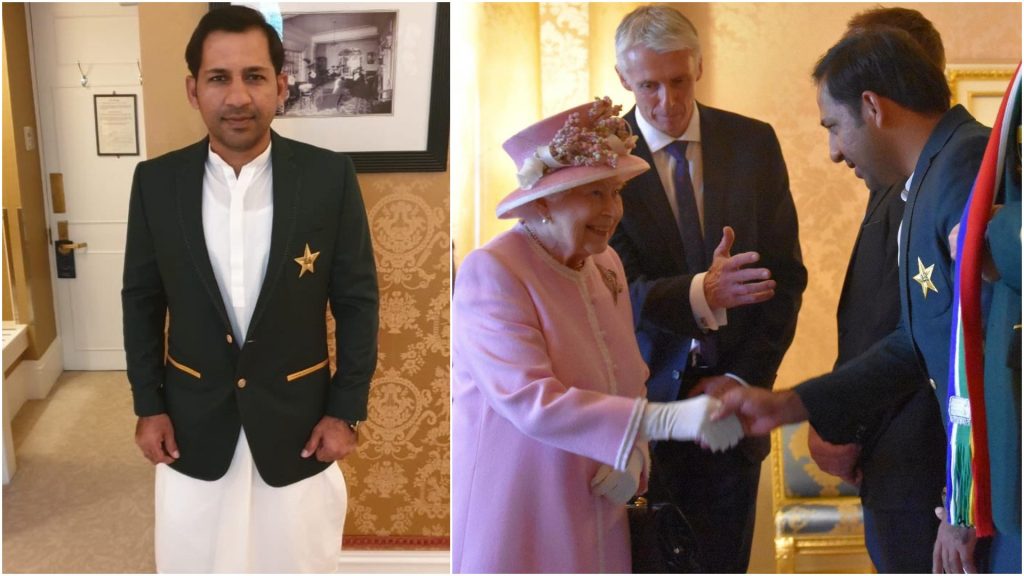 Captains of all ten teams participating in the ICC Cricket World Cup 2019 were invited by the British Queen Elizabeth II at the Buckingham palace on Wednesday.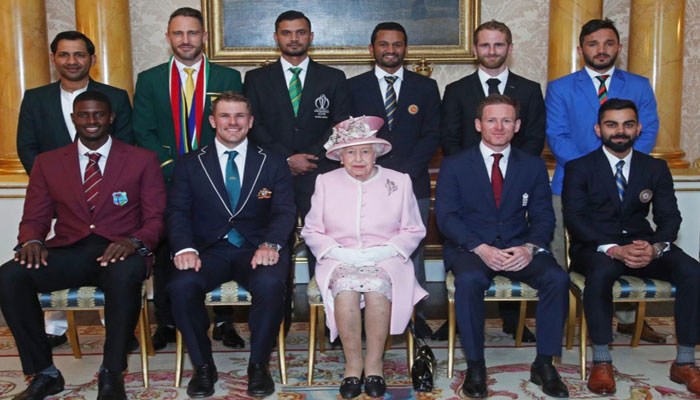 And while the whole squad chose to wear a 3 piece suit, our captain Sarfaraz Ahmed rocked in his national dress, a white kurta pajama with a green blazer and people loved this little gesture!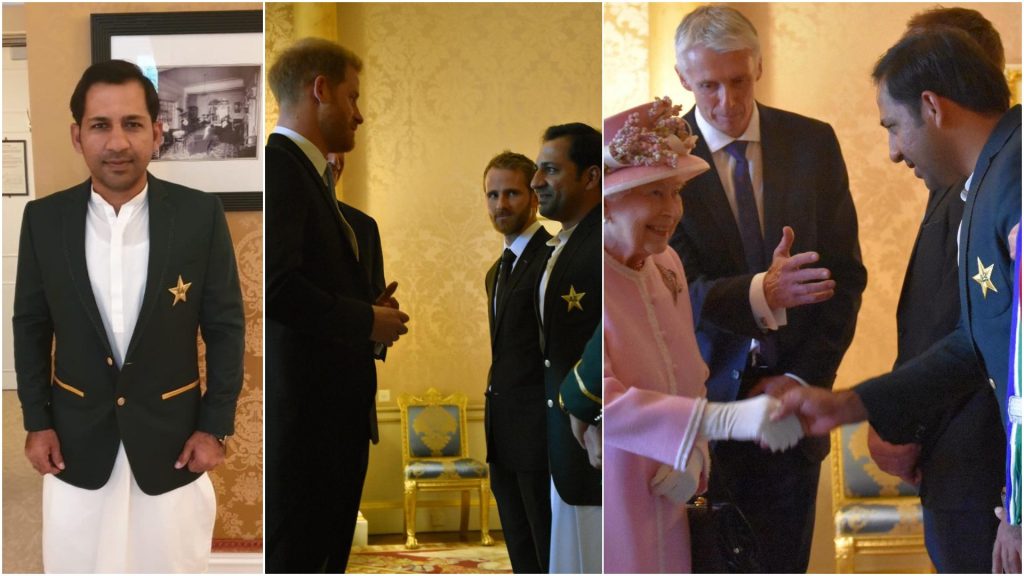 The hashtag #SarfarazAhmed has been trending ever since the meeting and the internet is loving him!
Sarfaraz Ahmed proudly wearing shalwar kameez for his meeting with the queen #CWC19 pic.twitter.com/ASx7HsaV3z

— Saj Sadiq (@Saj_PakPassion) May 29, 2019
Even Hamza Ali Abbasi couldn't resist but laud Sarfaraz
#SarfarazAhmed MASSIVE RESPECT to our Captain Sarfraz for wearing our national dress. World Cup jeeto ya haaro per Dil jeet liya bhai!!!!! pic.twitter.com/qbmn6HlcuB

— Hamza Ali Abbasi (@iamhamzaabbasi) May 29, 2019
He made a lot of people proud
Representing our own Culture , while the whole Squad is in 👔👖#Shalwar_Kameez 🇵🇰💚#SarfarazAhmed pic.twitter.com/oO1l6qoIJw

— Hussain awan (@Hussainmalik122) May 30, 2019
People were happy that he decided to represent his culture
Representing Pakistan and Our Culture uniquely 😍
Well done boy.
One word for Kaptaan? #CWC19#SarfarazAhmed pic.twitter.com/yrZq8kzawC

— Qamar Riaz 💙 (@IamQamarRiaz) May 29, 2019
Some were ready to answer those who were criticizing him
Just heard some people are criticising the dressing i.e shalwar kameez of my one true patriot man in the team. Who are yall? Im here to square up. #SarfarazAhmed

— Fatimatho (@Khushfeminist) May 30, 2019
Some couldn't stop but compare him to captain Imran Khan
He wore this dress, like our 1992 WC captain wear shalwar kameez in every foreign visit.

— Furqan Ali (@furqan91185) May 30, 2019
True that, the only captain to dress this way
Proud of Pakistan! 💚 #SarfarazAhmed wears Shalwar Kameez along with Pakistani Blazer at the opening ceremony of CWC 2019. The only captain dressed in his National dress. 🇵🇰🙌🏻 pic.twitter.com/jcBYEmd2dk

— #WeHaveWeWill 🏏🇵🇰 (@We_HaveWeWill) May 30, 2019
Some even reminded people how the biggest achievers have had worn shalwar kameez in the past as well
I don't understand why ppl criticizing #SarfarazAhmed  for wearing shalwar kameez in #CWC19  ceremony, rather it reminded me of the great #DrSalam who wore his traditional dress while receiving the first #NobelPrize for #Pakistani. One should be proud of one's cultural heritage pic.twitter.com/PDt507kpoJ

— Rania vohra 🇵🇰 (@RaniaVohra) May 30, 2019
Oooh, some weren't coming slow!
Tarek! Unlike u @SarfarazA_54 is not a wana be! He represents two hundred million plus proud shalwar Kameez wearing #Pakistanis. #Pakistan #Zindabad! https://t.co/mBtAPCsnlp

— علی دا ملنگ (@tehsin_khan) May 30, 2019
Some people also bought Virat Kohli in the scenario, why though?
Why did @imVkohli not wear a dhoti-Kurta while meeting with queen of England?#shalwar_Kameez

— Sag89 (@susageeruddin4) May 30, 2019
Some dragged Indians too!
So Indians are making fun of Sarfaraz Ahmed for wearing Shalwar Kameez at Buckingham Palace. Khud inka Gandhi puri zindagi dhoti main phirta raha hai 😂#SarfarazAhmed #CWC19

— faizan (@iPakiLad) May 30, 2019
Yaaas!
Only cricketer with his National dress, we all Pakistan nation salute you #SarfarazAhmed pic.twitter.com/IQotGrhLq8

— Mehran mani (@Mehranmaaani) May 29, 2019
Exactly!
Thank you for making the whole nation proud. Nobody could have thought tht one day someone wud represent Pakistani culture at Buckingham Palace. This shows how proud he is of being a Pakistani and we all shud be proud of him.#SarfarazAhmed https://t.co/97Nq1xuuA7

— Mishaal Rehman (@RehmanMishaal) May 29, 2019
Some gave credit to PM Imran Khan for encouraging this gesture
Jab apka Prime Minister Qoumi Libas ko izzat dey ga …

Tu awaam bhi qoumi Libas ko izzat dey gi…

Trendsetter PM IK
Hats off to Sarfaraz for following PM's footstep by wearing national dress . 🇵🇰👏😀 #SarfarazAhmed #CWC2019 #ICCWorldCup2019 #PMImranKhan pic.twitter.com/1Baokcql6J

— Adnan Rajput (@BeczItsRajput) May 29, 2019
And well, some people had their disagreements too!
People wearing any dress doesnt say anything about them. It is the strength of charachter when going gets tough..That matters. Quaid e Azam was fond of wearing suits. So… Red cap, white shalwar kameez, sindhi topi, turban etc. Cut the nationalistic bufoonery #SarfarazAhmed

— Pashteen PenChor (@viper_218) May 30, 2019
And some were very, very rude!
Captains of #Cricket playing nations competing 4 the #CricketWorldCup had a photoshoot with the Queen. Guess who came dressed in his pyjamas? None other than the #Pakistan captain (back row, left). Take a look at him in the other pic. How does one country produce …? #CricketWC pic.twitter.com/hXxbxrfzlj

— Tarek Fatah (@TarekFatah) May 30, 2019
Well…
A cricket team captain's main job is to perform exceptionally well and to lead the team with confidence. Records show that so far #SarfarazAhmed has failed in both. Wearing shalwar kameez or not is a secondary issue and is not important at all in this particular instance.

— Arsalan Ishtiaq (@MArsalanIshtiaq) May 30, 2019
Ummm…
What an idiot … should have worn a tie or else shud have worn sherwani or at least otherwise shalwar kameez with jacket or coaty!? https://t.co/H3BBxMyeyX

— Zubeid Qureshi (@ZubeidQureshi) May 30, 2019
Some gave their expert opinions on how he looked
Sarfraz did not look good in shalwar kameez at all yesterday whilst meeting queen.

— Uzma Malik (@Uzmamalik5) May 30, 2019
What do you think about Sarfaraz Ahmed's decision to wear a kurta pajama to meet the Queen? Do you think it was a success or a disaster? Let us know in he comments below!