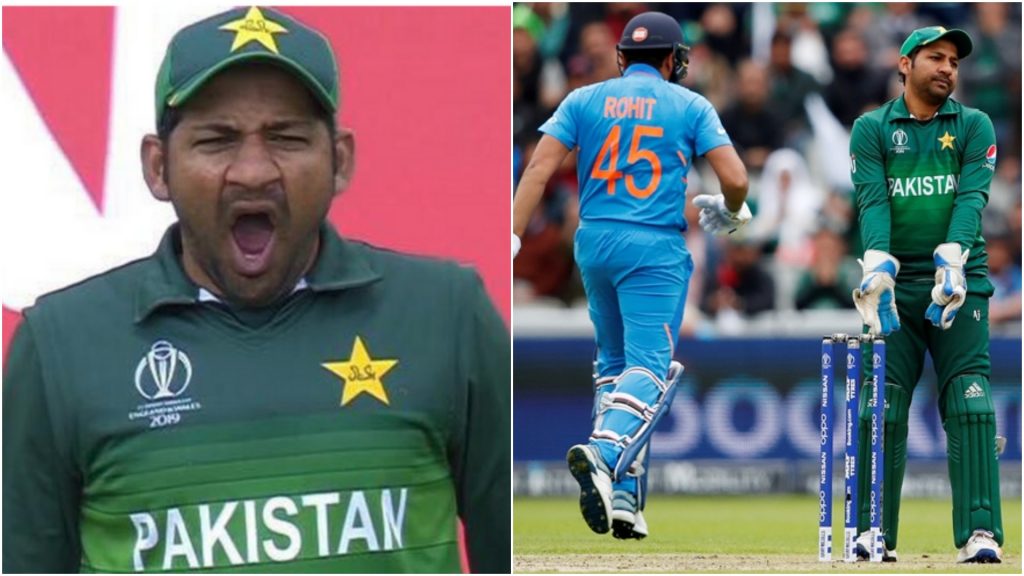 After one of the most disappointing matches in this year's World Cup, Pakistan lost to India with 89 runs. And the nation has been questioning Sarfaraz's captaincy and fitness since then.
Last time when Shoaib Akhtar tried questioning Sarfaraz's fitness, his poor choice of words got him a ton of hate but his recent performance has raised a lot of questions. To add to the heat, the team was spotted eating carelessly prior to the match.
Pakistan team's preparations for their biggest match are unmatchable. pic.twitter.com/5G3MIGd9Cg

— Elon Khusk (@therealsnorky) June 16, 2019
A few members of the team were spotted smoking sheesha a the night before the big game:
Shoaib Malik out on zero. At 2am on Sunday, he was at the Winslow Road sheesha bar with his wife and mates. This was the kind of preparedness against India. Where's the mighty ehsan mani and IK's promise of taking pak cricket to new heights in Naya Pakistan pic.twitter.com/tW3ay3TaNV

— Murtaza Ali Shah (@MurtazaViews) June 16, 2019
People also shared how calling the captain out for bit being fit enough was not body shaming
If you think cricketers, who are supposed to be professional athletes and the outcome of the match literally depends on it, should not be bodyshamed for being freaking fat, then you are a raging idiot.

— Jibby (@JibbyD) June 16, 2019
Calling out Sarfaraz and others for being fat is NOT fat shaming. They're athletes and need to be fit.

— Shahzeb Khan (@iamshahzeb) June 16, 2019
Some said how this wasn't fat but healthy in Pakistan 😂
Sarfaraz ain't fat. In Pakistan, we call this "healthy".

— Athar (@AtharAliKhan) June 3, 2019
Shireen Mazari too commented on the poor performance of the team:
When the captain is yawning on the field & the fielding is non existent; & when sheesha smoking is indulged in hours before the match – what can one expect but humiliation. That the captain decided to let India bat first was simply the last straw! Or was that Malik's instant out?

— Shireen Mazari (@ShireenMazari1) June 16, 2019
People shared how misinformed Pakistani people were about diet
paki folks are so uninformative when it comes to diet. Multiple people telling me Sarfraz has to eat, he can eat whatever he wants. Yes, he has to eat but he has to choose his food carefully, bad food leads to poor fitness and poor fitness effects their game.

— Elon Khusk (@therealsnorky) June 16, 2019
People couldn't stop comparing the fitness levels of Virat and Sarfaraz
Indian Captain vs. Pakistani Captain #INDvPAK #PAKvIND pic.twitter.com/XWU08m1iHF

— Sam 🇵🇰 (@iamsam_PTI) June 15, 2019
For real though
absolute levels to this game. pic.twitter.com/KIa7I4vSCB

— Elon Khusk (@therealsnorky) June 16, 2019
Virat Kohli ki body language se pata lag raha hay ke larka kaptaan hay.

Sarfaraz looks like someone woke him up for sehri 5 mins before azaan smh

— Komal🇵🇰 (@komallsalman) June 16, 2019
Some said that Sarfaraz should have been in the Punjab police rather than the team:
Sarfaraz should be in Punjab police bc of that fitness and not in the cricket team

— Mahnoor Tariq (@MahnurTariq) June 16, 2019
Even Osman Khalid Butt came at Sarfaraz
Didi tera devar deewana… pic.twitter.com/9bzE47dVZC

— Osman Khalid Butt (@aClockworkObi) June 16, 2019
People were upset that Sarfaraz couldn't run as efficiently
Kohli running at over 25kph between the wickets.
Meanwhile Sarfaraz: pic.twitter.com/qjCT2MQ7iA

— Qasim Farooq (@MangoLassC) June 16, 2019
And again, people were furious over the unhealthy choices our players have been making:
Don't call me a traitor, but look at the Indian players, they look like proper athletes, our players look like they've eaten two plates of waris nihari with feeqay ki lassi and benazir kulfa, all at once.

— شاہ زیب خان (@shzbkhn) June 15, 2019
Many said that there is no room for unfit players in the team
Our players are nothing but a sack of unhealthy food, don't come up to me saying not to bodyshame, THEY ARE ATHLETES, THEY NEED TO BE FIT. If they can't control, just fucking leave. Idc if Sarfaraz is fat, I care if he's fat and still in the team. Unfit players need to fuck off.

— Nawabi (@Salar_Nawabi) June 16, 2019
Saw a Kohli interview where he told he hasnt had biryani in years, even though it is absolute favourite food, just because so much starch messes up with his fitness regime…

Meanwhile, Pakistanis are fighting over whether an 'elite' athlete should field with his tummy or not.

— Mao'lana Spits (@antifatwa) June 16, 2019
Some demanded that these cricketers retire asap:
Retire @ Sarfaraz
Retire @ Malik
Retire @ Wahab Riaz
Retire @ Micky Arthur
Retire @ my passion for cricket

— Qasim Farooq (@MangoLassC) June 16, 2019
Feelings were hurt!
Feelings😭 #ICCWorldCup2019 #INDvPAK #PAKvsIND pic.twitter.com/1RPykLVqSJ

— viraldesii (@Syedakhann01) June 16, 2019
Someone even put up the Pakistani team on OLX 😂
Someone posted Pakistans cricket team on OLX. 😂 pic.twitter.com/N6I4BNIcq6

— 𝖀 𝕸 𝕬 𝕽 (@Keyb0ardMujahid) June 16, 2019
Many hoped that this defeat would lead to choosing a team based off of merit
PAKISTAN MUST CHOOSE ITS PLAYERS ON THE BASIS OF MERIT.
Nah, we're all talented, but MERIT must be kept under consideration.
Hope we learn our lesson from this match#IndiaVsPakistan #ICCWorldCup2019#CWC19 @TheRealPCB

— Mahaa Ali (@MahaaAli9) June 16, 2019
Someone even asked for an inquiry on the lack-lustre performance of the team:
A high powered inquiry should be ordered regarding the lack-lustre performance of the Pakistan cricket team. All the players looked as if they had been awakethewhole night ! Why was Sarfaraz yawning continuously? He is alsodisplaying a fat belly.He should be sacked from the team.

— Naeem Siddiqi (@Naeemahmadsiddi) June 16, 2019
Oh Sarfaraz…
When I die I want Sarfaraz to lower me into my grave so he can let me down one last time

— McBaŋɠ (@TheMcBang) June 16, 2019
Meme games were on point though
health instructors
explaining to sarfaraz
why a monitored diet
is important for his
performance: sarfaraz: pic.twitter.com/TyLfDuLSXA

— my entitlement is well deserved (@shahitukray) June 16, 2019
Some had an answer for everyone comparing the World cup to that of 1992
For the people who still believe that In 1992 the situations were same so we gonna win the world cup …..
Just Feel the difference between physique,body language, attitude and the class #سرفراز_کو_گھر_بھیجو pic.twitter.com/QGLMx6oGFm

— SHAZIL QURESHI (@ShazelQureshi) June 16, 2019
People also found Sarfaraz an alternate job, just in case:
#Sarfaraz needs another job.#FurtherYourVision #ICCWC2019 pic.twitter.com/Sewfttmv7a

— Nour (@nourefem) June 16, 2019
Bhaisaaaa…
*5 mins into match*

Sarfraz: pic.twitter.com/d3JE4SYEkm

— Ayeshay (@champagne_lassi) June 16, 2019
Some people had their reservations…
so how much of cricket is just desis bodyshaming our players #IndvsPak

— Mehar Khursheed (@curlistani) June 16, 2019
But were reminded how fitness plays a very important role in your performance
Not being fit makes you tired faster and you underperform especially when you're up against players who put so much work in. They're paid to stay fit. It's the job they signed up for. This isn't body shaming

— Felon Degeneres🐾 (@Lanaschild_) June 16, 2019
Weight fluctuations aren't an option since their diet is very carefully regualted by professionals. They were very irresponsible. As for mental health, you're allowed to opt out. People aren't pissed because they've gained weight, they're pissed b/c they're underperforming

— Felon Degeneres🐾 (@Lanaschild_) June 16, 2019
Not everything can be swept under body shaming. They're paid and expected to be fit enough to perform in a game that is rooted in physical fitness, amongst other factors.

— Shanza Faiq (@Shanzaf) June 16, 2019
And with a loss like that, we hope our cricketers learn the importance of sleep and fitness.
Ok guys good night ~ pic.twitter.com/ZVRbrSDbel

— Ali Rabbani (@EloanMusk) June 16, 2019
What are your thoughts on the team's performance? Let us know in the comments below!