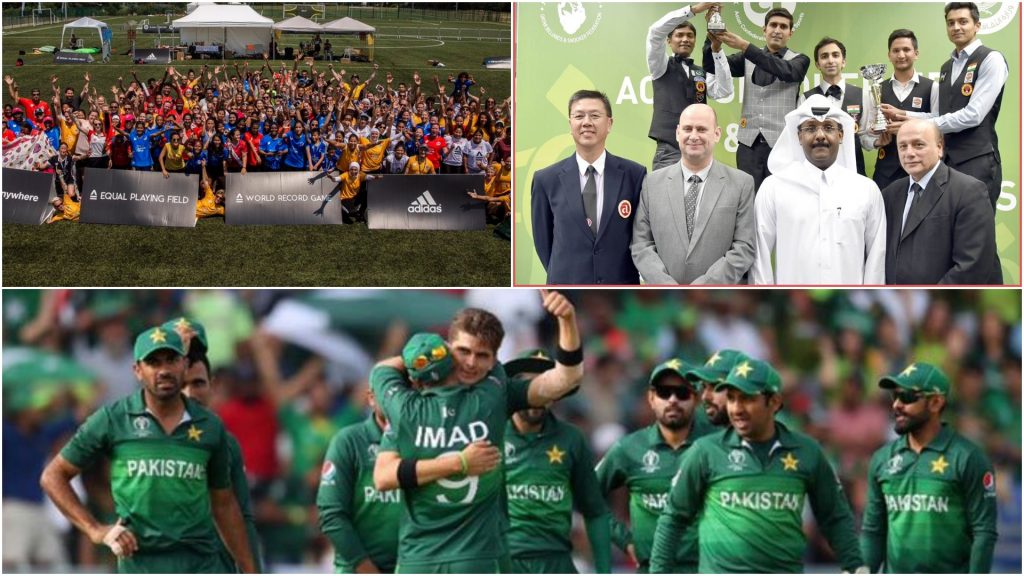 The World Cup may seem to continue but it won't be the same without Pakistan!
🙌 PAKISTAN WIN 🙌#SarfarazAhmed and Co. finish their #CWC19 campaign with a 94-run win over Bangladesh. pic.twitter.com/orjbLPNEYv

— ICC (@ICC) July 5, 2019
The nation has been lauding the team and Pakistan  for their performance in the match and in general. The hashtag #PakistanZindabad has been trending since yesterday on Twitter and the tweets are absolutely heart-warming!
Forever thankful! #PakistanZindabad 🇵🇰😍 pic.twitter.com/4NjkWMYGsa

— Aliza Ansari (@aliza__ansari) July 5, 2019
People were lauding the team for going down fighting:
At least we went down fighting in the end, lots of planning to do in terms of fitness and selection for the future #PakistanZindabad

— Asim (@Mankading) July 5, 2019
The world saw some great additions to the team:
What a man he is!!!😇
Nodoubt we have got an other world 🌍class bowler🏏 After a long time.InshaAllah These guys will make our nation proud😍❤.@76Shadabkhan@iShaheenAfridi #PakistanZindabad#CWC19 pic.twitter.com/oNdWiPcEDJ

— HadeedJalani (@HadeedJalani) July 6, 2019
People shared how they were really satisfied with the team's performance:
– NZ lost last 3 games
– PAK won last 4 games

Momentum was clearly with us and we would've given much better fight in SFs. Nevertheless, Jo ALLAH ko manzoor. I'm hurt that we are coming back without Trophy but I'm completely satisfied with the performance#PakistanZindabad 🇵🇰♥️

— Saad 🇵🇰 (@iSaadAwais22) July 5, 2019
Many were proud of the iconic moments that team Pakistan had given them:
Pakistan is out of the World Cup. But so what?
Let's be proud of our boys. They gave us many moments to cherish and remember. Amir's 5 wicket haul, Shaheen's unplayable spell, Babar's glorious century, Sarfraz's diving catch, Haris Sohail's devastating hitting#PakistanZindabad pic.twitter.com/vFGqSrg3J5

— itx_malyk😎 (@maliknasrullah_) July 6, 2019
People said their good byes to the team:
Good Bye #GreenTeam 🇵🇰😍❤
Thanks For All The Entertainment, Laughter And Funzzz. We Will Miss You! Happy Journey
No Matter We Are Out Of World Cup
We Just Love You Guys ❤
We Know You Deserved iT !!!!!#PakisTanZinDaBad ❤🇵🇰❤ #CWC19🏏 pic.twitter.com/idfauKqxJv

— Sami ♡ (@Iammohsinturk) July 5, 2019
Yaaas, heads high!
Players should return home with their heads high💚They have beaten 2 of the 4 Semi finalists.They had been consistent with the bowling.Fielding had got improved in the latter phase.They need to work on fitness & batting in parallel. Welldone @iShaheenAfridi #PakistanZindabad pic.twitter.com/g2w4A7pmgq

— Afsheen Arshad (@afsheen_arshad) July 5, 2019
Some said it was god's plan:
Pakistan Team have shown to the world , Who we are. All others were combined together to corner Pakistan.
But we believe, All the times Almighty Allah have much better plan for us. Best of luck for the next !#PakistanCricket #PakistanZindabad pic.twitter.com/I0as2r1mn5

— Shahid Sheikh (@shahidsheikh09) July 5, 2019
Go team!
5 wins out of 9 matches
1 was called off due to rain
You made us proud 👍❤😊#PakistanZindabad pic.twitter.com/s1j1Su6r9K

— Sameer Iqbal (@iqbalsameer999) July 5, 2019
Apna time ayega~
Whatever happens, happens for a reason. We fall, we got up, we fought, we won 4 consecutive matches. We are a fighter. It will not end here. We will rise again.

Dil chota Nahi karna guys Apna time aega IA.
PAKISTAN ZINDABAAD 🇵🇰 #CWC19 #PakistanZindabad

— Reeba 🇵🇰 (@baaajizoned) July 5, 2019
The players too thanked their fans for the love and support:
Thank you for supporting us through thick and thin. Your support made us believe. It was the first world cup for many of us, we made mistakes, we will learn from them and work on getting better. Thank you Pakistan for backing us. Love my country and my team. #PakistanZindabad pic.twitter.com/HWRQt8boVQ

— Shadab Khan (@76Shadabkhan) July 5, 2019
Congratulations Team Pakistan 🇵🇰 on winning last round game vs Bangladesh, Not the best of the result we all wanted to achieve but Decent World Cup performance , Thanks to all fans to support Pakistan cricket 🏏 , Pakistan 🇵🇰 Zindabad pic.twitter.com/S8VpEgqgWT

— Mohammad Hafeez (@MHafeez22) July 5, 2019
Shoaib Malik too added to the hashtag with his retirement post:
Today I retire from One Day International cricket. Huge Thank you to all the players I have played with, coaches I have trained under, family, friends, media, and sponsors. Most importantly my fans, I love you all#PakistanZindabad 🇵🇰 pic.twitter.com/zlYvhNk8n0

— Shoaib Malik 🇵🇰 (@realshoaibmalik) July 5, 2019
His wife Sania Mirza too added how proud she was of him:
'Every story has an end, but in life every ending is a new beginning' @realshoaibmalik 🙃 u have proudly played for your country for 20 years and u continue to do so with so much honour and humility..Izhaan and I are so proud of everything you have achieved but also for who u r❤️

— Sania Mirza (@MirzaSania) July 5, 2019
A ton of people got emotional on Shoaib's retirement:
This picture made me cry 🇵🇰💔 Mix emotion @realshoaibmalik good bye my all time favourite,you will be missed, at least maay tu karnay wali hon 😀 best of luck ✌🏻#ThankYouMalik #PakistanZindabad pic.twitter.com/G5AUjhbMgL

— Atika Mirza (@atika_mirza) July 5, 2019
End Of An Era ❤️
You Will Be Missed Malik Saab 💔#ThankYouMalik #PakistanZindabad 🇵🇰 pic.twitter.com/J1oMX7ecrv

— MALIK RAHEEL AWAN (@Kaharian04) July 5, 2019
Yes, cherish these young men!
Pakistan must give more and more opportunities to players like
Hasnain
Shadab
Shaheen
Umer Khan
Amir Yamin
They're our future, PCB must give them confidence.
Insha Allah they will become Superstars in upcoming days.#WeHaveWeWill #PakistanZindabad

— Khurram (@KhurramViews) July 6, 2019
It sure does…
And that's all, folks. Laughing one minute and crying the other. Raising hands for duas and wishing Pakistan wins just this one game going on. Ah. Thankyou @realshoaibmalik and @MHafeez22 for serving your homeland in green. It aches to say goodbye.#CWC19 #PakistanZindabad

— Urva's Sports Blog (@lavendersnpinks) July 6, 2019
Haha, this teacher found a great example:
I'll Give Example of #PakistanCricketTeam to my Juniors that at the end net run rate Matters. so try to score good in your early semesters.
What a Motivational Example 🤣🤣🤩🤩#CWC19 #PakistanZindabad

— Nadeem Saif (@NadeemSaifRind1) July 6, 2019
Mehwish Hayat, Veena Malik and Shaan too added to the hashtag:
Never stoped believing in Pakistani talent #pakistanzindabad

— Shaan Shahid (@mshaanshahid) June 26, 2019
Miraculous Pakistan!!! Hats off to Wahab Riaz who played with a broken finger and hit a towering SIX off Rashid Khan bowling.

Wahab was in tears after winning it for 🇵🇰 💚! You are a champion, seriously love your passion for Pakistan. WHAT A MATCH ❤ #PAKvAFG #pakistanZindabad

— VEENA MALIK (@iVeenaKhan) June 29, 2019
Girte hain shehsawaar hi maidaaan-e -jung mein. The Pakistani Cricket team did their best and we shall always support our boys through thick and thin. Next time in 2023 – InshaAllah jeet hamari hogi, World Cup hamara hoga 🏆💪🏻 #CW19 #PakistanZindabad🇵🇰

— Mehwish Hayat TI (@MehwishHayat) July 6, 2019
And while the nation was lauding the cricket team, many were congratulating Pakistan on winning the Asian Team Snooker Championship:
Congratulations!!! #Pakistan won the Asian Team Snooker Championship 2019.
In final Pakistan defeated #India in the deciding frame 3-2 to claim the winners' trophy. Babar Masih and Zulfiqar Qadir, the men in green🇵🇰 made the nation proud. #PakistanZindabad pic.twitter.com/p12Lx4R6nP

— Govt of Pakistan (@pid_gov) July 1, 2019
Even the foot ball team surprised many with their performance:
Congratulations!!!! Superb achievement. Whole nation is proud of you. #PakistanZindabad https://t.co/nIuAPYBRdR

— Faisal Javed Khan (@FaisalJavedKhan) July 3, 2019
Records were made:
#PakistanZindabad 🇵🇰#CWC19 #PakvsBan

Shaheen Shah Afridi 6-35 Today

Youngest Ever To Take 5-For In World Cup.
Best Figures For Pakistan In WC.
First Pakistan Left-Arm Quick To Take 6 Wickets In An ODI.
First Teenager To Take 16 Wickets In A WC. pic.twitter.com/5iopKIy6ZF

— Muhammad #IamISPR (@RealSufyanSays) July 5, 2019
What do you think about Pakistan progressing on various sports fronts? Let us know in the comments below!