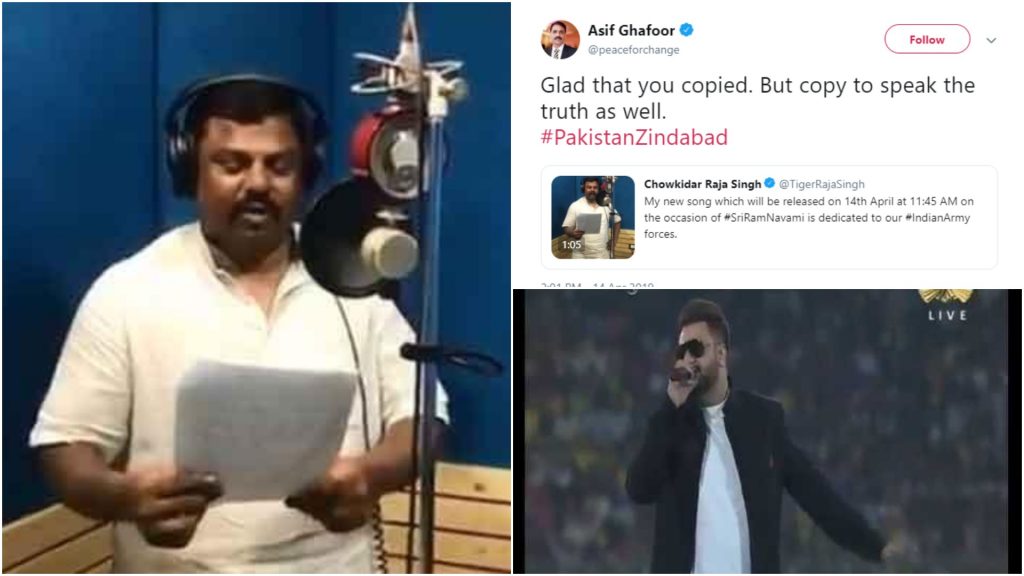 On a fine evening, the BJP MLA put a short lip of their party's upcoming anthem and umm, it was a copy of ISPR's song Pakistan Zindabad which wa sung by SahirAli Bagga. Khud sunlein!
My new song which will be released on 14th April at 11:45 AM on the occasion of #SriRamNavami is dedicated to our #IndianArmy forces. pic.twitter.com/Es391cE2PT

— Chowkidar Raja Singh (@TigerRajaSingh) April 12, 2019
Kahan inka anthem aur kahan humara!
Hey guys!
After my national Song
NAAR E TAQBEER ALLAH O AKBAR
this is my new upcoming #national #song#PAKISTAN #ZINDABAD.
A big Surprise Coming for all Pakistani lovers.
Stay tuned
Pakistan Zindabad🇵🇰 #PakArmy Zindabad🇵🇰 pic.twitter.com/9r3DzWCRqN

— Sahir Ali Bagga (@sahiralibagga) March 15, 2019
Major General Asif Ghafoor too noticed the uncanny resemblance and gave a befitting reply
Glad that you copied. But copy to speak the truth as well. #PakistanZindabad https://t.co/lVPgRbcynQ

— Asif Ghafoor (@peaceforchange) April 14, 2019
We'd suggest pouring cold water over burnt area to the BJP MLA after a reply so savage!
Tiger Raja Singh then took it to Twitter, claiming that Pakistan has stolen his song and we're not sure if he even knows what he's talking about
Good to see even #Pakistan media is covering my song #HindustanZindabad.

I'm more surprised that even a terriorst nation produces singer's. #Pakistani singer's may have copied my song we don't have to copy anything from a terrorist state like Pakistan. pic.twitter.com/nnXIinOt1E

— Chowkidar Raja Singh (@TigerRajaSingh) April 14, 2019
And people did not spare him this time either, even the Indians couldn't help but laugh at his confidence. The hashtag ChowkidaarChorHai quickly became the top trending hashtag on twitter in India.
Confidence level check kr bhai ka hahaha 😂😂😂😂
Same lyrics even music as wel and you r saying that u didn't copy lolzzz again making your nation fool

— Mansoor Ahmed (@AhmedKaasi) April 14, 2019
Plagiarist Chowkidaar, lol!
Ab yeh chowkidar to plagiarist nikla!!!

— Avijit Dasgupta/اویجت داس گپتا/অভিজিৎ দাসগুপ্ত (@coolfrnds4u) April 14, 2019
Baat toh sach hai…
Yeh pehla banda jo Pakistan and indian dono se galiyan kha raha ha. Jindaaabad

— aamna🇵🇰 🇬🇧 (@Aamna2007Nazia) April 14, 2019
Spot on!
From Jai hind to Hindustan zindabad and from daysh to Watan. ISPR played well.

Motoo still you've guts to say this after getting exposed of stealing our national song released on Pakistan Day 23rd March, way before you were born. 😂#ChowkidarChorHai #PakistanZindabad

— Noor-ul-Hudaa (@NoorHudaa09) April 14, 2019
The audacity
DG ISPR gave statement on your song saying "it's good if u copy our song but copy us in telling the truth too"
nobody expected indians could be so blatant about lying when it comes to F16s and Pakistani ISPR songs. 😄😳
🇵🇰🇵🇰🇵🇰🇵🇰🇵🇰@OfficialDGISPR @PakDefenceWing @peaceforchange

— gamechanger (@gamecha78290593) April 14, 2019
Pata chalay toh humain bhi yes karao yeh nasha
Ye is chowkidaar wala nasha krna hai😂😂🤣🤣

— UMAIRA (@50_meena_50) April 14, 2019
Hehehehe!
— चाचा चौधरी (@rajansingh2512) April 14, 2019
Even we're worried now
So after stealing our unofficial anthem Dil Dil Pakistan, they actually stolen Pakistan Zindabad too? 🤦‍♂️!! Now i fear for Pak Sarzamin#ChowkidarChorHai https://t.co/zXxXySg8ay

— Asfandyar Bhittani (@BhittaniKhannnn) April 14, 2019
Even we're trying to find the answer to this
So a BJP legislator is so obsessed with Pakistan that he lifted the ISPR tune and lyrics to dedicate to the Indian army?

— syed mohammed|| سید محمد (@syedmohammedd) April 14, 2019
And then came Shahid Afridi with another burning reply!
Leaders are always copied & I hope they also copy our peace initiatives too. #PakistanZindabad https://t.co/SZl0JXvNcz

— Shahid Afridi (@SAfridiOfficial) April 14, 2019