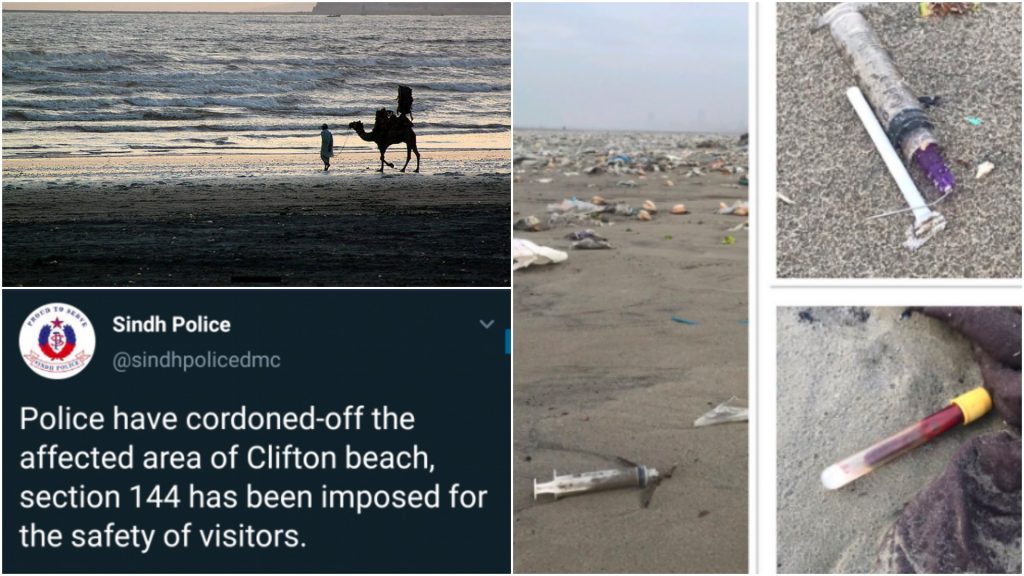 When it comes to Karachi, we may not have a ton of entertaining resorts but we do have our beaches and we're proud of them. However, the Clifton Beach has been a sight of dumping waste for quite a while now and it's not okay!
Shaniera Akram discovered kilometers of Clifton beach in Karachi infested with medical waste. Viles of blood, exposed used syringes dotting the shore left her alarmed and she declared the beach hazardous:
As of this minute, I Shaniera Akram, a citizen of Karachi declare Clifton beach officially hazardous and is in state of an emergency.

— Shaniera Akram (@iamShaniera) September 3, 2019
She tweeted how she discovered about 4 dozens of used syringes in just 10 minutes of walking along the shore between Chunky Monkey and Salt & Pepper restaurant:
I have found over 4 dozen open syringes in the last 10 minutes. This is a biohazard and our beach needs to be closed down until the proper authorities can guarantee the people of Karachi are safe. This has gone on long enough, peoples lives are at risk

— Shaniera Akram (@iamShaniera) September 3, 2019
Shaniera also urged that news channels and concerned authorities should not sleep on this and take immediate notice:
News channels need to get down to the beach between chunky monkey and salt and pepper now before these rusty old tractors dig this medical waste deeper in to the sand!

— Shaniera Akram (@iamShaniera) September 3, 2019
She then continued to share how she's been coming to the beach everyday for 4 years but hasn't been this scared until today:
I have walked on Clifton beach everyday for the last 4 years and I have never been scared until today. This beach needs to be shut down now

— Shaniera Akram (@iamShaniera) September 3, 2019
Concerned for the safety of others, Shaniera declared the beach biohazardous:
Medical waste, syringes, viles of blood that has come in from the ocean has spread across Clifton beach for kilometres. The beach is biohazardous and in a state of emergency

— Shaniera Akram (@iamShaniera) September 3, 2019
She also shared videos and pictures from what she saw at the beach and it is truly horrifying!
There is kilometres of medical waste including hundreds of open needle syringes amongst other things, that has come in from the ocean. Clifton beach, at this moment, is extremely dangerous and needs to be shut down #CliftonBeach #MedicalWaste #BeachShutDown #ImSoSorryKarachi pic.twitter.com/VEDZUdauNe

— Shaniera Akram (@iamShaniera) September 3, 2019
Right now on Clifton Beach! Please listen to me, this has crossed the line of dangerous! We need to #CloseTheBeachNow #StateOfEmergency #CliftonBeachIsABioHazardZone pic.twitter.com/iLcn1kZLqY

— Shaniera Akram (@iamShaniera) September 3, 2019
We deserve better than this ! #CliftonBeach #StateOfEmergency #MedicalWasteHasWashedUpOnOurBeavh #CliftonBeachShutDown pic.twitter.com/Z64vIHJLtA

— Shaniera Akram (@iamShaniera) September 3, 2019
And while people volunteered to go clean the mess, Shaniera issued a strict warning to the citizens to not try and clean up the hazardous waste themselves:
DO NOT go to the beach and try to clean it, this is biohazardous waste and needs to be a restricted area and cleaned by professionals. The sea and beach needs to be declared unsafe for everyone immediately

— Shaniera Akram (@iamShaniera) September 3, 2019
People also came at her for declaring the beach biohazardous, claiming that people of Karachi are meant to die and unnatural death, but Shaniera put them back in their place:
What are you talking about ? What kind of mentality is this ? Your life is just as important as anyone on this planet, never ever forget that! https://t.co/sjxmA27PpC

— Shaniera Akram (@iamShaniera) September 3, 2019
Shaniera then demanded that the beach be closed for public access until concerned authorities do their jobs:
Why is the beach still open? For me,This is not a blame game this is a "we need to act now"problem & close the beach. I don't want to be in this position but I have no choice peoples lives are at stake and I was faced with a moral obligation. People needed to know about this

— Shaniera Akram (@iamShaniera) September 3, 2019
And her efforts did finally pay off as Sindh Police imposed section 144 for the safety of public:
Police have cordoned-off the affected area of Clifton beach, section 144 has been imposed for the safety of visitors. #SSPSouth #Karachi @iamShaniera https://t.co/KtNxUmORCZ

— Sindh Police (@sindhpolicedmc) September 3, 2019
People were lauding Shaniera for bringing the issue to public notice:
Good and fast action @sindhpolicedmc . Much Appreciated. Thanks to @iamShaniera for pointing this out timely and constantly hammering it, till the action was taken. Thanks Bhabie.

— Murtaza Kazmi (@mabbaskazmi) September 3, 2019
Many appreciated her efforts and urged others to play their part:
Thanks for your concern, every citizen should speak out and make effort in his/her capacity

— ADIL YOUSAF (@ADILYOUSAFAWAN) September 3, 2019
People agreed how Clifton Beach needs a lot of attention:
True.. Clifton beach is totally unsafe to be there and sadly no one is taking the ownership

— Muhammad Altaf Butt (@Altaf_Butt2010) September 3, 2019
People were all support for her:
We the Pakistani people are with you in raising this concern.

— Wasiq Ali (@wasiq_26) September 3, 2019
Thank you Shaniera. Keep fighting the good fight. We are with you!

— Ammar Khalid (@ammar105) September 3, 2019
And guys, that's how you make a difference. Shaniera's undying concern for the environment and the safety of Pakistanis has won us over many times and we absolutely stan a diva who cares for the environment and uses her power to fix things: go, diva!