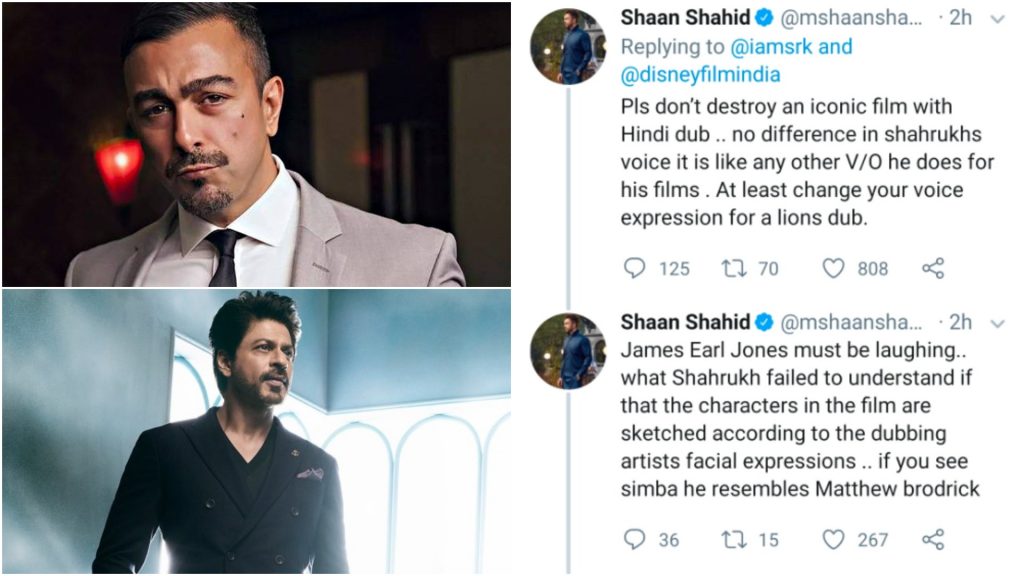 As Lion King moves closer to its worldwide release, Shahrukh Khan, who has been busy dubbing the Hindi version of Lion King, shared a glimpse of the Hindi dubbed trailer:
Mera Simba.. #TheLionKing @disneyfilmindia pic.twitter.com/kC66BMBOVE

— Shah Rukh Khan (@iamsrk) July 11, 2019
As soon as the trailer was shared, there was tons of feedback from his fans. That's when Shaan Shahid stepped in to request Shahrukh Khan to not 'destroy' a movie so iconic with a flat dub:
Pls don't destroy an iconic film with Hindi dub .. no difference in shahrukhs voice it is like any other V/O he does for his films . At least change your voice expression for a lions dub.

— Shaan Shahid (@mshaanshahid) July 11, 2019
He then continued to say that characters are sketched resembling the dubbing artists and their expressions. Shaan felt that there was a lack of expressions:
James Earl Jones must be laughing.. what Shahrukh failed to understand if that the characters in the film are sketched according to the dubbing artists facial expressions .. if you see simba he resembles Matthew brodrick

— Shaan Shahid (@mshaanshahid) July 11, 2019
Simba's voice in the clip belongs to Shahrukh's son, Aryan Khan and sounds almost identical to that of Shahrukh's. Shahrukh has lent his voice for Mufasa.
The trolls came to bash Shaan almost immediately, but Shaan gave them all befitting replies:
Mahesh bhatt would also be crying when you made arth 2

— Younis Rehman (@718eb80bdc0c4bc) July 11, 2019
Ouch!
It was not a Hollywood production ..

— Shaan Shahid (@mshaanshahid) July 11, 2019
This girl didn't quite get the gist of what Shaan was trying to say:
"Voice expression for a lion['s]".
So you expect SRK, or anyone dubbing for this movie for that matter, to roar?
Like, really just roar and not say a word? 😆😆
You've got talent, man.

— Neha Chamaria (@NehamsChamaria) July 11, 2019
But Shaan explained, a little:
Watch the real one .. to understand .. but you won't understand it's ok

— Shaan Shahid (@mshaanshahid) July 11, 2019
Some thought there were more pressing issues to cater to:
Its his son which you can hear in the trailer. Lion King is being dubbed in all major Languages for maximum reach. Chill out shaan, their are more important things to worry about. Like the blatant harassment and misogyny in our entertainment industry

— Rana Hasnain (@RaNaHaSnAiNsays) July 11, 2019
Many thought he should watch the English version if he has a problem:
if you have so much problem with this version, why don't you watch it in English

wth r you pestering Shah?

— 👑BRIJWA👑 (@BrijwaSRKman) July 11, 2019
Sir firstly it's not SRK's voice 🤦🏻‍♂️ and secondly.. no one is forcing you to watch it in hindi version 😑

— 𝐓𝐀𝐋𝐇𝐀 *ᴷᵃʳᵉᵉⁿᵃ'ˢ ᴰᵉᵉʷᵃⁿᵃ* (@TalhaBeboholic) July 11, 2019
You can watch Real One in English
If you understand English sir

— Imsummit (@summittheone) July 11, 2019
Please go n watch the movie in English instead of blabbering incoherent stuff here. Firstly this is NOT ShahRukh's trailer and the other thing is Hindi trailer is meant for Indian audience and we are very much happy with SRK as Mufasa and Aryan as Simba!

— Saiyaara (@FirdousChale_) July 11, 2019
Some thought his tweet was pointless:
this isnt his voice, and he isnt in charge of Disney, but please carry on with your pointless tweets.

— garam_cha (@garam_cha) July 11, 2019
But he thought otherwise:
And you carry on with your intelligent tweets as it really makes you look smart …

— Shaan Shahid (@mshaanshahid) July 11, 2019
Some asked him not to criticise others:
Come on mr shan I respect u as u r our biggest star. U r the star of pakistan . But plz don't criticize other's work. They are doing a brilliant job. And u should concern on your films. U have also given pathetic films like opertion 021 yalqaar arth 2.

— Younis Rehman (@718eb80bdc0c4bc) July 11, 2019
Some thought he was jealous:
Are you jealous of @iamsrk ?

— Mania Saeed 💎 (@SaeedMania) July 11, 2019
And while many trolled him, there were a ton of people who agreed with him:
Shaan you are absolutely right..!There was no point to dub an excellent movie in Hindi language.Sadly, they are just ruining our childhood memories -______-

— Tehreem Alavi (@AlaviTehreem) July 11, 2019
We kinda agree:
@shan bhai yea log kabhi nahi samjye gye apki bat ko ap apna dil bura na kiya karye yea theak honye walye nahi

— shanam butt (@sehharr) July 11, 2019
Omg, yaaas!
Amitabh Bachchan would've been the ideal choice for Mufasa

— Hassan Khan (@mhassankhan06) July 11, 2019
Haha!
Sorry sir they already destroyed it

— Atif Ayyaz Haider (@Atifayyaz) July 11, 2019
Some thought he was asking for too much:
You are asking too much from this self claimed king, a highly overrated

— D 🇵🇰 (@muhammadatifda1) July 11, 2019
What do you think about Shaan's comment? Let us know in the comments below!