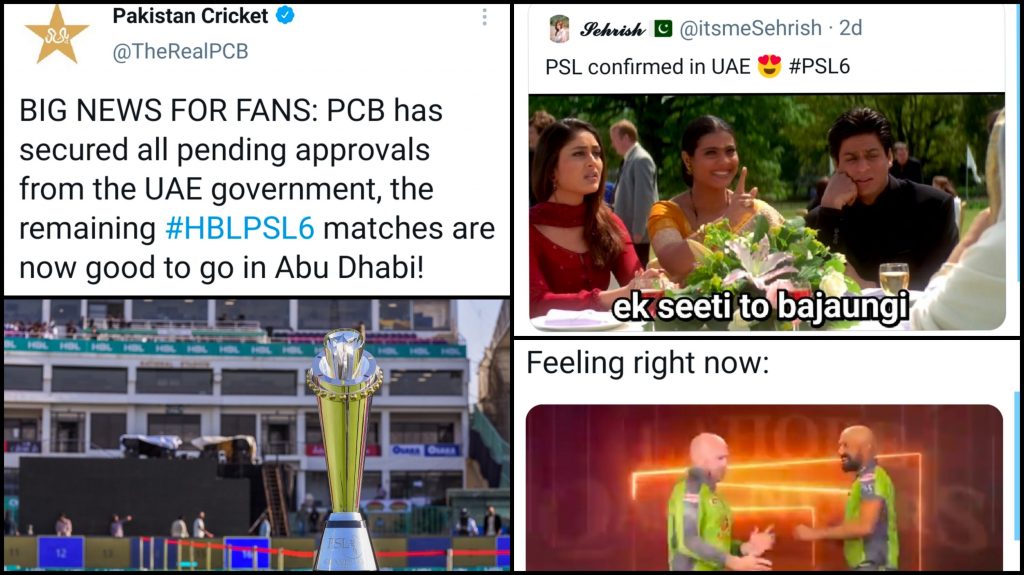 If there's one event that brings the whole of Pakistani twitter together, it's the PSL season! And just like last year, the tournament this year had to be postponed in the wake of the second wave, but with vaccinations rolling out and the infection rate seemingly in control, Pakistan Cricket Board has decided to resume the sixth season of PSL with all remaining matches to be played in UAE.
BIG NEWS FOR FANS: PCB has secured all pending approvals from the UAE government, the remaining #HBLPSL6 matches are now good to go in Abu Dhabi! pic.twitter.com/ErPOkYrmKB

— Pakistan Cricket (@TheRealPCB) May 20, 2021
The news left the PSL fans ecstatic as they prepare for friendly banter and hilarious memes while supporting their teams, and here's how they reacted to the news!
PSL confirmed in UAE 😍 #PSL6 pic.twitter.com/vxRTGn1nAP

— 𝓢𝓮𝓱𝓻𝓲𝓼𝓱 🇵🇰 (@itsmeSehrish) May 18, 2021
Lmao, same!
🥳🥳🥳🥳🥳🥳🥳🥳🥳🥳🥳🥳🥳🥳#HBLPSL6 #PSL6
Feeling right now: https://t.co/fLLUTjvZ4H pic.twitter.com/dxGdFt6IIK

— 𝗖𝗿𝗶𝗰𝗙𝗶𝗿𝗲 (@cricfire) May 20, 2021
That's literally us!
Me and my homies today https://t.co/kuxo1TE1Q4 pic.twitter.com/6aoQe4lNbK

— اسد (@asti411) May 20, 2021
The news clearly made fans really happy!
News Of The Day 📢

PSL is Back 🔥 ♥ 🏏

Can't wait to see yOu all in action again 🥺😍#HBLPSL6 #PSL6 #Babar_Azam pic.twitter.com/KxUm1NBxDP

— Misha Fatima (@Babar_thechamp) May 20, 2021
Big Big news🔥🔥 https://t.co/8oTfSFiArE

— AskEG (@AskEG2) May 20, 2021
Memes and banter had started already!
#PSL6 back in UAE
Lahore Qalandars right now: pic.twitter.com/3a4HHSdEqs

— Cricket Musings (@CricketMusings) May 21, 2021
Points table of #PSL6 so far 😂 pic.twitter.com/fEw4wO5P0I

— Hamza Kaleem (@HKaleem23) May 15, 2021
The crossover we never thought about!
Ross & Rachel PSL 2021

🤝🤝🤝

"On again, off again"

In the spirit of Friends "reunion"… PCB reliving the tradition. They were on a break! https://t.co/dtvCYsSW2z

— Biased Cricket Opinions #NonMusbatReporting (@Thakthakmisbah1) May 20, 2021
Ngl, we love the anthem!
Hun waikhy ga crowd Groove mera tv ty 😏 https://t.co/v6OvfVbBt6

— 🇵🇰Shaban🇿🇦 (@shabanAli56) May 18, 2021
IM READY TEY IM SURE OYE https://t.co/AQofBp06WJ

— Nobody. (@Retiredhurttt) May 20, 2021
People were happy to see the matches being held in Abu Dhabi:
Good decision to shift remaining PSL to Abu Dhabi.

It's difficult to manage 6 teams bubbles and run them smoothly in Pakistan #PSL6

— WAZIR🇵🇰 (@156kph) May 15, 2021
Fans were way too excited!
Finally some game time. Yayyyyyy , Super Riz finish the season with an more and more impressive knocks and runs.. #Rizwan #Babar_Azam #PSL6 https://t.co/wumLIgeNfz

— Abilash Kumar (@abilashk99) May 20, 2021
It is!
The great show is back. Finally. #PSL6 pic.twitter.com/hyPcn10Bx3

— Ertugrul Ghazi (@Furqanh23070195) May 18, 2021
Yooo man! It's PSL time🤩#HBLPSL6 #PSL2021 #AbuDhabi https://t.co/eMGWWzalN6

— Ahsan Awan (@ahsanawan06) May 20, 2021
Yeah, that's us!
ONE MINUTE DOWN, NEXT MINUTE UP https://t.co/JnzURv8vor

— F (@falahtah) May 20, 2021
The unpredictable Pakistan.

Yesterday, we were almost hopeless and all of a sudden, things seems to have started going in right direction.
I m crying 😭😭😭😭😭
How is it possible?😭😭😭
Thank you Allah❤️❤️❤️❤️#HBLPSL6#PSL2021 https://t.co/vgRC6SzAo0

— Muhammad Somaan (@muhammad_somaan) May 20, 2021
Asal maza toh PSL ka hai!
So the Zimbabwe series is over as well. Time to bless timelines from PSL tweets only! 💚😌#PSL6 pic.twitter.com/HnEh74sfZu

— Umair Khan (official) (@UmairModel) May 15, 2021
People were rooting for their teams!
Good days are coming—-💙❤️
I am a supporter of Karachi kings 👑#PSL6 pic.twitter.com/oafr2hTlhq

— ZaiD–🇵🇰🇵🇸 (@Mr_Zaid123) May 21, 2021
Confirm Lahore di ae ♥️ #PSL6 #PSL2021 #Cricket pic.twitter.com/G69OMOm5Ol

— Shazziya Mehmood (@shaziyaaM) May 20, 2021
Imagine #PSL6 final end with this smile of #shahidafridi pic.twitter.com/XBlyU6qPoz

— Areba (@Areba45909448) May 15, 2021
Ready for Action 💪✌#YellowStorm ⚡🔥#PSL6 pic.twitter.com/pzgqZJzBjx

— Sherfane Rutherford (@SRutherford50_) May 18, 2021
I swear, bore ho gaye the!
Finally something for leisure time. https://t.co/ZXzYrqfeYT

— tabinda (@sloppywitgirl) May 20, 2021
Are you excited? Share with us the team you're rooting for in the comments below!