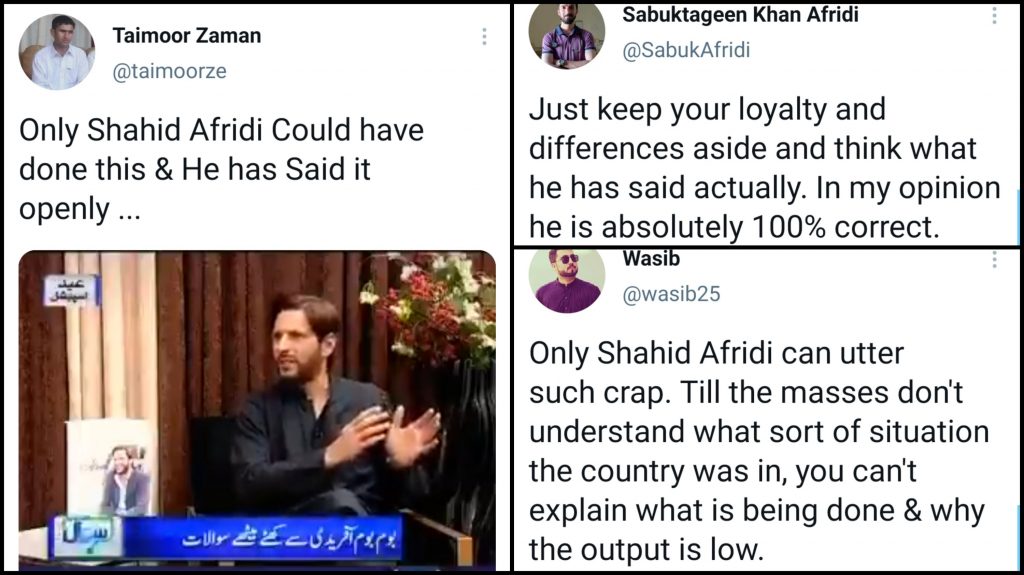 Shahid Afridi's political aspirations have never been a secret. Ever since retiring from international cricket, the former cricketer has devoted most of his time to charity work and serving humanity with Shahid Afridi Foundation.
And while the man has no definite plans of entering politics, he does have some words of advice for the ruling PM, here's what he thinks:
Only Shahid Afridi Could have done this & He has Said it openly … pic.twitter.com/9kvJWU3ynL

— Taimoor Zaman (@taimoorze) May 19, 2021
In an interview, Lala candidly shared how he feels that Imran Khan should focus on good governance rather than chasing after Asif Zardari and Nawaz Shareef. The clip has been making rounds on social media as netizens remain divided!
Just keep your loyalty and differences aside and think what he has said actually. In my opinion he is absolutely 100% correct.

I wish our Kaptaan realize this too 😊 https://t.co/MKsON6Ecuu

— Sabuktageen Khan Afridi (@SabukAfridi) May 19, 2021
People were ready to see him as their PM:
Our future PM : https://t.co/4ePFvMNxbC

— 🦋 🇵🇰🇵🇸 (@Chaaiiholic_) May 20, 2021
My PM ! https://t.co/vzgUuP9loj

— Nauman Abid (@mondeeeee) May 20, 2021
People were lauding him for speaking his mind fearlessly:
Only he has the courage and bravery to say this @SAfridiOfficial.. 🔥❤️
Absolutely agreed https://t.co/pFkfBUxwoY

— Salar Abbasi (@SalarAbbasi10) May 19, 2021
Some were worried that he might get bashed:
Mere Dil ki baat. 💯
I love this man for being so fearless & vocal about everything.
He's a huge IK supporter. He's gonna get bash for this coz sach bola hai ek dum. https://t.co/UxxPlqPXwb

— Ayesha-عائیشہ 🇵🇰 (@Ayesha_ZaYain2) May 19, 2021
Many people found themselves on the same page as him:
This is 100% nailed on correct I can't believe it https://t.co/H1vscYUBxC

— Zuhair (@ZuhairAndThere) May 19, 2021
Some were expecting a new kind of turn:
A new turn on its way 🤔🧐😨 https://t.co/CH9VfC9oZt

— Aiman Chaudhary (@Aimanchleo) May 19, 2021
People were tagging Imran Khan:
Sir jee @ImranKhanPTI he has a valid point. Stop expending your energy on the rulers of the past. Just focus on what you have been given the chance to do! https://t.co/pguC0fqZFV

— Mahbina (@MahbinaW) May 19, 2021
People had their suspicions:
Doesn't he sound political, particularly in this video?🧐🧐 https://t.co/HTRp25F7TN

— muzamilasif (@muzamilasif4) May 19, 2021
People quickly came to his defence for the hate he had been getting:
all he's saying is that khan saab should focus more on good governance and look at the replies and the hate he's getting.

pti fans are proper knee-jerk imbeciles https://t.co/6PbqkfBWfJ

— e (@stethandswag) May 19, 2021
People were sharing how most felt the same way:
Literally the whole country has been saying that for the past three years!🤷

— Bilad: First of His Name (@bilad_ahmad) May 19, 2021
And while many agreed with Shahid Afridi, others deemed him a noob:
He's just like any other noob who doesn't understand why IK says what he says. People want change so fast so he explains why it's hard to bring. Zardari, NS has taken Pak to cleaners. It's not easy but there's progress.

— smackeya 🇵🇸 (@ChapparrKanaati) May 19, 2021
People were explaining how things weren't as simple as they seemed to be:
What he said sounds correct and logical but only as a commentator. Try joining politics, face personal attacks & family attacks from mafia and media backed by NawaZardari, see what they have done to country and you get blame for their looting THEN we will know how easy it is

— Nostalgic Wazim (@wazimpakoz) May 19, 2021
Some were questioning him:
whats wrong in talking about Nawaz/Zardari. they literally bankrupted the nation. https://t.co/JMz1ujOh3p

— undefined (@eidannnaw) May 19, 2021
Some took it as an opportunity to throw shade at him:
Only Shahid Afridi can utter such crap. Till the masses don't understand what sort of situation the country was in, you can't explain what is being done & why the output is low.
Someone who couldn't captain a cricket team properly should know that everything has a context. https://t.co/lFKCX9RZv7

— Wasib (@wasib25) May 19, 2021
Some accused him of being jealous:
I can believe anyone but him,I see jealousy on his face whenever he's talking about Imran Khan

— Ali🇵🇰🇵🇸 (@Ali66502019) May 19, 2021
What do you think about Lala's advice to Imran Khan? Let us know in the comments below!