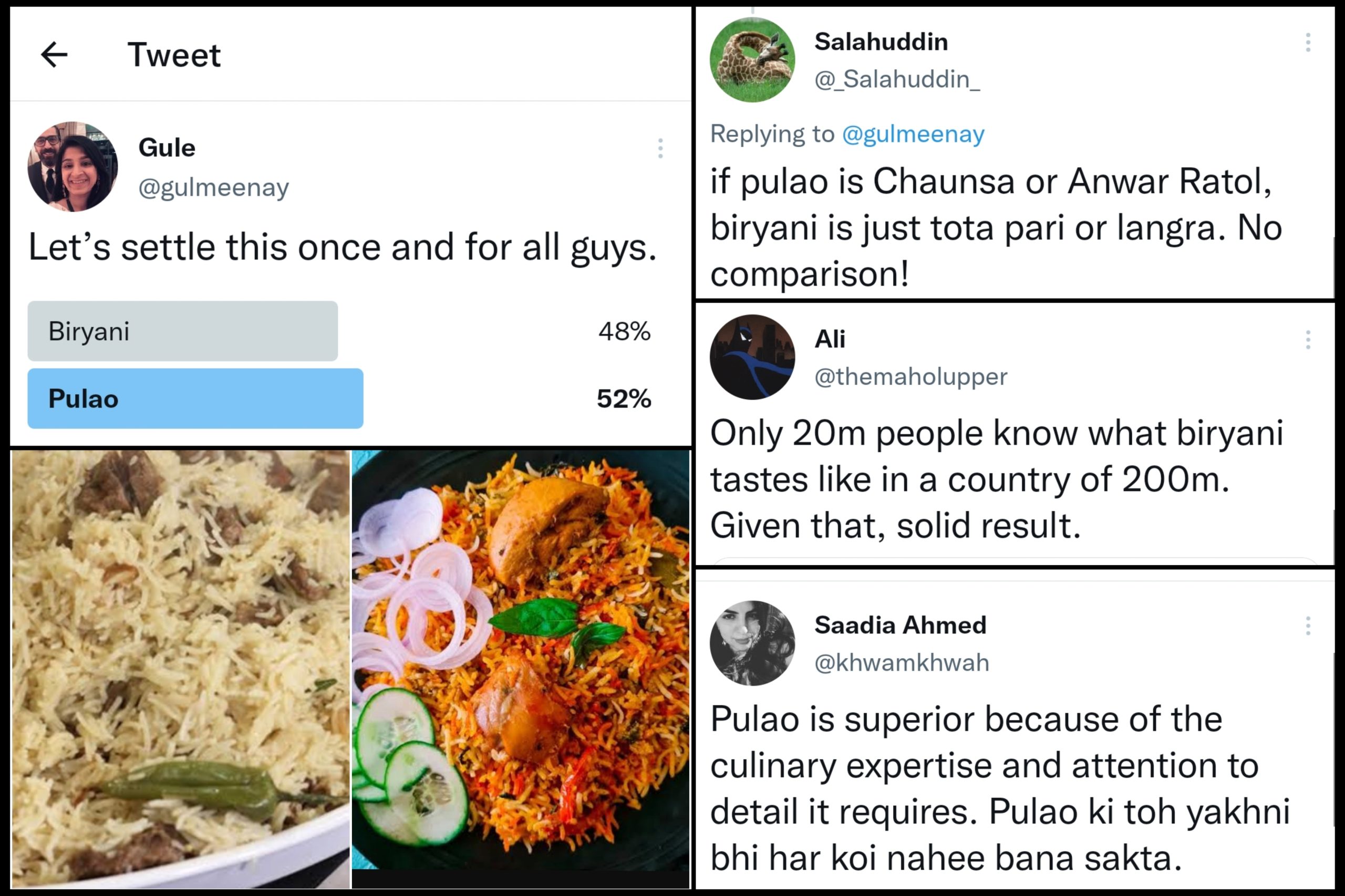 The time has finally come when tweeple are out to settle the hottest debate on Pulao vs Biryani:
Let's settle this once and for all guys.

— Gule (@gulmeenay) January 10, 2022
A girl on Twitter made a poll to settle the score and surprisingly, pulao has won over biryani, but the question is if people have made peace with the outcome of the poll. Here's what they've got to say!
Kisi ek ko select krny walay yeh jaan lain dono dishes k core item chawal hain or chawal ek azeem khuraak hai jis bhe shakal mein ho.

— Wings Commander Aneeq (@AneeqShafqat) January 11, 2022
Jo baat hai!
if pulao is Chaunsa or Anwar Ratol, biryani is just tota pari or langra. No comparison!

— Salahuddin (@_Salahuddin_) January 10, 2022
Okay…
Biryani Ka koi comparison Nahi !!! Ye region to region vary karta hyyy.. Biryani is master class..Biryani Zindagi hy..: Jaan hy jahan hy… USS sy is dunya main dhanak ke rang Hain… Biryani ek khusbuu hyy Biryani mohabat hy… Biryaanii jannat hy Biryani immortal hy.. jaaii hoo

— ثمرقند بخارا (@sudhee_sylt) January 11, 2022
Hahaha, where's the lie?
Sind main PPP aour Biryani he jeetaingee, But Punjab main Pulao plus PML-N, KPK main Halwa plus JUI-F …

— Noor (@MalikNoorAwan) January 10, 2022
Team Pulao was celebrating:
پلاؤ کے آگے کچھ نہیں..

— عاصی Maqsood Asi (@MaqsoodAsi) January 10, 2022
No, thank you!
Kichri

— Dr Tahir (@drtahir1988) January 10, 2022
Woah!
Emperor Aurangzeb wrote letter to his son, telling him about his preference for biryani over pulao. pic.twitter.com/oMEcuFM5R5

— im. jb (@imjb48646924) January 11, 2022
Makes sense:
Achi bani ho toh Biryani ager guzare wala bhi ho toh Pulao chale ga since its a little forgiving.
If I have to pick 1 idk if I can.. its like asking a kid who he/she loves more out of both parents.

— IfishUwish (@KanwalAbbas29) January 11, 2022
Haha, yeh bhi theek hai!
Pulao as starter, main course biryani https://t.co/wJwYu3EhoE

— Usman Asif (@UsmanBaghi) January 11, 2022
Team biryani was not having it!
Biryani biryani biryani biryani ❤️ https://t.co/fxvjbn5eEA

— A H A D 🙂 (@mazari_ahad) January 11, 2022
how tf pulao is winning?! https://t.co/HTy9Sl1AzN

— 🤓 (@ABjeezExpert) January 10, 2022
The shade!
52% بدذوق لوگ پائے گئے ہیں ❤️ https://t.co/KTo9k7CLfW

— Mr. Talha (@Punjabitweep) January 11, 2022
True!
Only 20m people know what biryani tastes like in a country of 200m. Given that, solid result. https://t.co/rO4NvrGMy7

— Ali (@themaholupper) January 11, 2022
Arayyy!
https://t.co/XnjnN7lK9q pic.twitter.com/RWwBBipFLi

— Aleesha (@Aleeshazetoon) January 11, 2022
Jo baat hai!
Real foodies dont discriminate. They see all, they eat all and enjoy it. https://t.co/dakpscaDZh

— AB 🇵🇰 (@arslanbaig84) January 11, 2022
Absolutely!
Pulao is superior because of the culinary expertise and attention to detail it requires. Pulao ki toh yakhni bhi har koi nahee bana sakta. https://t.co/5GQutnDVS7

— Saadia Ahmed (@khwamkhwah) January 11, 2022
What's your verdict? Are you team Pulao or team Biryani? Let us know in the comments below!