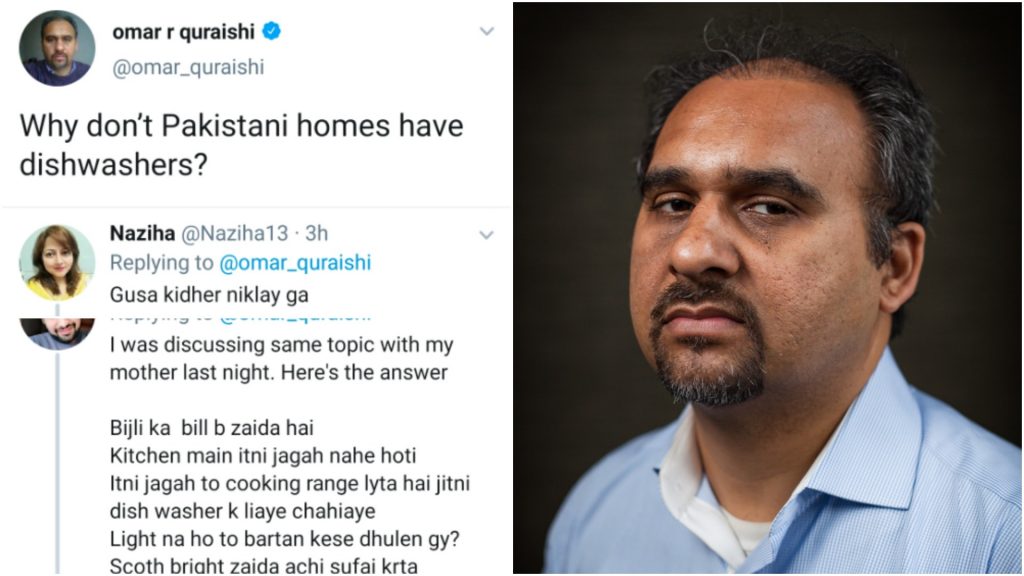 Never a single dull day when you're on the internet! Prominent journaliist, Omar Qureshi, asked a very important question on Twitter and the replies will crack you up! Omar genuinely wanted to know why Pakistani house holds don't have a dish washer and that's exactly where Twitter displayed its finest:
Why don't Pakistani homes have dishwashers?

— omar r quraishi (@omar_quraishi) July 16, 2019
The answers were absolutely hilarious!
I was discussing same topic with my mother last night. Here's the answer

Bijli ka bill b zaida hai
Kitchen main itni jagah nahe hoti
Itni jagah to cooking range lyta hai jitni dish washer k liaye chahiaye
Light na ho to bartan kese dhulen gy?
Scoth bright zaida achi sufai krta

— Farrukh (@farrukhm2010) July 16, 2019
Hahahaha, true that 😂
Gusa kidher niklay ga

— Naziha (@Naziha13) July 16, 2019
This person spilled the real tea, dongay shongay:
Wo sirf plates wash karta hea, pakistani dongay deychkay, deychkiya nae manjta… So thts of no use 😂 baki ager ap ne khud he manjna hea tu 2 -4 plates b khud he doh lay

— Nasra (@nasra_nawaz) July 16, 2019
The truth has been spoken…
Because we don't have water to wash our ass!
From Karachi.

— Saud Yusuf (@Saud_Yusuf) July 16, 2019
Hmm, what do you call your dishwasher? Husband or wife?
We call it 'Husband'.

— Zaarib.W (@WZaarib) July 16, 2019
They call them wives.

— MFZ (@faraztweetss) July 16, 2019
One dishwasher, so many names!
Dishwashers in Pakistan are also called moms, wives and sisters

— Tread Lightly (@JesterTrivial) July 16, 2019
The dishwasher more efficient than most:
They have! I. Human form.

— jamil janjua (@jjatoctara) July 16, 2019
Haye, hadd-haraami!
Dishwasher mein kaun daalay ga?

— Sabeen M. Sultan (@SabeenMSultan) July 16, 2019
Chikna dishwasher:
Itni chikhahat humaare khaane mein, dishwasher bichaara Kya karega😉

— Indian 🇮🇳 (@KhaasAaadmi) July 16, 2019
Na kaakay, na!
Because Pakistani men are not lazy. They wash dishes.

— Muhammad Inaam Ullah (@MuhammedInaam) July 16, 2019
Yep!
They call them wives.

— MFZ (@faraztweetss) July 16, 2019
Many raised some valid reasons:
Because they have manual dishwashers whom they underpay and overwork.

— Shanza Faiq (@Shanzaf) July 16, 2019
Also, maasi stays employed, win-win situation:
Massi is cheaper than machine ,dishwasher liquid and electricity

— Laila Rana (@lailarana007) July 16, 2019
Some gave the real reason why, bijli and pani:
Also, automatic washing machines and dishwashers use a lot of water hence aren't popular here. Plus the electricity they consume for their washing cycles..

— Nadiya Niazi (@NadeyahN) July 16, 2019
Jo baat hai!
Because labour is cheaper than capex.

— Sameer Chishty 山氷瑅 (@sameerchishty) July 16, 2019
And while majority of the comments may have been sarcastic, they do point out towards  serious problems i.e water shortage and expensive electricity. They also point out about the luxury that Pakistanis have of hiring cheap labor.
What do you think about dishwashers in Pakistan? Do you own one? Let us know in the comments below!