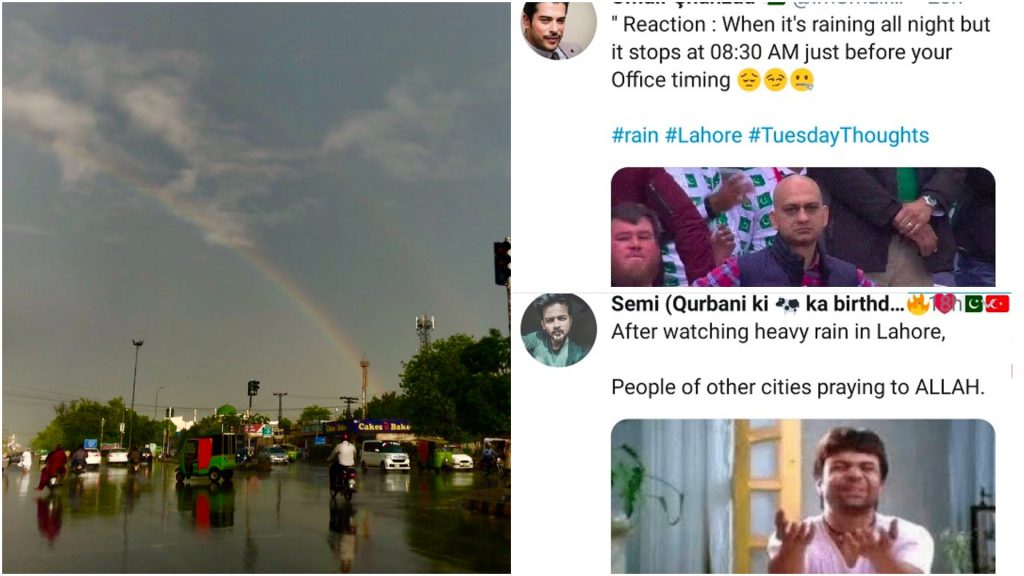 The monsoon season has officially begun all around the country, and if you're from Karachi, we feel you! It has been raining cats and dogs in Lahore and the internet just can't contain itself.
The intensity of the rain was such that the main entrance gate of the Lahore fort collapsed to the ground.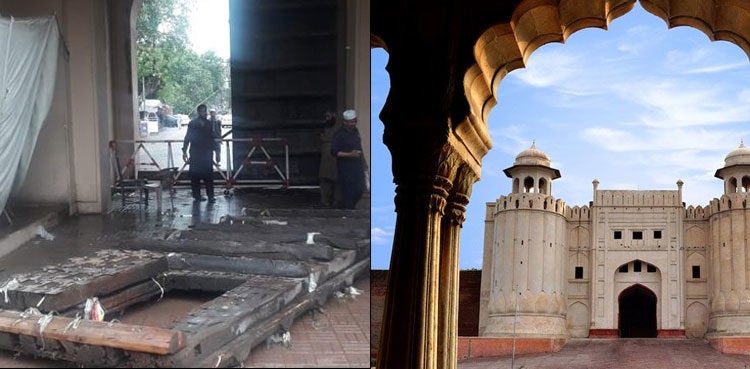 A minor was killed and 13 were left injured in different incidents in Lahore after heavy rains lashed the city on Tuesday. Citizens were stuck and the city had to see some of the worst traffic jams.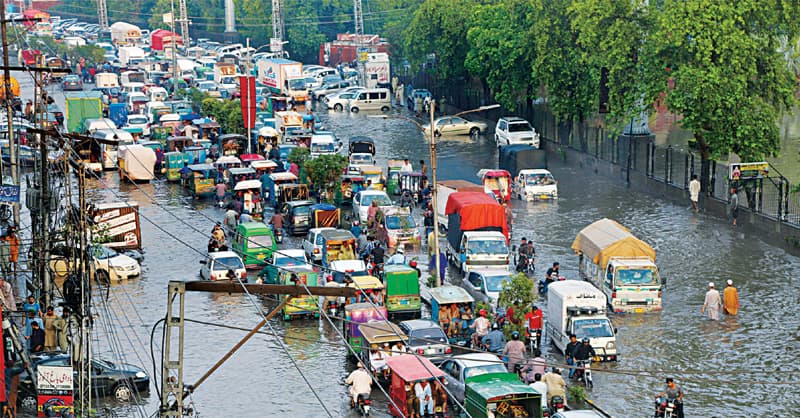 Chief Minister Punjab Usman Buzdar personally drove to the affected areas and reviewed the drainage arrangements and problems of people after heavy showering. He also gave lift to children and women stuck due to rain.
وزیراعلی پنجاب کا لاہور شہر میں موسلا دھار بارش کے بعد نکاسی آب کے انتظامات کا جائزہ.وزیراعلی نے خودگاڑی چلاکرشہر کے مختلف مقامات کا دورہ کیا؛بارش کے پانی میں پھنسی خواتین اور بچوں کو اپنی گاڑی میں لفٹ دی
لاہور کوپیرس بنانے کا دعوی کرنے والوں نے نکاسی آب کا کوئی منصوبہ نہیں بنایا pic.twitter.com/jD41kIO4np

— Dr. Shahbaz GiLL (@SHABAZGIL) July 16, 2019
And while some people were annoyed by the nuance bought about by the rain, others were loving it!
Torrential rain in Lahore. Superb scenery and wonderful feeling, Alhamdulillah ❤❤❤ pic.twitter.com/tAntucofaK

— Ihsan Baloch (@Ihsanul29576814) July 16, 2019
Peeru's cafe after rain ☔️ #Lahore pic.twitter.com/dt74xudU9n

— m.waseem (@_mwaseem_) July 16, 2019
Lahore at its rare best..::rain and greenery pic.twitter.com/BkvXUvoPgw

— 🎧 (@rathor__) July 16, 2019
Rain + Halwa Poori combo #Lahore pic.twitter.com/uwB27H2h5J

— Muhammad Salman (@Sallu_Jalandhar) July 16, 2019
Heavy downpour of rain in Lahore happening right now. pic.twitter.com/i7S62Ieciq

— Mohammad Farooq (@MohammadFarooq_) July 16, 2019
Many were sad how the rain stopped right at 8:30:
" Reaction : When it's raining all night but it stops at 08:30 AM just before your Office timing 😔😏🤐#rain #Lahore #TuesdayThoughts pic.twitter.com/TvGsi3ty9X

— Umaır Şhahzad 🇵🇰 (@ImUmairShahzad) July 16, 2019
Some were waiting for the rainbow:
Damn it's so hard to find a rainbow after rain in Lahore.

— Habibah Qamar (@Qamarhabibah) July 8, 2019
And some actually found the rainbow, what a sight!
OMG! Can't believe that I'm staring at this right now. MADE MY DAY!#Lahore 🌈 pic.twitter.com/FQ45G0OkYj

— Izah. (@izahshahid) July 16, 2019
These guys actually pulled out a boat, WHAAAAAAT!
Two guys preparing their boat, in the floods of Lahore.. #Lahore#lahorerain #monsoon #Pakistan #rain #flood pic.twitter.com/Qc4mspHdip

— Sheikh Zia Aftab (@ziatalks) July 16, 2019
Many gave ideas to Careem 👀
Situation in Lahore :p pic.twitter.com/Te2UnlYj3Z

— Muhammad Salman (@Sallu_Jalandhar) July 16, 2019
Careem Boat Is Now Available in Lahore#RainyDay #Rain pic.twitter.com/CofUvsELJm

— Zaid Sheikh (@Zaiduu1602) July 16, 2019
Han bhai Baadal Khan, parcel ka intezaam hai?
Dear Lahore:
sirf 2 ghantey Kae liye barish Karachi parsal kardo phr wapis lelena

Yours truly;
A Karachite.#rain #Lahore

— Talha Godil (@Talhagodil) July 16, 2019
And then there were tarsay huay Karachiites:
Lahore is drowning in rain.

And do you know what Karachi is drowning in? Paseena. We're drowning in our own paseena.

— chris evans, ive moved on (@blurmynamepls) July 16, 2019
And of course, like every monsoon season, samandar jokes were made:
Karachi: I have samandar
Lahore: I myself am a samandar pic.twitter.com/Zlb4K6a0Hs

— BOHEMIAN (@thisisbooshra) July 16, 2019
Aur Karachi sunny sunny sunny sunny~
Aaaj Lahore hai paani paani paani paaani ..😂😂

— move ke @ksulgee (@ksulgeee) July 16, 2019
And while Lahore was having all the possible rain, here's what other cities were feeling:
After watching heavy rain in Lahore,

People of other cities praying to ALLAH. pic.twitter.com/yHelvtzcfq

— Semi (Qurbani ki 🐄 ka birthday🔥 ❤️)🇵🇰🇹🇷🇵🇸 (@Meher_Semi) July 16, 2019
Annoyed by the intense amounts of rain, some people wanted an Abdullah Shah Ghazi mazaar:
Lahore mai bhi ek adad Abdullah Shah Ghazi ka mazaar hona chahiye takey aesi toofani barishain control hosakain 🤔 #lahorerain

— Poindextrous 🔥 (@imsyedwaqar) July 16, 2019
Many people shared the problems that the city was facing:
On the other hand #Lahore be like all rainy pic.twitter.com/Fcc945Y4aO

— Sami (@SAMI_PK_) July 16, 2019
Lahore after rain. pic.twitter.com/pNxE8ob7D6

— azhar khan (@azharkhn4) July 16, 2019
Many shared how the traffic was a wreck:
Post monsoon rain lahore traffic is an absolute wreck

— Somaan. (@somaanulhaq) July 15, 2019
When are rains expected in your cities? Let us know in the comments below!