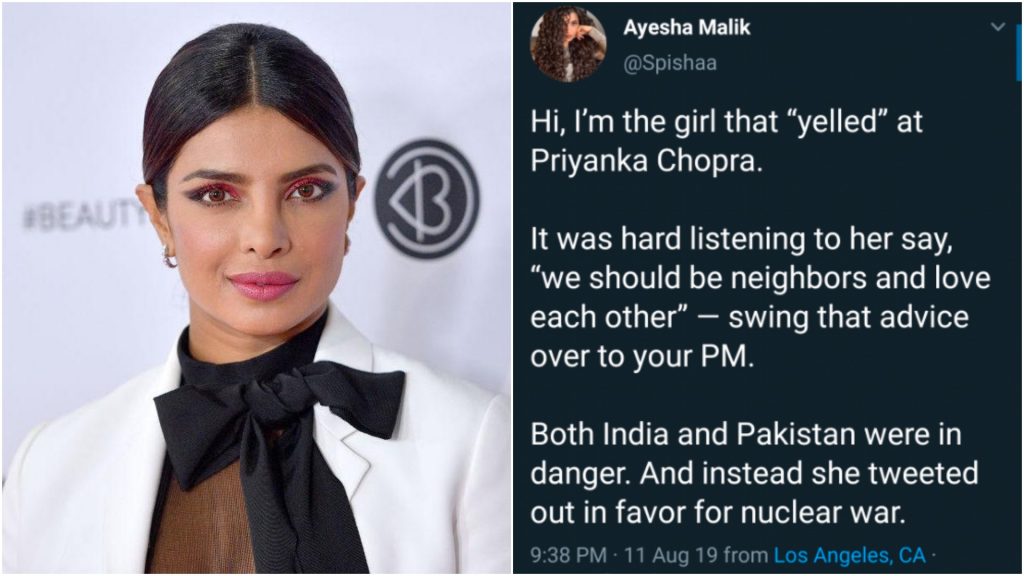 It seems as if things never calmed down after the Pulwama attacks. It was only then when the world saw their favorite B-town celebrities promoting nuclear war. One of those celebrities was Priyanka Chopra who, ironically, happens to be the peace ambassador of the United Nations.
Jai Hind #IndianArmedForces 🇮🇳 🙏🏽

— PRIYANKA (@priyankachopra) February 26, 2019
In a beauty event in LA, a Pakistani girl named Ayesha Malik couldn't resist but call out Priyanka Chopra on being a hypocrite:
Priyanka Chopra tweeted during a time when we were this 👌🏽 close to sending nukes to one another. Instead of advocating for peace she tweeted in support of the Indian army pic.twitter.com/LhbMkOW59v

— Ayesha Malik (@Spishaa) August 11, 2019
To which Priyanka Chopra addressed in the most condescending tone:
"Whenever you're don't venting". Sorry, didn't realize that speaking on a humanitarian crisis was "venting" pic.twitter.com/OqCLgjDNa1

— Ayesha Malik (@Spishaa) August 11, 2019
And the clip which has now gone viral has made the internet go nuts!
Priyanka Chopra seemed to be caught off guard, and her reply was incoherent and unintelligent. As if tho she was confused between sounding like a I-just-wanta-bringabout-world peace mindless bimbo pageant queen, or a condescending and patronising bitch.

— Haleema Khan (@haleemak_) August 11, 2019
People were living for it:
Damnnnn Priyanka chopra undone by a Pakistani woman. I am here for this.

— Atiya Abbas (@AtiyaAbbas_) August 11, 2019
Some were absolutely furious and rightly so!
priyanka chopra is a dumb, self-exoticizing dickhead who gaslights people with legitimate questions regarding her support of a religious fundamentalist hate preacher and whose biggest claim to fame is marrying a washed up white boy — hope her downfall is swift and public. https://t.co/PVefzgn075

— shy fawkes (@aloovibes) August 11, 2019
People were lauding Ayesha for raising valid questions:
What a brave girl confronting @priyankachopra for war mongering. Look at her reply. 'I have many Pakistani friends' wow! That's her response! She didn't even let her ask the whole question. Well done @plathwoolf_ So proud of you! #PriyankaChopra #priyanka @UNICEF #UNICEF pic.twitter.com/MF1imgVIRf

— Natasha Kundi نتاشا کُندی (@NatashaKLondon) August 11, 2019
Celebrities including Mansha Pasha, Kubra Khan and Armeena Khan shared their thoughts:
Its horrifying that she actually patronized her later in her reply by saying "dont yell gurl, dont embarrass yourself."

The fact that youre an Ambassdor for the UN is bloody embarassing when you lack the basic empathy to understand she has every reason to be upset. https://t.co/ub1iEF8QvO

— manshapasha (@manshapasha) August 11, 2019
Middle Ground when thousands of innocent people ( including children ) are being butchered daily?! Yeah. No. Sorry, No middle grounds here Miss Goodwill ambassador. Being Patriotic is one thing but We're humans first. Lets not forget that. #WakeUpUN_KashmirBleeding pic.twitter.com/S8lDCSmK6i

— Kubra Khan Official (@KubraMKhan) August 11, 2019
Where are Pakistan's representatives to reply to this? Where is our love for the people who idolise and follow us? Will anyone respond clearly and categorically to this because she is a walking disgrace to the very word "humanitarian." https://t.co/53dPawe6Jk

— Armeena Khan (@ArmeenaRK) August 11, 2019
PC's response in a nutshell:
Priyanka Chopra: war isn't something I'm fond of but I'm patriotic so 🤷🏻‍♀️🤷🏻‍♀️🤷🏻‍♀️

Also Priyanka Chopra: wE aRe aLL hErE fOr Love. HeHe pEacE ✌🏻bE KiNd xoxo pic.twitter.com/5z7anilrwX

— layla. (@laylaaff) August 11, 2019
priyanka chopra be like BOMB PAKISTAN hehe peace and love 😘

— sippin on dat (@vivafalastin) August 11, 2019
Bitches be like "war is bad omg, love everyone and be kind!!!" all while supporting bigoted, genocidal politicians and by bitches I mean Priyanka Chopra

— sukhi (@mairanotmaria2) August 11, 2019
People were furious for using the 'being friends' excuse to promote genocide:
priyanka might be the first person ever to use the "i have a ____ friend" excuse to justify genocide.

— aamer 🏁 (@aamersnow) August 11, 2019
Priyanka Chopra saying she had Pakistani friends in response to a question about the violence on the border is the equivalent of saying I have black freinds when being called out on racism

— edith 💘 (@edithchellam) August 11, 2019
Many were happy to see Priyanka be cancelled:
Priyanka Chopra is finally getting cancelled. pic.twitter.com/xOkbI8JsCf

— k (@honeyftclover) August 11, 2019
Some also pointed out how Priyanka didn't utter a single word when the mic was literally being snatched from Ayesha:
Priyanka Chopra at BeautyCon: Women should empower one another #sisterhood

Also Priyanka: watches a girl's mic being snatched by security and does nothing, then proceeds to talk down to her in the most catty, condescending tone. pic.twitter.com/TwUPNMKgd5

— Anum R. Chagani (@Anumero_1) August 12, 2019
And while Priyanka was justifying war mongering, we had our favorite diva Mehwish Hayat talk about Kashmir and how the image of Pakistan has been negatively portrayed by Bollywood films as she received Pride of Performance award in Oslo:
Bollywood could have used cinema to promote mutual understanding instead of vilifying us as they do. They need to decide which is more important – nationalistic fervour or a peaceful future . pic.twitter.com/EzcK4L0zWD

— Mehwish Hayat TI (@MehwishHayat) August 11, 2019
And with that being said, we'd only like to say that in a world full of Priyanka Chopras, be like Mehwish Hayat!