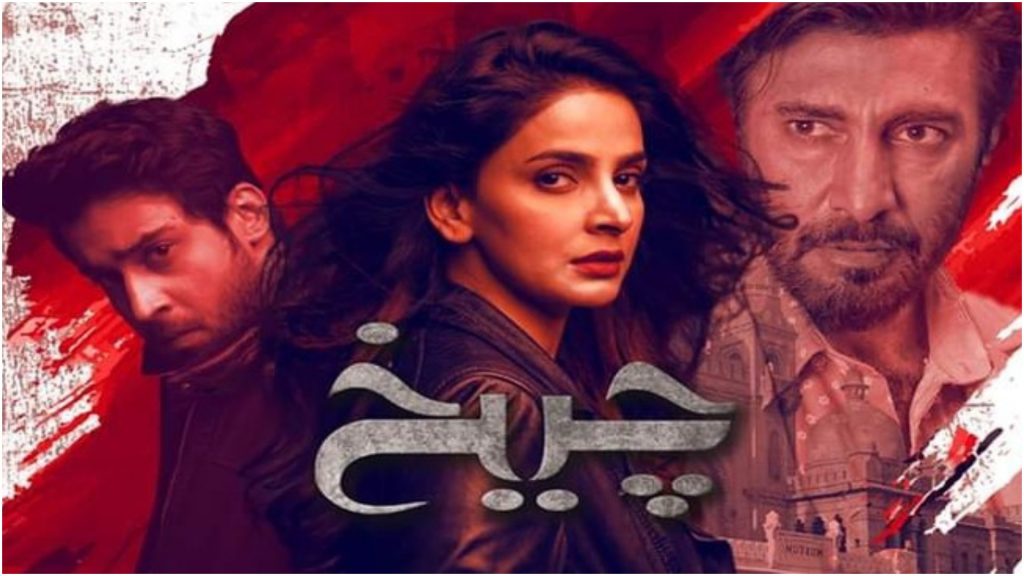 The drama serial Cheekh has gathered a cult following ever since it aired on ARY digital. As the drama finally came to an end yesterday, fans have been sharing how the last episode had them feeling, making it the top trend on Twitter: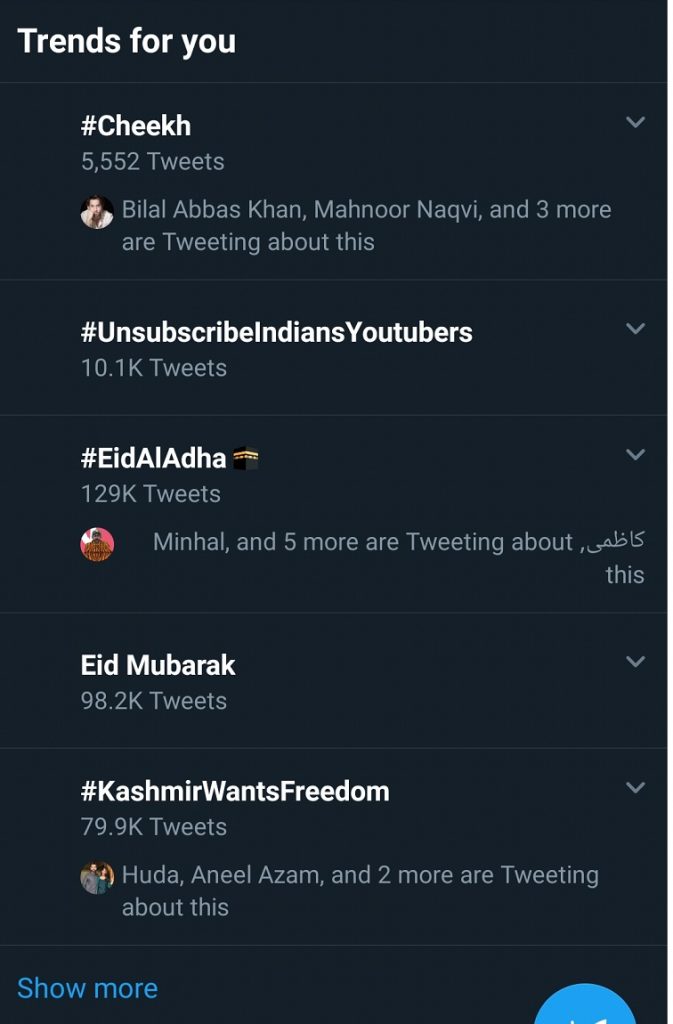 Saba Qamar, who brilliantly played Mannat shared how Cheekh was one of the hardest good byes for her:
How lucky I am to have something that makes saying goodbye so hard! ❤
Words are not enough to thank you all for loving Mannat and #Cheekh so much. Love and lots of loveee 💕#SabaQamar #Cheekh@bigbangent2 @badarmehmood01 @fahadmustafa26 @bilalabbas_khan@aijazz7 pic.twitter.com/osHEbC8F3N

— Saba Qamar (@s_qamarzaman) August 10, 2019
Bilal Abbas Khan who played the devious Wajih also took to twitter to say good bye to Cheekh:
Finally #Cheekh ended, another beautiful journey came to an end.. and with this it left a lot of memories and lots of things to learn from. It was an honor working with @sabaqamarzaman @BadarMehmood99 @aijazzaslam Shabeer Sir, @azekah.daniel Noor sir, @emmadirfani pic.twitter.com/iVoheQOoL8

— Bilal Abbas Khan (@bilalabbas_khan) August 10, 2019
The drama had so many lessons:
The whole drama #cheekh has so many lessons for oppressed people in a society. In order to be victorious, you have to go through sacrifices. It is not easy to prove righteous in a society where distinguishing between truth and falsehood are mixed as if milk and water.

— Waqar Ahmed Jamali (@WaqarAhmed6095) August 10, 2019
Someone please give Saba an Oscar already:
My girl did it. GIVE MY GIRL HER OSCAR. I LOVED THE ENDING YES. YES YES YES. #Cheekh pic.twitter.com/1GcHhka4j5

— . (@PAlNTERTAE) August 10, 2019
People were proud of the gems we have in our industry:
What an ending! Wow! Cried my eyes out. So proud of these brilliant actors we have in our industry! Bilal, Saba and Ijaz yarrr wow #Cheekh

— butwhy? (@cu_rious) August 11, 2019
The last few scenes had people tearing up:
THESE LAST SECONDS OF THE DRAMA, BILAL ABBAS KHAN IS DELIVERING HIS CAREER'S BEST, I AM TEARING UP BADLY😭#cheekh

— 🍁 || (@Sarahistic) August 10, 2019
I have never ever cried while watching a drama but cheekh 💔
What a great piece of acting by saba and bilal i really feel that this is an Oscar winning show.#Cheekh

— Mishaal Fatima Naqvi (@Mishaalfatima5) August 10, 2019
Such aur haq ki qeemat jhukani parti hai- @s_qamarzaman last episode of cheekh . Uff . I'm into tears 😭
I just can't stop thinking about the actual victims who go through so much in their real lives. May Allah give them strength to deal with it. #cheekh

— hania (@haniaamaad92) August 10, 2019
I AM DEADD AND I HAVE NO FUCKN WORDS TO DESCRIBE THIS GUY'S PERFORMANCE FLIPPP I HAVE NEVER CRIED THIS MUCH IN MY WHOLE ZINDAGI OKK LIKE WHATT IS THIS BEHAVIOUR MR. BILLAALL ABBBASS KHAANN#Cheekh pic.twitter.com/aXefC2BwtY

— ηѦґм℮℮η🍂 (@NarmeenMZ) August 10, 2019
Every character in the drama deserves a standing ovation:
Each & every character of this drama deserves standing ovation for doing such remarkable job..👏
The last 10 mins were So gripping!
I can't stop my tears yar…#Cheekh pic.twitter.com/NOffMbajlf

— Sana Lone (♥️کشمیری) (@SanaLone14) August 10, 2019
People were lauding  Bilal for his excellent performance:
These two the power house of acting. Without a doubt Saba Qamar is the Queen 👑 of drama industry. But I am amazed how Bilal has proved himself to be a versatile actor at the start of his career. Sky is the limit. He has a bright future. #Cheekh pic.twitter.com/MnrThFTFVX

— Amber Javed Malik (@AmberJavedMalik) August 10, 2019
Wajih delivered quite a speech at the end and I must say I got a bit emotional but man u know how it is. At the of the day, we all must reap what we sow, and on that note, bye to #cheekh and kudos to @bilalabbas_khan for playing wajih with such excellence. One of the best we have

— ɴᴏᴏr (@nxpapillon) August 10, 2019
Everyone was lauding Saba for breathing life into Mannat:
Show me an actor whose acting is this powerful. She can mesmerized everyone without saying a word, just with her expressions. Give her 5 sceonds of screentime and she is going to steel all the limelight. ♥️ ♥️ ♥️ #Cheekh pic.twitter.com/jHaRCOagVZ

— Ahtisham Bhopal (@AhtishamBhopal) August 10, 2019
It had people believing in poetic justice:
The God above knows everything. Agr Usne abhi tumhari rassi daraaz ki v hai to ye har giz mat samajhna k vo kabhi kheenche ga ni. He's the greatest judge of all. Turth can fade for a time being but it never hides. In the end it conquers and vanquishes those at fault.#Cheekh pic.twitter.com/vpAILMNKhp

— Miffi. (@MiffiRants) August 10, 2019
People just couldn't get enough of it:
Congratulations! #Cheekh was such a refreshing change in drama industry. The grip on the plot and the strong characters made cheekh a super hit. We need more such dramas please.

— Rana Ahsan Kamal (@RanaAhsanKamal1) August 11, 2019
Nighat Dad too shared how the drama was an accurate representation of the judicial system in Pakistan:
Cheekh drama serial is actually the real face of our justice system case in point #QandeelBaloch

— Nighat Dad (@nighatdad) August 10, 2019
Some were convinced that there is no actress better than Saba in the industry right now:
You vs the girl they tell you not to worry about #Cheekh pic.twitter.com/XuAiwD3qOR

— zainab qureshi (@xee_que) August 10, 2019
People loved the underlying message in the drama:
A perfect end with a message to read Quran with meanings…❤
Hats off to the acting of both @bilalabbas_khan and @s_qamarzaman 👌 #cheekh pic.twitter.com/qIk4zZ3CYx

— Hiba Amir (@_HibaAmir) August 10, 2019
Cheekh is the change we all need in the industry:
We need more serials like #cheekh
Enough of those "saas bahu" & "romeo juliet" melodramas. Bring the morality screenplays back ! pic.twitter.com/e30uylWfox

— Aliza Ansari (@aliza__ansari) August 10, 2019
Some scenes stay with you forever:
wajih & hayas last scenes are going to haunt me for a very long time.#CHEEKH pic.twitter.com/3NK1gHfdEl

— bilal's wife, ruks.♔ (@chandikiguriya) August 10, 2019
Needless to say Cheekh is a drama that will rule our hearts for decades to come! Have you seen the last episode yet? What are your thoughts on the ending? Let us know in the comments below!