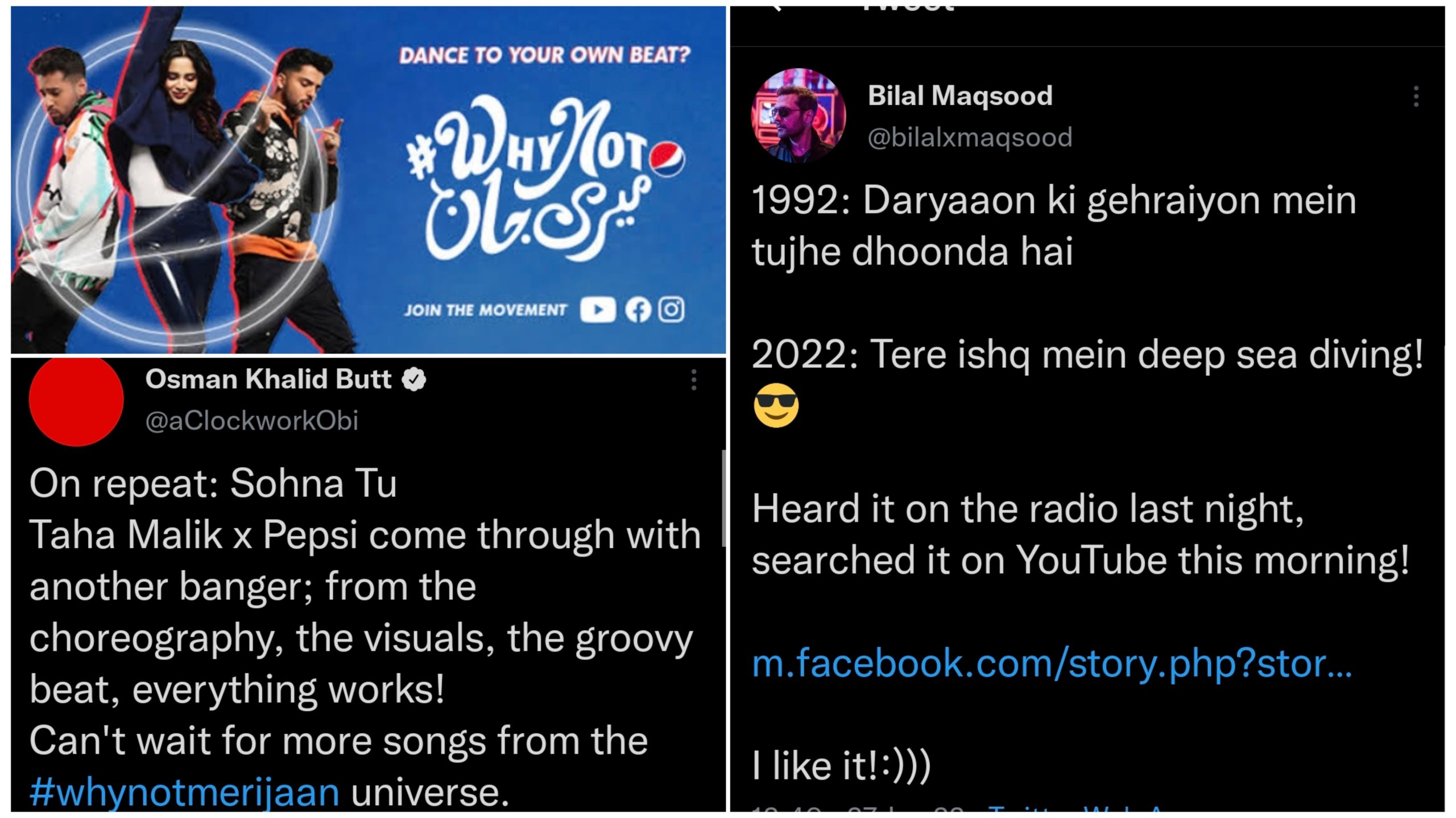 After having the entire country sing along to the iconic Why Not Meri Jaan, Pepsi is back again with another song Sohna Tu. Featuring Taha Malik, Aima Baig, Rozeo, HYDR and Javed Bashir, the upbeat number has become a hit among celebrities and fans who just can't get enough of the song!
Osman Khalid Butt who himself is quite the dancer loved everything the song had to offer:
On repeat: Sohna Tu
Taha Malik x Pepsi come through with another banger; from the choreography, the visuals, the groovy beat, everything works!
Can't wait for more songs from the #whynotmerijaan universe.https://t.co/XkRaZvAIgz

— Osman Khalid Butt (@aClockworkObi) February 2, 2022
Bilal Maqsood was amused by the lyrics and they took him back to the thought process he'd put in making one of his songs:
1992: Daryaaon ki gehraiyon mein tujhe dhoonda hai

2022: Tere ishq mein deep sea diving! 😎

Heard it on the radio last night, searched it on YouTube this morning! https://t.co/CUU6rEI43Z

I like it!:)))

— Bilal Maqsood (@bilalxmaqsood) January 27, 2022
Mansha Pasha heard the song too and instantly fell in love with the song:
Loving this new song Sohnu Tu by #pepsi directed by the amazing Kamal Khan 💕
Great video and so groovy! https://t.co/QZSzK135T9

— Mansha Pasha (@manshapasha) February 2, 2022
Self-isolating, Mansha posted it to her story as well to share how the song had her hooked!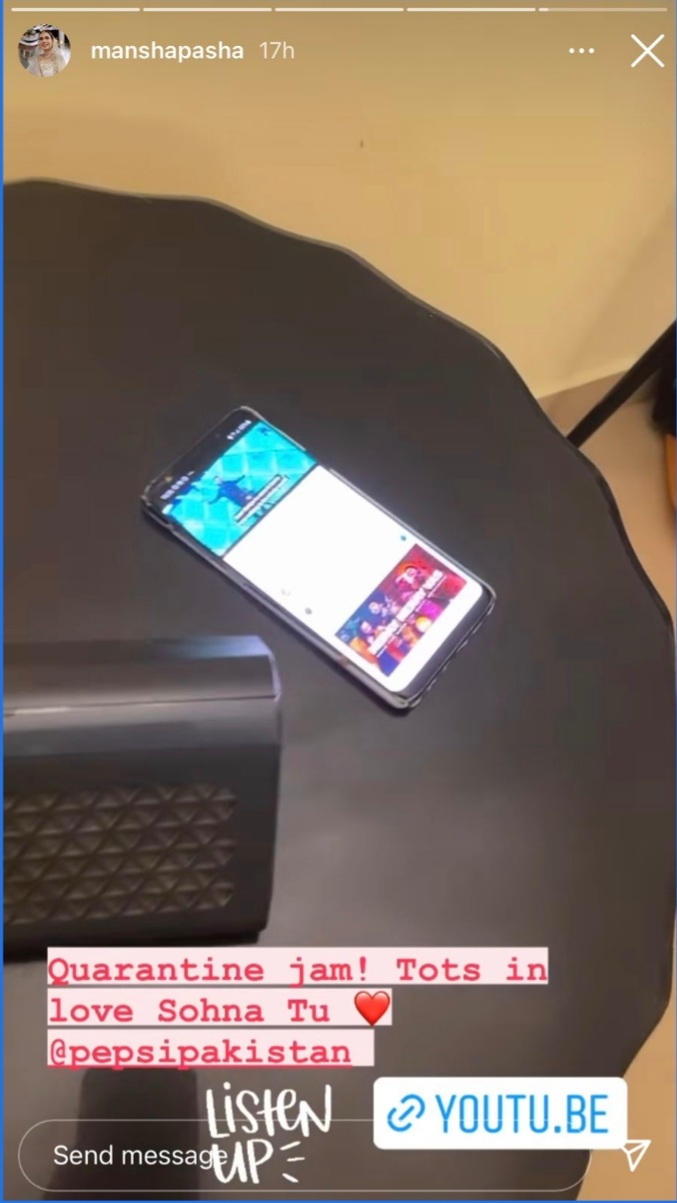 Anoushey Ashraf couldn't stop raving about it: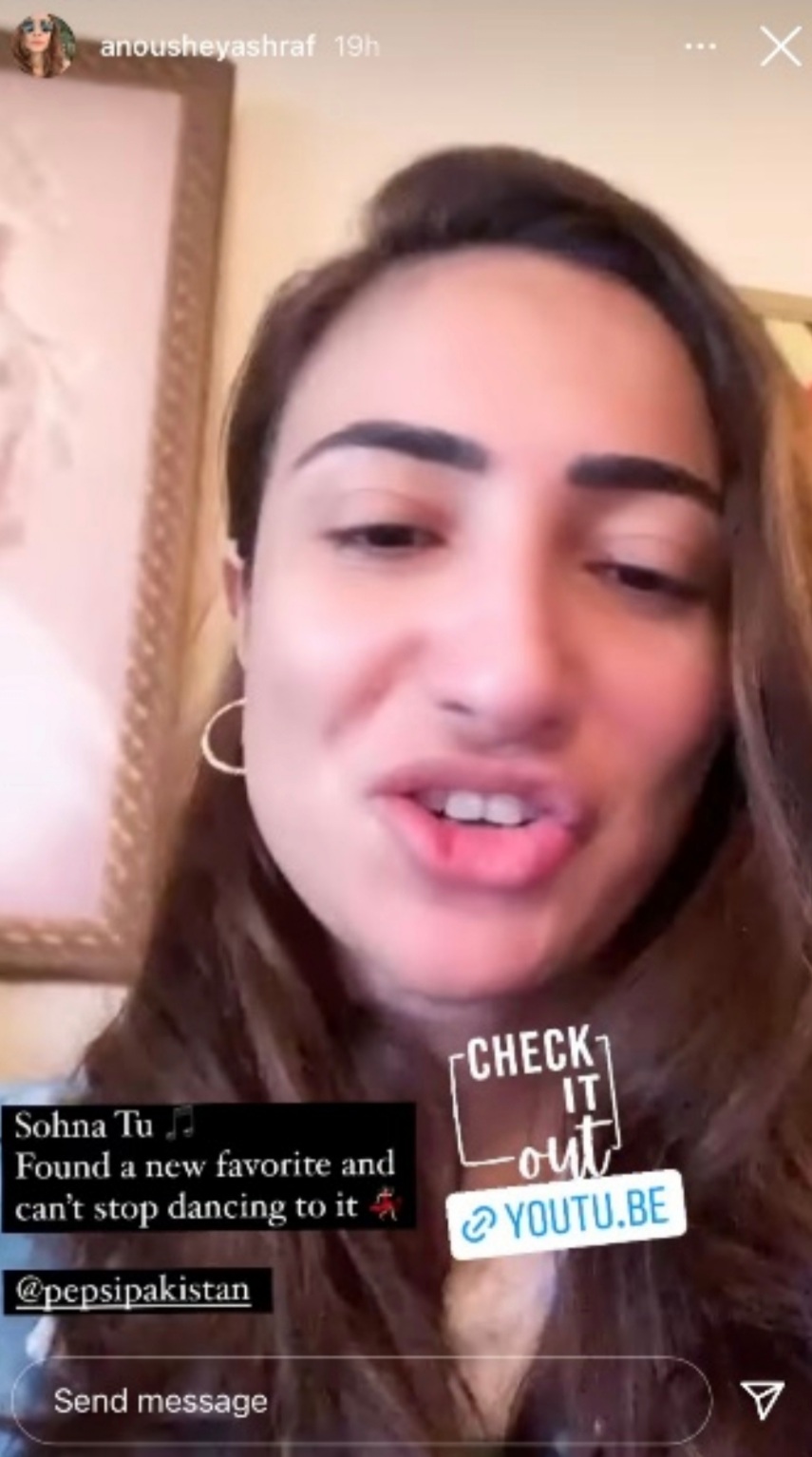 The pawri girl, Dananeer too, shared how Sohna Tu has been dominating her playlist: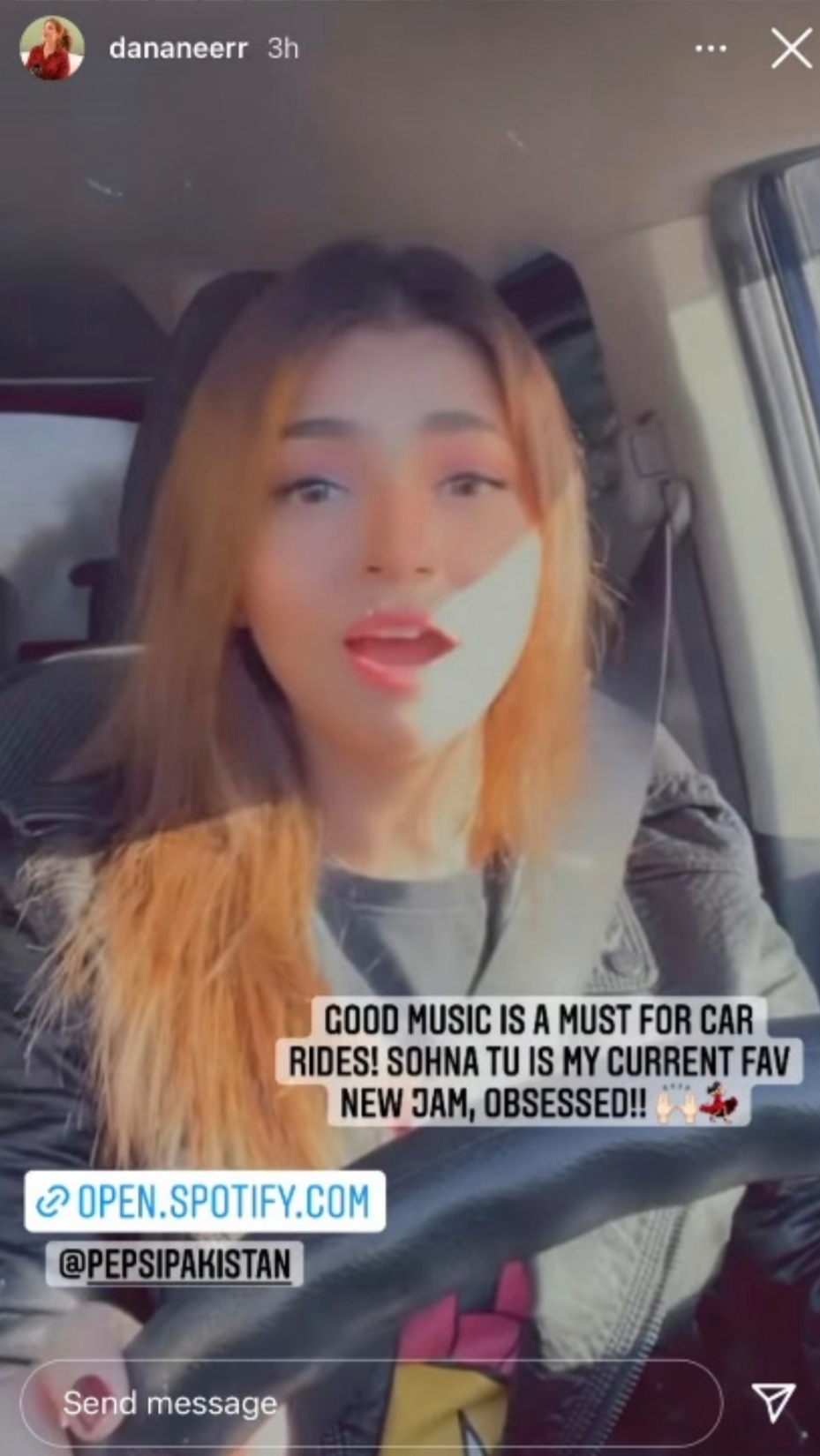 True!
We can generally depend on @pepsipakistan to convey infectious music – and they've done it again with Sohna Tu!#WhyNotDanceMeriJaan https://t.co/uOBJLXSMIn

— мя αzα∂💕 (@mrazaad_) January 19, 2022
People were impressed:
Another amazing musical magic from the @PepsiPakistan!!
Sohna Tu – featuring Aima Baig, Javed Bashir, Taha Malik, Hydr and Rozeo is full pack of awesomeness. #WhyNotDanceMeriJaan #SohnaTu pic.twitter.com/ZUGPbxaULA

— Shahjee Writes | #KK #QG | #SLGANaManzoor (@ShahjeeTweets_X) January 19, 2022
People were tweeting out their favourite lyrics from the song:
Kisey sohney utey asaan nhi marna
Sanu te sohna tu lagda ay 😕♥️

— åå§ȟȋ🖤|||Stan Shعzim🌎♥️||| (@Grim_Reaper84) February 3, 2022
We're totally on-board!
@pepsi if you're thinking about giving out some kind of award for the best promotional song then listen to this song, think no further, and give it to Pepsi Pakistan. They have literally nailed it. 👏

Just finished a Pepsi listening to it on repeat. 🤩https://t.co/v3eGliAYap

— Asad (@AsadAliKhan1981) January 30, 2022
Batao?
why is it always i love you & not "kisi sonay utay asaan nahi o marna, saanu tay sohna tu lagda aein"

— qalandar (@MohsinDotDot) February 1, 2022
Tweeple were busy singing along!
Saari dunya nu asaan ki karna saanu te sohna tu lagda ay

— Trash Can Central (@ZZoochie) February 3, 2022
saari duniya nu asaan ki karna
sanu tay sohna tu lagna ay

— 🇵🇸 (@eresuninutil_) February 2, 2022
Kisi aur nu asaan ki karna?
Sanu te sohna tu lagna aen! 🌚🤭

— Cleopatra. (@Missnotsonerd) February 3, 2022
Sari duniya nu asa ki karna???
Sanu te sohna tu lagda ain pic.twitter.com/kDa4Thxbuq

— Urwa Emaan (@Urwayy11) February 3, 2022
Pepsi has always been on top of its music game, from boomers to Millenials, and now making its mark in the hearts of Gen Z, Pepsi has always brought something fresh to the table revolutionising the music industry with collabs that one can only dream of and Sohna Tu is no different. With a beat that makes you want to get up and dance to lyrics that are impossible not to sing along to, to the contemporary pop vibe that the fusion has to the choreography, it's proven to be a great hit.
What did you think of Sohna Tu? Let us know in the comments below!