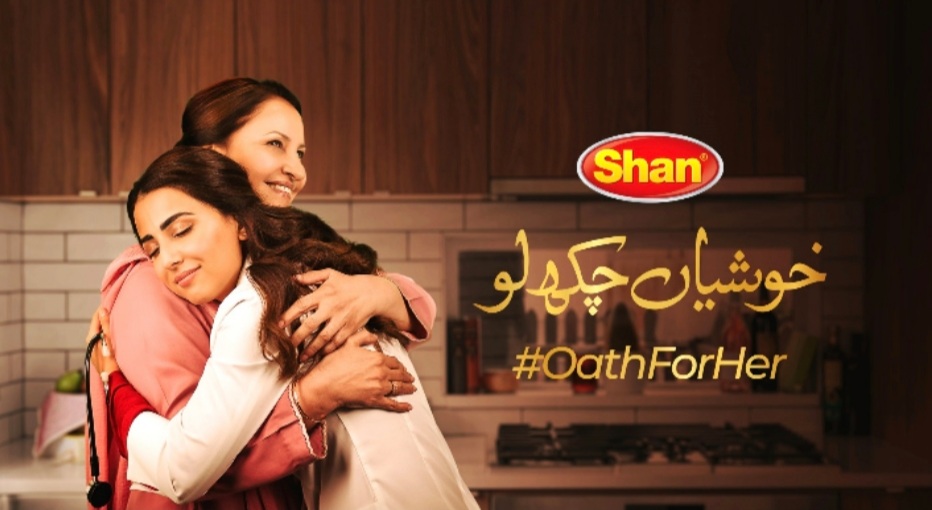 In today's world, women persistently work all day, performing household duties, taking care of their families. Sometimes, there is a lack of support by the society and even by their families, due to which they cannot make use of their professional degree if they wish to do so. Is the path to support women really a challenge or is it actually simple? This is the crux of Shan Foods new campaign.
The brand has roped in actor, Ushna Shah to nudge everyone to help prioritize a woman's choices, conveying it as "#OathForHer". The message: Shan supports women to make their own choices and appreciate them as more than just a cook.
The TVC unfolds with Ushna Shah taking an oath as a doctor for the wellness of humankind. Her husband and mother-in-law (Saba Faisal) are watching in the audience. Shah is shown as leaving her house, leaving her baby in the care of her husband and mother-in-law. Her mother-in-law is quick to realize that a female doctor isn't just a trophy wife, but someone who should be encouraged to go after her dreams. Therefore, she cooks foods easily using Shan's masala and surprises Shah at the hospital with the scrumptious food cooked using Shan.
Female doctors are an essential part of a nation's workforce. Reported by Pakistan Medical Association (PMA), it is unfortunate that 77% female doctors in Pakistan are unable to practice medicine after getting their degrees. The ad serves as a motivator for us all to stand by and support our female doctors in pursuing their careers. The brand has taken their TVC game to the next level. The ad evokes emotions and send out a huge message of not hindering the progress of a woman's career, if they wish to pursue it. It aims to break the cultural barriers and convinces us to redistribute responsibilities to everyone in the family, after all khana banana aur ghar sambhalna sirif aik ka kaam nahi hai. Clear concept, well defined theme and soothing music; the placement of the product with a beautiful message will surely benefit the brand.
Since 1981, Shan has built a legacy that has today made it synonymous with cooking. The fertile land of Pakistan has had a grand heritage of ambrosial flavours since times immemorial. Shan sources the best grounded, blended spices from every corner of the country to bring you the best.
Did our readers enjoy the latest TVC by Shan Foods? Have something to say about it? Share your thoughts in the comments section below.