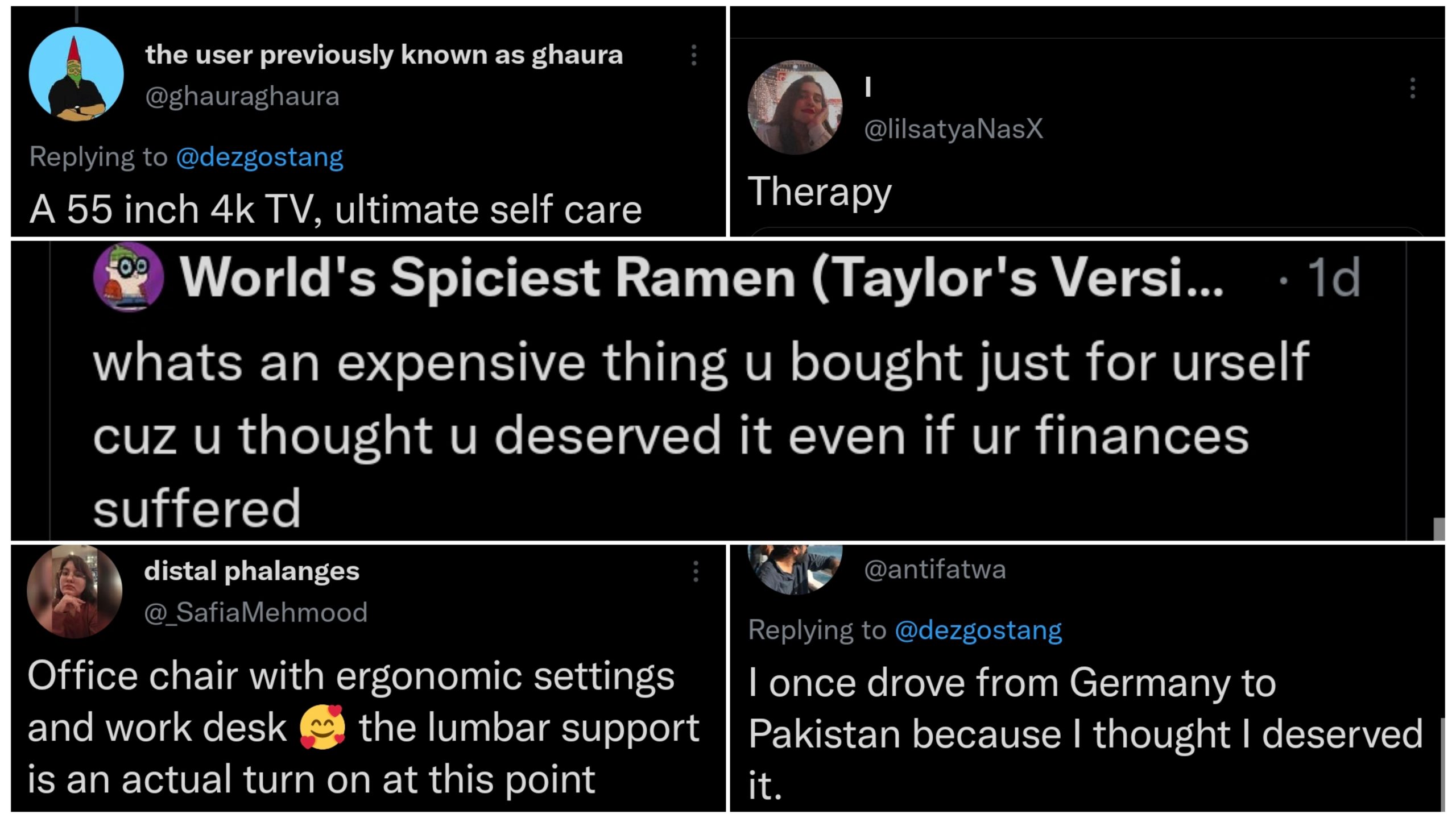 There's therapy and then there's retail therapy, and while the after effects of the latter are hard to bear, the pleasure it brings you is immeasurable. A tweeple asked fellow Pakistanis of the most expensive thing they'd gotten for themselves:
whats an expensive thing u bought just for urself cuz u thought u deserved it even if ur finances suffered

— World's Spiciest Ramen (Taylor's Version) (@dezgostang) February 1, 2022
And the Pakistanis have spoken!
A 55 inch 4k TV, ultimate self care

— the user previously known as ghaura (@ghauraghaura) February 2, 2022
Uhhh…
I once drove from Germany to Pakistan because I thought I deserved it.

— Kiyun Anon (@antifatwa) February 2, 2022
Lmao 🤣
drug addiction

— rants (@RantsPakistani) February 1, 2022
I wanted one so bad!
u know the rose preserved under a dome of glass in beauty and the beast? i bought a whole magnificent golden pendulum clock with latin numbers encased in a glass dome like that (i could take it off too). and then i broke it after 2 weeks..

— ♃ (@gas1ight3r) February 1, 2022
Yaaaas!
got my hair dyed. twice.
leather jacket.
This set of really expensive clothes that made me rlly broke for one whole month

— Rubab Qizilbash (@rubabcant) February 1, 2022
That's my girl!
A diamond ring from Damas just before my wedding because by that time I had come to the conclusion that my husband ain't getting me that for mun dikhai.
Bruh, I treated myself with mun dikhai gift that I actually wanted and spent more than half of my savings. No regrets. https://t.co/1va8AcfPT7

— . (@ItsMadDar) February 2, 2022
If only we could save up for one too!
my iphone + airpods 🤧🤧👎🏼👎🏼 https://t.co/kU3cAQcSZC

— deej (@paneeripatakhay) February 2, 2022
🤦‍♀️
A shahkar saari that I didn't even get made. Regretting it till this date lmao https://t.co/SAIZLyVOWs

— Sidra 🔮 (@sunflowermochii) February 2, 2022
SOML!
Literally everything i buy these days because im fkn broke🤣 https://t.co/6ynXjg3GgY

— Saheeb Ali (@Friesist) February 2, 2022
Ughhh, same!
Every Charlotte Tilbury item. I hate myself for wanting more https://t.co/3kcoWZR3uM

— S🪐//JUSTICEFORNOOR (@Meinkyakrun) February 2, 2022
You deserve it!
I bought an expensive punk necklace that I feel kinda guilty for, but I don't usually buy things for myself so I'm trying to be more good at being nice to myself 😌 https://t.co/lnwnj5lZ1q

— ari (is tired) (@worthlostt) February 2, 2022
😱😱
Lupin's wand from Harry Potter World Universal studios, Orlando FL 😔 https://t.co/nceGkRbqXs

— Asad Khan (@asadsaab_) February 2, 2022
Things that matter:
Office chair with ergonomic settings and work desk 🥰 the lumbar support is an actual turn on at this point https://t.co/EHWfYYpEPw

— distal phalanges (@_SafiaMehmood) February 2, 2022
It better write your assignments itself for you!
The 26k im about to drop on a fancy keyboard this week will probs be added to this list… https://t.co/VbYnVgbz9B

— Exam Szn Sporks (@spa45rky) February 2, 2022
Hehe!
my skincare evry few months <3 https://t.co/g2rTZ28zfa

— multan sultans fans only (@erajisnot) February 2, 2022
Food is life!
A burger https://t.co/4tOikZ1rU7

— hoe (@_hajihussain) February 2, 2022
2 cheesecake slices https://t.co/EWP8wZ62dt

— usmãn (@babyloniian) February 2, 2022
Same 🤡
a spotify subscription https://t.co/RKDOsgMrNW

— راشد (@fumblecrest) February 2, 2022
Whatever floats your boat:
I bought a polo and a Tommy jacket from the outlet malls. ate ramen noodles for the next two weeks. totally worth it. https://t.co/6cVcgdyyCx

— sugar kaka (@sugar_kaka) February 2, 2022
🥺
These beauties 😻 https://t.co/OWicnVN5JQ pic.twitter.com/0b5yS3oubi

— alimanzar (@alimanzarkhan) February 2, 2022
10/10 would recommend!
A vacation to Turkey. Will. Never. Regret. It. https://t.co/yeEAutS2cm

— FM (@fatimah_withanH) February 2, 2022
Oh:
Can't think of anything. I buy books like an addict but never something too posh. Anyway, there's nothing left after I've spent on the kids/house every month. 😩 https://t.co/x5RDzvisyY

— Paul (@mrithejester) February 2, 2022
Money well spent!
Therapy https://t.co/I5iKjYxGEx

— I (@lilsatyaNasX) February 2, 2022
It's bomb!
Hourglass Ambient Lighting Palette and I have ZERO regrets 😍 https://t.co/Fn4ml3VZyM

— 🌻Bissmah Mehmud (@bissmahmehmud) February 2, 2022
The Anastasia Beverly Hills Modern Renaissance https://t.co/DzRyBRpgnw

— Meph⚓ (@UnitedsFreak) February 2, 2022
😭
Finances hain hi nahi suffer pata nahi kab hoga https://t.co/lXGC5Yd3TC

— Zain (@zainnadeemm) February 1, 2022
What's the most expensive thing you've ever spent on? Let us know in the comments below!