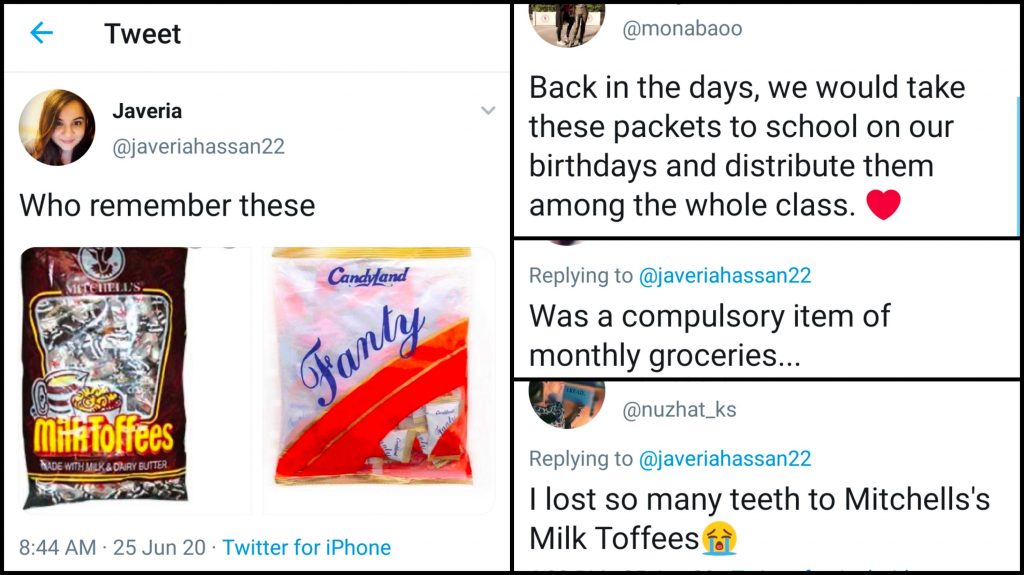 Remember how we used to spend all our money on random chips and toffees as kids?
This girl is taking the internet down the memory lane asking people if they still remember two of the most iconic toffees back in the days!
Who remember these pic.twitter.com/MI09pm75T7

— Javeria (@javeriahassan22) June 25, 2020
And of course, the internet remembers it all!
Mitchell's, Eclairs, Aamrus, pan pasand ❤️❤️

— Alaca kuş 🐦 (@Hussainiya_t) June 25, 2020
I swear man, always had us fearing that we'll break a tooth or two:
They still available in Market the funny thing is Mitchell's toffes is still that hard that it can break your teeth .🤣😜

— Sehrish Ashiq Diyal (@SehrishDiyal) June 25, 2020
Kya din the!
Back in the days, we would take these packets to school on our birthdays and distribute them among the whole class. ❤️ https://t.co/HwZO4eSuHv

— monaybaba (@monabaoo) June 25, 2020
Haha, we used to call it michis too!
Children used to call it michis in my area.

— دانش کلیم (@Danish_Kalim_1) June 25, 2020
God I loved Mitchell's.. or popularly known as *Mitchezz taffy*

— Rana Hasnain (@RaNaHaSnAiNsays) June 25, 2020
Facts!
The people who ate these have huge dentist bills now. 🥺😭 https://t.co/1vFW2U0yKH

— وصّی (@thefakebeardo) June 25, 2020
There's absolutely no arguing with that!
Mitchell's was and is Undisputed Queen of Candies 🍬…. End of Discussion.

— Malik Danny 🏴‍☠️ (@danial_daud43) June 25, 2020
People were sharing how they still love eating them:
Still eat them 😊😊

— Ruman Bilal (@rumanbilal) June 25, 2020
Magar khani zarur theen:
Toffees that'd either stuck in your teeth or give your tongue a cut. I do remember yes https://t.co/0QzaGhold3

— 'Tis Craziness (@AnqaGharshin) June 25, 2020
Hahahahahaha:
I lost so many teeth to Mitchells's Milk Toffees😭

— Nuzhat Shaikh (@nuzhat_ks) June 25, 2020
The milk toffees tried to break my teeth several times

— Mobeen Shafaat (@mobeenshafaat) June 25, 2020
Haina?
What colorful innocent bachpan we had 😩

— Shahreen Javed (@shahreenjaved) June 25, 2020
Heyyy, no one's ever too old to not have candy!
Don't remember actually when these launched I was too old to have candles

— شاھد حفیظ (@Shahidbetech) June 25, 2020
Would you even call them a 90s kid if they didn't remember these?
How can someone from 90's forget those 😍

— SHAH RUKH MALIK (@iamsrkmalik) June 25, 2020
Nothing but facts:
EVERYONE!!! Mitchell's >>>

— corleone (@bilberkeley) June 25, 2020
That's the energy we want in 2020:
I still ensure that my stock of these doesn't end 👀

— Rizwan Saigol (@RizwanSaigol) June 25, 2020
What kind of kid were you? Quality over quantitiy or was it the other way round?
Fanta sweet 25 paise ki 2 aati thee aur mitchels 25 paisa ki 1…

— خرم حمید بٹ (@Gulbakaoli) June 25, 2020
Oh boy, these were out of the world!
And this one 🤤🤤🤤 pic.twitter.com/xzihblJujk

— Azka (@A1992313) June 26, 2020
Choosing between Cola and Fanta was a tough choice!
There was a Coca Cola too. My elder brother used to bring me polka and yummy ice cream. Then Walls came. Choices weren't many, but people were happy. Also, population and massive tree chopping hadn't killed Lahore. There was so much flaura and fauna. Big trees, jugnu and ladybird

— Daniyal Ahmed (@DaniyalM416) June 25, 2020
Same 😭
I would do anything to get those milk toffees again 😩

— Na Maloom Khatoon (@FazilaAC) June 25, 2020
Exactly!
Was a compulsory item of monthly groceries…

— عاصمہ (@aian_meem) June 25, 2020
Hehe, raise your hand if you've done the same:
At least once in life I have dissolved the right one in water and pretended I was drinking fanta https://t.co/ADnHuMN6Qy

— burair (@zabiha__halal) June 25, 2020
Lmao!
the one on the left might be stuck in my daant somewhere https://t.co/GjIO4QYPsE

— tarbooza kharbooz (@nakaamrade) June 25, 2020
Stop 😭
It's 2004 and you're dustributing mitchell's on birthday among your classmates & giving some extra to your friends. Life is beautiful. https://t.co/KUYE78j3o4

— Nimra 🇵🇰 (@Nimmayy) June 25, 2020
What were your favourite toffees back in the days? Let us know in the comments below!