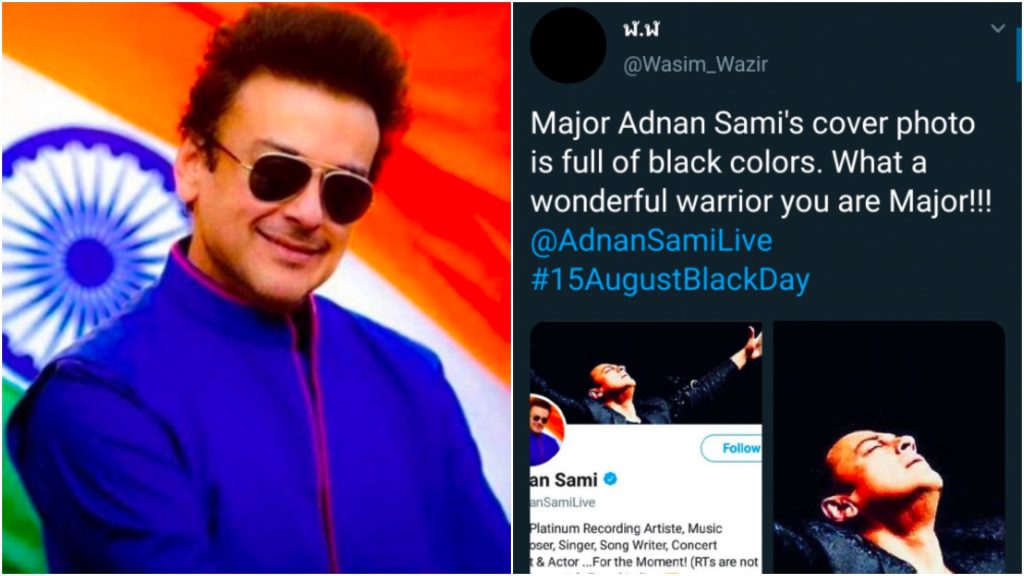 Singer Adnan Sami, who gave up his Pakistani nationality to obtain an Indian one has been the butt of Major Adnan Sami jokes for quite a while now. Every time there's a new political development, people start lauding Adnan Sami. And today as most Muslims are observing a 'black day,' to stand in solidarity with Kashmir, people have turned to trolling Adnan Sami as usual:
Major adnnan trying to make them believe that he is an Indian… Good work major#BlackDay15August #adnansami

— 2:45am (@muazzamch22) August 15, 2019
People picked out on subtle hints 👀
Major Adnan Sami's cover photo is full of black colors. What a wonderful warrior you are Major!!! @AdnanSamiLive#15AugustBlackDay pic.twitter.com/0rNzixi8Zl

— ฬ.ฬ (@Wasim_Wazir) August 15, 2019
And again, very subtle hints:
Thanks Major Adnan Sami for observing Black Day today with us by wearing black goggles. 😎🤭 Got your secret message😎#15AugustBlackDay pic.twitter.com/APnvcXfdpU

— Dr. Tabassum (@DrArshmah) August 15, 2019
Some wanted him to surprise India:
Adnan Sami come on buddy make some history and surprise the India #15AugustBlackDay

— جذباتی وکیل (@Advocate112233) August 15, 2019
Some deciphered his message and forwarded it to concerned authorities 😂
Beta91877-Delta211938

Roger that Major. Thank you for the update. It has been forwarded to the concerned authorities. Your hard will always be remembered. Pakistan Zindabad 🇵🇰 #15AugustBlackDay#AdnanSami#ThankYouMajor https://t.co/pyZaFjGIAM

— Hamza Azhar🇵🇰 (@M_HamzaAzhar) August 15, 2019
Many tried exposing him, but the haters thought it was photo shopped:
This was the real DP of Major Adnan Sami but for the sake of his duty he changed Pakistani flag with Indian flag. We are proud of your intelligence Major!❤#15AugustBlackDay pic.twitter.com/YhGOBc8VTS

— Yousuf 🇵🇰 (@iamyousufnoor) August 15, 2019
Some came at him with straight up facts but thank god the Indians didn't buy it, phew!
Dear Indians, Adnan Sami's father was in PAF and killed many Indians in 1965 war. If you don't believe me google Arshad Sami Khan. It is true Adnan Sami really is a high level ISI agent🔥💥
Well done Adnan#15AugustBlackDay @AdnanSamiLive #AdnanSami pic.twitter.com/JJrZmOSj5j

— KainatFatima.Official (@kainataawan1) August 15, 2019
These exposing games need to stop!
Rare picture of Major Adnan sami in his pak army uniform. Proud of you, agent
.
majoradnansami #MajorAdnanSami#BlackDay15thAugust pic.twitter.com/x0MhczlpNp

— Hasan🇵🇰 (@hasanoverhere) August 15, 2019
Agreed, promotion toh banta hai:
i think after all this hardwork and his countless services of #major #adnansami .his rank should be promoted @AdnanSamiLive

— Shah Durrani (@Ahmedshahdurr) August 15, 2019
Some reminded him to stay undercover:
Please Control your emotions Major Adnan Sami#AdnanSami pic.twitter.com/jDOpEdpZtj

— Sumaira wakeel (@sumaira_wakeel) August 15, 2019
Some were feeling bad for him:
Funniest part of Pak-India tension is that everytime its Adnan Sami who has to repeatedly prove his loyalty with India.
He knows very well that RSS goons are closely reading his words. A single hint of doubt and he'll be taken out like a stray dog he already is.@fourvoyagers

— Maverick || YUCK FOU || (@KaisOrk) August 15, 2019
Even Aamir Liaquat played along:
Hamza please tell Arnab Go-Soami that we have already sent an undercover agent Major Adnan Sami. Arrest him fisrt;) https://t.co/69IwsrTe8N

— Aamir Liaquat Husain (@AamirLiaquat) August 15, 2019
People were proud of him:
Major Adnan Sami is doing good work in IOJ&K cause. Pak Army Proud on our Trained soldiers. #majoradnansami #15AugustBlackDay

— Zaheer Ahmad (@MZaheerAhmad) August 15, 2019
Some thought he shouldn't be given any importance:
Dont know why adnan sami trnd….. why we give him that importnc he is a 3rd clas guy #adnansami

— pakistan (@tootyfruity101) August 15, 2019
What do you think about Major Adnan Sami and his services to Pakistan? Let us know in the comments below!