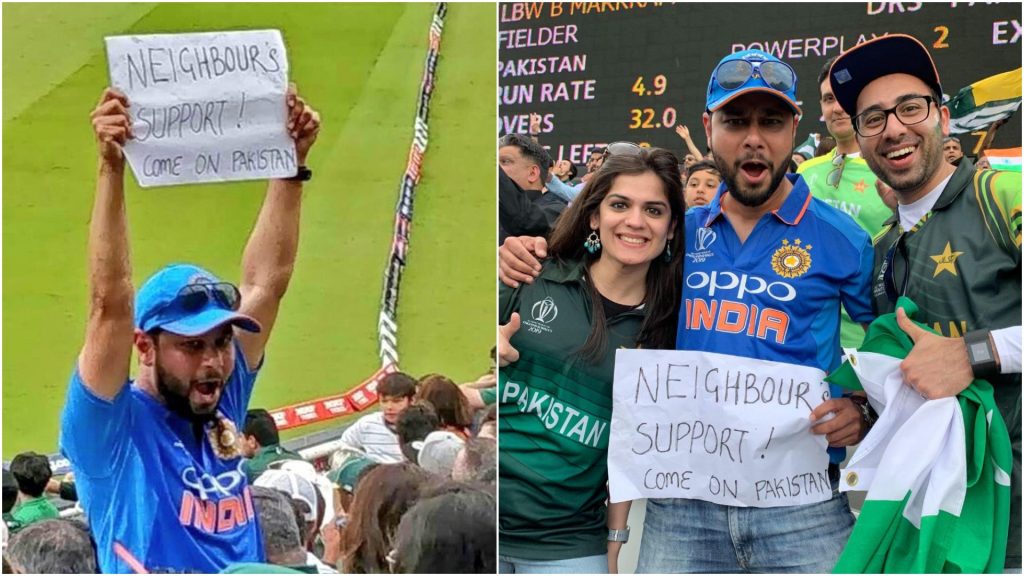 As the World Cup continues in all its glory, the team and their loyal fans have not left their sides. Yesterday, during the Pakistan VS South Africa match, there was a fan from India who came to watch the match and support Pakistan. And people are moved by the gesture!
This guy. #PakvsSA pic.twitter.com/JgWxZfWl1u

— Ammara Ahmad ਅਮਾਰਾ ਅਹਿਮਦ (@ammarawrites) June 23, 2019
Yaaas, brother!
This is called brotherhood no more politics love and peace for both the nations 💞
Well done #Pakistan for a great victory hope this momentum should carry on #PakvsSA #WeHaveWeWill pic.twitter.com/8vBt2FmTq2

— Muhammad Zain (@m_xani) June 23, 2019
And while there were a ton of supporters in the ground singing dil dil Pakistan:
MASHALLAH ALHUMDULLILAH SO PROUD OF OUR TEAM! The atmosphere was just so different today! 🇵🇰❤️😭 #PAKvsSA pic.twitter.com/ONG9PQgwvd

— ANZ♡ (@Barunsbaby) June 23, 2019
Many were cheering and chanting for Amir:
'Amir, Amir, Amir, Amir ……. Goosebumps 🇵🇰 The moment the #Pakistan cricket team made fans jump for joy 🏏💚🇵🇰 #PAKvSA #CWC19 #PAKvsSA
Vc : insta pic.twitter.com/KIoJLXVpaZ

— Shagufta 🌸 🌼 🇵🇰 (@shaguftakaira) June 23, 2019
Even Malala Yousufzai was there to support the team:
Very patriotic bunch @aliktareen Always there when their team needs them and @Malala feel free to ask any question on cricket 🏏 happy to answer #PAKvsSA @HomeOfCricket pic.twitter.com/vht1tHnFfU

— Waqar Younis (@waqyounis99) June 23, 2019
And Ainy Jafri:
And those who couldn't attend the match were all supportive too!
We did it!!! A real thrilling performance. Nobody has the ability to bounce back like our team. Great answer to the doubters,haters and the nay sayers . Well done boys in green. Keep making us proud !🤩🇵🇰#PAKvsSA #CricketWorldCup19 #PakistanZindabad

— Mehwish Hayat TI (@MehwishHayat) June 23, 2019
Remember this guy from the last match? 😂 pizza, burgers mei bhi protein hota hai, carbs hotay hain!
Meanwhile… no matter what, always winning at humor! Once again congratulations to our team 🇵🇰🇵🇰 #SAvPAK pic.twitter.com/cHprPcGaLp

— Mahira Khan (@TheMahiraKhan) June 23, 2019
Indeed we are one of the most unpredictable teams in the World Cup! Go teammm!