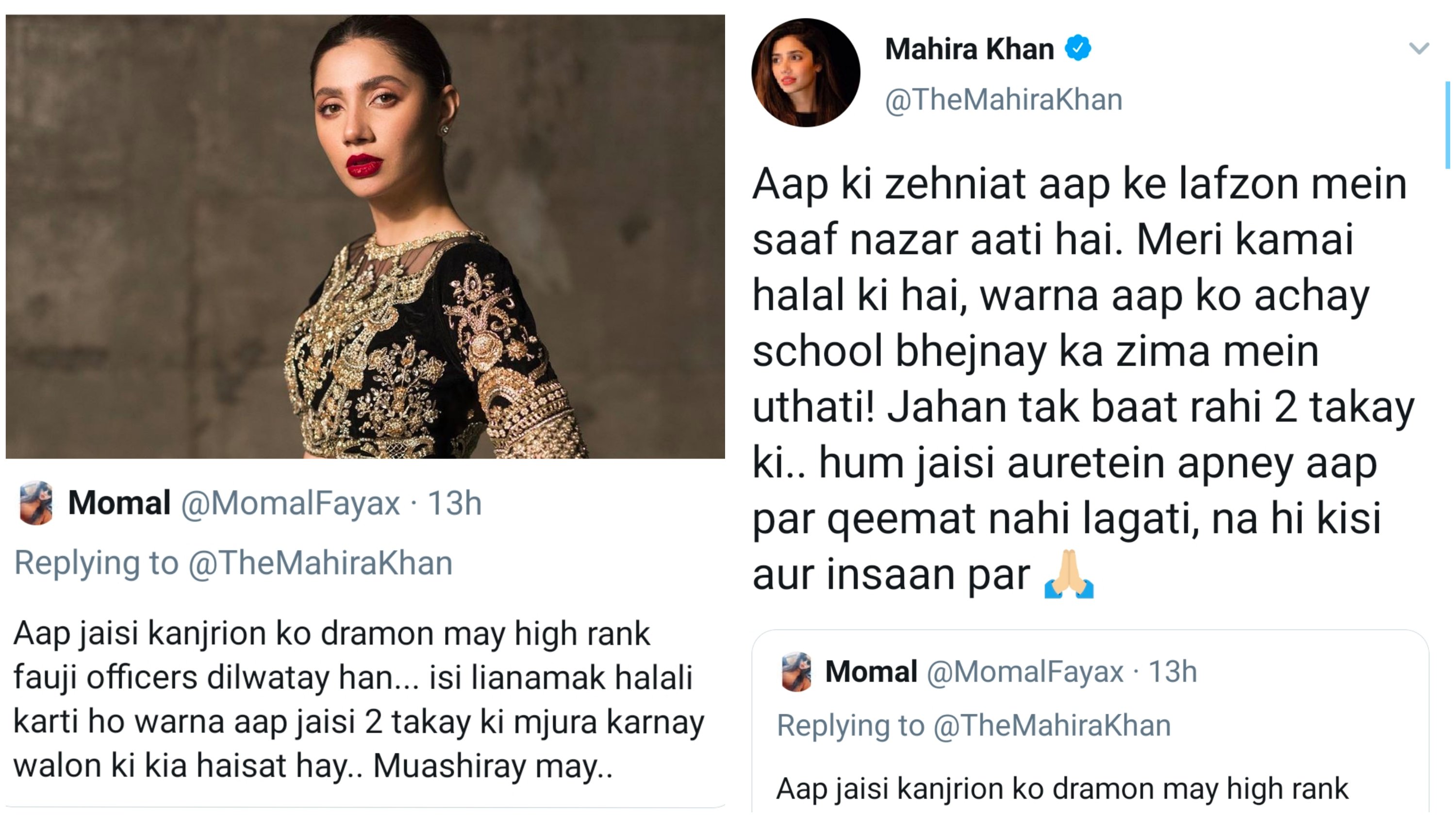 Following the current situation in the country, Mahira Khan took to Twitter to share how she was feeling about it:
Yehi toh rona hai.. keh Allah ki laathi beawaaz hai. Awaaz aani chahiye laathi ki.

— Mahira Khan (@TheMahiraKhan) December 19, 2019
And people had differing point of views regarding her tweet. And while most differing opinions were expressed with respect, one reply in particular was extremely disrespectful, calling her a doh takay ki aurat, probably inspired from Meray Paas Tum Ho:
Aap jaisi kanjrion ko dramon may high rank fauji officers dilwatay han… isi lianamak halali karti ho warna aap jaisi 2 takay ki mjura karnay walon ki kia haisat hay.. Muashiray may..

— Momal (@MomalFayax) December 19, 2019
And Mahira gave her a piece of her mind in the most savage reply:
Aap ki zehniat aap ke lafzon mein saaf nazar aati hai. Meri kamai halal ki hai, warna aap ko achay school bhejnay ka zima mein uthati! Jahan tak baat rahi 2 takay ki.. hum jaisi auretein apney aap par qeemat nahi lagati, na hi kisi aur insaan par 🙏🏼 https://t.co/BghSMGrgVC

— Mahira Khan (@TheMahiraKhan) December 19, 2019
People were proud of her:
Good response to this disgusting tweet We are all proud of you Mahirah

— Sadaf Haider (@tomtomatoe) December 19, 2019
This one's for all the Meray Paas Tum Ho fans:
So this is how drama dialogues impact people.. 🤔#TumMerePaasHo #DoTakayKiAurat

— ✨𝒜𝓎ℯ𝓈𝒽𝒶💫 (@mystifying_me) December 19, 2019
Some were sorry for the hate she was getting:
I apologize for all of the hate you've been getting. I know it must be hard but ignore the haters.

— Asad (@gostudyasad2) December 19, 2019
I'm so sorry that you get to face such creeps. Im really sorry. More love and power to you ❤

— M! (@mariyaboon) December 19, 2019
I'm so sorry for all the inappropriate remarks thrown your way… Sending you strength 🙏

— Anza (@Anzaa__) December 19, 2019
Shaan Shahid also schooled the troll:
Zubaan or alfaaz dono sai ap ka mayaar nazar ata hai.. bohat sharm a rahee hai apko Pakistani kehtay huway .. Mahira Khan is a Pakistani ⭐️ she has earned respect through her work .. learn to live with that #pakistanalwaysfirst

— Shaan Shahid (@mshaanshahid) December 19, 2019
Nadia Hussain too came right at the troll:
Allow me to correct you!!!! ye GUTTER jaisi zehniat SCHOOL se nahin, GHAR KI TARBIAT se aati hai!!!

— NADIA HUSSAIN (@NADIAHUSSAIN_NH) December 19, 2019
Humaima Malik had questions:
Kanjar kon hai jo kanjar khana karta hai yah dekhta hai lol ! Wah Pakistani awaam 🤲🏻🙌

— HUMAIMA MALICK (@HumaimaMalick) December 19, 2019
Absolutely!
MAM… YOU SNAPPED! Queen behaviour

— .co.jk (@notsoyng) December 19, 2019
Even people who used to dislike her and disagree with her admitted how this was a sensible tweet:
I have started liking you now. This was a very sensible and decent reply to a very provoking and abusive comment. Though I do not agree to your opinion on Court verdict,but I admit your right to have and express your opinion on any issue.

— Sajid (@Sajedikbal) December 19, 2019
The Queen we stan!
Mahira, I'm really very sorry you had to read this. People have no sense of proportion and have absolutely no ethics. The choice of words is disgusting, let alone all the false and instigating stuff she's written. I'm so glad you have given her the right answer, Queen MK 💞 ILY

— abeera. (@abeerayy_19) December 19, 2019
Hina Khwaja Bayat too lauded Mahira:
Proud of you Mahiroo. Shukr hai keh aap Pakistan ki numaaindagi kertee hain, aisi ghaleez soch wali khatoon nahin.

— Hina Khwaja Bayat (@HinaKhwajaBayat) December 19, 2019
Jo baat hai!
When you mess with the wrong actress.

— Severus (@HassanRonaDaldo) December 19, 2019
What do you think about celebrities being judged this way? Let us know in the comments below!