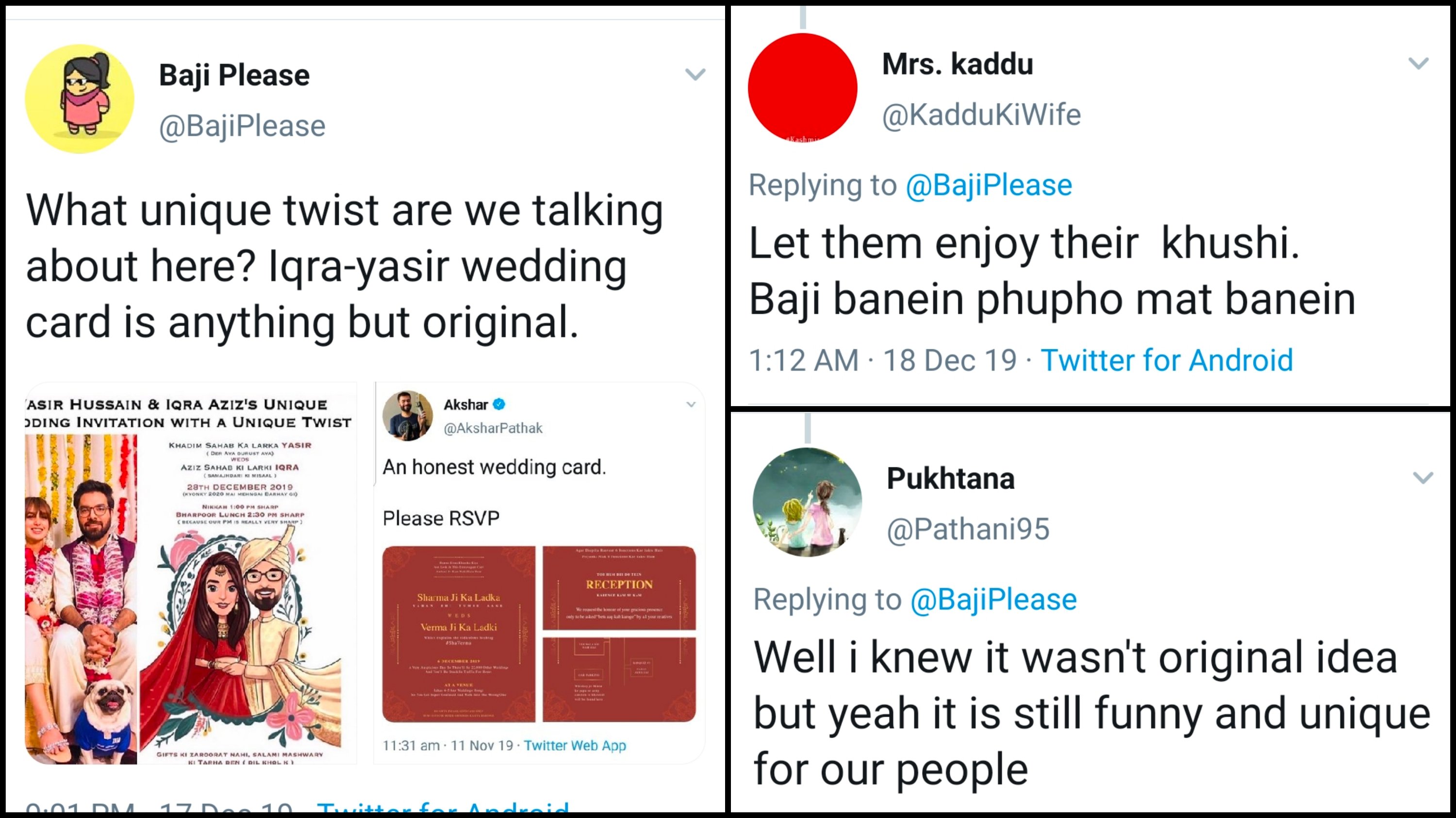 Iqra Aziz and Yasir Hussain's wedding cards have been going viral all over social media and people are finding it very unique!
And while many were loving the little twists the card had after every line, some were not amused at all:
What unique twist are we talking about here? Iqra-yasir wedding card is anything but original. pic.twitter.com/fyzZTqqsQ8

— Baji Please (@BajiPlease) December 17, 2019
And people were divided about it:
Didn't know that being inspired from social media ain't a thing. All those food recepies, home decor ideas, DIY videos being copied out there. Tsk tsk
People cut them some slack please. https://t.co/GvYUrXZDAQ

— fudge (@agirlnamedfajar) December 18, 2019
Some shared how Pinterest is full of such cards:
I can give 100 links from Pinterest here with same stuff , I find it very cheesy …

— sheems (@sheems20) December 17, 2019
Some were calling her a Phupho:
Let them enjoy their khushi.
Baji banein phupho mat banein

— Mrs. kaddu (@KadduKiWife) December 17, 2019
Baji Aap ab phuphi bana rahi hain. Bas kar den. Logon ko Khush rehne den https://t.co/tmpiiQP2Ev

— Reema (@SyapaaGirl) December 18, 2019
Some were missing their dog:
Where the hell is that dog in this Shadi Card🙄 pic.twitter.com/JmPdWvk1bR

— شاہ زیب اعوان (@imzabimalik) December 17, 2019
Some just wanted others to be happy:
people like this baaji really disgusts me, can you'll be happy for someone for once? even if you're not can you please fake it? Stop showing negativity its almost 2020.
Also they copied the idea not the card or their words https://t.co/RkVklqtJZq

— Syeda Alishah Zehrah (@alyyyshaaaa) December 18, 2019
Agreed!
Well i knew it wasn't original idea but yeah it is still funny and unique for our people

— Pukhtana (@Pathani95) December 17, 2019
Kuch toh direct industry tak pohanch gaye:
Na inn se films banti hain na shadi cards.. creativity k naam pe dhabba hai hmari entertainment industry..

— گرم آنڈے (@realarsooo) December 17, 2019
Shots were fired:
And you were born whatever you are? Nobody influenced you to be an influencer? https://t.co/YdD90yBDom

— Sara (@saradotdotdot) December 18, 2019
Some were all for 'live and let live' mantra:
STOP BEING NOSY AND LET PEOPLE BE https://t.co/3NcYGlKs3t

— Anam. (@annuuumm) December 18, 2019
People were loving the card regardless of the originality:
Why so jealous. Even if it is not original idea n copied but still I loved that card

— YASIR NISAR SYED (@YasirNisarSyed) December 18, 2019
Some were sick of people finding negativity in everything:
Shaadi na krein tab bhi masla?
Shaadi kar rhy hain ab card sy masla?
Aakhir ye awam chahti kya hai.

P.s.I am not a fan. https://t.co/Tvlevgimj8

— misanthrope. (@thedeepsoul__) December 18, 2019
Oh wow…
Ye shodiaan saraiki apne shadi cards mei 10 saal pehly maar chuky hain

Do something we didn't ✌️ https://t.co/5uF7Ui4Jfc

— Mohammad Nazish (@pirzadayyy) December 18, 2019
What do you think about their wedding cards? Let us know in the comments below!