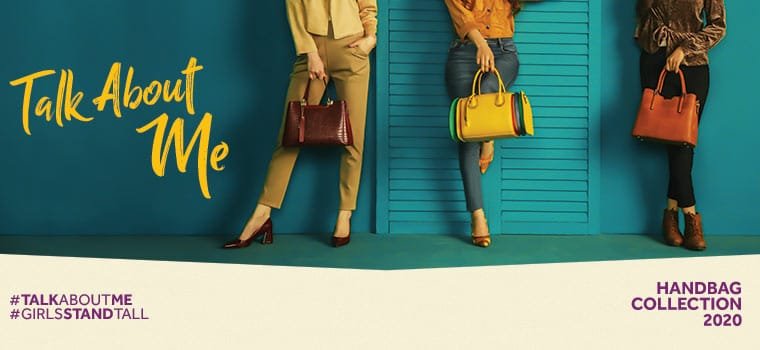 Stylo has the right traits that never fail to catch the attention of its target group. Its customers wait for its creative, hortatory, and purposeful advertising campaigns as much as they wait for its new collection. The communication that Stylo takes up to convey its message always holds a strong narrative in which the ideology of the brand reflects like sunlight on a crystal surface.
This time again, with the launch of its elegant and modish Handbag Collection 2020, Stylo has given a reason to everyone to "Talk about it". The campaign name "Talk About Me" itself is a bold statement and so are the lines followed for the representation of the message.
Bold and solid backgrounds paired with Stylo's bags, which are both in subtle and vivid colors, is an undoubtedly unique direction snapped up by the brand which is not only making its product stand out but is visually gripping as well. As we look into the range that has been shown in the campaign, it can be said without a doubt this collection of handbags are a good blend of style, size and colors and can perfectly complement a girl's daily, semi-formal or formal look because of their design and chicness.
Stylo leaves no stone unturned to inspire girls to stand tall in every walk of life. When a girl takes a stand for herself, it takes strength. Stylo through the "Talk About Me" campaign is the voice of a girl who takes a step to stand tall. That girl is now no more afraid of the narrative that the society is going to build of her but with utmost bravery is asking them to talk about her as she has given them a better topic with her classy style statement to converse about. Because a Stylo Girl knows how to mute the noises that try to hinder her progress and that she does with valor while keeping up her voguish self.
For an impactful and heads turning grace, pick from Stylo's wide range of handbags and let the people talk about you!
Watch the Stylo Handbags DVC here: