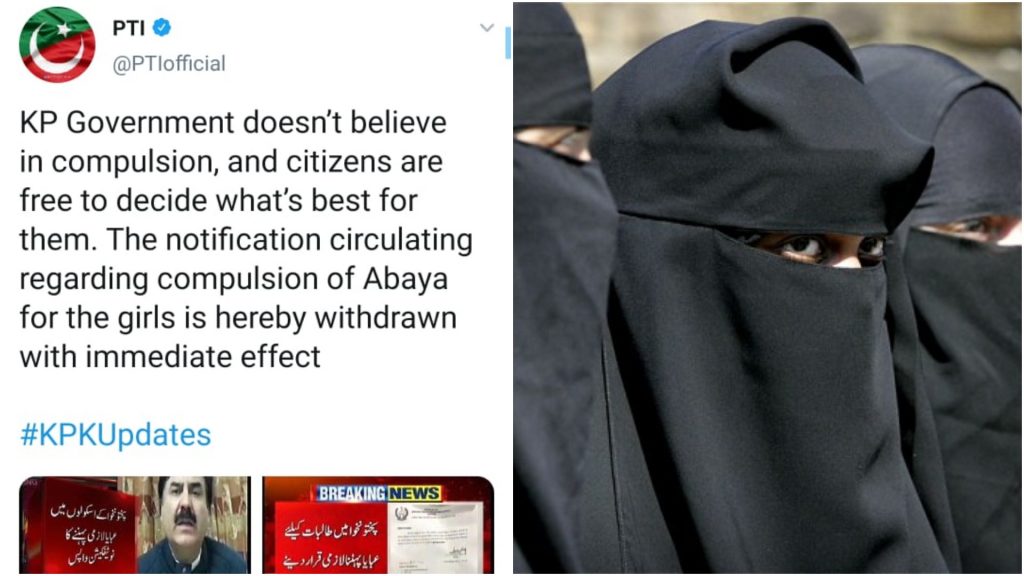 A notification was passed by the KPK government making it mandatory for school girls to cover themselves properly with an abaya to avoid any unethical incidents.
But it received a lot of backlash from people:
Abaya made mandatory in #Peshawar girls schools. Instead of going after harassers & penalizing them, #KP govt is repressing victims. Abaya is not part of school uniform & govt has no business regulating students life outside schools. pic.twitter.com/A1uHxodBn4

— Manzoor Ali (@Manzoor) September 16, 2019
People found it to be extremely bizarre:
Beyond bizarre. Ridiculous notification by Pakistan Govt in Peshawar asking school going girls to wear Veil/Gown/Abaya and cover up selves in order to protect them from any 'unethical incident'. Change mindset of the society and those in power, not innocent school going girls. pic.twitter.com/mGFZMB0TWE

— Aditya Raj Kaul (@AdityaRajKaul) September 16, 2019
Nadia Jamil shared how it's the mindset that needs to change:
I respect women who wear burqa &/or who do not.I respect women 4 who they are,not 4 what they wear.If they choose 2 wear an abaya because they believe it 2 be right,more power 2 them.If they choose 2 wear less,their choice.Let none be fooled in2 thinking clothes stop sick rapists

— Nadia Jamil (@NJLahori) September 16, 2019
Singer Shehzad Roy too came forward and addressed how the men need to change:
Girl students wear dupatta, carry heavy bags, can't play proper sports because what they wear. Now Government want these girls to wear Abaya and chador so they are not harassed. Change conditions and stop changing these girls https://t.co/KAJGt8iLBX pic.twitter.com/luTNctc51E

— Shehzad Roy (@ShehzadRoy) September 14, 2019
People came forward and shared how men still hoot at women regardless of what they're wearing:
Though I support abaya&hijab.All women in my family observe pardah,but dont think making it mandatory wil make things any easier4girls.I've even seen boys hooting@girls wearing abaya,naqab,socks&even gloves in summer in Peshawar uni. Men need counselling more than girl need abaya

— Maverick Khan (@maverickkhan19) September 15, 2019
Some called it a publicity stunt as most of the women in KPK wear abaya:
Its is a cheap publicity stunt,
The notification is issued for Peshawar city,where 99.99 % females cover them selves either with chadar or abaya or veil,
ensuring punctuality order has been spiced to cover up order😐 pic.twitter.com/5i1TPAfmgc

— سادہ گل® (@saada_gul) September 17, 2019
Some came forward to defend why such notification was issued in the first place:
Parents refused to send their daughters to schools without parda in maximum districts of KPK, it was revealed upon investigation into the causes why girls education is not prioritizing. This was the sole reason behind this decision

— Commoner (@noahalishah) September 16, 2019
A lot of people argued that dressing was a personal choice:
Today I am shaken by PTI Policy. Dress is personal issue. How can Gov Control. Looking at this News many Karachites will think twice in next Elections. 👇 https://t.co/BpfgfJ9YBn

— shahnawaz adenwala (@SAdenwala) September 16, 2019
People spoke out against enforcing girls to wear abaya:
1. Enforcing #Abaya or #Burqa on anyone is wrong.
2. Schools have authority inside the school. How can they force the girls to wear something on the way to the school where harassment happens?#Pakistan #Peshawar https://t.co/9tUM008725

— Dr. Dawood Majoka (@dawoodmajoka) September 16, 2019
Many suggested that the detractors be punushed rather than enforcing abayas:
Forcing young girls to wear abaya goes against fundamental rights in our Constitution; is contrary to research that shows young boys are as vulnerable to sexual violence as young girls – dress is irrelevant; and detracts from Govt's duty to protect children, punish detractors pic.twitter.com/QGzM2ZUqxD

— Reema Omer (@reema_omer) September 16, 2019
Many criticized how instead of focusing on the quality of education, the government was mire worried about the dress code:
You do not even bother improving the quality of education or tapping the low education rate yet you have to focus on what children wear while going to school?#DEOEducation #Haripur #Peshawar

— Syeda Afsheen (@syedaafsheen91) September 16, 2019
Many were furious about the government ignoring the real issue:
Instead of Identfying and Fixing Harrasment/bullying issues (incl physical, verbal,or psychological actions) against school/college students and take immediate Interventions,Naya Pakistan directing Girls to use Abaya/Chadar or Gown in Peshawar.Wah Tabdeeli 👌 pic.twitter.com/jZ1plA4yfz

— AaDiL Jillani (@Aadil_Jillani) September 16, 2019
Some believed it was a violation of basic human rights:
Forcing schoolgirls to wear religious clothing isn't a violation of human rights, is it? And no one would even have even thought of the religious minorities in this Peshawar school. Why should they wear Islamic religious clothing? https://t.co/wiL316U0gH

— Intellectual Badass (@wildnerd13) September 16, 2019
The gov has no right to interfere with how women dress. One would hope providing protection entails keeping law and order not putting a burka on little girls and young women @ImranKhanPTI

— khadijah shah (@khadijah_shah) September 16, 2019
People offered better solutions:
This is directed to Girl schools. In all-girl schools what 'unethical incidents' are they worried about? If the male staff is so untrustworthy then I suggest the students be instructed to bring pepper spray instead of chadars. #ProtectOurGirls pic.twitter.com/N96rQ8Q3fn

— Ali Khan Tareen (@aliktareen) September 16, 2019
Rather Then Abayas Girls Should Be Allowed Batons Pepper Sprays And Stun Guns 🙂
Make Harassers Be Afraid For Once.

— Suleman Talpur (@talpur1) September 16, 2019
Male staff ko chastity belts pehna doh. Kaam set ho jaye ga. pic.twitter.com/jK7s2XuwMs

— Ali Khan Tareen (@aliktareen) September 16, 2019
Fawad Chaudry too came forward to say that people were free to choose between wearing an abaya and not wearing one:
آپ کی سوچ قطعی طور پر ان یورپئن حکومتوں سے مختلف نہیں جو عباء پر پابندی لگانا درست سمجھتے ہیں، یہ ایک انتہا پسندانہ سوچ ہے ، سیدھی بات ہے جس نے عباء پہننی ہے وہ پہنے جس نے نہیں پہننی وہ بھی محترم، سوچ میں وسعت لائیں۔ https://t.co/JXdFDZbvMu

— Ch Fawad Hussain (@fawadchaudhry) September 16, 2019
And while many were opposing the notification, there were people who were supporting this notification and wanted it to be implemented all over the country:
Why only in Peshawar, it should be imposed in whole country forcefully under the Islamic Sharia. Good step taken by @PTIofficial #Abaya #KPK #PakistanZindabad

— Raza Khilji (@RazaKhilji) September 17, 2019
I support Peshawar district government's decision to make Abaya compulsory for school and college girls. Let the liberals whine how much they can. I hope that the district government doesn't back off from the decision.

— Ahmad (@AhmadSTKhan) September 16, 2019
After a ton of criticism the government decided to withdraw the notification, claiming that it doesn't believe in compulsion:
KP Government doesn't believe in compulsion, and citizens are free to decide what's best for them. The notification circulating regarding compulsion of Abaya for the girls is hereby withdrawn with immediate effect#KPKUpdates pic.twitter.com/1LhhwEX33V

— PTI (@PTIofficial) September 16, 2019
And the decision was lauded by many:
Sir @SAYousafzaiPTI I am glad that sense prevailed.This is the beauty of democracy"Laa ikraa ha fid din"din mein koi jabbar nahin.This is also a principle of Islam. Woman must b allowed to do Parda or Abaya if she wants,but similarly those who don't want to should b free to do so https://t.co/UybuHc5ohy

— Shehzad Roy (@ShehzadRoy) September 16, 2019
What do you think of this notification? Let us know in the comments below!