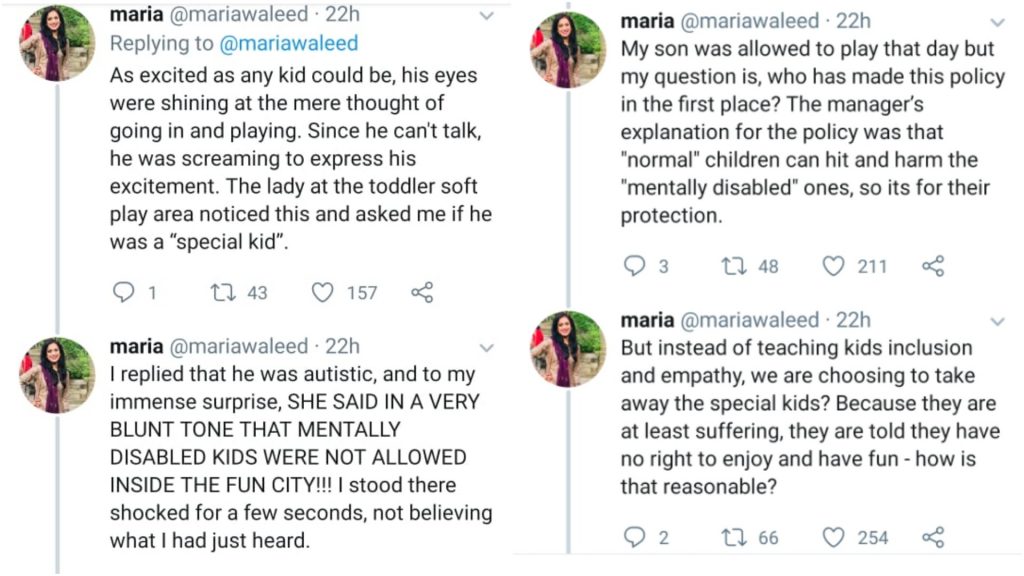 Pakistan falls way behind when it comes to the specially-abled persons, be it a kid or an adult, we have a long way to go and learn! A girl shared what happened with her nephew in Giga Mall Rawalpindi when her sister took him to Fun City there:
Happened to my nephew!
My son is 4.5 years old and on the autism spectrum. He is non verbal but otherwise on the high functioning end, with good comprehension. A few days back, I took him to the fun city, Giga mall Rawalpindi.

— maria (@mariawaleed) September 15, 2019
As excited as any kid could be, his eyes were shining at the mere thought of going in and playing. Since he can't talk, he was screaming to express his excitement. The lady at the toddler soft play area noticed this and asked me if he was a "special kid".

— maria (@mariawaleed) September 15, 2019
What her sister heard next, shocked her:
I replied that he was autistic, and to my immense surprise, SHE SAID IN A VERY BLUNT TONE THAT MENTALLY DISABLED KIDS WERE NOT ALLOWED INSIDE THE FUN CITY!!! I stood there shocked for a few seconds, not believing what I had just heard.

— maria (@mariawaleed) September 15, 2019
But she didn't go down without a fight with the team leader:
Because he's autistic and non verbal apparently this means he can't go inside to play and enjoy like any other 4 year old, simply because he's different. Refusing to step down without a fight, I called the manager and after a huge argument my son was allowed in.

— maria (@mariawaleed) September 15, 2019
And even though her nephew was allowed to play that day, her sister raised a ton of questions regarding the policy:
My son was allowed to play that day but my question is, who has made this policy in the first place? The manager's explanation for the policy was that "normal" children can hit and harm the "mentally disabled" ones, so its for their protection.

— maria (@mariawaleed) September 15, 2019
And how instead of promoting inclusion, we're promoting exclusion of the specially-abled lot:
But instead of teaching kids inclusion and empathy, we are choosing to take away the special kids? Because they are at least suffering, they are told they have no right to enjoy and have fun – how is that reasonable?

— maria (@mariawaleed) September 15, 2019
She further shared how hurtful the experience was:
As a parent, how hurtful was it for me, to see my kid standing there with shining eyes, not knowing that he was being refused the right to play simply because he was different. We experience this kind of exclusion on a weekly basis, if not daily.

— maria (@mariawaleed) September 15, 2019
And urged that people share her experience to raise awareness:
Instead of getting a chance to live a "normal" life, we are always excluded because my kid screams!
Whether it's my child or someone else's, no 4 year old should be deprived of the chance to live and enjoy their lives as a child!
Please share this to spread awareness!

— maria (@mariawaleed) September 15, 2019
As the thread was being retweeted, a lot of people came forward to support her:
Ur son should never made to feel this way. I'm sorry this happened and I will do my best to change this mindset

— Ali Gul Pir (@Aligulpir) September 15, 2019
People shared how the community in general was getting less inclusive:
It's not just special children. In every aspect, our society is getting less and less inclusive. I am really sorry you had to go through this.

— 𝘙𝘪𝘻𝘸𝘢𝘯 (@ChupShaa) September 15, 2019
Others came forward to share how they often find themselves in the same situation:
I'm so sorry u had to go through this. I have a 5 year old nephew he's autistic and he's non verbal too..Sometimes we face such issues too, and it breaks my heart so bad. He's such a loving and caring child

— Bittersweet Melancholy (@I_nyctophile) September 15, 2019
People found it to be tragic:
Tragic that we live in such ignorance, apathy. So pleased you stood your ground. All children deserve the best. No exclusions.

— Abbas Nasir (@abbasnasir59) September 15, 2019
People blamed it on the general lack of empathy that our society has:
I m sorry u had to experience something as horrible as this. People have no empathy whatsoever. I hope no mother ever has to exclude her child only because of being different.

— 〰️Jane Doe〰️ (@girllitasf) September 15, 2019
She was assured that matters will be looked into by NOWPDP, a disability inclusion initiative:
Dear Maria and @NOWPDP
I ll be visiting Giga Mal soon and will definitely ask them who made this pathetic policy to exclude a child to practice his or her right to play. Stay strong and thanks for sharing the incident

— Farah Zulqurnain (@FarahZulqurnain) September 15, 2019
People had questions about the inclusiveness of the society:
A child on the autism spectrum wasn't allowed to play at the fun area of Giga Mall Rawalpindi. Is this what an inclusive society looks like? Where even fun and recreation are inaccessible to people living with disabilities. https://t.co/uoYJQwytG7

— NOWPDP (@NOWPDP) September 15, 2019
People suggested that necessary steps be taken by the DC:
@DCRawalpindi Autism is a very sensitive issue for both parents and children alike. It would be great if the DC Office can work towards creating awareness within commercial establishments to be sensitive to these problems.

— Syed M. Saad Ahsan (@saadahsan) September 15, 2019
People expressed how these kids were victimized by exclusion:
You are absolutely right. Instead of inclusion, the different are victimized by exclusion under the guise of their protection. The problem lies with our society. I assume none of the other parents had sided with you, in condemning the exclusion policy and demanding inclusion.

— ᴇʀɢᴏᴘʜɪʟᴇ (@RstyClinomaniac) September 15, 2019
People also shared how parents need to teach empathy to their kids:
My sister has a differently abled child in her class and she has observed that the so called 'normal' are extremely mean to him when teachers aren't looking. Parents need to teach empathy.

— lalarukh (@LRUrooj) September 15, 2019
Some thought ignorance was the real issue:
Unfortunately, most people who have no on-spectrum kid in family or friends fail to understand and appreciate the need to provide a space for such kids in normal setting. Ignorance, rather than apathy is more the issue.

— Ghulam Rasul Imtiaz (@cgrasul) September 15, 2019
People were lauding her for fighting against it:
While it's really heart breaking, still it's good that such issues are being highlighted. Hats off to u for correcting a wrong.

— Junaid Ahmad (@koolicon) September 15, 2019
Some shared how the world is tok cruel for these little gems:
My brother is an ADHD CHILD too. And i swear if anybody did that to him i'd rip him apart. Our society is messedup! I can feel how you must be feeling, we share the same feelings. The world is too cruel for them. My heart cries. Allah inbacho ko kisi ka muhtaaj na banaye! Amen!

— 🥀 (@7ellipsism) September 15, 2019
You go, girl!
Thanks for sharing this and for standing up to the fun city management. You let your child know he's no less than any other kid!!

— Saad (@saadm_) September 15, 2019
People urged that basic manners be taught to everyone hired:
Customer dealing/ ethics must be inculcated/ taught before hiring a guy/girl

— Muhammad Usman (@RajputChauhan03) September 16, 2019
Agreed, kids are kids:
Well at times parents live through the smiles of their kids …. autistic or special or normal ….. every child should be allowed without discrimination …. kids are kids

— Lone wolf (@kurrdd) September 15, 2019
People were calling out the management for their disgusting policies:
@FunCityPK you need to change such policies and encourage children to participate and enjoy like any other child. Infact you should give complimentary rides to children with autism. @mariawaleed stay strong and give confidence to your sister and child

— hassan akhtar (@hassana22782362) September 15, 2019
Sending lots of love and prayers to the mother and her son, no child should ever be made to feel that way. Here's to raising awareness and hoping that we become a more inclusive society. What do you think about this situation? Let us know in the comments below!