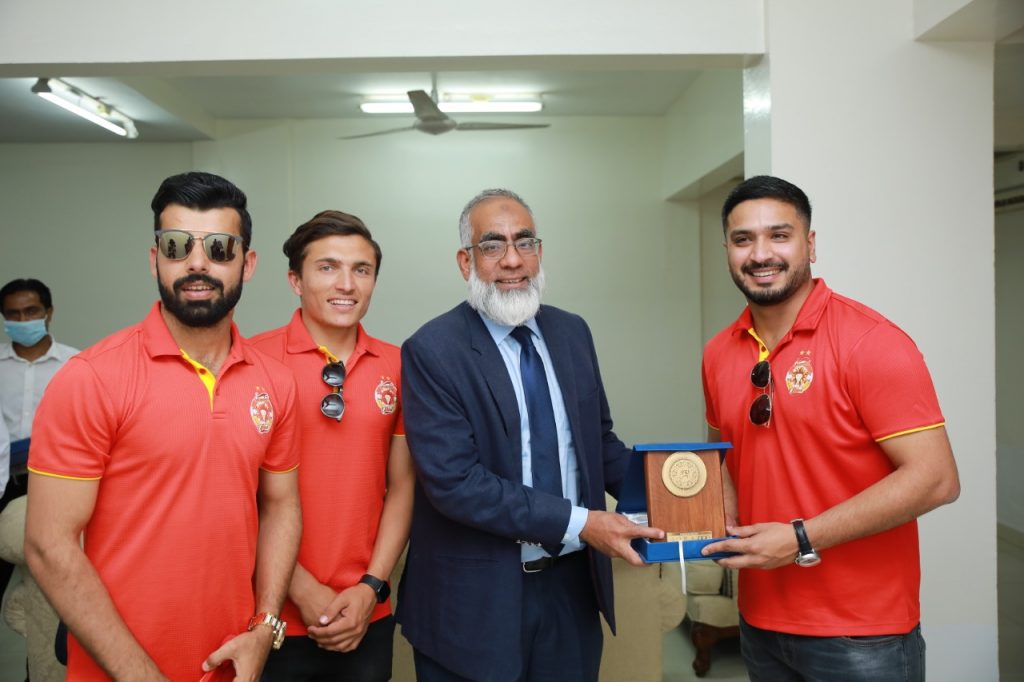 The social media has gone gaga over the news of partnership between Islamabad United (ISLU) and Iqra University (IU) for the sixth edition of the Pakistan Super League (PSL).
According to a statement issued by the IU, the varsity has partnered with the Red Hot Squad as their official Youth Sports Sponsor. The signing ceremony between the two organizations took place at IU's main campus on Wednesday. This is the first time in the history of PSL that an educational institution has ventured into the tournament with a franchise.
The varsity maintained that "The objective of this partnership is to assist in the development of sports for our youth who is passionate and has a great potential to succeed in life. IU believes that this initiative will offer a platform to boost youth sports in the country."
Soon after the signing ceremony, #IqraUniversity appeared as a top trend on Twitter tickling the funny bone of some Twitteratis who don't leave a chance to troll someone.
Students of other universities after knowing about @Iqra_University and @IslamabadUnited partnership.
😂#IqraUniversity pic.twitter.com/gULc7d2a8N

— Nouman Younas (@Noumaan22) February 10, 2021
More-or-less most of the memers were making fun of the collaboration ceremony between the two organizations.
PSL fans after this collaboration…#IqraUniversity #Islamabad pic.twitter.com/awaGEux0WQ

— Zubair Hussain Khan (@its_zhk) February 10, 2021
A number of patriotic Karachites could be seen being frenzy on the internet.
Karachiites to Iqra University#IqraUniversity pic.twitter.com/6eW2GJGu7p

— Gul Gee🔵 (@GulGeeOfficial) February 10, 2021
Besides the trolling from people who were gobsmacked on the news of the collaboration, there were some Twitteratis who really supported the idea of Youth Sports Sponsorship.
haha, this is the best!!!!#IqraUniversity https://t.co/wPoMh9RZmh

— Nina Jabeen (@NinaJabeen) February 10, 2021
Well, there were also those who supported the collaboration
"We believe we can do that through our partnership with Iqra University who have the same core values as us": General Manager Islamabad United, Rehan ul Haq, expressed his views during the signing: #IqraUniversity

— Siraj Ahmed (@IamSirajLarkana) February 10, 2021
#IqraUniversity is partnering with Islamabad United for HBL PSL Season 6 as their Youth Sports Sponsors. This is a huge achievement by the @Iqra_University as they are becoming the first HEC institute to partner with @thepslt20 Franchise

— Hans Masroor Badvi (@hansbadvi) February 10, 2021
Nevertheless, the collaboration has strengthened the hopes for cricket in Pakistan and given a chance to people to enjoy at a time when Covid-19 has forced them to cover their smiles with masks.
Dr. Wasim Qazi, the Vice-Chancellor of Iqra University, expressed his views: "Our national sporting landscape has dramatically changed over the past few years. Some critical national and international sports competitions such as PSL and international cricket matches have been wildly successful in the recent past. These events attracted millions of young and old, promoted a festive mood in the country, reflected the revival of international confidence in our sporting capabilities, and boosted Pakistan's image as a sports and peace-loving society".
Meanwhile, Rehan ul Haq, General Manager Islamabad United, said: "Pakistan's youth has great potential. They are the future of this country. Islamabad United has always supported education in Pakistan, we have always believed in empowering the next generation, we believe we can do that through our partnership with Iqra University who have the same core values as us".