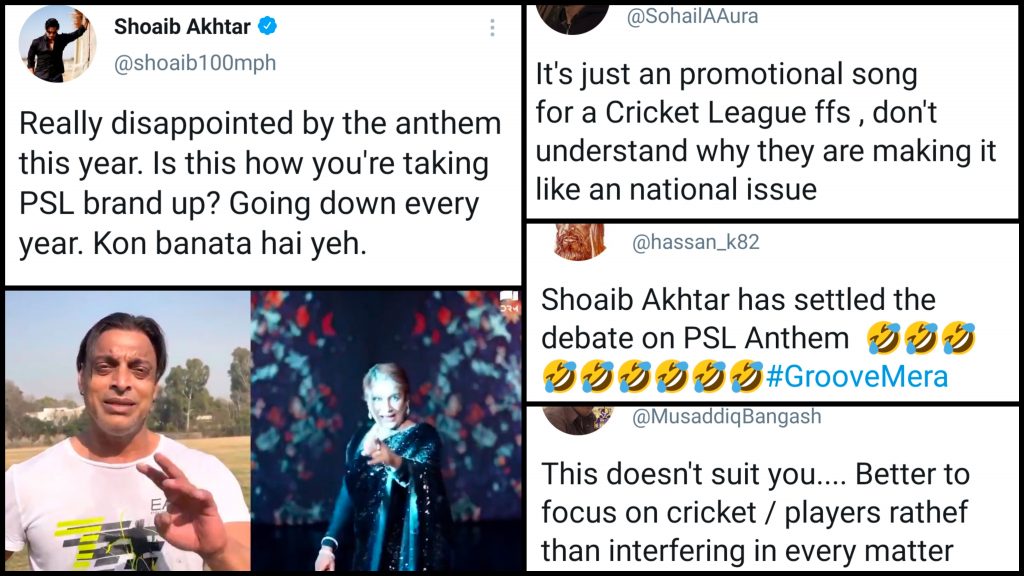 Every year during the PSL season, there's a new anthem and a hundred new critiques disliking it and this year hasn't been much different.
Groove Mera, the official PSL anthem this year featuring Naseebo Lal, Aima Baig and Young Stunners has gathered strong reactions from fans, with most celebrities loving it:
But Shoaib Akhtar isn't amused:
Really disappointed by the anthem this year. Is this how you're taking PSL brand up? Going down every year. Kon banata hai yeh.

Full review: https://t.co/WozlCcSSrg#psl6anthem #PSL6 pic.twitter.com/zfcQrNvruu

— Shoaib Akhtar (@shoaib100mph) February 10, 2021
Reviewing the new PSL anthem, Shoaib Akhtar had a lot to say, from the anthem scaring his kids to critiquing the technical aspects of the song, here's what the netizens have to add:
Shoaib Akhtar has settled the debate on PSL Anthem 🤣🤣🤣🤣🤣🤣🤣🤣🤣#GrooveMera https://t.co/Jmcipr4AF8

— Hassan Khan (@hassan_k82) February 10, 2021
Some agreed with him:
Yarr itniiiii buriiiii composition! Yarr itnaa Buraaaaa ganaa.
Well said @shoaib100mph
100% agreed.
I literally got speechless after hearing this "anthem".
Glad, someone took serious notice ! #psl6anthem https://t.co/Ee00QT5zq6

— Kainat Kayani (@KainatKayani2) February 10, 2021
People were enjoying his reaction:
While I personally find the anthem to be perfectly fine, it's still really funny to see the reaction of the the legendary speed star! https://t.co/vG4HpLS3B9

— Danish Aftab (@DanishLegal) February 10, 2021
"Aaj aayega crode" IT IS 7 AM AND I CANT STOP DYINNG OVER HIS REACTIONS OMGGG SHDHFJDKLV https://t.co/1mt5CseHCT

— shehzeen (@TheShehzeenist) February 10, 2021
People thought he'd give standup comedians a run for their money:
Legend! "aapne mere bachche dara diye" 😂 #pslanthem2021 #PSL6@iimcomic this man can give stand comedians a run for their money! 😂 https://t.co/AV8BaoilOe

— Amit Purohit (@purohita87) February 10, 2021
People were shook to see him starting music reviews on his channel:
Didn't know he started music reviews too. https://t.co/qSePJs0QeO

— Static_357 (@Static_a357) February 10, 2021
Some were calling him out on commenting on the negatives only:
This guy checks what the "negative" trend is and starts blabbering about it. Always negative because he knows that negativity will sell quicker and give him more view 🤚

— 𝕸𝖚𝖍𝖆𝖒𝖒𝖆𝖉 𝕱𝖆𝖎𝖘𝖆𝖑 🇩🇪 🇫🇮 🇵🇰 (@faisssallll) February 10, 2021
Some were clearly not on the same page as him and were calling him out:
O bhai sahab ap nay konsa singing main oscar lia hua ha jo dusray singers par bat kar rahay ho #psl6anthem https://t.co/QkiscidB4h

— Muhammad Usman 🇵🇰 (@Sharifbachaaa) February 10, 2021
People wanted him to stop over-reacting:
There is absolutely nothing wrong with the song, stop overreacting.
And FYI there are more than one meaning of the word groove pic.twitter.com/cyvwdZ0b3O

— Wasim Chaudhry🇵🇰 (@wasi_mm) February 10, 2021
The shade!
rare photoage of an expert musician giving his honest opinion about PSL ANTHEM https://t.co/yf6FjgA7q5

— youngstunner's fan💘 (@____exotic_____) February 10, 2021
We kinda stannnn!
I want Shoaib Akhtar to start reviewing Netflix shows pic.twitter.com/EhXNiGMFJw

— Gabbbar (@GabbbarSingh) February 10, 2021
People were defining groove for him:
In music, groove is the sense of an effect ("feel") of changing pattern in a propulsive rhythm or sense of "swing".
You need to improve your English.https://t.co/iFnmlCwwGC https://t.co/2GOjPf5lkv

— Faisal Bhai (@faysi37) February 10, 2021
Some wanted him to save his critique for cricketers only:
This doesn't suit you…. Better to focus on cricket / players rathef than interfering in every matter https://t.co/vAfKum7EDe

— Musaddiq Bangash (@MusaddiqBangash) February 10, 2021
Some thought he was blackmailed into disliking the anthem:
Absolutely pathetic as ever. What he even has to do with a song. Better make some video on Pakistan cricket. Just to support his friend ,he will go to any level. People should stop supporting the blackmailer ali zafar. https://t.co/GXI7birWfz

— Awais (@MaharSpeaks) February 10, 2021
Hmmm nice https://t.co/dkD2JXJz5P pic.twitter.com/Tx9qxRRI8l

— 𝗦𝗮𝗵𝗲𝗲𝗯 𝗔𝗹𝗶 (@Friesist) February 10, 2021
People took the opportunity to throw shade at the fast-bowler:
You have a massive following, you should educate people.. Groove is all about dance moves, come on you should know this Shoaib, haven't you learned anything while dancing in the clubs? #YoutubeStar https://t.co/3eNXxWROdp

— M Furqan Bhatti (@Furqan013) February 10, 2021
Some really didn't understand the controversy surrounding the song:
It's just an promotional song for a Cricket League ffs , don't understand why they are making it like an national issue https://t.co/NMyuMiLvGb

— Søʜᴀɪʟ (@SohailAAura) February 10, 2021
What do you think about Shoaib Akhtar's take on the anthem? Let us know in the comments below!